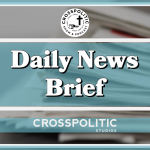 This is Gabriel Rench with your Crosspolitic Daily News Brief for Monday, February 18, 2020.
Mike Bloomberg:
As Bernie Sanders is leading the national polls by about 13%, Michael Bloomberg's history keeps coming back to haunt him: 
Twitter:
"I could teach anybody, even people in this room, no offense intended, to be a farmer. It's a process. You dig a hole, you put a seed in, you put dirt on top, add water, up comes the corn. You could learn that."
Vice President Pence responded with this tweet "So God Made a Farmer" and it includes a popular 2013 Super Bowl commercial featuring audio from a 1978 Paul Harvey speech praising farmers.
The video is done well, and a nice response to Bloomberg. But here is the deal. The left constantly say they are for the working class because they want votes, but their contempt is hard to keep bottled up. Meanwhile Bloomberg qualifies for the next democratic debate. Maybe that is because he dropped $124 million on super Tuesday states (https://www.msn.com/en-us/news/elections-2020/bloomberg-drops-124-million-in-super-tuesday-states-rivals-go-on-the-attack/ar-BB105kMi).
No thanks
Boy Scouts of America files for bankruptcy after sex abuse lawsuits
https://www.foxnews.com/us/boy-scouts-of-america-files-for-bankkruptcy-after-sex-abuse-lawsuits
"The Boy Scouts of America (BSA) filed for Chapter 11 bankruptcy protection early Tuesday after decades of sexual abuse claims within one of the country's largest youth organizations.
The petition, filed in Delaware bankruptcy court, halts the hundreds of lawsuits the BSA is facing that allege sexual misconduct by people within the 110-year-old organization over the years.
Sexual abuse settlements had reportedly strained the Boy Scouts' finances, with states passing laws last year so victims from long-ago abuse can sue for damages.
The bankruptcy petition reportedly listed the Boy Scouts' assets as between $1 billion and $10 billion, and its liabilities at $500 million to $1 billion."
President and Chief Executive Officer of the Boy Scouts of America, Roger Mosby,  said in a statement Tuesday:
"The BSA cares deeply about all victims of abuse and sincerely apologizes to anyone who was harmed during their time in Scouting. We are outraged that there have been times when individuals took advantage of our programs to harm innocent children. While we know nothing can undo the tragic abuse that victims suffered, we believe the Chapter 11 process – with the proposed Trust structure – will provide equitable compensation to all victims while maintaining the BSA's important mission."
Scouting programs will continue during the BSA's bankruptcy process and for many years to come, the organization says. Local councils are not filing for bankruptcy, as they are legally separate and distinct organizations."
NHS staff can now refuse to treat patients deemed racist or sexist
https://disrn.com/news/nhs-staff-can-refuse-to-treat-racist-or-sexist-patients
According to Discrn: "The National Health Service in England recently released new rules that allows staff to ban racist or sexist patients from non-emergency care.
Staff can currently refuse to treat non-critical patients who are verbally aggressive or physically violent toward them, but new rules taking effect in April allows them to also refuse treatment to patients who harass, bully, or discriminate, including those who are homophobic, sexist, or make racist remarks.
The UK Medicare for All is a disaster. Just this past year, NHS registered their worst wait times since 2004. "Less than three-quarters (74.5%) of people who sought care at A&E unit in England in October were treated and then discharged, admitted or transferred within four hours" (https://www.theguardian.com/society/2019/nov/14/ae-waiting-times-in-england-hit-worst-ever-level). 
Remember when Sarah Palin was talking about death panels regarding Obamacare? And she was called crazy by the media. If the government takes over our healthcare system, even more than they already have, you will see death panels, race panels, Christian panels, and more. Currently the democrats are saying republicans are racist, homophobic, xenophobic, etc.. and by extension they will include Christians. Tyrants are going to tyrant, and I am praying that the democratic party never gets back in control of our nation's government again. Because with how they are talking in this current campaign season, a democratic administration it is not going to be pretty. Jesus is King, and the church needs to trust in him regardless of who is in control. 
Judge rules that college can force Christian professor to use transgender pronouns for student
https://disrn.com/news/judge-rules-that-college-can-force-christian-professor-to-use-transgender-pronouns
"A U.S. District Judge last week dismissed a professor's lawsuit in which the educator claimed his First Amendment rights had been violated after his college directed him to use a student's chosen transgender pronouns.
Nicholas Meriwether had argued that Shawnee State University had infringed upon his religious liberty when it ordered him to refer to a biologically male student using the student's preferred female pronouns. Transgender individuals often choose to go by the pronouns of the sex they identify with rather than that with which they were born.
Meriwether, a Christian, said that using those pronouns would have violated his religious beliefs. The judge in the case ruled against him, dismissing the lawsuit and affirming the university's right to compel professors to adhere to some tenets of LGBT ideology.
Meriwether's counsel, the conservative legal group Alliance Defending Freedom, indicated that it may appeal the decision."
Our government has no moral standards by which it can anchor these decisions. We are living in a house built on sand, and there is no foundation under that sand. The sand is hovering in the air, like Wile Coyote, just waiting for the reality of the cartoon to catch up with us. These kinds of judicial decisions deserve a horse laugh, but the church sadly is unable to speak authoritatively into our moral confusion. Pastor Doug Wilson wrote a great blog post this past week titled Clueless or Complicit, and in it he challenged us to get what is going on around us. He ended with challenging christians to run this play, and I am summarizing here: Get in the word, confess your sins, get married, raise godly kids, put your money towards faithful churches and ministries, and worship God. 
This is Gabriel Rench with Crosspolitic News. You can find this show and all the others on the
Fight Laugh Feast Network at Crosspolitic.com or Fightlaughfeast.com or on our brand new app, which you can download at your favorite app store, just search "Fight Laugh Feast". Support Rowdy Christian media and join our club at fightlaughfeast.com and get access to classes on parenting, Christian business principles, God and Government, and backstage interviews with people like Voddie Baucham, Douglas Wilson, James White, and David French. We also hope to meet you at our first annual Fight Laugh Feast Conference in Nashville, TN October 1st through the 3rd. Go to fightlaughfeast.com to sign up for our conference email list. Registration is open now!