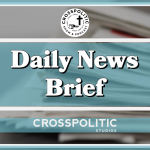 This is Toby Sumpter with your CrossPolitic Daily News Brief for Friday, March 20, 2020
Ok, let's be honest, by the time you hear this it will be well into your weekend. So let's call this CrossPolitic News weekend addition. 
Trump Announced Thursday that the FDA is Waving Outdated Rules to Expedite Coronavirus Treatments
https://dailycaller.com/2020/03/19/trump-coronavirus-hydroxychloroquine-cure-anti-viral-therapies/
President Donald Trump announced Thursday that he has directed Federal Drug Administration commissioner Stephen Hahn to waive "outdated rules and bureaucracies" on the testing of various "anti-viral therapies" to combat coronavirus.
Trump noted that the vaccine pursued by the National Institutes of Health and other medical bodies, "by its nature" requires lengthy testing periods.
In particular, the president pointed to a "couple of drugs" the FDA is approving for "immediate use," including hydroxychloroquine, a malaria drug that has shown promise in battling coronavirus. Early clinical trials have raised hopes that it could be a coronavirus cure or at least a very effective treatment.
"It's shown very encouraging early results, and we're going to be able to make that drug available almost immediately," the president stated. "And that's where the FDA. has been so great."
Trump added that the FDA "has also confirmed compassionate use for a number of patients."
A Good Week to Bury A Bad Headline
https://bylinetimes.com/2020/03/17/a-good-day-to-bury-bad-news-us-department-of-justice-drops-charges-over-russias-2016-election-interference/
On Monday, the Department of Justice (DOJ) made an abrupt and unexpected move to permanently dismiss the charges against two firms owned by Yevgeny Prigozhin, the Russian oligarch often referred to as "Putin's chef".
Special Counsel Robert Mueller – who led an investigation into Russian interference in the 2016 US Presidential Election and suspicious links between associates of Donald Trump and Russian officials – indicted Prigozhin and two of his firms, Concord Catering and Concord Management & Consulting, in February 2018, for conspiring to defraud the US Government by running a social media-based campaign to interfere in the 2016 election. They are also accused of violating foreign-agent and visa laws.
Prigozhin allegedly used his companies to covertly fund the Internet Research Agency – the St. Petersburg-based troll factory that sponsored and coordinated the social media activities at the heart of Russia's 2016 influence operation. 
Explaining the national security reasons for dismissing the charges, the DOJ claimed that a "classification determination" had left prosecutors with the choice of presenting a "materially weaker" case or compromising information that could endanger US national security. 
As Cheney noted in his analysis of the court filing, the DOJ's rationale for dropping the case "point[s] to concerns that they [the Russians] are still actively pursuing similar efforts" – concerns that seem to strengthen the case for charging those involved.
Yet, according to the DOJ, going forward with the case would "promote neither the interests of justice nor the nation's security". 
The abrupt dismissal of the charges against Prigozhin's companies comes just weeks after prosecutors announced that they were planning to introduce a "mystery witness" who reportedly had evidence that would implicate Prigozhin in election interference operations in at least one other country than the US.
Previous reports describe Prigozhin's involvement in influence campaigns in numerous African countries including Sudan, Mozambique, Madagascar, Libya, the Democratic Republic of Congo and the Central African Republic. These utilized tactics similar to those employed by the Internet Research Agency, including creating fake news sites and producing memes and live videos, as well as promoting propaganda – disguised as analysis – from Russian state media outlets such as Sputnik and RT. 
In October, Facebook removed 35 accounts, 53 pages, seven groups and five Instagram accounts that originated in Russia and targeted six African countries. A separate analysis, conducted by the Stanford Internet Observatory, uncovered additional Facebook pages and Instagram accounts associated with the same network. By the time the operation was revealed, the content had been 'liked' more than 1.7 million times. 
Prigozhin is also widely believed to be the owner of a Russian private military company known as The Wagner Group, which has supplied mercenaries to fight in Ukraine and Syria, as well as a number of African countries. 
Leaked documents show that the activities of Prigozhin's companies in Africa were "coordinated with senior officials inside Russia's foreign and defence ministries", according to a report by The Guardian.
In Idaho News, the State Senate voted 56-14 on Wednesday to Ban Affirmative Action
https://www.ktvb.com/article/news/local/capitol-watch/idaho-senate-anti-affirmative-action-bill/277-1f9be6fe-012f-44c0-99d3-551793075926
The legislation is now heading to Governor Brad Little's desk, where he is expected to sign the bill into law. The bill had already passed the Idaho House, and was amended slightly in the Senate to avoid losing federal funding. 
House Bill 440a was introduced by Heather Scott, Republican from Blanchard, prohibiting preferencing women or minorities in state or local government hiring, public eduction, or contracting. Sen. Cherie Buckner-Webb, a Democrat from Boise, the only black member of the Idaho legislature, decried the bill as "a step back into the Jim Crow era." The senate amendment added a proviso that said the bill wouldn't apply in cases where it would cause a loss of federal funds.
"People need to be hired by their merits and competencies," Sen. Steve Vick, R-Dalton Gardens, the bill's Senate sponsor, told the Senate. "You can't have preferences or pick one group over another's immutable traits." He added, "This bill has been amended. There were some concerns from the Transportation Department and the Human Rights Commission regarding federal funding. … Their concerns have been addressed."
Buckner-Webb told the Senate, "I believe that this bill would actually accomplish the opposite of its intent." She said, "Not to be disrespectful, when people say, 'I don't see color,' I say, 'You do, you do.' Mainstream dominant culture has never had to feel the effect of the kind of discrimination that we have."
"When one is not even conscious of discriminatory behavior, it's very difficult to see," she told the senators. "It's not about numbers. It's about how we treat each other. It's about who has equal opportunity."
Sen. Maryanne Jordan, D-Boise, her voice breaking, said, "This is an emotional day because we're doing harm in this body. If we don't add the words sexual orientation and gender identity, it means nothing." Discrimination based on those factors isn't banned under the Idaho Human Rights Act; HB 440a would amend that act but wouldn't change that.
In the 25-10 vote, the "no" votes came from all seven House Democrats, plus three Republicans, Sens. Jeff Agenbroad, R-Nampa; Carl Crabtree, R-Grangeville; and Abby Lee, R-Fruitland.
Gas Prices Are Falling
https://www.foxnews.com/auto/gasoline-99-cents-kentucky
Fox reports: GasBuddy analyst Patrick De Haan was tipped off by users of the GasBuddy app that the Spur 7 BP in on state route 25 in London had dropped below a buck.
Don't head there looking for a deal right now, though, because an employee at the station told Fox News Autos that the price was already 99 cents on Wednesday and that they're currently sold out of fuel and didn't know when the pumps would be open again. Commenters on Gas Buddy say the station is known for its low prices and is often very busy.
De Haan earlier this week predicted that the nationwide average, currently $2.20, could soon drop to $1.49 and that 99 cents would be a reality at some locations. A combination of increased supply in Saudi Arabia and Russia with falling demand from efforts to stop the spread of the coronavirus are driving the trend.
But Kentucky, where the statewide average is $1.90, isn't the only state with a station selling fuel for a rock bottom price. Oklahoma, Mississippi, Tennessee and Kansas all have at least one station with a price under $1.30.

https://www.cnn.com/2020/03/19/business/gas-prices-coronavirus/index.html
CNN reported Thursday that the national average had dropped to $2.19 for a gallon of regular gas — is the lowest it's been since early December 2016. That's down 13 cents from a week ago and 36 cents lower than a year ago. 
Oklahoma is the cheapest, with a cost per gallon of regular going for $1.84. Hawaii and California are the two most expensive states for a gallon of regular, at $3.52 and $3.28 respectively. 
"This is unprecedented," Tom Kloza, head of energy analysis for the Oil Price Information Service, told CNN Business. He expects that the national average will soon drop between $1.99 per gallon with some states hitting $1 per gallon or less.
This is Toby Sumpter with Crosspolitic News. You can find this show and all the others on the
Fight Laugh Feast Network at Crosspolitic.com or Fightlaughfeast.com or on our app, which you can download at your favorite app store, just search "Fight Laugh Feast". Support Rowdy Christian media, and become a Fight Laugh Feast Club Member, and for a limited time you can get your very own Fight Laugh Feast t-shirt. You can't get these anywhere else except by becoming a member (or upgrading your membership) while supplies last. You are also getting access to tons of quarantine content, including most recently, a new series called Pastors & Politics – with three episodes so far including Dan Fischer, Douglas Wilson, Roger Skepple, Pat Perkins, and George Grant. Plus hours more with David French, Erick Erickson, Walter Williams, Maj Toure, Curt Kennedy, Gary Demar, and our very own Worldview Shotgun Series. You also get $100 off your registration for our first annual Fight Laugh Feast Conference, where we hope to meet many of you in Nashville, TN October 1st through the 3rd. Go to fightlaughfeast.com to register now. Have a great day. https://flfnetwork.com/coming-soon/