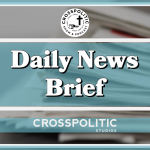 This is Gabriel Rench with your Crosspolitic Daily News Brief for Monday, February 24, 2020.
Twitter suspends 70 Bloomberg-boosting accounts posting identical messages of support
https://www.foxnews.com/politics/twitter-suspends-bloomberg-accounts
"Twitter is reportedly suspending 70 accounts, some of which are backed by Michael Bloomberg's campaign, that have posted identical messages in support of the Democrat's presidential bid, calling the content "platform manipulation."
The Los Angeles Times examined the accounts and alerted Twitter, who on Friday determined the posts violated company policy and said they would begin suspending the profiles.
A portion of accounts are operated by Bloomberg campaign workers — called "deputy field organizers" — who pump out pro-Bloomberg content across social media networks, including Twitter, for $2,500 a month, the report said.
Twitter told The Times: "We have taken enforcement action on a group of accounts for violating our rules against platform manipulation and spam."
The problem here is not that twitter wants to run their business the way they want to, they have every right to do that. The issue is the arbitrary application of their standards and gnats and camels problems. Why not cancel Planned Parenthood's accounts or the latest dictator of Venezuela's account? I am praying that some Christian entrepreneur comes along and jumps in the social media game. You will need a ten year go to market strategy and a lot of money, but we need to raise up Davids who know how to take down Goliaths. 
Wells Fargo agrees to $3 billion settlement over fake accounts
https://abcnews.go.com/Business/wells-fargo-agrees-billion-settlement-fake-accounts/story?id=69132044&cid=clicksource_4380645_11_heads_posts_headlines_hed
"The U.S. Department of Justice and Wells Fargo have agreed to a $3 billion settlement that includes the bank admitting to opening millions of fake accounts.
A criminal investigation into the company's actions found that from 2002 to 2016 Wells Fargo pressured employees to meet unrealistic sales goals, which led to millions of accounts being created by "thousands" of employees without consent from customers, a DOJ official told reporters on Friday.
Wells Fargo, as part of a three-year deferred prosecution agreement, will admit that, among other illegal practices, employees created false records and forged customers' signatures to open unauthorized checking and savings accounts, in some cases altering customers' personal information so they wouldn't be notified of changes to their accounts.
The $3 billion includes a $500 million civil penalty that will be distributed to investors by the Securities and Exchange Commission."
Russia attempting to help Bernie Sanders campaign: U.S. officials
https://disrn.com/news/russia-attempting-to-help-bernie-sanders-campaign-us-officials
According to WAPO: "U.S. officials have told Sen. Bernie Sanders that Russia is attempting to help his presidential campaign as part of an effort to interfere with the Democratic contest, according to people familiar with the matter."
When Sanders was asked about this he said that:
"Unlike Donald Trump, I do not consider Vladimir Putin a good friend. He is an autocratic thug who is attempting to destroy democracy and crush dissent in Russia. Let's be clear, the Russians want to undermine American democracy by dividing us up and, unlike the current president, I stand firmly against their efforts, and any other foreign power that wants to interfere in our election.
I don't care, frankly, who Putin wants to be president. My message to Putin is clear: stay out of American elections, and as president I will make sure that you do."
A couple things here. First, in the past, Sanders has spoken favorably of USSR, Ortega and Nicaragua, Hugo Chavez and Venezuela, Fidel Castro and Cuba, and more. So, while #breadlinebernie may not personally like Putin, he has been sympathetic to their socialist politics. 
Secondly, the Russia narrative in 2016 was all caught up in Hillary Clinton's campaign who hired a private foreign investigator, Christopher Steele (former British intelligence operative), to create dossier files on Trump and his campaign. These files were used to mislead DOJ and the FISA courts (Foreign Intelligence Surveillance Court). 
Lastly, the Russian's are supposedly helping Sanders because the Russians want Trump re-elected. You can't make this stuff up. Bernie, who is an avowed socialist, is getting help from a socialist country… and that country wants Trump re-elected? No substantive point here, just point this out, because it kind of makes me laugh. 
California Gov. Newsom: "Doctors should be able to write prescriptions for housing"
https://disrn.com/news/california-gov-newsom-doctors-should-be-able-to-write-prescriptions-for-housing
California Governor Gavin Newsom tweeted out on Feb 21 this deep tweet: 
"Doctors should be able to write prescriptions for housing the same way they do for insulin or antibiotics."
And followed it up with: 
"We need to start targeting social determinants of health. We need to start treating brain health like we do physical health.
What's more fundamental to a person's well being than a roof over their head?"
California has a huge homeless problem, and now Newsom wants to solve that problem by prescribing housing. The reason why ignorance like this exists among our political leaders is because our society has a slave mentality. Don't worry Master Newsom is going to take care of you. We have been nurturing this mentality for decades, that we don't even recognize it when we see it. Politicians get away with saying all sorts of ignorant things and even offering up blatant lies in the public square. But the bigger problem is we have no prophets calling out politicians nor do we have pastors discipling their congregations on how to apply the bible to politics. God's word applies to every area of our lives, and we have sadly lost this idea in the church. We hope CrossPolitic helps you and your churches recover the Lordship of Christ in the pews, in your families, and in the public square. It is obvious that our pews is where reformation and revival is most needed. So, begin by showing our country what repentance looks like. 
This is Gabriel Rench with Crosspolitic News. You can find this show and all the others on the
Fight Laugh Feast Network at Crosspolitic.com or Fightlaughfeast.com or on our brand new app, which you can download at your favorite app store, just search "Fight Laugh Feast". Support Rowdy Christian media and join our club at fightlaughfeast.com and get access to classes on parenting, Christian business principles, God and Government, and backstage interviews with people like Voddie Baucham, Douglas Wilson, James White, and David French. We also hope to meet you at our first annual Fight Laugh Feast Conference in Nashville, TN October 1st through the 3rd. Go to fightlaughfeast.com, seating is limited, go register now!