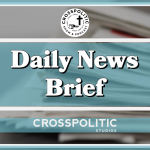 This is Gabriel Rench with your Crosspolitic Daily News Brief for Monday, February 26, 2020.
Bernie Sanders reveals 'major plans' to be funded by new taxes, massive lawsuits, military cuts
https://www.foxnews.com/politics/bernie-sanders-payments-green-new-deal-medicare-for-all-explanation
According to Fox News: "Bernie Sanders unexpectedly released a fact-sheet Monday night explaining that he'd pay for his sweeping new government programs through new taxes and massive lawsuits against the fossil fuel industry, as well as by slashing spending on the military, among other methods.
The move sought to head off complaints from Republicans and some rival Democrats that his plans were economically unrealistic, especially after a head-turning CBS News interview in which the frustrated Vermont senator said he couldn't "rattle off to you every nickel and every dime" about his proposed expenditures."
The major tenets of his plan calls for:
College for All and Cancel Student Debt

Expanding Social Security

Housing for All

Universal Childcare/Pre-K

Eliminating Medical Debt

Green New Deal

Medicare for All
There is a lot of ignorance in his proposal, and I encourage you to go to his website for more details: https://berniesanders.com/issues/how-does-bernie-pay-his-major-plans/
But here are a couple things I want to highlight:
First, Bernie will weaponize the IRS even further. He was the IRS "to perform an audit of 30 percent of wealth tax returns for those in the 1 percent bracket and a 100 percent audit rate for all billionaires,". So, Bernie does not want you to have a gun, but as president will give a gun to the IRS to audit the wealthy. Don't think this policy will stop with the wealthy, it will trickle down to you eventually. 
Secondly, Bernie claims his Green New Deal would create "20 million good-paying union jobs", and he will pay for the $16.3 Trillion Green New Deal partially by "Raising $3.085 trillion by making the fossil fuel industry pay for their pollution, through litigation, fees, and taxes, and eliminating federal fossil fuel subsidies", "Collecting $2.3 trillion in new income tax revenue from the 20 million new jobs created by the plan", and "Raising $2 trillion in revenue by making large corporations pay their fair share of taxes".  
Senator Sanders never held a job until he was 39 years and he became Mayor of Burlington, Vermont by something like 10 votes. He now owns three houses and finally published his own book, which got him about $1million, but even that money was on the back of his political career. Bernie supported Hugo Chavez in 2011, praise of Fidel Castro in 1985 for his education policies, and literally honeymooned in USSR in 1988/89. 
9th Circuit Court rules Trump administration defunding abortion clinics is constitutional
https://disrn.com/news/9th-circuit-court-rules-trump-administration-defunding-abortion-clinics-is-constitutional
According to Discrn: "The Ninth Circuit Court of Appeals ruled on Monday that it is constitutional for the Trump administration to deny federal funding to clinics that offer abortions.
The court upheld the administration's announcement in June 2019 that it would be barring taxpayer-funded clinics that referred women for abortions from federal funding. The Department of Health and Human Services announced the same month that it would be enforcing the ban.
Judge Sandra Ikuta wrote in Monday's statement that the administration's decision did not constitute a "gag," saying that "there is no 'gag' on [nondirective] abortion counseling."
Planned Parenthood chose to forgo around $60 million in annual federal funding, withdrawing from the Title X program."
Disney introduces its first official gay character
https://www.krem.com/article/entertainment/movies/disneys-first-lgbtq-character-onward/67-d12d818e-87fa-4fe0-a7f9-1075f33c7437
According to KREM 2: "Disney and Pixar's newest animated movie, "Onward" hits theaters in two weeks but it's already making headlines as the first Disney movie to have a confirmed LGBTQ character.
Comedian Lena Waithe voices a lesbian police officer.
According to early screenings, in one scene her character says her wife's daughter is making her pull her hair out."
The media is one big discipleship organization. Their constant barrage of abominable sexual narratives, to use Voddie Baucham categories, are desensitizing, jamming, and slowly converting us. Most of us watch movies passively, just wanting to be entertained without thinking, but resist that foolish practice. Learn to read the narrative according to the scriptures, learn to analyze every movie to the best of your abilities, and if you need a little help there start with Brian Godawa Hollywood Worldviews, and lastly after the movie is over- talk about it with your friends, your kids, etc… and include how would the bible address the narrative, the antagonist, the B characters, the ending and so forth. 
I said that these kind of films are slowly converting us. Well let me give you a stat to back that up. 
Nearly half of mainline Protestant pastors now support same-sex marriage
https://disrn.com/news/nearly-half-of-mainline-protestant-pastors-now-support-same-sex-marriage
According to Lifeway Research: " Approval for same-sex relationships has grown among Protestant pastors, but a majority still disapprove.
A new survey from Nashville-based LifeWay Research asked Protestant pastors their thoughts on same-gender marriages and civil unions.
In the most recent survey, 24% of pastors say they see nothing wrong with two people of the same gender getting married. Almost three-quarters say they disagree (72%), with 67% strongly disagreeing.
The near quarter of pastors in support of same-sex marriage are up from previous LifeWay Research studies—20% in 2018 and 15% in 2010."
Let me ask you a question. When was the last time you heard a sermon on the sin of homosexuality from the pulpit? How about a sermon on why you should not argue on social media because it ruins your Christian testimony? I'm guessing you have heard the latter on this one. We have movies, like Pixar's Onward, because pastors care more about being nice, or keeping their luxury office hours at Starbucks, than speaking the truth to a dying culture. We have said this a number of times on the show, but focus of where reformation and revival need to begin, is in the pews and pulpits. God is not going to grant our society repentance first. No judgement begins in the house of God, and this is where repentance begins. Remember in Ezekiel that the waters flow out of the tabernacle over the threshold and out into the streets. The further you get from the tabernacle the deeper the water gets. This is what reformation and revival looks like. It starts with the church, and because the power of the gospel is so glorious, the knowledge of the Lord will cover the world like the waters cover the sea. The deeper we preach the gospel in the church, the wetter the world gets.  
This is Gabriel Rench with Crosspolitic News. You can find this show and all the others on the
Fight Laugh Feast Network at Crosspolitic.com or Fightlaughfeast.com or on our brand new app, which you can download at your favorite app store, just search "Fight Laugh Feast". Support Rowdy Christian media and join our club at fightlaughfeast.com and get access to classes on parenting, Christian business principles, God and Government, and backstage interviews with people like Voddie Baucham, Douglas Wilson, James White, and David French. We also hope to meet you at our first annual Fight Laugh Feast Conference in Nashville, TN October 1st through the 3rd. Go to fightlaughfeast.com, seating is limited, go register now!