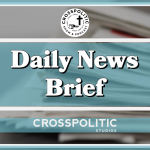 This is Toby Sumpter with your CrossPolitic Daily News Brief for Thursday, February 27, 2020
Joe Biden Gaffs Pile Up
https://disrn.com/news/biden-claims-150m-people–46-of-us-population–have-been-killed-by-gun-violence-since-2007/
During Tuesday night's Democratic debate in South Carolina, Joe Biden claimed that 150 million people have been killed by gun violence since 2007. That would be half of the current US population. Most put estimates around 400,000, while one FBI statistic found there have around 1.5 million aggravated assaults involving a firearm, but that's still a far cry from 150 million. Perhaps he meant to say that abortion has murdered around 61 million babies since Roe v. Wade in 1973. 
But the gaffs keep piling up. In a campaign speech in South Carolina earlier this week, Biden also told voters that he was running for the US Senate and asking for their vote. 
As far as we know, he has not recently called anyone a dog-faced pony soldier, but I nominate CNN for Creepy Joe's next admonition. 
https://www.cnn.com/2020/02/25/politics/senate-abortion-vote/index.html
The Blood Thirsty Creeps at CNN derided two bills as anti-abortion, one called the pain capable act, which would limit abortions beginning around 20 weeks. The High Priests at CNN noted that it is medically disputed whether unborn babies feel pain. Ah right. So since we don't know, it's just fine to kill them until we find out. This is how all great medical science proceeds: shoot first, ask questions later. Just try random stuff. Inject people with needles, prescribe drugs – who cares what it does exactly. The important point is that you feel good. Pretty sure CNN would be throwing a conniption fit if someone raised the same thing with kittens. 
The other bill would have actually done nothing to limit abortions. It merely insisted that if a baby was born alive after an attempted abortion, you don't get a second shot. It's a pitiful attempt at affirming the dignity of those small human beings made in the image of God, and CNN had the audacity to describe the bill this way: "The second bill to be considered Tuesday is the Born-Alive Abortion Survivors Protection Act, sponsored by Republican Sen. Ben Sasse of Nebraska, that would require abortion providers to work to "preserve the life and health" of a fetus that was born following an attempted abortion as they would for a newborn baby, or face up to five years in prison." Did you catch that? CNN described the baby as a "fetus that was born." Do they not realize that everyone in the world is a fetus that was born? 
CNN: Jacqueline Ayers, Planned Parenthood's vice president of government relations and public policy, said in a statement Monday that "the politicians behind these bills have one ultimate goal in mind: to ban access to safe, legal abortion in this country." And she got that right.
A Bill Criminalizing Genital Mutilation Surgeries Will Not be Scheduled for a Vote in Committee
https://www.ktvb.com/article/news/local/capitol-watch/gender-reassignment-surgery-bill-dead/277-767f1a8d-1aab-4cef-845a-343eed92663d
KTVB BOISE, Idaho reports that a bill that would have outlawed genital mutilation surgery for minors will not be scheduled for a vote, making it likely dead for this legislative session. 
The chairman of the House Judiciary, Rules, and Administration Committee, Rep. Greg Chaney (R-Caldwell), made the announcement in a press release Wednesday, after the committee heard hours of testimony on Tuesday. During the hearing, the bill's sponsor, Rep. Christy Zito (R-Hammett), said gender dysphoria is a mental disorder and should be treated as such.
"If it's a mental disorder as listed in the diagnostics and statistics manual, then it should be treated as a mental disorder and not as a physical disorder," Zito said.
Chaney said he sent a letter to the Rep. Zito explaining his reasoning for holding the bill. In the letter, Chaney says he agrees that the surgeries are harmful and should be stopped, but that he was also moved by the sensitivity of the issue to those struggling with it. "While I strongly disagree with their conclusions and course of conduct, the parents and providers of those with gender dysphoria are very intently attempting to do what is best as they see it," Chaney says in the letter.
The bill would also make it a crime for anyone in Idaho to perform gender reconstructive surgery on anyone under 18, which Chaney also said he has concerns with. He concludes his letter by reiterating that he does not support gender reassignment surgery and places blame on doctors who are misleading parents and others on the issue. "In time, history will ultimately judge the current 'woke' approach to gender dysphoria to be a fleeting social fad and a pall on the history of medicine and psychiatry." Chaney also compares it to the practice of bloodletting, electro-shock treatment, and lobotomies in medical history. "Sex change treatments as a matter of necessity will one day be lumped into the same regretful category."
But Chaney nevertheless killed the bill that would ban them. Ah right. That makes really great sense. Let doctors mislead parents and children and perform permanent, life-altering surgeries leaving them maimed and worse. Why? Because he was moved by the sensitivity of the issue to those struggling with it. Notice that once again, we don't know what we're doing, but we're doing it with great confidence and great speed. 
Idaho Bill Banning Crossdressing Men on Women's Athletics Teams Passes Committee
https://www.ktvb.com/article/news/politics/bill-banning-transgender-women-athletes-in-idaho-schools-passes-headed-to-house-floor/277-1cd9e0fa-8a45-4611-882d-dd526ae982e4
KTVB Boise: Rep. Barbara Ehardt's bill, which will ban transgender athletes from playing in women's sports, passed through the House State Affairs Committee
The Fairness in Women's Sports Act was introduced by Rep. Barbara Ehardt (R-Idaho Falls). She previously told KTVB that transgender athletes act as a "roadblock" for biological girls and women playing sports with other biological women.
The bill is not exclusionary to transgender women. Under this bill, transgender men will also be prevented from competing in sports against other men. Numerous Idaho schools allow students to participate on the team that aligns with their gender identity. This legislation would effectively eliminate that choice.
Ehardt told KTVB that allowing boys and men to compete in sports teams that align with their gender identity reverses nearly 50 years of advances for Idaho women. "Allowing boys and men to compete against girls and women shatters our dreams," Ehardt said. "Forcing girls and women to compete against biological boys and men has too often made us spectators in our own sports."
Kathy Griesmyer, public policy strategist for the American Civil Liberties Union (ACLU), argued that this bill undermines civil liberties, specifically in terms of medical testing. In this bill, there is a section that states "If disputed, a student may establish sex by presenting a signed physician's statement that shall indicate the student's sex based solely on: (a) The student's internal and external reproductive anatomy; (b) The student's normal endogenously produced levels of testosterone; (c) An analysis of the student's genetic makeup. 
"Specifically, it creates a paradigm of discrimination that impermissibly forces sex stereotypes by allowing anyone who does not meet expectations of their sex to be subjected to invasive, unnecessary and traumatizing medical testing," Griesmyer said. But if a boy thinks he's a girl, it's totally fine to cut off his penis. That's not invasive or traumatizing at all. 
Coronavirus Update
https://www.washingtonpost.com/us-policy/2020/02/25/cdc-coronavirus-inevitable/

Washington Post: Federal health officials urged the public Tuesday to prepare for the "inevitable" spread of the coronavirus within the United States, escalating warnings about a growing threat from the virus to Americans' everyday lives.
The warnings from officials with the Centers for Disease Control and Prevention, the National Institutes of Health and other agencies, contrasted sharply with assessments from President Trump and other White House officials, who have largely dismissed concerns about the virus. The mixed messages continued Tuesday as dire warnings issued to senators and reporters early in the day gave way to a more positive assessment, after the Dow Jones industrial average plunged 3.4 percent, bringing the two-day loss to more than 1,900 points — the worst in two years.
"We believe the immediate risk here in the United States remains low, and we're working hard to keep that risk low," Anne Schuchat, the CDC's principal deputy director, said during a hastily convened afternoon news briefing.
https://www.livescience.com/new-coronavirus-compare-with-flu.html
Live Science reports: The new coronavirus outbreak has made headlines in recent weeks, but there's another viral epidemic hitting countries around the world: flu season. But how do these viruses compare, and which one is really more worrisome?
So far, the new coronavirus, dubbed COVID-19, has led to more than 78,000 illnesses and 2,400 deaths, primarily in mainland China. But that's nothing compared with the flu, also called influenza. In the U.S. alone, the flu has already caused an estimated 26 million illnesses, 250,000 hospitalizations and 14,000 deaths this season, according to the Centers for Disease Control and Prevention (CDC). 
That said, scientists have studied seasonal flu for decades. So, despite the danger of it, we know a lot about flu viruses and what to expect each season. In contrast, very little is known about COVID-19 because it's so new. This means COVID-19 is something of a wild card in terms of how far it will spread and how many deaths it will cause. 
In a more recent study, considered the largest on COVID-19 cases to date, researchers from the Chinese Center for Disease Control and Protection, analyzed 44,672 confirmed cases in China between Dec. 31, 09 and Feb. 11, 2020. Of those cases, 80.9% (or 36,160 cases) were considered mild, 13.8% (6,168 cases) severe and 4.7% (2,087) critical. "Critical cases were those that exhibited respiratory failure, septic shock, and/or multiple organ dysfunction/failure," the researchers wrote in the paper published in China CDC Weekly.
In the study published Feb. 18 in the China CDC Weekly, researchers found a death rate from COVID-19 to be around 2.3% in mainland China. That's much higher than the death rate linked to flu, which is typically around 0.1% in the U.S., according to The New York Times. 
Even so, the death rate for COVID-19 varied by location and an individual's age, among other factors. For instance, in Hubei Province, the epicenter of the outbreak, the death rate reached 2.9%; in other provinces of China, that rate was just 0.4%. In addition, older adults have been hit the hardest. The death rate soars to 14.8% in those 80 and older; among those ages 70 to 79, the COVID-19 death rate in China seems to be about 8%; it's 3.6% for those ages 60 to 69; 1.3% for 50 to 59; 0.4% for the age group 40 to 49; and just 0.2% for people ages 10 to 39. Nobody 9 and under has died of this coronavirus to date. 
This is Toby Sumpter with Crosspolitic News. You can find this show and all the others on the
Fight Laugh Feast Network at Crosspolitic.com or Fightlaughfeast.com or on our app, which you can download at your favorite app store, just search "Fight Laugh Feast". Support Rowdy Christian media and join our club at fightlaughfeast.com and get access to master classes on parenting, Christian business principles, God and Government, and backstage interviews with people like Voddie Baucham, Douglas Wilson, James White, Tom Ascol, Erick Erickson, and David French. We also hope to meet you at our first annual Fight Laugh Feast Conference in Nashville, TN October 1st through the 3rd. Go to fightlaughfeast.com to register now. Have a great day. https://flfnetwork.com/coming-soon/