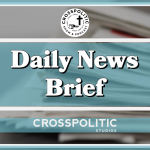 This is Toby Sumpter with your CrossPolitic Daily News Brief for Friday, February 28, 2020
Tiktok is Number 1
https://www.businesstoday.in/latest/trends/tiktok-is-no1-beats-facebook-instagram-to-become-most-downloaded-app-in-us/story/397056.html
Chinese tech firm ByteDance's TikTok is the most downloaded non-game app of January 2020 in the US. According to app analytics company Sensor Tower, the app was downloaded 7.7 million times combined on Google Play Store and Apple App Store which was 23.8 times more than the number of downloads in January 2019. 
Tik Tok (formerly known as musical.ly) is a social media platform for creating, sharing and discovering short music videos, think Karaoke for the digital age. Instagram for videos.
Disney plus comes a close second with 6.8 million downloads. The app will launch next month in India with its local platform Hotstar. 
Facebook's apps Instagram, Facebook Messenger have always been leaders in downloads, but have been pushed to third and fourth respectively followed by Netflix at the fifth position. WhatsApp didn't make it to the top 5 in January 2020.          
TikTok has been very popular in India. The app was downloaded 227.6 million times. The short-video sharing platform has already been downloaded more the 1.5 billion times on the App Store and Google Play combined, with India downloading it more than anyone else in the world.
https://www.usatoday.com/story/tech/2020/02/27/reddit-ceo-calls-tiktok-app-fundamentally-parasitic-spyware/4895825002/
USA Today: Reddit CEO Steve Huffman presumably won't be singing on TikTok anytime soon. 
Huffman referred to the wildly popular short-form mobile video app as "fundamentally parasitic," in remarks he made Wednesday at a Silicon Valley conference. "I look at that app as so fundamentally parasitic, that it's always listening, the fingerprinting technology they use is truly terrifying, and I could not bring myself to install an app like that on my phone."
Huffman added that he actively tells people, "'Don't install that spyware on your phone,'" 
TikTok pushed back in a statement shared with USA TODAY. "These are baseless accusations made without a shred of evidence." All of our users' information is safe in secret detention centers and re-education camps. (just kidding!)
The video-sharing service is owned by a Chinese company ByteDance.
Lawmakers have fretted over how TikTok handles data. This past Sunday, the Transportation Security Administration said it has stopped allowing employees to use TikTok to create social media posts for the agency after Democratic Senator Chuck Schumer posted a video of himself doing the floss (not really) – Schumer raised concerns about potential national security issues
Parents have also been concerned about their teens' obsession with the app. Earlier this month, TikTok announced a new Family Safety Mode, which gives parents and guardians more control over how much time their kids spend on TikTok.
https://www.independent.co.uk/life-style/gadgets-and-tech/news/tiktok-china-data-privacy-lawsuit-bytedance-a9230426.html
 Trump is Apparently Now Colluding with Kentucky
https://www.politico.com/news/2020/02/27/rand-paul-trump-surveillance-law-117940
Politico reports: Key features of the infamous Patriot Act are scheduled to expire on March 15th, and while many have expected for the main provisions to be renewed, Rand Paul told reporters on Wednesday that the President had told him that he does not support a clean extension of the surveillance provisions of the Patriot Act. 
The Patriot Act was passed in the aftermath of the 9-11 Terrorist Attacks giving sweeping search and surveillance powers to domestic law enforcement and foreign intelligence agencies and many believing unconstitutionally eliminating checks and balances that previously gave courts the opportunity to ensure that those powers were not abused. Many believe that Section 215 of the Patriot Act violates the Fourth Amendment of the Constitution, which says the government cannot conduct a search without obtaining a warrant and showing probable cause to believe that the person has committed or will commit a crime. The most infamous recent incidence of such abuse was with the FISA court that granted surveillance of former Trump aid Carter Page. 
https://archives.fbi.gov/archives/news/testimony/usa-patriot-act-amendments-to-foreign-intelligence-surveillance-act-authorities
Rand's announcement comes just a day after Attorney General William Barr told GOP senators that Congress should extend the expiring provisions regarding roving wire taps, lone wolf actors and the most controversial provision: call data collection.
Asked about the discrepancy between his conversation with Trump and Barr's remarks to senators, Paul said there was "misinformation that got out from some people in the administration" about the expiring surveillance powers.
"The president was out of the country and somebody mischaracterized his positions. I'll leave it up to y'all to figure that out," Paul added.
Paul said Trump is "very supportive" of his amendment to prevent the Foreign Intelligence Surveillance Act from targeting Americans, a reflection of conservative unease over the way the Trump campaign was surveilled in 2016.
"FISA warrants should not be issued against Americans," Paul said on Thursday afternoon. "Americans shouldn't be spied on by a secret court. I think he agrees completely with that and that's the amendment that I'm going to insist on. I'm not letting anything go easy without a vote on my amendment."
Paul's conversation with Trump could blow up plans by Senate Majority Leader Mitch McConnell (R-Ky.) to extend those expiring authorities, which McConnell said was his preference on Tuesday. It also suggests a fresh schism between Barr and Trump after Trump weighed in on the sentencing of his longtime ally Roger Stone, a development that Barr said made his job "impossible."
Most Senate Republicans want Barr to stay in his job and many of them agree with his position on the FISA courts. Paul voted against Barr's confirmation as attorney general, the only Republican to do so. 
Barr suggested to Republicans that he could make some of the changes sought by Republicans, including to blunt the ability of the FISA courts to target Americans, through new regulations. Senate Judiciary Chairman Lindsey Graham (R-S.C.) said he planned to talk about the matter on Friday and try and suggest a compromise.
"The best thing is for me to try and find out what happened and see if we need to do more than the attorney general's done. So maybe an extension for a period of time that allows us to come back toward the end of the year, maybe would work," Graham said. 
But that's unlikely to satisfy Paul, who said he doesn't care whether the provisions expire anyway since he opposes the Patriot Act to begin with. 
Barr "wants to do just his own regulatory reforms, some of which are good but are not enough. We have to fix the law," Paul said. "His tenure could be six months and then the next attorney general changes it. This is an inflection point where we should change the law."
This is Toby Sumpter with Crosspolitic News. You can find this show and all the others on the Fight Laugh Feast Network at Crosspolitic.com or Fightlaughfeast.com or on our app, which you can download at your favorite app store, just search "Fight Laugh Feast". Support Rowdy Christian media and join our club at fightlaughfeast.com and get access to master classes on parenting, Christian business principles, God and Government, and backstage interviews with people like Voddie Baucham, Douglas Wilson, James White, Tom Ascol, Erick Erickson, and David French. We also hope to meet you at our first annual Fight Laugh Feast Conference in Nashville, TN October 1st through the 3rd. Go to fightlaughfeast.com to register now. Have a great day. https://flfnetwork.com/coming-soon/