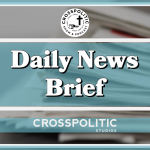 This is Gabriel Rench with your CrossPolitic Daily News Brief for Monday, March 2nd, 2020
Republican mega-donor buys stake in Twitter and seeks to oust Jack Dorsey
https://www.theguardian.com/technology/2020/feb/29/paul-singer-elliott-management-twitter-jack-dorsey
According to the Guardian: "A major Republican donor has purchased a stake in Twitter and is reportedly seeking to oust its chief executive, Jack Dorsey.
Bloomberg News first reported that Elliott Management has taken a "sizable stake" and "and plans to push for changes at the social media company, including replacing Dorsey".
Paul Singer, the billionaire founder of Elliott Management, is a Republican mega-donor who opposed Donald Trump during the real-estate magnate's run for the presidential nomination but has since come onside.
Dorsey, a co-founder of Twitter, is also chief executive of Square, an online payment company. In November, he announced a plan to live and work in Africa for part of each year.
It was reported that those moves were motivations for Singer's desire to push Dorsey out. Other stakeholders have voiced concern about Dorsey's leadership and Twitter has seen its share price struggle, although it recently reported quarterly revenue above $1bn for the first time.
News of the Elliott stake saw Twitter's share price rise on Friday, during general market slides in the midst of the coronavirus outbreak.
Elliott Management is an activist investor, which means it regularly pushes for change in companies in which it buys shares.
Singer has even taken on whole countries: in 2016, after a relentless campaign, he secured a partial repayment of debts by Argentina, arising from its financial collapse in the early 2000s."
I am not sure if Singer is a Christian or not, but we have talked on the show in the past that Christians need to be thinking strategically and thinking big about taking dominion in the public square. I like this move by Singer. Twitter, next to facebook of course, is one of the biggest platforms for social media. If I owned Twitter, just for fun, I would require every tweet to have a bible referenced attached to the tweet.   
House GOP to Attempt Procedural Vote to Condemn Sanders' Praise of Fidel Castro
https://www.foxnews.com/politics/house-republicans-plan-to-attempt-procedural-vote-condemning-bernie-sanders-castro-comments
According to Fox: "House Republicans reportedly plan to attempt a procedural vote Thursday on legislation condemning Sen. Bernie Sanders' recent praise of late Cuban dictator Fidel Castro's 1960s literacy campaign.
Sanders lauded Castro's "literacy brigade" on '60 Minutes' on Sunday and said that although he's "very opposed to the authoritarian nature of Cuba…it's unfair to simply say everything is bad."
"When Fidel Castro came into office, you know what he did? He had a massive literacy program. Is that a bad thing? Even though Fidel Castro did it?" he said.
Rep. Mario Diaz-Balart, R-Fla., the chief sponsor of the proposal, is a Cuban-American whose family fled Castro's regime. His aunt was Castro's first wife, according to Politico.
The vote could complicate reelection efforts for vulnerable Democrats in tight House races, especially for those concerned having Sanders at the top of the ticket could cost them their seat in November."
This is really a shrewd move by republicans, because this will put pressure on all sorts of democrats to condemn Bernie Sanders and his sympathies towards communist countries. A number of House democrats are up for re-election this coming November, and so if they vote against this procedural vote, then that could hurt their reelection chances. There is going to be a lot of pressure in state and local elections for democrats to distance themselves from socialism, and we should make sure that we hold our local politicians' feet to the fire. Every chance you get, ask your local democrats who are running for office to explain to you how socialism has destroyed other countries. 
U.S., Taliban sign historic peace deal
https://disrn.com/news/us-taliban-sign-historic-peace-deal
According to Discrn: "The United States and Taliban militants signed a historic peace treaty on Saturday, a major step toward ending the 18-year-long war in Afghanistan, which is America's longest war.
The treaty lays out a timetable for the withdrawal of the roughly 13,000 U.S. troops still stationed in the country, contingent on the Taliban's completion of commitments, including breaking ties with international terrorist groups such as al-Qaeda. The deal calls for the number of U.S. troops to be reduced to 8,600 within 135 days with the goal of complete withdrawal in 14 months.
Secretary of State Mike Pompeo spoke about the agreement in front of Taliban leaders in Doha, Qatar, saying:
"We will closely watch the Taliban's compliance with their commitments and calibrate the pace of our withdrawal to their actions. This is how we will ensure that Afghanistan never again serves as a base for international terrorists."
The U.S. originally invaded Afghanistan in the aftermath of the September 11 terror attacks, which were planned by al-Qaeda leaders being protected by the Taliban in Afghanistan. The war has cost $2 trillion and taken the lives of more than 3,500 American and coalition troops."
18 years, $2 trillion, and 3,500 lives. Very sad. Our leaders have a lot to answer to God for, and I am not talking about our politicians, although they of course will answer to God, I am talking about pastors who refuse to preach the full word of God to the public square. 
'Gender neutral' plan for toys would get rid of boys' and girls' aisles in California stores
https://www.sacbee.com/news/politics-government/capitol-alert/article240601601.html
According to the Sacramento Bee: "California department stores that sell children's products such as toys and clothes would be prohibited from segregating them by gender, under a bill now being considered by lawmakers.
Assembly Bill 2826, by Assemblyman Evan Low, D-Campbell, would apply to all retail department stores with 500 or more employees.
The bill would do away with so-called "boys aisles" and "girls aisles," by requiring that children's products be offered in a single, gender neutral section, according to Low's office.
If passed into law, the bill would apply to children's clothing, toys and childcare items, "regardless of whether a particular item has traditionally been marketed for either girls or for boys," according to the bill language."
California is just going insane. Their government has no standards, no sense of boundaries, they just simply do not know what they are doing. The farther away you get from God's laws, the more legalistic your laws will become. California will ban anything-straws, plastic bags, possibly boys and girls aisles, abortion…oops slip of the tongue. Either we serve God and obey His laws, or we serve man and legislate ourselves into slavery. 
This is Gabriel Rench with Crosspolitic News. You can find all our shows on our app, which you can download at your favorite app store, just search "Fight Laugh Feast". Support Rowdy Christian media and join our club at fightlaughfeast.com. We can't grow without our club members, so please consider joining our club. Just three starbucks cups of coffee a month, you get a Fight Laugh Feast t-shirt, discount to our annual conference, and access to master classes on parenting, Christian business principles, God and Government, and backstage interviews with people like Voddie Baucham, Douglas Wilson, James White, Tom Ascol, Erick Erickson, and David French. We also hope to meet you at our first annual Fight Laugh Feast Conference in Nashville, TN October 1st through the 3rd. Go to fightlaughfeast.com to register now. Have a great day. Lord bless