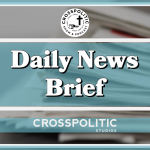 This is Gabriel Rench with your CrossPolitic Daily News Brief for Wednesday, March 4th, 2020
Americans continue to vote with their feet towards low-tax states
https://thehill.com/opinion/finance/485497-how-tax-rates-affect-congressional-apportionment
"Americans continue to move, or "vote with their feet," toward states that have lower tax burdens and value economic competitiveness. For more than a decade, our work in Rich States, Poor States (https://www.richstatespoorstates.org/) has revealed that states with lower taxes, especially those that avoid personal income taxes, have seen significantly better rates of in-migration than states with high income tax rates. 
For example, the two biggest winners from the 2019 population estimates are Texas, which gained 367,215 new residents on net, and Florida, which gained 233,420. Neither the Lone Star State nor the Sunshine State have a personal income tax. The two states with the largest population losses in 2019 were New York, with a net loss of 76,790 residents and Illinois, which lost 51,250. New York and Illinois have some of the highest tax burdens in America, and their policy mistakes are costing them dearly. Moving away from the large states, a quartet of low tax states – Idaho, Nevada, Arizona and Utah – led the way this past year in terms of overall population growth as a percentage of their population."
This will also have a big impact on House, as congressional seats will shift around due to population migration:
"The big winners in terms of congressional seats include growth states Texas, which is slated to gain three seats (from 36 to 39) and Florida, which is set to gain two seats (from 27 to 29). Other states that are likely to gain a seat include; Arizona +1 (from 9 to 10), Colorado +1 (from 7 to 8), Montana +1 (from 1 to 2), North Carolina +1 (from 13 to 14), and Oregon +1 (from 5 to 6).
States that are likely to lose seats in 2020 include; Alabama -1 (from 7 to 6), California -1 (from 53 to 52), Illinois -1 (from 18 to 17), Michigan -1 (from 14 to 13), Minnesota -1 (from 8 to 7), New York -1 (from 27 to 26), Ohio -1 (from 16 to 15), Pennsylvania -1 (from 18 to 17), Rhode Island -1 (from 2 to 1), and West Virginia -1 (from 3 to 2)."
Note that California will lose its first seat since its statehood in 1850. 
West Virginia gov. signs bill requiring medical care for babies born alive after surviving abortions
https://disrn.com/news/west-virginia-passes-ban-on-killing-babies-born-alive-during-failed-abortions
"West Virginia Republican Gov. Jim Justice signed legislation on Monday that would require doctors to provide medical care to infants born alive after a botched abortion.
The Born-Alive Abortion Survivors Protection Act requires doctors to administer medical treatment to babies born alive after a failed abortion. Violators could lose their medical license.
Justice said it was "unbelievable, to tell you the truth, that we have to do such a thing," but said that "today we're going to put a stake in the sand that says for us, for us at least, we stand for life and we stand for the right stuff."
I am glad the governor has signed this bill. But what is crazy about this, is that the bill is saying if you escape your execution, we will provide you healthcare.
NHS gender clinic 'should have challenged me more' over transition
https://www.bbc.com/news/health-51676020
"A 23-year-old woman who is taking legal action against an NHS gender clinic says she should have been challenged more by medical staff over her decision to transition to a male as a teenager.
A judge gave the go-ahead for a full hearing of the case against the Tavistock and Portman NHS Trust.
Lawyers will argue children cannot give informed consent to treatment delaying puberty or helping them to transition."
According to Discrn.com: 
"Keira Bell was prescribed puberty blockers at the age of 16 after she sat through three one-hour-long consultations at the Tavistock and Portman NHS Trust, the UK's only gender-identity development service."
Bell goes on to say: "I was allowed to run with this idea that I had, almost like a fantasy, as a teenager… and it has affected me in the long run as an adult. I'm very young," she said. "I've only just stepped into adulthood and I have to deal with this kind of burden or radical difference – in comparison to others at least."
Here is the deal. Abandoning God's word as our standard is a death sentence. Not only for our society, but who we are as individuals. Notice how Bell describes her desire to transition, it was "almost like a fantasy". But without God's word there is nothing wrong with living out your fantasies. Another way of saying this, is that without God's word there is nothing wrong with living out your lust. What are lust in a godless world? They are your authentic desires, right? They make you feel good, right? So how does a doctor counsel you in a godless world? You have these desires just marinating, and you don't feel right unless you fulfill these desires, so sure here is some medicine to make you look more like you feel. You see abandoning God's word hurts everybody in that scenario. What standard can the doctors appeal too? What standards can the patient appeal too? And here we are, now the patient can sue the doctor for providing them the medicine, and the patient could have sued the doctors for withholding the medicine.
Supreme Court agrees to hear case challenging Obamacare constitutionality
https://www.foxnews.com/politics/supreme-court-agrees-to-review-obamacare-challenge-over-funding-mechanism
"The U.S. Supreme Court announced Monday that it will review a challenge to the Affordable Care Act's constitutionality after a group of states led by Texas claimed that there is no longer a legal justification for it.
The law, commonly known as ObamaCare, was first upheld by the Supreme Court under the justification that by tying the individual mandate — the requirement to buy health insurance — to a financial penalty it fell under Congress' taxation power. When President Trump eliminated the penalty, Republican-led states claimed there was no longer a legal basis for the mandate."
If you can't force people to participate in Obamacare through forced tax penalties, you have no Obamacare. That is all. 
Joe Biden now tops betting odds to win Democratic nomination
https://disrn.com/news/joe-biden-now-tops-betting-odds-to-win-democratic-nomination
Lastly, Super Tuesday just wrapped up yesterday, and since I am completing this New Brief before results are fully in, I thought I would just mention that the circus had a couple monkeys drop out and put their energies behind Biden. The two to note are Pinko Pete and Amy Klobuchar. Pete got out at the right time. He still has the appearance of a following and Joe needs any positive vibes he can get. The other thing to point out, is that Pete has no future in Indiana. He cannot win a statewide election there, so his best bet is to hop on a presidential train where he can land a cabinet position eventually. Sort of like a Quid Pro Quo. 
This is Gabriel Rench with Crosspolitic News. You can find all our shows on our app, which you can download at your favorite app store, just search "Fight Laugh Feast". Support Rowdy Christian media and join our club at fightlaughfeast.com. We can't grow without our club members, so please consider joining our club. Just three Starbucks cups of coffee a month, you get a Fight Laugh Feast t-shirt, discount to our annual conference, and access to master classes on parenting, Christian business principles, God and Government, and backstage interviews with people like Voddie Baucham, Douglas Wilson, James White, Tom Ascol, Erick Erickson, and David French. We also hope to meet you at our first annual Fight Laugh Feast Conference in Nashville, TN October 1st through the 3rd. Go to fightlaughfeast.com to register now. Have a great day. Lord bless