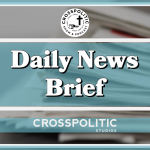 This is Toby Sumpter with your CrossPolitic Daily News Brief for Thursday, March 5, 2020
And then there were 2…
https://www.wsj.com/articles/biden-sanders-look-to-next-contests-while-bloomberg-warren-assess-campaigns-11583331854?mod=hp_lead_pos5
Julie Bykowicz and Chad Day with the Wall Street Journal report: Super Tuesday victories for Joe Biden and Bernie Sanders's win in California narrowed the Democratic nomination contest to essentially a two-person race and set up a potentially long and bruising presidential primary fight.
One by one, the former vice president's moderate rivals have fallen away and endorsed him, including former New York City Mayor Michael Bloomberg on Wednesday, whose personal fortune proved not enough to net him any significant wins. Massachusetts Sen. Elizabeth Warren, who placed third in her home state Tuesday, was assessing her next move Wednesday, according to her campaign manager, who said she needed "time and space." [code for dropping out]
At the time of recording, Biden leads Sanders in the delegate count with 553 to 488, leaving thousands of delegates still uncommitted. Biden performed strong all across the South East, while Sanders picked up Colorado, Utah, and Nevada, and shockingly hauled in the largest number of delegates from the United Socialist Republic of California. 
https://disrn.com/news/bloomberg-spends-600-million-wins-zero-states/
Meanwhile Big Gulp Bloomberg Spent 600 Million and failed to win a single state on Stuper Tuesday. He spent almost twice what President Trump spent in his entire successful 2016 campaign and came up with nothing. Well, that's not technically true, he won that hotly contests land of American Samoa. Bloomberg ended his presidential bid on Wednesday and endorsed Joe Biden for the democratic nomination. 
"After yesterday's results, the delegate math has become virtually impossible—and a viable path to the nomination no longer exists," Mr. Bloomberg said Wednesday.
"I've always believed that defeating Donald Trump starts with uniting behind the candidate with the best shot to do it. After yesterday's vote, it is clear that candidate is my friend and a great American, Joe Biden," he said. "I will work to make him the next president of the United States." 
https://www.wsj.com/articles/some-global-markets-buck-u-s-declines-11583286397?mod=hp_lead_pos1
The US Stock Market has been exciting over the last couple of weeks, beginning with the third single greatest drop in a single day in Dow Jones history, and the biggest since 2008, losing 1,031 points on Monday, February 24th and a total of 3500 points over the following week. The primary culprit? Coronavirus fears. The thinking is that not only is COVID-19 a major concern to the health and well-being of the citizens in affected countries, but it has the potential to substantially affect gross domestic product (GDP) growth in these countries – if people cannot go to work, if transportation slows or stops, if businesses slow down or shut down operations, production and trade would be significantly affected. With China boasting the second highest GDP in the world, COVID-19 could send economic ripples throughout the world.
But just to put this in perspective, that drop was only a 3.56% decline, which, the larger the market, the more the percentage matters than the exact number of points. Economists say that the market would really have to double that loss to call it a true plunge. Economists refer to this sort of dip as a market "correction", and these kinds of corrections take place on an average of just under every two years, lasting on average only around 6 months. 
But to put the dip into even more perspective, you have to remember how bullish and explosive our stock market has been during the Trump administration. For example, the S&P 500 grew more than 28% in 2019, causing some to speculate in January that the market was due for some kind of correction. This most recent dip-correction landed us at still better than we were when the market saw its last mini-dip in May of last year, dropping to 25,000 points. Last week, the market dropped to just under 26,000 points at its lowest point, still better than May of last year. And all the indicators are that the market is heading right back into growth mode since last week. 
The market seemed to respond well to the President Trump's strong coordinated response to Coronavirus threats in the US, including some 8 billion dollars designated by congress to combat the virus. 
https://www.wsj.com/articles/some-global-markets-buck-u-s-declines-11583286397
Meanwhile, the results from the Tuesday primaries suggested Mr. Biden could be a more formidable opponent to Sen. Bernie Sanders than originally anticipated—a good sign for investors who are concerned that Mr. Sanders's more progressive pledges wouldn't be favorable for businesses. Translation: the market isn't excited about a Breadline Bernie presidency. 
"I do believe that if you had woken up this morning and Bernie Sanders was the presumptive nominee, the markets would not be reacting as they are today," said Brent Schutte, chief investment strategist at Northwestern Mutual Wealth Management Co. 
"I think some of what was happening over the past two weeks, as Bernie Sanders gained in the polls, was that the market was worried about what he may mean to the economy and the markets moving foward if he were president," Mr. Schutte continued. 
In particular, U.S. health-care stocks soared, with some money managers dubbing the surge as the "Biden bump." Mr. Sanders' proposal for Medicare for All has posed a potential threat to health insurance companies. A potential threat? How about an existential threat? More government regulation means soaring prices, regulations, and stagnation for the entire industry. 
Anthem, the largest health insurance provider in the Blue Cross Blue Shield Association advanced $40.04, or 15%, to $296.42, ranking it as the best performer in the S&P 500. The gains marked its largest one-day percentage increase since October 2008. Other health insurers including Centene, Humana, Cigna and UnitedHealth Group also notched double-digit gains on Wednesday.
The "Biden bump." He may not know what he's running for, what the Declaration of Independence says, or where he is or what he's doing, but at least he's not a communist. Maybe that should be his campaign slogan. Not a Commie Biden. 
Finally, adding to the quick stock market turn around, the Federal Reserve also announced an emergency interest rate cut on Tuesday, of a half percentage point. The announcement initially caused a bit more uncertainty in the market, but by Wednesday everything was climbing again: All 11 sectors in the S&P 500 rose, as did all 30 stocks in the Dow Jones Industrial Average. The blue-chip index climbed 1,173.45 points, or 4.5%, finishing at 27090.86, clawing back the losses that occurred during Tuesday's frenzied trading session. The S&P 500 gained 126.75 points, or 4.2%, to finish the day at 3130.12, driven higher by – as we already mentioned — the health-care sector, which jumped 5.8%. The technology-heavy Nasdaq Composite rose 334 points, or 3.9%, to 9018.09, returning to positive territory for the year.
Two final thoughts on all of this: First, it is simply undeniable that Trump is having a phenomenal affect on US markets. People are more willing to start businesses, build houses and companies, and invest in the market when things are fairly stable and predictable. And as indicated by the Biden Bump, when somebody is talking about taking all your profits, or coming in a regulating everything you do and how you do it, that really puts a cramp on growth. At the same time, and this is the second thing: Christians should build and invest with their eyes fixed on Christ. This doesn't mean being stupid and ignoring markets and politics. Sometimes you gotta be like Gideon and thresh your wheat in the wine press to hide it from the Canaanites. But nevertheless, Gideon was being fruitful. And Christians need to be building and investing for the future. This means families, schools, and churches. Everything else flows from that.  
This is Toby Sumpter with Crosspolitic News. You can find this show and all the others on the
Fight Laugh Feast Network at Crosspolitic.com or Fightlaughfeast.com or on our app, which you can download at your favorite app store, just search "Fight Laugh Feast". But what you really want to do, the thing that will make your day and perhaps your month complete is become a member of the Fight Laugh Feast club. Not only are you supporting Rowdy Christian media, for a limited time you can get your very own Fight Laugh Feast t-shirt. You can't get these anywhere else except by becoming a member. You are also getting access to master classes on parenting, Christian business principles, God and Government, No Limits Eschatology, our Worldview Shotgun series, plus backstage interviews with people like Voddie Baucham, Douglas Wilson, James White, Tom Ascol, Sho Baraka, Erick Erickson, and David French. You also get $100 off your registration for our first annual Fight Laugh Feast Conference, where we hope to meet many of you in Nashville, TN October 1st through the 3rd. Go to fightlaughfeast.com to register now. Have a great day. https://flfnetwork.com/coming-soon/