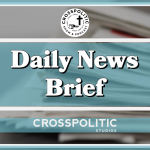 This is Toby Sumpter with your CrossPolitic Daily News Brief for Friday, March 6, 2020
Nothing is Going on in the PCA, Especially Not in Missouri, Shut Up
http://www.boom.lgbt/index.php/art-enter/144-a-e/1907-the-q-collective-announces-cast-of-transluminate-2020?fbclid=IwAR3q-htun27nHZRCunI2gX6bs_A-k4KhIPqNhO7nOaeK4bfaEX-syM18828
The Missouri Presbytery of the PCA and Greg Johnson's Memorial Presbyterian Church are back in the news today with the revelation that they recently hosted the Transluminate Arts Festival. The event describes itself as "a short-play festival and celebration of transgender, agender, non-binary, genderqueer, and genderfluid artists." The event was held Feb. 27-29 and Feb. 29-March 1 at The Chapel, which is an event venue and ministry partner operated by volunteers from Memorial Presbyterian Church. 
Plays that were performed included a homosexual couple discussing their testosterone shots — presumably implying that they are women trying to be men? Another description reads: "Joe, a transgender man, and Shawna, a transgender woman, are married, and Joe is carrying their child. The bottom of the page includes a content warning: Plays may contain adult language and frank sexual situations.
Remember, Greg Johnson and Memorial Presbyterian were in the news back in 2018 when they hosted the first Revoice Conference, celebrating LGBT+ and other sexual minorities and helping them live in the traditional sexual ethic. If that sounds like a contradiction to you, you wouldn't be the only one. Greg Johnson was interviewed by CrossPolitic, and you can find that discussion in our show archives at crosspolitic dot com or on our youtube page. Included in their breakout sessions were titles like What Queer Treasure will be in the New Jerusalem? This kicked up quite a dust storm, which resulted in Missouri Presbytery forming a study committee to investigate Pastor Greg Johnson and Memorial Pres. 
This resulted in a presbytery committee that ultimately found that Greg Johnson and Memorial Pres did not commit any grave or serious errors at Revoice 2018 and nothing that took place there struck at the vitals of religion and it is too early to pass any judgment on whether the emphasis on the need for 'gay spaces' is a grave or serious doctrinal error. The Missouri Presbytery also voted to commend the practice of same-sex back rubs but promised to revisit the issue next year. 
Likewise, the scandal elicited a response from Mark Dalbey, President of Covenant Theological Seminary – the official seminary of the PCA, located in St. Louis in March of 2019. Dalbey responded to criticisms and questions about Revoice 2018 . While he affirmed biblical sexuality and clearly identified homosexual identity, lust, and activity as sinful, his strongest admonition was for those who have publicly accused Covenant Seminary of compromise. The video captures quite well why conservatives consistently lose ground in these discussions. President Dalbey's most vehement condemnation was for people who may have shared speculations about Covenant's involvement or influence on Revoice. He effectively called the public questions and concerns "abominations" and "perversions" and "vile affections" and called sodomy and sodomite lust merely "sin." The clearest thing from the video is that God hates slander, hates gossip, and hates anyone who raises questions and concerns publicly that might be construed by anyone as slander or gossip. So shut up. There was not a word of rebuke for Greg Johnson or Memorial Pres or the Missouri Presbytery for causing the confusion. 
Finally, remember that Greg Johnson "came out" as wishing he was a sodomite in Christianity today last year shortly before repeating the line on the floor of the PCA general assembly and receiving a round of applause. The assembly barely passed a resolution affirming the Nashville Statement (over Pastor Johnson's objections), but when another pastor read through the major Bible passages on homosexuality, his speech was objected to and a formal complaint was filed by a number of PCA delegates calling his speech intemperate. So notice that the great and heinous sin in the PCA is intemperate speech, asking questions, raising concerns publicly about public events. Sure homosex is technically a sin, but the real scandal is not churches hosting gay spaces and queer treasure inquiries. The real scandal is people being bothered by it and asking Covenant Seminary if they have anything to do with it. 
Don't forget the political nature of all of this: Jesus said that His people are the light of the world and the salt of the earth. The reason President Trump would have no problem appointing a sodomite to his cabinet is because the largest conservative Reformed denomination in America cannot speak clearly on the matter. The only thing they can say clearly is that you should talk very softly and with a lisp and only raise questions privately and after an ever more private back rub, while remaining completely celibate. Don't worry no grave or serious doctrinal error will take place.  
Ilhan Omar Wants Your Children
https://parentalrights.org/convention-on-the-rights-back/?fbclid=IwAR3MqGCCktl2jUIu1SpahQkRfXlEsBWQOtNgfKUyLLmgIuOcI4ue06sr5Q8
From Parental Rights dot org we learn that In February, Rep. Ilhan Omar (D-MN) introduced a resolution, House Resolution 854, to call for the US Senate to ratify theUnited Nations Convention on the Rights of the Child (the Convention, or CRC). In so doing, she once more opened the door—or at least knocked on it—for international law to override parental rights in our country.
On November 20, 1989, the UN General Assembly approved the CRC and opened it for ratification. Within ten months, the requisite 20 nations had adopted the treaty, bringing it into force. Since then, every nation except the United States has ratified the CRC.
The United States signed the treaty under President Bill Clinton in 1995, signaling our intention to become a party to it. But it has never been ratified with the constitutionally required consent of two-thirds of the Senate as our Constitution requires, so we remain the lone holdout.
But there are three solid reasons to give the Convention a solid raspberry, beyond the fact that Rep. Omar is the one who has re-introduced it into congress. 
The first reason is the content of the treaty itself. The worst part is a provision that states, "in all matters concerning children, the best interest of the child shall be the primary consideration." But for the government to make "best interest of the child" its primary consideration, it must first decide—and get to decide—what the best interest of the child actually is.
In our courts today, a judge or bureaucrat doesn't get to make that determination without first reaching a finding that the child's parents are unfit (abusive or negligent). Until then, American law presumes that "natural bonds of affection lead parents to act in the best interests of their child" (Parham v. J.R.(1979), emphasis added). So who decides what your child's "best interest" is? Well, at least for the time being, you do, not the government.
The CRC would change that by removing this presumption that favors parents and jumping straight to the part where a judge or bureaucrat gets to decide. In every case.
The treaty also claims to protect a child's "right to access information," which could be used to override a parent's efforts to protect their child from pornography or other harmful web content; or a "right to access to medical care," which can be used to cut parents out of their child's medical decisions, like pumping chemicals into their bodies, like puberty blockers or abortions.
Another appalling part of the Treaty is the Committee on the Rights of the Child (the Committee), an oversight panel set up by the provisions of the treaty. Since beginning their work in 1990, the Committee has exercised unchecked authority in deciding what the treaty does or does not mean and what nations must do to be in compliance.
For example, when the treaty first went into effect fewer than 10 nations worldwide had any kind of ban on corporal discipline (i.e. the biblical practice of spanking), and no nation expressed any concern that it violated the rights of children.
But the Committee, of its own accord and with nothing in the Convention to support it, began telling nations that they were not in compliance because they had not outlawed corporal discipline of children in every setting, including the home. As a result, dozens of nations have since enacted such laws, believing it is their international treaty obligation to do so.
And that brings us to the third and biggest reason this treaty is trouble: under Article VI of our own Constitution, a ratified treaty becomes "the supreme Law of the Land."
So ratification of this treaty, which for other nations is an aspirational statement at best (and for many, such as Iran, China, and North Korea, a mere political smokescreen), in America would have the effect of passing a massive new federal law on the family.
Today, nearly all family law is at the state level. And these statutes, as bad as some of them are, are still bound by the Constitution and our courts to respect the role of parents as their child's first and best line of defense.
Under the CRC, those laws would become the responsibility of the United States Congress, and respect for parents would be gone. Our system—the CRC system—would then depend on judges and bureaucrats to decide what is in a child's "best interests" as defined by Congress, and ultimately, as defined by the CRC. Ratifying the Convention would leave it to that elitist, foreign committee to decide when or if our treatment of children was acceptable under the CRC.
Right, a committee in Switzerland is supposed to know what is best for your child. 
Fortunately, there is no significant threat of the CRC being taken up by President Trump or sent to the Senate, and there is no significant threat of this Senate giving its two-thirds consent. But lawmakers like Rep. Omar are dedicated incrementalists and groomers. They know that the way to get this eventually passed is by bringing it up over and over and over again. 
Of course Christians should oppose this kind of totalitarian nonsense with every fiber of their being. But they should also recognize that the government has already made a significant claim on your children by the very existence of the public school systems, especially the Department of Education in Washington D.C. Until that office is shut down, the Feds are already claiming an interest in parenting your children, and that is wicked and evil and tyrannical. But the same thing goes for the State as well. And as my colleague Gabe has pointed out numerous times, it's also a bit of Republican insanity that continues to fund public schools that disciple children to be hard lefty progressives. It would be like we had a Muslim invasion and the Muslims opened up free schools everywhere, and Christians just mindlessly send their kids to the Muslim schools and are confused by why their kids keep turning out at Muslims. The Republican Party needs to officially repudiate the socialism of public schools and begin working to defund and privatize them all. Until then, Republicans are all soft-socialists without cajones. At least Bernie is bold enough to admit it.  
This is Toby Sumpter with Crosspolitic News. You can find this show and all the others on the
Fight Laugh Feast Network at Crosspolitic.com or Fightlaughfeast.com or on our app, which you can download at your favorite app store, just search "Fight Laugh Feast". Support Rowdy Christian media, and become a Fight Laugh Feast Club Member, and for a limited time you can get your very own Fight Laugh Feast t-shirt. You can't get these anywhere else except by becoming a member while supplies last. You are also getting access to tons of content, including most recently, 2.5 hours with David French at a BBQ joint in Nashville, over an hour with Economist Walter Williams in his living room in Philadelphia, a couple of hours with Black Guns Matter Maj Toure and Pastor-Rapper Curt Kennedy in a look bookshop in Fishtown, Philly, as well as Gary Demar's God and Government and No Limits Eschatology, and our very own Worldview Shotgun Series. You also get $100 off your registration for our first annual Fight Laugh Feast Conference, where we hope to meet many of you in Nashville, TN October 1st through the 3rd. Go to fightlaughfeast.com to register now. Have a great weekend. https://flfnetwork.com/coming-soon/