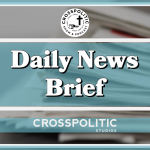 This is Toby Sumpter with your CrossPolitic Daily News Brief for Tuesday, March 10, 2020
https://www.wsj.com/articles/crude-prices-collapse-after-saudi-pledge-to-boost-output-11583748166?ns=prod/accounts-wsj
David Hodari at the Wall Street Journal reports: Oil prices recorded their biggest one-day crash since the first Gulf War in 1991 on Monday. 
Saudi Arabian state oil giant Aramco's move over the weekend to cut most of its official selling prices triggered the oil-price crash, with a barrel of Brent crude, the global gauge of prices, closing down 24% at $34.36. Saudi officials also said the kingdom is planing to boost crude output.
An "oil price war unequivocally started this weekend" said Damien Courvalin, head of energy research at Goldman Sachs, adding that the price cuts were Saudi Arabia's biggest according to some measures in at least 20 years.
The tumble puts oil at its lowest level in four years and 50% below a peak hit Jan. 6. U.S. crude futures fell 25% to $31.13 a barrel, also posting their worst day since 1991 and ending the day at a four-year low.
There was already growing concern that supply of oil could be outpacing demand, and with demand already down 2.5 million barrels a day in the first quarter of 2020. China accounted for 1.8 million barrels of that drop. Another contributor to the lessoning demand could be the warmest winter on record in the Northern Hemisphere. But the immediate culprit, or at least what seems to be adding additional uncertainty and pressure is Covid-19, the coronavirus that began in Wuhan province China. Mass quarantines beginning in China seem to have played a major role in slashing crude oil demand. 
Italy is the latest nation to have taken extreme measures to contain the spread of the virus. Some 17 million are on lockdown, including the cities of Milan and Venice. The increased enforcement of the regionwide quarantine that was instituted Sunday comes as total known infections in Italy reached 9,172, surpassing the number of cases in South Korea to become the most-affected country after China. The death rate in Italy, where 463 people have died while infected with the virus, is higher than in any other country, sitting currently at 5%. But even that number is hard to track, given the fact that not all infections are known or documented. Italian prisons cancelled visiting hours causing inmates to riot in a 27 prisons on Sunday and Monday. 
But remember everybody, COVID-19 is a bad flu. This means that it does present an additional threat to the elderly and those with other weakened immune systems or respiratory issues, but on the whole, healthy people who contract COVID-19 will be laid out for a few days and then recover. Surely, that's always a hardship and inconvenience but nothing to panic about, nothing to stockpile supplies for our or steal face masks over. The real danger is what self-serving panic can do. It really can create cycles of more panic, which in turn does great harm and damage to others around you. But this kind of panic thrives in a culture that is deeply afraid of death. Christians love life and we are duty bound to protect it, but we are not afraid of death or dying. For us to live is Christ and to die is gain. Either we win or we win. But I don't think we quite realize just how practical that conviction is. But maybe God has given us the coronavirus to remind Christians of this fact. We need not live like the pagans, slaves to fear of death. We have met Jesus, and He is the resurrection and the life.  
And by the way, Fox Phoenix reports that China now has more recovered coronavirus patients than people still infected. 
Wall Street Panic Breaker
https://www.wsj.com/articles/traders-closely-watching-circuit-breakers-thresholds-11583761223
Akane Otani from the Wall Street Journal reports that Stock trading was briefly halted Monday for the first time since 1997 after a tumultuous selloff triggered an automatic curb on trading.
Just minutes after the stock market opened, the S&P 500 fell 7% from its previous close—triggering a circuit breaker that halted trading across the entire stock market for 15 minutes. When trading resumed at 9:49 a.m. ET, major indexes managed to come off their lows and hold above them.
The modest reprieve in selling suggested the circuit breaker succeeded in doing what regulators and exchange officials had designed it to do decades ago: give hedge funds, institutional investors and day traders in the midst of a sharp selloff some time to pause and reassess the situation before firing off more orders. This is like time-out for stock traders. Take a deep breath, think about what you're doing. 
Officials introduced circuit breakers after the Black Monday crash of 1987, which sent the S&P 500 tumbling 20%. Many believed the crash had been exacerbated by exchanges flooded by buy and sell orders, and that a mechanism to temporarily halt trading might have helped clear the backlog and calm markets. That led to the creation of the circuit breaker.
But even though the mechanism's history dates back decades, before Monday, there was only one other instance—Oct. 27, 1997—when marketwide circuit breakers were triggered. On that day, nicknamed "Bloody Monday" by the traders who lived through it, exchanges halted trading twice: once for a half hour when the Dow Jones Industrial Average fell 350 points, and then the second time for the rest of the trading day when the blue-chip average fell 550 points, which at the time was equivalent to a 7.2% drop. At the time, the threshold for circuit breakers being triggered was pegged to point changes in the Dow.
The 1997 episode quickly spurred debate among exchange officials, traders and the Securities and Exchange Commission about whether they should shift to percentage levels, not points, to determine when to halt trading—especially since the stock market's ascent had rendered a move of 350 points in the Dow less and less significant on a percentage basis.
Officials have subsequently revised the circuit breakers multiple times, most recently after the flash crash of 2010.
On that day, the Dow Jones Industrial Average fell nearly 1,000 points, or 9.2%, and then rebounded in a matter of minutes, spurring panic among traders scrambling to figure out what spurred the sharp moves. Because the threshold for an initial marketwide trading halt was set at a 10% decline in the Dow, the frenzied trading was allowed to continue. 
In the aftermath of the flash crash, officials revised their guidelines for trading halts, resulting in the system that is in place today.
Once the S&P 500 drops 7% from its previous close before 3:25 p.m. ET, trading is halted for 15 minutes. After that, it would take a drop of 13% before 3:25 p.m.—in this case, the S&P 500 falling to 2585.96—for the next circuit breaker to kick in. That would kick off another 15-minute trading halt.
The final threshold for a trading halt is pegged to a decline of 20%. Once the S&P 500 has fallen that much in a single day, trading would be halted for the rest of the day. The market has never triggered trading halts tied to 13% and 20% declines since modern circuit-breaker guidelines went into effect in 2013.
But again, do not miss the fact that pagans must institute these checks on their fears and panic. This is what causes the markets to crash: selfishness, greed, fear, panic – stir together with a heavy doses of moral blindness and you have a cocktail ready for depression. What we have today is all of that riding on the back of the old, rotting carcass of Christendom. That old, rotting carcass includes a lot of old timey values of hard work and truth telling and creativity mixed together with all the paganism resident in the unregenerate human heart. This is what allows the economy and stock market to work so well despite our sin and folly, with dashes of common grace sprinkled throughout. But we must not miss the fact that economies and markets function in God's world. Math works because God exists. Creativity and hard work matter because this is God's world and He made it that way. But none of this is automatic. We do not deserve God to bless our markets or economy. We have turned away from God, and we deserve to panic. And if we continue to pursue or own ways, no circuit breaker can stop it. We have sown nothing but wind for the last 75 years and more, and it is not whether but when the whirlwind is coming. 
Breakline Bernie & Sleepy Joe Face of in Tuesday's Primary in Michigan
Finally, and just real quick: The Midwestern battleground of Michigan is voting on Tuesday in the democratic primary. This will be the first day Democrats cast a ballot since voters whittled the race down to two candidates a week before. Pundits are watching to see if there are any significant signs from voters about the way the rust-belt states may swing in November. Trump was the first Republican to win Michigan since George Bush Sr. as well as a number of the other rust-belt states. And of course Trump and company are watching closely, trying to gear up for the head to head in the Fall. Will Trump face the man whose sentences don't make sense or the man whose sentences don't make any sense? 
But Trump is not far behind either man. Man is but dust, but a breath, and greatness is with the Lord God of the Universe. Trump has been far more friendly to Christians and the Christian cause than many expected, but unless he and the Republican party humble themselves before Christ, they will all be speaking jibberish in a few minutes. And by that I mean putting preferred pronouns next to their names and calling men in dresses women. 
This is Toby Sumpter with Crosspolitic News. You can find this show and all the others on the
Fight Laugh Feast Network at Crosspolitic.com or Fightlaughfeast.com or on our app, which you can download at your favorite app store, just search "Fight Laugh Feast". Support Rowdy Christian media, and become a Fight Laugh Feast Club Member, and for a limited time you can get your very own Fight Laugh Feast t-shirt. You can't get these anywhere else except by becoming a member while supplies last. You are also getting access to tons of content, including most recently, 2.5 hours with David French at a BBQ joint in Nashville, over an hour with Economist Walter Williams in his living room in Philadelphia, a couple of hours with Black Guns Matter Maj Toure and Pastor-Rapper Curt Kennedy in a look bookshop in Fishtown, Philly, as well as Gary Demar's God and Government and No Limits Eschatology, and our very own Worldview Shotgun Series. You also get $100 off your registration for our first annual Fight Laugh Feast Conference, where we hope to meet many of you in Nashville, TN October 1st through the 3rd. Go to fightlaughfeast.com to register now. Have a great weekend. https://flfnetwork.com/coming-soon/