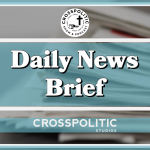 This is Gabriel Rench with your CrossPolitic Daily News Brief for Wednesday, March 11th, 2020.
The Coronavirus
https://www.foxnews.com/health/cdc-flu-killed-20k-americans-children
According to Fox News: "The CDC said that so far this season, 34 million people have gotten the flu, and about 20,000 have died.
Of those who died as of Feb. 29, 136 were children, the CDC said in its weekly flu report.
The Centers for Disease Control and Prevention said that hospitalization rates among young children were the highest on record, surpassing rates reported during the 2009 pandemic.
About 350,000 people have been hospitalized."
According to the Washington Times: "The U.S. is monitoring a rapidly mounting caseload of coronavirus, which has infected more than 700 people in over 30 states, according to a Johns Hopkins University tracker. The death toll is nearly 30, with Washington state hit the hardest."
Both Bernie Sanders and Joe Biden agreed to cancel their campaign events last night in Ohio after Tuesdays Michigan primaries. Governor Cuomo called in the national guard and ordered a containment zone in New Rochelle, NY. I've talked to friends in larger cities where apparently their local Costcos are out of toilet paper. Hunter Biden skips deposition over child support citing concerns over the virus. Bethel Church stops their faith healing hospital visits. Concerts, conferences, and events have been canceled across the US, and I am praying that this histaria does not touch the best sporting month of the year–March Madness. Italy has quarantined their entire country,   
We still don't know what the infection rate is, or necessarily how it is being transmitted (airborn vs. touch), nor do we have a good handle on the death rates. It does appear to be dangerous if you are over 80 years old, or if your immune system is already compromised, but that comes with any strand of influenza. The coronavirus is a strand of influenza (a respiratory flu), so no need to go buy hundreds of rolls of toilet paper at Costco. Don't let the histaria drive you into fear, take your normal precautions that you would make with any flu season. In other news, watch the stock market you might want to invest here soon as the market will rebound from this.  
In other news the Governor of North Carolina vetos the born alive bill, the " bill that would have required doctors to try to preserve the life of any infant born alive during an attempted abortion": https://www.cnn.com/2019/04/18/us/north-carolina-abortion-born-alive-bill/index.html
Bipartisan Senate resolution demands 2022 Olympics be moved from China, citing human rights violations
https://disrn.com/news/bipartisan-senate-resolution-demands-2022-olympics-be-moved-from-china-citing-human-rights-violations
According to Discrn: "A resolution presented on Wednesday by Sen. Rick Scott (R-FL) and cosponsored by Sen. Ed Markey (D-MA), demands that the International Olympic Committee move the 2022 Olympics to a location other than China, citing the communist nation's egregious human rights abuses."
And according to Bitter Winter, a magazine on religious liberty and human rights in China says (https://bitterwinter.org/no-2022-olympics-in-china-say-us-senators/): "This is what a bipartisan group of US senators is now requesting from the International Olympic Committee (IOC), citing the miserable human rights record of China. In a resolution presented on March 4 by Sen. Rick Scott (R-FL) and cosponsored by Sen. Ed Markey (D-MA), which draws on data by the US State Department, the group of senators cites the staggering fate of what they indicated as "more than 1 million" ethnic Muslims, including Uyghurs, ethnic Kazakhs, and Kyrgyz, detained in as many as 1,200 "vocational training centers." These are the transformation through education camps that Bitter Winter has constantly documented as being in in fact jails, where people are brutally tortured."
Sen. Rick Scott said regarding this bill: "Communist China should not be allowed to host the 2022 Olympic Games while simultaneously running concentration camps, violating human rights and oppressing the people of Hong Kong. The Olympic Games are an incredible opportunity to allow the world's best athletes to represent their countries and unite our nations, and should not be hosted by one of the world's worst human rights abusers. Today, the Senate is sending a clear message to the IOC: stand up for freedom and urge Communist China to do the right thing, or find a new home for the 2022 Olympic Games. It's not about politics, it's about human rights." 
Bill mandating sex education in Washington schools passes Senate
https://www.krem.com/article/news/bill-mandating-sex-education-in-wa-schools-passes-in-house/281-98ffd186-bb29-4771-a72b-4dce6d23aa2d
According to KREM 2: " A bill that would mandate sex education in all Washington public schools starting in kindergarten is headed to Governor Jay Inslee's desk."
"According to the legislation, kindergartners would be taught the differences between boys' and girls' bodies and that there are many ways to express gender. 
Older students would learn about LGBTQ issues, contraception, pregnancy, sexually transmitted diseases and sexual consent.
Individual districts would be able to determine how much is taught as long as they follow the state's minimum standards."
Riddle me this: How can the public schools teach what the difference is between a boy or a girl's body, when they don't even know what a boy or a girl is anymore? 
This is Gabriel Rench with Crosspolitic News. You can find all our shows on our app, which you can download at your favorite app store, just search "Fight Laugh Feast". Support Rowdy Christian media and join our club at fightlaughfeast.com. We can't grow without our club members, so please consider joining our club. Just three starbucks cups of coffee a month, you get a Fight Laugh Feast t-shirt, discount to our annual conference, and access to master classes on parenting, Christian business principles, God and Government, and backstage interviews with people like Voddie Baucham, Douglas Wilson, James White, Tom Ascol, Erick Erickson, and David French. We also hope to meet you at our first annual Fight Laugh Feast Conference in Nashville, TN October 1st through the 3rd. Go to fightlaughfeast.com to register now. Have a great day. Lord bless