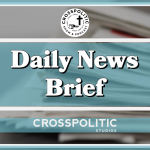 This is Toby Sumpter with your CrossPolitic Daily News Brief for Thursday, March 12, 2020
Math is Racist
https://www.nytimes.com/2020/03/11/opinion/racism-twitter.html
In case you missed it Mara Gay and Brian Williams were on MSNBC last week talking about Bloomberg's drop out of the Democratic Presidential Nomination race and how the 500 million dollars he spent on his campaign could have been divvied up among all of the inhabitants of America, granting a million dollars to everyone. 
Except of course, that math only works if only five hundred people live in America. 
Mara Gay sits on the New York Times editorial board and had an opinion piece in the New York times Wednesday claiming that the backlash over her bad math was a "racists Twitter" mob. She wrote, "when you're a black woman in America with a public voice, a trivial math error can lead to a deluge of hate." I didn't read the opinion piece because I don't subscribe to the New York Times, but the link is included in the notes if you do. But if you do – what's wrong with you? 
Just two quick things on this: first off, there really is a dark underbelly on Twitter where creeps and wackos roam, and so it wouldn't surprise me at all to find out that a bunch of them latched on to this latest blood in the water and flung a bunch of racist verbiage her way. But the other thing to note is that there was also a goodish bit of backlash from normal America, where we simply found it astounding that grownups on mainstream news went on and on about something that was based on a 3rd grade math problem. To us, normal Americans, this was hilarious, but it also seemed to reveal the kind of fact checking happening routinely at places like MSNBC, the New York Times, and CNN. Yes, it was a trivial math error, but we live in times where nearly all of our elected officials Democrat and Republican are running the country on the very same sort of trivial math errors. So yes it was trivial, but a bunch of people are actually running with those kinds of mistakes and you can't run a country putting everything on credit cards. 
And finally, the topic seemed particularly revealing about the greed that inhabits these elite circles. 
"And you shall take no bribe, for a bribe blinds the discerning and perverts the words of the righteous" (Exod. 23:8). "You shall not pervert justice; you shall not show partiality, nor take a bribe, for a bribe blinds the eyes of the wise and twists the words of the righteous" (Deut. 16:19). If actual bribes can blind people, how much more so the coveting and greed that feeds that system? 
Related would be the recent claim that calling the coronavirus "the Wuhan Virus" is racist because apparently geography is now racist. 
Sleepy Joe Get Michigan
https://www.wsj.com/articles/joe-biden-looks-to-unite-democrats-after-beating-bernie-sanders-in-michigan-11583936312?mod=hp_lead_pos7
Wall Street Journal reports: Breadline Bernie told reporters in Burlington, Vt., that Tuesday "was not a good night for our campaign." Sander's comments came after Sleepy Joe won in the key battleground state of Michigan as well as Missouri, Mississippi and Idaho. The wins prompted calls from inside the party to unite around his candidacy and direct its full attention to Mr. Trump.
On Wednesday morning, Sanders was declared the winner of the North Dakota caucuses, while the two candidates were locked in a tight race in Washington state. With 67% of precincts reporting, each candidate had about a third of the vote in that state.
Encouraged by Tuesday's results, Mr. Biden's allies began making plans for a months-long battle against President Trump. Unite the Country, a pro-Biden super PAC, said in a memo to supporters that "the functional primary phase of this election is over." Mr. Biden's strong performance, after winning 10 states just a week ago on Super Tuesday, also spurred two deep-pocketed liberal groups to get behind him and say the general-election campaign against Mr. Trump was starting. Priorities USA and American Bridge had remained neutral throughout the primary. 
"The math is now clear. Joe Biden is going to be the Democratic nominee for President and @prioritiesUSA is going to do everything we can to help him defeat Donald Trump in November," tweeted Priorities USA Chairman Guy Cecil just minutes before the Associated Press declared Mr. Biden the winner in the Michigan primary.
American Bridge announced a $2.2 million ad buy in Pennsylvania as it declared it was "all in" for Mr. Biden. With those groups lining up behind Mr. Biden, Sunday's debate took on more importance, as it will be the first time the two men will go head-to-head. Although the debate will not have an audience due to coronavirus concerns. 
Weinstein Gets 23 Years
https://www.wsj.com/articles/harvey-weinstein-sentencing-11583936553?mod=hp_lead_pos3
Finally, Harvey Weinstein was sentenced to 23 years. After being convicted of a criminal sex act and third-degree rape, the Hollywood producer faced a maximum sentence of 29 years in prison. New York Supreme Court Justice James Burke sentenced Mr. Weinstein to 20 years on the charge of criminal sexual act and three years on the third-degree rape, to be served back to back. The maximum sentence for each count was 25 years and four years, respectively. The judge said the sentence reflected evidence that Mr. Weinstein had sexually assaulted other women beyond the allegations he was convicted of.
"Although this is a first conviction, it is not a first offense," Justice Burke said.
Wait. What? The judge said he gave Mr. Weinstein a harsher sentence for crimes he was not convicted of?
I'm not carrying any water for Mr. Weinstein, and I hope that God uses all of this to convict him of his sins and any other crimes he has committed, but it's a travesty of justice for the judge to use other suspected offenses as grounds for a lengthier sentence.  
The Hollywood producer, who arrived by wheelchair, addressed the allegations for the first time in court, expressing "great remorse for all the women who are going through this crisis," but not apologizing or admitting he committed a crime. He said the #MeToo movement had stripped men of due process and compared it to how communists were once treated.
And that much is true. If the Brett Kavanaugh hearing is any indication of the kind of justice the #metoo movement wants, it's a French Revolution lynch mob, but that isn't justice, it's just blood-letting catharsis. But this is what happens when we turn from the blood of Christ. Guilt is real and it builds like static electricity in the hearts of the people of a land and culture, and it has to break out. Sometimes it destroys people from the inside and results in drugs and suicide, and sometimes it erupts in violence and murder. But cultures have always sought ways to manage the blood-guilt, and this is where sacrifice comes from. And where the blood of Christ is not proclaimed, someone else's blood must be shed, and scapegoats are chosen. 
The gospel is not just about how to go to heaven when you die. It most certainly is that. But the gospel is about peace on earth. It's about the only way for their to be peace on earth. The cross of Christ is the reconciliation of all things in heaven and on earth between God and man, between Jews and Gentiles, men and women, slaves and free, every nation under heaven. "and by Him to reconcile all things to Himself, by Him, whether things on earth or things in heaven, having made peace through the blood of His cross" (Col. 1:20).
This is Toby Sumpter with Crosspolitic News. You can find this show and all the others on the
Fight Laugh Feast Network at Crosspolitic.com or Fightlaughfeast.com or on our app, which you can download at your favorite app store, just search "Fight Laugh Feast". Support Rowdy Christian media, and become a Fight Laugh Feast Club Member, and for a limited time you can get your very own Fight Laugh Feast t-shirt. You can't get these anywhere else except by becoming a member while supplies last. You are also getting access to tons of content, including most recently, 2.5 hours with David French at a BBQ joint in Nashville, over an hour with Economist Walter Williams in his living room in Philadelphia, a couple of hours with Black Guns Matter Maj Toure and Pastor-Rapper Curt Kennedy in a look bookshop in Fishtown, Philly, as well as Gary Demar's God and Government and No Limits Eschatology, and our very own Worldview Shotgun Series. You also get $100 off your registration for our first annual Fight Laugh Feast Conference, where we hope to meet many of you in Nashville, TN October 1st through the 3rd. Go to fightlaughfeast.com to register now. Have a great day. https://flfnetwork.com/coming-soon/