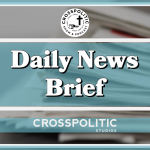 This is Gabriel Rench with your CrossPolitic Daily News Brief for Friday, March 13th, 2020.
More on the Coronavirus
It appears the coronavirus is more dangerous to the stock market, Major League Baseball, and the New York Saint Patrick Day parade, than it is to a human who actually catches it. As of today, it is reported that north of 1600 people are known to have the coronavirus. It is possible, and likely, that more people have the virus for a couple reasons. First, there are not enough test kits available. Secondly, people get flus all the time and don't go to the hospital to get tested, so under reporting is most likely affecting the numbers. Now this could become a real flu pandemic, and if this flu is easily transmittable (we don't really know about that yet), than of course measures should be taking of concern. I don't even mind the precautions that businesses, public events, and individuals want to make. The real problem is fear. Think about this. Just this week the MLB, NBA, NHL, and college basketball have all announced some sort of suspension, cancelation, or playing games without fans present. Many colleges have also announced plans to move all classes online for the remainder of the school year. The DOW has had its worst day since 1987. I think a lot of these measures are overboard, some are political, others are virtue signaling, and almost all of it is driven in fear. At this point, the virus is not the panic, the panic is the panic. So, as Christians, wash your hands, if you are sick don't get others sick, and above all be wise and full of love, for that love cast out fear. 
Fed to pump in more than $1 trillion in dramatic ramping up of market intervention amid coronavirus meltdown
https://www.cnbc.com/2020/03/12/fed-to-pump-more-than-500-billion-into-short-term-bank-funding-expand-types-of-security-purchases.html
According to NBC News: "The Federal Reserve stepped into financial markets Thursday for the second day in a row and the third time this week, this time dramatically ramping up asset purchases amid the turmoil created by the coronavirus.
"These changes are being made to address highly unusual disruptions in Treasury financing markets associated with the coronavirus outbreak," the New York Fed said in an early afternoon announcement amid a washout on Wall Street that was heading toward the worst day since 1987.
Stocks were off their lows following the announcement though some of the gains were pared as the market digested the moves. Some in the market were skeptical that the move was enough, and even whether the the Fed itself had the proper tools to reverse the current market downtrend.
"We continue to emphasize that this Fed will act aggressively and in particular that central banks are focused on safeguarding market functioning at this point, and will continue to provide liquidity in scale," Ebrahim Rahbari, director of global economics at Citi Research. "However, despite the sharp initial risk rally, we think these measures will still not be sufficiently to durably stabilize market sentiment yet in light of credit concerns and escalating health concerns."
"Under the new regime, the Fed will extend its purchases "across a range of maturities" to include bills, notes, Treasury Inflation-Protected Securities and other instruments. The central bank will begin purchasing coupon-bearing securities, something market participants have been clamoring for since late 2019.
The purchases start Thursday and will continue through April 13.
The second part of the new operations will see the New York Fed desk offer $500 billion in a three-month repo operation and a one-month operation. The offerings will happen on a weekly basis through the remainder of the program.
In addition, the Fed will continue to offer at least $175 billion in overnight repos and $45 billion in two-week operations. Repos are short-term operations in which financial institutions provide high-quality collateral in exchange for cash reserves they use to operate."
Note how politicians and bureaucrats are taking advantage of this panic. Watch how fast Republicans turn into socialist. Just like that Republicans are approving all sorts of pork bills, like the $8 billion coronavirus spending bill that past just this last week. We need principled Christian men in office that don't get tossed about by every wind or flu that comes our way. 
Federal Taxes and Govt. Spending 
https://www.cnsnews.com/article/washington/terence-p-jeffrey/federal-taxes-and-spending-set-records-through-february
We ought to spend more time getting informed about our government's spending habits, so I hope this helps. 
According to CNS News:
"During the October-February period, the government spent a record $1,991,272,000,000 while it collected a record $1,366,750,000,000 in taxes.
The Department of Health and Human Services led all federal agencies in spending in the first five months of fiscal 2020 with outlays of $547,736,000,000.
Thus, while running up records in taxing and spending for the first five months of the fiscal year, the federal government also ran a deficit of $624,522,000,000.
That means the federal deficit so far this year has averaged $124,904,400,000 per month.
It has averaged spending $109,547,200,000 per month so far this fiscal year.
It is the only federal agency now spending an average of more than $100 billion per month, although the Social Security Administration comes close.
The Social Security Administration had the second highest spending of any federal agency in the first five months of fiscal 2020 with outlays of $476,257,000,000. That averaged $95,251,400,000 per month.
The Defense Department ranked third among federal agencies for spending during the first five months of the fiscal year with outlays of $290,323,000,000.
Interest on Treasury securities was the next highest expenditure at $228,982,000,000 over the five-month period."
This is Gabriel Rench with Crosspolitic News. You can find all our shows on our app, which you can download at your favorite app store, just search "Fight Laugh Feast". Support Rowdy Christian media and join our club at fightlaughfeast.com. We can't grow without our club members, so please consider joining our club. Just three starbucks cups of coffee a month, you get a Fight Laugh Feast t-shirt, discount to our annual conference, and access to master classes on parenting, Christian business principles, God and Government, and backstage interviews with people like Voddie Baucham, Douglas Wilson, James White, Tom Ascol, Erick Erickson, and David French. We also hope to meet you at our first annual Fight Laugh Feast Conference in Nashville, TN October 1st through the 3rd. Go to fightlaughfeast.com to register now. Have a great day. Lord bless