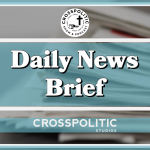 This is Gabriel Rench with your CrossPolitic Daily News Brief for Wednesday, March 18th, 2020.
How about a little Coronavirus update, as if you have not heard enough about it. As of the recording of this daily news brief, American has just south of 6000 documented cases, 100 deaths, and 72 recoveries. I am not going to report on China's numbers, because frankly I don't trust them, but Italy, who is in 2nd place after China, has over 31,000 cases, over 2500 deaths, and about 3000 who have recovered. So we are in 8th place in the Coronavirus race, starting with China at #1 and then heading south with Italy, Iran, Spain, Germany, South Korea, France, and then the US in 8th place.  
Politicians know that you never waste a good crisis. Saul Alinsky drilled this into Hilary Clinton, and now the republicans are going to use this play from the socialist playbook. A biblical man is a principled man, and a man standing on solid ground is not going to be tossed around by every wind and crisis. 
Trump admin. working on plan to send relief checks to Americans "immediately"
https://disrn.com/news/trump-admin-working-on-plan-to-send-relief-checks-to-americans-immediately
In a joint press conference with President Trump, [Treasury] Secretary Mnuchin said:
"We are looking at sending checks to Americans immediately. What we heard from hardworking Americans, many companies are now shut down whether bars or restaurants, Americans need cash now and the president wants to get them cash now. I mean now in the next two weeks. We want to make sure Americans get money in their pockets quickly."
According to Discrn.com when pressed on this, Mnuchin said that "further details will be released later, but added, "They may be bigger than what's in the press." The press on Tuesday was reporting a figure of $1,000 per American." Reports estimate that this will be about an $850 billion stimulus package. 
Republicans are leading the charge for this socialistic Keynesian economic play. Republicans believe that you can just print money out of thin air. Of course a reasonable question is why $1000, why not $1 million? We are a nation full of economic ignorant people, and in times of crisis our true colors are showing. When we avoid economic downturns through faux economic measures, it is only our children's children that will suffer the worst consequences in all this. Proverbs says a wise man leaves an inheritance to his children's children, but stimulus packages like this, will leave a massive debt to our children's children. 
There have been some bright spots in this whole coronavirus debacle, and it has been great watch the free market respond. 
For example in our town Mad Greek, a yummy gyro shop, is serving free lunches to children between 2pm and 4pm every day. They ask that you do not take advantage of this, pay if you can, but are offering this as a service to our community.  
Facebook just announced that they would be giving its employees $1000 each to help with the coronavirus, along with providing financial help to small businesses. Facebook has 45,000 employees, and its stock has dropped 28% since the coronavirus downturn. 
Mark Cuban, owner of Dallas Mavericks, plans to pay his hourly employees during the shutdown. 
According to CBS Sports:
https://www.cbssports.com/nba/news/amid-nba-coronavirus-shutdown-zion-williamsons-generosity-shows-why-new-orleans-is-in-great-hands/
Zion Williamson, the new rookie for the New Orleans Pelicans, has "pledged to pay the wages of all Smoothie King Center arena workers for a span of 30 days while the NBA enforces this hiatus. Again, Zion isn't alone in his generosity. Cavs forward Kevin Love was the first player to reach into his own pocket as news of the shutdown surfaced, giving $100K to in support of arena workers in Cleveland. Giannis Antetokounmpo gave the same amount to support the Fiserv Forum staff in Milwaukee. 
Blake Griffin did the same in Detroit. Rudy Gobert, who is actually infected with the virus, pledged over $500K in support of various causes — with $200,000 going to game-day employees for the Jazz, $100,000 each to the families impacted by the virus in both Utah and Oklahoma City, and €100,000 to his native France.  
Upon the closure of schools all over the country, Steph Curry and his wife, Ayesha, are providing more than a million meals to the Alameda Food Bank — via their Eat.Learn.Play. Foundation — to help the more than 18,000 kids in that area that rely on school for at least two of their meals every day. The list goes on." 
Lastly the IRS has pushed our filing due date to July 15th. And everybody say amen.
https://disrn.com/news/treasury-irs-delay-income-tax-deadline-for-three-months 
This is Gabriel Rench with Crosspolitic News. You can find all our shows on our app, which you can download at your favorite app store, just search "Fight Laugh Feast". Support Rowdy Christian media and join our club at fightlaughfeast.com. We can't grow without our club members, so please consider joining our club. Just three starbucks cups of coffee a month, you get a Fight Laugh Feast t-shirt, discount to our annual conference, and access to master classes on parenting, Christian business principles, God and Government, and backstage interviews with people like Voddie Baucham, Douglas Wilson, James White, Tom Ascol, Erick Erickson, and David French. We also hope to meet you at our first annual Fight Laugh Feast Conference in Nashville, TN October 1st through the 3rd. Go to fightlaughfeast.com to register now. Have a great day. Lord bless