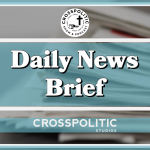 This is Toby Sumpter with your CrossPolitic Daily News Brief for Thursday, March 19, 2020
Tom Brady Plans to Sing His Swan Song with Buccaneers
https://www.espn.com/nfl/story/_/id/28918640/qb-tom-brady-expected-sign-buccaneers-sources-say
Tom Brady played 20 seasons and threw 9,988 passes — 541 of them for touchdowns. All were for the New England Patriots. After announcing his plan to leave the New England franchise earlier this week, sports commentator Colin Cowherd announced that Brady would be landing in Tampa Bay, Florida with the Buccaneers. 
"Although my football journey will take place elsewhere, I appreciate everything that we have achieved and am grateful for our incredible TEAM accomplishments," he wrote.
Brady, 42, leaves New England with six Super Bowl rings and 41 playoff starts since 2001.
ESPN reports: In recent years, Brady has repeatedly said that his goal is to play until he is 45, but he and the Patriots couldn't come to an agreement on a contract extension last offseason. That created a path for Brady to explore his options as a free agent. And after a 2019 season in which he showed visible frustration at times and the offensively challenged Patriots uncharacteristically lost in the wild-card round of the playoffs, Brady told Westwood One radio that he was "open-minded about the process."
Bucs coach Bruce Arians spoke glowingly of Brady earlier this offseason.
When asked at the NFL scouting combine who was the one quarterback for whom he'd pick up the phone, if available, Arians did not hesitate.
"Tom Brady," he said with chuckle.
Weeks later, Arians' "Hail Mary" attempt appears to have landed him the most decorated star quarterback in NFL history.
Brady's signing will officially end Jameis Winston's reign as Tampa Bay's starting quarterback.
Winston has long considered meeting Brady one of the highlights of his young career. The two squared off in a nationally televised game on a Thursday night in 2017, with Brady's Patriots holding off the host Bucs 19-14. It was Brady's only career game at Raymond James Stadium.
The Bucs had hoped Winston could blossom into the franchise quarterback they needed him to be, selecting him first overall in the 2015 NFL draft. But turnovers plagued him throughout the past five seasons, just as they did in college. His 88 interceptions and 111 turnovers are both the most by any player in the league since 2015.
Winston led the NFL with 5,109 passing yards in 2019 but also became the first NFL quarterback to throw 30 touchdowns and 30 interceptions — and those 30 interceptions became too much for an organization that has insisted it isn't rebuilding and is very much in "win-now" mode under Arians.
Arians has encouraged aggressive quarterback play in terms of air yards per attempt in his work with Ben Roethlisberger, Andrew Luck, Carson Palmer and Winston. Brady finished last season ranked 26th in the NFL in average pass distance.
In addition, Brady has finished in the top 10 in air yards per attempt only once since ESPN began tracking the stat in 2006, and that was in his 2017 MVP campaign.
Brady has five times as many playoff wins, six times as many Super Bowl wins and seven times as many 30-touchdown seasons as all the quarterbacks in Buccaneers history. He could lose his next 283 starts and still have a better career record than the Bucs franchise.
"I'm instantly thinking, 'We're gonna be a contender, we're gonna be a playoff contender,'" Bucs linebacker Shaquil Barrett said of his reaction to the news in an interview with ESPN's Wendi Nix, "and that's all I want to do is play winning football again and try to get a championship, so that's a step in the right direction."
Biden Crushed Sanders on Tuesday
https://disrn.com/news/biden-scores-blowout-victory-in-florida-as-sanders-chances-get-slimmer/
Adam Ford from Disrn News reports that Joe Biden scored a blowout victory in Florida on Tuesday, taking over 80% of the votes. Biden also won Illinois and Arizona on the night. Biden has a total of 1,147 delegates. Sanders has accrued 861 total delegates. Biden needs 1991 delegates to secure the Democratic presidential nomination. 
https://www.washingtonpost.com/politics/2020/03/17/democratic-primaries-ohio-arizona-florida-illinois/?utm_campaign=wp_post_most&utm_medium=email&utm_source=newsletter&wpisrc=nl_most
Washington Post reports that Sen. Bernie Sanders (I-Vt.) will spend coming days talking to supporters to "assess his campaign," his campaign manager said Wednesday following decisive victories Tuesday. In an email to supporters, Sanders campaign manager Faiz Shakir said there was "no sugarcoating" the results and that Sanders planned to head back to his home state of Vermont after a Senate vote Wednesday. The email did not include a solicitation for campaign donations.
With Biden widening his delegate lead, Sanders is facing growing calls to suspend his campaign. And with more states postponing their primaries due to health concerns, the candidates are facing a hiatus in voting for at least a few weeks — and possibly much longer. The final primaries now could come only weeks before the Democratic National Convention is scheduled to convene in July in Milwaukee — if it is held as planned.
5.7 Magnitude Earthquake Hits Salt Lake City Wednesday Morning
https://www.washingtonpost.com/weather/2020/03/18/utah-earthquake-salt-lake-city/?itid=hp_hp-more-top-stories_utah-quake-1030am%3Ahomepage%2Fstory-ans
A 5.7-magnitude earthquake struck near Salt Lake City at 7:09 a.m. local time Wednesday, its epicenter located about four miles west-southwest of Salt Lake City International Airport. 
Heavy shaking was felt far and wide across north-central Utah west of the Wasatch mountains.
Many were evacuated from the airport, where the Federal Aviation Administration issued a ground stop for all inbound flights. Social media video emerged of damaged pipes gushing water from the ceiling in the airport.
More than 90 minutes after the quake, the airport tweeted that it is "not currently operational," writing "the FAA tower, terminals and concourses have been evacuated. The road to the airport has been opened, so that passengers can be picked up."
Rocky Mountain Power reported 55,000 customers without power in the Salt Lake region after the quake.
There were reports of structural damage. Cracked walls, toppled furniture and other minor damage was reported at the homes of many residents across the state capital.
During the quake, the ground accelerated at about a fifth the acceleration of gravity. The ground moved about 8 inches in one second.
The Dow Closed Under 20,000 Points Wednesday
https://www.wsj.com/articles/markets-enter-new-phasewhere-cash-is-all-that-matters-11584546863
Paul Davies from the Wall Street Journal: A rush for cash shook the financial system Wednesday as companies and investors hunkered down for a prolonged economic stall, taking the recent market turmoil into a new, more troubling liquidation phase.
Investors sold nearly everything they could in the most all-encompassing market drawdown since the darkest days of the 2008 financial crisis. Short-term money markets at the heart of the financial system were strained and large companies have drawn heavily on credit facilities while they have them.
The selling engulfed stocks, sending the Dow Jones Industrial Average down about 6% to 19903, its first close below 20000 in more than three years. The blue-chip index has fallen by about a third in just the past month.
https://www.macrotrends.net/1319/dow-jones-100-year-historical-chart
For some perspective, remember that between October 2007 and February 2009, the Dow dropped from a high of over 17,200 points to a low of 8,600 points. So, over the course of that 16 month period, the market lost almost exactly half its value (50%). 
Since the end of December, the Dow has dropped from 28,700 points to around 19,900, which is a total loss of 31%. But it's also still 2,000 points higher still than the high point of the market in October 2007. 
Looking at the historical record, and adjusting for inflation, the market peaked in August 1929 at 5,686 points before bottoming out at 814 points in June, 1932, a loss of over 75% of the market. The next lowest trough in Dow history was in July 1982 at 2,100 points. That came after over 15 years of slow decline from a high point of 8,000 points in 1966. 
The thing to note in all of this is that people are still not reckoning with the impact of the coronavirus panic. It's all fine and good to take precautions, and the spread of the virus and its apparent mortality rate is concerning. But the mass shut down mentality is also a virus, a panic virus that also has a mortality rate. We just don't know what it is. We're talking about job losses, loss of medical advancement, loss of discoveries, and perhaps loss of medical care, particularly for the elderly and high risk. So on the one hand, we should do all in our power to protect the elderly and most vulnerable, but we ought to protect them from both sides of this double-edged sword. They are not merely vulnerable to coronavirus; they are also vulnerable to the panic-virus, the shutdown-virus, and the focus-all-our-attention-on-only-one-threat virus, not to mention the government-save-us-and-grab-all-the-power virus – which among worldwide killers has killed more millions over the last century than we are apparently aware of. With that virus spreading, why don't we shut down the government?  
This is Toby Sumpter with Crosspolitic News. You can find this show and all the others on the
Fight Laugh Feast Network at Crosspolitic.com or Fightlaughfeast.com or on our app, which you can download at your favorite app store, just search "Fight Laugh Feast". Support Rowdy Christian media, and become a Fight Laugh Feast Club Member, and for a limited time you can get your very own Fight Laugh Feast t-shirt. You can't get these anywhere else except by becoming a member (or upgrading your membership) while supplies last. You are also getting access to tons of quarantine content, including most recently, a new series called Pastors & Politics – with three episodes so far including Dan Fischer, Douglas Wilson, Roger Skepple, Pat Perkins, and George Grant. Plus hours more with David French, Erick Erickson, Walter Williams, Maj Toure, Curt Kennedy, Gary Demar, and our very own Worldview Shotgun Series. You also get $100 off your registration for our first annual Fight Laugh Feast Conference, where we hope to meet many of you in Nashville, TN October 1st through the 3rd. Go to fightlaughfeast.com to register now. Have a great day. https://flfnetwork.com/coming-soon/