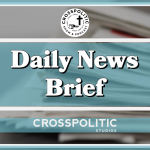 This is Gabriel Rench with your CrossPolitic Daily News Brief for Monday, March 23th, 2020.
Over the weekend Oklahoma experienced seven earthquakes ranging from 1.6 to 2.5 in intensity and the coronavirus panic pandemic has not calmed down. If Hal Lindsey were alive right now, he would be probably sharpening his pencil getting his latest end-times prediction out…mmm lets go with July 4th 2020. 
The Coronavirus stats jumped over the weekend, as New York leads the charge with 15,000 new cases. Due to a backlog of testing and transmissibility, New York now has "more confirmed cases than entire countries which are struggling to contain the pandemic, including France, South Korea, Switzerland, and the U.K" (https://disrn.com/news/new-york-state-covid-19-cases-soar-past-15000-more-than-france-south-korea/). Governor Cuomo, you know the governor that just passed partial birth abortion while the New York house cheered, asked "the federal government to nationalize the purchase of medical equipment and has signed off on several locations to build temporary hospitals to treat coronavirus patients.
Cuomo said the U.S. Army Corps of Engineers will build temporary hospitals in Stony Brook, Westbury, Westchester, New York, and the Jacob K. Javits Convention Center in New York City, which will contain four federal hospitals with 250 beds each."
Meanwhile in Dallas, TX: https://www.nbcdfw.com/news/coronavirus/dallas-county-to-give-update-on-covid-19-restrictions/2336502/?_osource=SocialFlowTwt_DFWBrand
Dallas County Judge Clay Jenkins on Sunday issued an order requiring county residents to shelter in place.
The order takes effect at 11:59 p.m. March 23 and continues until 11:59 p.m. April 3, with the likelihood of being extended.
"I know there will be economic hardship and business closures with this order and it makes me sick that we are at this point," Dallas County Judge Clay Jenkins said.
The order states people may leave their residences only for essential activities — including to get supplies for themselves and their families or perform tasks essential to their health and safety and that of others — or to operate essential businesses, such as healthcare, critical infrastructure and retail, including grocery stores.
California police to use patrol drones with night-vision cameras during coronavirus lockdown
https://www.washingtonexaminer.com/news/california-police-to-use-chinese-made-patrol-drones-with-night-vision-cameras-during-coronavirus-lockdown
"A California police department is planning on using drones equipped with cameras and loudspeakers to monitor a coronavirus shutdown.
The Chula Vista Police Department recently doubled its fleet of drones, purchasing two of the machines from Chinese company DJI. The police department told the Financial Times that they would be outfitted with night-vision cameras.
"We have not traditionally mounted speakers to our drones, but … if we need to cover a large area to get an announcement out, or if there were a crowd somewhere that we needed to disperse, we could do it without getting police officers involved," said Capt. Vern Sallee.
"The outbreak has changed my view of expanding the program as rapidly as I can," Sallee added.
Spencer Gore, chief executive of U.S.-based drone company Impossible Aerospace, said he is "working like crazy" to help equip other law enforcement agencies with drones and emphasized that the hardware his company uses is made domestically.
"What we saw in China, and what we're probably going to see around the world, is using drones with cameras and loudspeakers to fly around to see if people are gathering where they shouldn't be, and telling them to go home," Gore said. "It seems a little Orwellian, but this could save lives."
Another use for drones, at least for the Chula Vista police, might be to help spread the message about the coronavirus to homeless people who may not receive information any other way."
Tensions flare on Senate floor as coronavirus bill derailed for second time by Dem objections
https://www.foxnews.com/politics/tensions-flare-on-senate-floor-coronavirus
According to Fox:
"Tensions flared on the Senate floor Monday as lawmakers viscerally clashed on camera over phase three of a coronavirus response package, with Democrats blocking Republican efforts to advance the massive stimulus bill for the second day in a row.
Leaving the legislation in limbo once more, the Senate stalled over the package Monday afternoon on a 49-46 vote. It needed 60 votes to advance.
Officials put the price tag of the rescue package at nearly $1.4 trillion and said that with other measures from the Federal Reserve it could pump $2 trillion into the U.S. economy.
The draft legislation would provide payments of up to $1,200 per person. They would be phased down at adjusted gross income thresholds of $75,000 for individuals and $150,000 per couple. Additionally, there would be $500 payments for each child.
Democrats argue the more-than $1 trillion package did too much for large corporations and not enough for workers, but Republicans accuse them of playing politics and using the crisis as leverage to try and jam through unrelated political "wish list" items concerning climate change and more."
Take note that Republicans are more than willing to govern like socialist if the right crisis comes along. Republicans have taken the crisis "bait" and so goes their principles. Just like when Christians take advantage of the public school system, which not only compromises their principles but also their children's faith, so the Republicans are leaving no resistance to future socialism making its way into the party.  
Plastic Bag Bans Are the Latest Regulations to Get Tossed During Coronavirus Pandemic
https://reason.com/2020/03/20/state-governments-are-delaying-their-plastic-bag-bans-during-covid-19-pandemic/
Apparently the reusable bags that are required in states like California, New York, and Maine can potentially carry the coronavirus for several days. So, New York and Maine have both agreed to postpone enforcing plastic bag regulations in their states. 
This is Gabriel Rench with Crosspolitic News. Support Rowdy Christian media and join our club at fightlaughfeast.com. We really can't grow without our club members support, so please consider joining our club. Just three starbucks cups of coffee a month, you get a Fight Laugh Feast t-shirt, discount to our annual conference, and access to master classes on parenting, Christian business principles, God and Government, and backstage interviews with people like Voddie Baucham, Douglas Wilson, James White, Tom Ascol, Erick Erickson, and David French. You can find all our shows on our app, which you can download at your favorite app store, just search "Fight Laugh Feast". Lastly, we hope to meet you at our first annual Fight Laugh Feast Conference in Nashville, TN October 1st through the 3rd. Go to fightlaughfeast.com to register now. Have a great day. Lord bless