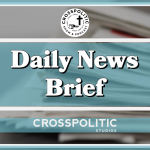 This is Toby Sumpter with your CrossPolitic Daily News Brief for Tuesday, March 24, 2020
Fight Laugh Feast Network Announces New Baseball Podcast
https://subsplash.com/fightlaughfeastnetwork/lb/mi/+5jjnzht
In honor of Opening Day, which was originally scheduled for this Thursday, March 26, the Fight Laugh Feast Network is pleased to announce the very latest show to join the network: In the Bullpen with Mark Dewey. Mark Dewey is a former Major League relief pitcher, playing for three different ball-clubs over seven seasons. This will be a weekly podcast, with shows dropping every Monday, talking all things baseball under the Lordship of Jesus Christ. This show is only available on the Fight Laugh Feast App which you can download by going to your favorite app store and searching Fight Laugh Feast. The show dropped today with three episodes already in the can to get you primed and pumped for baseball and In the Bullpen with Mark Dewey. Check it out. 
Tokyo Olympics Kicked Down the Road
https://www.usatoday.com/story/sports/olympics/2020/03/23/olympics-2020-ioc-member-tokyo-games-postponed-dick-pound-coronavirus/2899848001/
Veteran International Olympic Committee member Dick Pound told USA TODAY Sports on Monday afternoon that the 2020 Tokyo Olympic Games are going to be postponed amid the coronavirus pandemic.
"On the basis of the information the IOC has, postponement has been decided," Pound said in a phone interview. "The parameters going forward have not been determined, but the Games are not going to start on July 24, that much I know."
Pound, a Canadian who has been one of the most influential members of the IOC for decades, said the Games will likely be moved to 2021, with the details to be worked out in the next four weeks. He said he expects the IOC to announce its next steps soon.
"It will come in stages," said Pound, 78, the longest-serving IOC member. "We will postpone this and begin to deal with all the ramifications of moving this, which are immense."
Reports Continue Rolling in of Covid-19 Treatment Success with Anti-Malaria Drugs
https://www.wsj.com/articles/these-drugs-are-helping-our-coronavirus-patients-11584899438?mod=hp_opin_pos_3
Jeff Colyer and Daniel Hinthorn, both doctors, write in the Wall Street Journal confirm that the early signs are encouraging that common antimalaria drugs are effective in treating Covid-19. Doctors in France, South Korea and the U.S. are using an antimalarial drug known as hydroxychloroquine with success. 
They write: "We are physicians treating patients with Covid-19, and the therapy appears to be making a difference. It isn't a silver bullet, but if deployed quickly and strategically the drug could potentially help bend the pandemic's "hockey stick" curve.
Hydroxychloroquine is a common generic drug used to treat lupus, arthritis and malaria. The medication, whose brand name is Plaquenil, is relatively safe, with the main side effect being stomach irritation, though it can cause echocardiogram and vision changes. In 2005, a Centers for Disease Control and Prevention study showed that chloroquine, an analogue, could block a virus from penetrating a cell if administered before exposure. If tissue had already been infected, the drug inhibited the virus.
On March 9 a team of researchers in China published results showing hydroxychloroquine was effective against the 2019 coronavirus in a test tube. The authors suggested a five-day, 12-pill treatment for Covid-19: two 200-milligram tablets twice a day on the first day followed by one tablet twice a day for four more days. 
A French study used the drug in combination with azithromycin. Most Americans know azithromycin as the brand name Zithromax Z-Pak, prescribed for upper respiratory infections. Researchers in France treated a small number of patients with both hydroxychloroquine and a Z-Pak, and 100% of them were cured by day six of treatment. Compare that with 57.1% of patients treated with hydroxychloroquine alone, and 12.5% of patients who received neither. 
What's more, most patients cleared the virus in three to six days rather than the 20 days as observed in China. That reduces the time a patient can spread the virus to others. One lesson that should inform the U.S. approach: Use this treatment cocktail early, and don't wait until a patient is on a ventilator in the intensive-care unit.
Meanwhile Prime Minister Boris Johnson of Great Britain Goes Full Fascist
https://twitter.com/alexsalvinews/status/1242193544774701056?s=20
In a televised speech Monday, Prime Minister Johnson told the nation that they must stay home. He said that citizens may go out only for essential items like food and medical necessities, but they are to limit going outside to one exercise outing per day and that only alone or with 1 members of their immediate family. Gatherings are to be limited to a maximum of 2 people and that only of members of the same household. Apparently the Prime Minister is not aware that some families are made up of more than 2 people. 
Citizens of England are not to meet up with friends or family. Prime Minister Johnson said that if your friends or family contact you to meet up, you must say no. He also said that he will personally be monitoring all phone calls – Ok, not really.
Johnson ordered all non-essential shops to close, as well as all libraries, playgrounds, places of worship, all gatherings of any kind, including ceremonies such as baptisms and weddings. Johnson only made exception for funerals, since that's apparently all he wants to happen for Brits to be dying. 
Johnson assured the English people that the police will have powers to enforce these rules through fines and dispersing of any sort of gathering. But one wonders if the police are allowed to gather in groups of more than 2 at time? As George Orwell taught us decades ago, all animals are equal, but some animals are more equal than others. 
This order is to be in force for three weeks. 
Our old friend Peter Hitchens responded with appropriate disgust: "it is like amputating a man's leg because he has pneumonia. Afterwards, the patient has only one leg, which will not grow back, and he still has pneumonia. Is this sensible? no."
Pence Says Social Distancing Guidelines will Be Reviewed and Adjusted After 15 Days
https://thehill.com/policy/healthcare/489088-pence-says-officials-will-weigh-potential-adjustments-to-social-distancing
From The Hill: Vice President Mike Pence said Monday that the White House coronavirus task force would evaluate ways to potentially adjust recommendations for social distancing after the 15-day period specified in the initial guidelines expires next week.
"At the end of this 15 days, we're going to get with our health experts. We're going to evaluate ways in which we might be able to adjust that guidance for the American people," Pence told reporters at Federal Emergency Management Agency headquarters Monday when asked about whether the administration was considering relaxing the guidance in order to stimulate the U.S. economy. 
"We'll look at where we are, and we'll evaluate based on our health experts what steps might be possible," Pence continued. 
Pence's remarks came after Trump tweeted overnight that "we cannot let the cure be worse than the problem itself" and retweeted a number of supporters calling for Americans to get back to work amid the outbreak. The tweets were seen as a signal the president may be leaning toward easing the recommendations in order to help stem the economic damage, as many business were already suffering before many of them have been ordered closed down by their governors and mayors, spurring mass layoffs across the country. 
The decision about how quickly to reduce the federal guidelines has been a source of debate among those in and around the administration, with some arguing they should be relaxed after 15 days to help people in areas that have been less impacted by the virus return to work.
A move to relax the recommendations after the 15-day mark passes would likely put Trump at odds with public health experts who have advocated for Americans to practice social distancing for a longer period of time.
The number of coronavirus cases has exceeded 40,000 in the United States, marking a large increase over the past several days.The CDC estimates that influenza has resulted in between 9 million – 45 million illnesses each year since 2010. Those illness have resulted in between 140,000 – 810,000 hospitalizations and somewhere between 12,000 – 61,000 deaths every single year since 2010.
While major news outlets have running tallies on their screens, listing confirmed cases and deaths, the real number that matters much at all is the mortality rate. In those years, there were an estimated 12,000 deaths in 2011-2012 season from 9.3 million cases, resulting in a .1% mortality rate, ranging upwards to an estimated 61,000 deaths a couple of years ago in the 2017-2018 flu season, with an estimated 45 million cases in the United States (with an even lower mortality rate). So total cases and total deaths shouldn't really be the decisive factor.  
And finally a book plug for our Moment
https://www.amazon.com/Failure-Nerve-Leadership-Quick-Revised-ebook/dp/B071R6P7MJ/ref=sr_1_1?keywords=failure+of+nerve&qid=1585000009&sr=8-1
 "Failure of Nerve" by Edwin Friedman. Friedman was an ordained rabbi and licensed family therapist. One of the key takeaways of his book is the tendency for organizations (families, businesses, churches, nations) to be sabotaged by those with chronic anxieties. Basically, he saw one of the greatest threats to organizations and leadership was the tendency to constantly be trying to address the concerns/needs of the weakest members (and rarely succeeding), rather than playing to the strengths of the strongest members (for the good of all, even the weaker members). It seems to me that this coronavirus moment is a picture-perfect example of the sort of thing Friedman was talking about, but on a global scale, with all the shutdowns. Crippling business and innovation is cutting the legs out from under the very infrastructure we need to battle the virus and care for the weak and vulnerable, whatever its true nature turns out to be.  
This is Toby Sumpter with CrossPolitic News. You can find this show and all the others on the
Fight Laugh Feast Network at Crosspolitic.com or Fightlaughfeast.com or on our app, which you can download at your favorite app store, just search "Fight Laugh Feast". Support Rowdy Christian media, and become a Fight Laugh Feast Club Member, and for a limited time you can get your very own Fight Laugh Feast t-shirt. You can't get these anywhere else except by becoming a member (or upgrading your membership) while supplies last. You are also getting access to tons of quarantine content, including most recently, a new series called Pastors & Politics – with three episodes so far including Dan Fischer, Douglas Wilson, Roger Skepple, Pat Perkins, and George Grant. Plus hours more with David French, Erick Erickson, Walter Williams, Maj Toure, Curt Kennedy, Gary Demar, and our very own Worldview Shotgun Series. You also get $100 off your registration for our first annual Fight Laugh Feast Conference, where we hope to meet many of you in Nashville, TN October 1st through the 3rd. Go to fightlaughfeast.com to register now. Have a great day. https://flfnetwork.com/coming-soon/