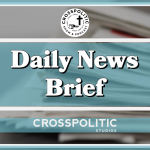 This is Gabriel Rench with your CrossPolitic Daily News Brief for Wednesday, March 25th, 2020.
Democrats Know How to Use a Crisis, Republicans Join the Democrats
https://disrn.com/news/dem-rep-told-colleagues-coronavirus-relief-bill-is-tremendous-opportunity-to-restructure-things-to-fit-our-vision
According to Discrn.com:
"Before Senate Democrats blocked the coronavirus rescue bill twice in 24 hours, Majority Whip James Clyburn said in a call with caucus members that the bill represents "a tremendous opportunity to restructure things to fit our vision."
The call took place Thursday and included more than 200 House Democrats, the National Review reports.
Since the call, Democrats have reportedly demanded increased bargaining powers for unions, as well as stricter environmental regulations for airlines and more tax credits for alternative energy before they will agree to the bill."
Now the democrat House has proposed their own version called "The Take Responsibility for Workers & Families Act". Apparently the initial bipartisan proposal in the Senate stalled at the request of the Speaker of the House Nancy Pelosi. Never letting a crisis go to waste, according to James Robbins over at USA Today (https://www.usatoday.com/story/opinion/2020/03/23/nancy-pelosi-has-packed-coronavirus-stimulus-liberal-wish-list-column/2903577001/), says that "The Take Responsibility for Workers & Families Act" 1119 page bill "is Christmas in March for liberal special interests. It imposes racial and gender pay equity provisions, diversity on corporate boards, increased use of minority-owned banks by federal offices, and a grab-bag of other diversity-themed requirements. It increases the collective bargaining power for unions and cancels all the debt owed by the U.S. Postal Service to the U.S. Treasury. For the global warming crowd there are increased fuel emission standards and required carbon offsets for airlines, plus tax credits for alternative energy programs. For the kids there is a provision for student loan payment deferment, and for the education bureaucrats who overcharge them a $9.5 billion giveaway to colleges and universities. It gives $100 million to juvenile justice programs, and suspends various aspects of enforcement of immigration laws.
James also goes onto say that the most troubling part of the bill is the ''ACCESS" Act. 
He says: "This section would impose requirements on states for early voting, voting by mail, required mailing of absentee ballots to everyone, ballot harvesting (i.e., having third parties deliver absentee ballots), online voter registration, same-day registration and other practices which undermine confidence in the integrity of the ballot. In these days of increasing threats to election security we should be moving rapidly back to in-person paper ballots, but this bill would be a radical step in the wrong direction." 
DOJ is taking a play from the democratic crisis play book by requesting new emergency powers from Congress
https://disrn.com/news/doj-requests-new-emergency-powers-from-congress-amid-coronavirus-pandemic
According to disrn.com: "The Department of Justice has asked Congress for new emergency powers in an effort to combat the increasing spread of coronavirus throughout the United States, according to documents reviewed by Politico.
The documents detailed several proposals on numerous topics, including the statute of limitations, asylum, and how court hearings are managed and processed.
One of the proposals would grant the attorney general power to ask chief district judges to suspend court proceedings "whenever the district court is fully or partially closed by virtue of any natural disaster, civil disobedience, or other emergency situation."
The DOJ also asked for the ability to detain people indefinitely without trial during emergencies.
The Department's request was met with immediate criticism from both political parties."
Justin Amash tweeted out: "Congress must loudly reply NO."
Senator Mike Lee tweeted out: "OVER MY DEAD BODY"
And AOC tweeted out: "Absolutely not."
Washington governor issues two-week stay-at-home order
https://dnews.com/news_ap/washington-governor-issues-two-week-stay-at-home-order/article_e8bf4604-6d8b-11ea-b85a-0b0156ece561.html#utm_source=dnews.com&utm_campaign=%2Fnewsletters%2Fheadlines%2F%3F-dc%3D1585061670&utm_medium=email&utm_content=headline
According to the Moscow/Pullman Daily News: "Washington Gov. Jay Inslee on Monday ordered nonessential businesses to close and the state's more than 7 million residents to stay home unless necessary in order to slow the spread of COVID-19.
The stay-at-home order is initially in place through April 6, though officials said it will be reassessed at that time and could be extended. It expands previous actions taken by Inslee last week that ordered the statewide closure of bars, dine-in restaurants, and entertainment and recreation facilities and banned large gatherings. Several other states had already issued similar orders, including California and New York."
This order also "bans all public and private gatherings of people for social, spiritual and recreational purposes for two weeks. That includes weddings and funerals, the governor said must be postponed."
"This is a human tragedy on a scale we cannot yet project. It's time to hunker down in order to win this fight," Inslee said during a televised address."
As of this Daily News Brief recording the State of Washington has a little over 2000 known cases of the virus. 
Trump's Take
https://www.foxnews.com/politics/trump-during-fox-news-coronavirus-townhall-signals-desire-to-ease-guidelines-we-have-to-get-back-to-work
According to Fox: "President Trump said Tuesday during a Fox News virtual townhall that he wants the country's economy re-opened by Easter amid questions over how long people should stay home and businesses should remain closed to slow the spread of coronavirus.
Speaking from the Rose Garden alongside others on his coronavirus taskforce, Trump said he "would love to have the country opened up and just raring to go by Easter." The holiday this year lands on April 12.
Trump argued he doesn't want "to turn the country off" and see a continued economic downfall from the pandemic. He also said he worries the U.S. will see "suicides by the thousands" if coronavirus devastates the economy.
"The president's prediction that the U.S. economy would be up-and-running by Easter, however, was tempered by comments earlier in the day by top officials at the Pentagon who predicted the COVID-19 outbreak could last anywhere from 10 weeks to three months."
This is Gabriel Rench with Crosspolitic News. Support Rowdy Christian media and join our club at fightlaughfeast.com. We really can't grow without our club members support, so please consider joining our club. Just three starbucks cups of coffee a month, you get a Fight Laugh Feast t-shirt, discount to our annual conference, and access to master classes on parenting, Christian business principles, God and Government, and backstage interviews with people like Voddie Baucham, Douglas Wilson, James White, Tom Ascol, Erick Erickson, and David French. You can find all our shows on our app, which you can download at your favorite app store, just search "Fight Laugh Feast". Lastly, we hope to meet you at our first annual Fight Laugh Feast Conference in Nashville, TN October 1st through the 3rd. Go to fightlaughfeast.com to register now. Have a great day. Lord bless