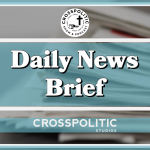 This is Toby Sumpter with your CrossPolitic Daily News Brief for Friday, March 27, 2020
Record Unemployment Claims Last Week
https://www.wsj.com/articles/the-long-run-of-american-job-growth-has-ended-11585215000?mod=hp_lead_pos3
Wall Street Journal reports: A record 3.28 million workers applied for unemployment benefits last week as corona-panic hit the U.S. economy.
The number of Americans filing for claims was nearly five times the previous record high. The surge was for the week ended March 21 and could rise further. Pennsylvania, Ohio and California were among 10 states reporting more than 100,000 claims, leaving unemployment systems overloaded.
Millions of U.S. businesses have announced layoffs or furloughs, as their cash flows dry up. A number of state, city, and county authorities have ordered nonessential businesses to close in response to the novel coronavirus pandemic.
Mr. Hall said the jobless rate in the coming months could approach the 20% that some economists estimate occurred during the Depression. Northern Trust Chief Economist Carl Tannenbaum said if half the workers in hard-hit industries, such as restaurants, retail and personal services, are laid off, the unemployment rate could rise 10 percentage points, to more than 13%. That is well above the post-World War II record high of 10.8% at the end of the 1981-82 recession.
Those figures didn't capture everyone seeking assistance. Denzel Buie said he was stymied by crashing websites and unending phone-call waits when attempting to file a claim. The 25-year-old was laid off from his union construction job on March 20 when local authorities shut down projects, including the welding and wall building he was doing at Swarthmore College in Pennsylvania. At the start of last week, the state ordered restaurants and bars to shut down.
The increase in claims last week was 17 times higher than the previous record one-week jump. In recessions claims gradually rise, allowing states to shift resources. Now, more claims were filed last week than for all of April 2009, the peak month for job loss during the 2007-09 recession.
Ohio Gov. Mike DeWine mandated bars and restaurants to close dine-in services on March 15. The state had 187,784 new jobless claims last week. Job losses swept across the nation hitting states with varying mandates for social distancing. California, with tough restrictions, had 186,809; Texas, with less, had 155,657; while New Jersey had 155,454.
The claims data likely don't fully capture the severity of the layoffs. Workers aren't required to file for claims the week they are let go. If a person is ill or busy caring for children or family members, they may put off filing for benefits, especially if the process requires a lengthy wait. New York state, one of the areas hardest hit, had a relatively small level of claims for its population, less than 1% of its labor force.
In addition, more companies laid off workers this week, as additional states ordered nonessential businesses to close.
And right on schedule there has been 300% increase in calls to suicide hotlines in the last week. On average there are 132 suicides committed every day in the US, the 10th leading cause of death in America. In 2018, 28,344 Americans killed themselves, costing some 69 billion dollars in damages and lost income and provision. 
When many object to the current draconian measures being taken to combat the coronavirus, shutting down businesses, ordering healthy young people to stay in their homes, and having a running panic tally on the side bar of every major news outlet, with constant notifications of how many people are dead now, this very minute, the objection we have is not with taking precautions, the objection is the lack of proportion. As Peter Hitchens recently noted, this is like amputating a perfectly good leg off a pneumonia patient. What many are waving their arms about are all downstream effects. And it's not just a matter of loss of money, but the loss of money is the loss of work, the loss of provision, and for many men, the loss of dignity, self-respect, confidence, and faith. 
Somewhere in the threads of my Twitter feed someone retorted to something I posted saying they thought a caramel macchiato really was 'non-essential' work and I so I should just cool it. And sure, if there's a immanent emergency, I'd rather the police officers and firemen and soldiers be at the ready than have my coffee ready to go in five minutes. But despite all the doomsdayers, we simply do not have that kind of emergency on our hands. And people are not mechanistic cogs, we are human beings made in the image of God, and this means we are more than "essential operations." The well being of nurses and doctors and medical scientists is not merely a matter of some scientific cocktail of food, water, oxygen, rest, and repeat. No, our culture produces as much innovation and creativity because lots of nurses and doctors stop for their caramel macchiato on their way to work, they stop by a gym after work or before, and they meet up with friends and family for dinner or drinks on the weekend. The demeaning of so many workers as "non-essential" is not only insulting, it's simply not true. 
New Oxford Study Suggests Millions May Already Be Immune to Coronavirus
https://theweek.com/speedreads/904584/new-oxford-study-suggests-millions-people-may-have-already-built-coronavirus-immunity
Tim O'Donnell at The Week writes: A model predicting the progression of the novel coronavirus pandemic produced by researchers at Imperial College London set off alarms across the world and was a major factor in several governments' decisions to lock things down. But a new model from Oxford University is challenging its accuracy, the Financial Times reports.
The Oxford research suggests the pandemic is in a later stage than previously thought and estimates the virus has already infected at least millions of people worldwide. In the United Kingdom, which the study focuses on, half the population would have already been infected. If accurate, that would mean transmission began around mid-January and the vast majority of cases presented mild or no symptoms.
The head of the study, professor Sunetra Gupta, an Oxford theoretical epidemiologist, said she still supports the U.K.'s decision to shut down the country to suppress the virus even if her research winds up being proven correct. But she also doesn't appear to be a big fan of the work done by the Imperial College team. "I am surprised that there has been such unqualified acceptance of the Imperial model," she said.
If her work is accurate, that would likely mean a large swath of the population has built up resistance to the virus. Theoretically, then, social restrictions could ease sooner than anticipated. What needs to be done now, Gupta said, is a whole lot of antibody testing to figure out who may have contracted the virus. Her research team is working with groups from the University of Cambridge and the University of Kent to start those tests for the general population as quickly as possible. Read more at the Financial Times. Tim O'Donnell
This would seem to be corroborated by the next story:
Georgia Governor Kemp Said Virus Was in Georgia in December
https://www.11alive.com/article/news/health/coronavirus/brian-kemp-coronavirus/85-31751314-15ff-4db7-b4ef-4a45d1adb19f
In an interview, Kemp told 11Alive that he believes the virus may have been in Georgia well before the first cases were confirmed – possibly stretching all the way back to December 2019 or early January. Since then, the increased capacity for testing has revealed an exponential increase in the amount of cases. 
But this adds the suspicion that Covid19 is not a particularly unique virus. In fact, there are growing reports that many serious cases of Covid19 were merely treated as pneumonia, and many others contracted the virus with mild to moderate symptoms and recovered just fine and are now immune, which incidentally means they are not carriers and cannot transmit the virus. 
And all of this is additionally corroborated by the announcement by Neil Ferguson, one of the lead researchers at the Imperial College London that he's "reasonably confident" that fatalities will not exceed 20,00 in the UK. And he admits that of those two thirds of them would have likely died by the end of the year due to their compromised immune systems and underlying conditions. And he suspects the virus will peak in the next two or three weeks. 
Why is this significant? Because the Imperial College London is where the most cited data model originated, predicting that the virus would rampage through the world for at least 18 months killing some 2.2 million people in the United States and around 500,000 in the UK. Not only that, but Ferguson claimed that those statistics would be the case even if the UK and US took significant measures to mitigate the virus. 
https://www.conservativereview.com/news/horowitz-man-spooked-world-coronavirus-model-walks-back-prediction/
Daniel Horowitz at the Conservative Review writes: "In order to save face, Ferguson told members of Parliament that part of his calculous is that the lockdown measures are helping. But the problem is, as former NYT reporter Alex Berenson observed, those measures were not implemented until two days ago. The backbone of Ferguson's new projection is constructed on a fact that has been built into the equation for months."
In other words, Ferguson initially claimed that his doomsday predictions would still come to pass WITH massive social distancing. The same initial forecast claimed that if both nations took more extreme measures, they could reduce mortality by half, perhaps to 260,000 people in the UK and 1.1 million in the US.
https://www.washingtonpost.com/world/europe/a-chilling-scientific-paper-helped-upend-us-and-uk-coronavirus-strategies/2020/03/17/aaa84116-6851-11ea-b199-3a9799c54512_story.html
So oops. Sorry for destroying your economy. Sorry for all the joblessness, the homelessness, the suicide, the lost time, energy, money, creativity.  
Ferguson took to Twitter on Thursday protesting that he actually still holds to his original predictions, and that his revisions were only based on the draconian measures currently being taken.
It will no doubt take a few weeks for the facts to continue to roll in, confirming or denying these initial findings, but Dr. Birx – the physician serving as the response coordinator for the White House Coronavirus Task Force – noted this dramatic shift in projections on Thursday at a White House Press conference. And she pointed out that the math of the models simply does not add up. For example, she pointed out that if you run the numbers in the model using the numbers coming out of Italy currently, Italy should have around 400,000 deaths. Instead, as of Thursday evening, Italy was reporting 8,215 deaths according to worldometers dot info. The fact remains that it's foolish to based global shut downs on one data model, especially one known for predicting the end of the world due to climate change. The fact also remains that if you cannot communicate clearly, you should not be trusted for making global predictions. 
All of this is from the Lord. All of it. All the fake numbers, all the miscalculations, every severe case, every death, all the unreported cases, and all the panicked city councils, governors, and advisors. It's all from His hand, and by faith, we can see that it is for our good. It is destroying the monuments our culture has built to experts, to big data, it's exposing our fears and anxieties, it's exposing our inability to think clearly and carefully, and perhaps most importantly, it's exposing our idols, our false gods. 
But Jesus reigns. He conquered sin, death, and the devil. And He must reign until every enemy is put beneath His feet. Those enemies include sickness and death, but also the enemies of fear and anxiety, and the oppression of lies and tyranny. He is King, and He is ruling in perfect wisdom. He has sent this moment, and it is for our good. He is teaching us wisdom. And if we can see it, He is giving us a gift, an opportunity. He is handing His people a blessing, if they will receive it. What is it for you? More time with your wife and kids this week? An opportunity for more Bible reading? A chance to meet your neighbors – to help them with a need or perhaps share with them your hope and confidence in Christ? 
And men, especially if you've been laid off or lost your job, now's the moment when you shine. Christ was rejected for you. He lost everything for you. He was betrayed and lied about and slandered for you. The gospel is real right now. Christ bore our shame, so that we might walk with heads held high. This is the dignity of the gospel, the dignity of faith. As a member of Christ, you are His nobility, and whatever you do, you do in service to the King of Kings and the Lord of Lords. So don't slouch. Don't fuss. Hold your head up high and get to work for the King. 
This is Toby Sumpter with Crosspolitic News. You can find this show and all the others on the
Fight Laugh Feast Network at Crosspolitic.com or Fightlaughfeast.com or on our app, which you can download at your favorite app store, just search "Fight Laugh Feast". Support Rowdy Christian media, and become a Fight Laugh Feast Club Member, and for a limited time you can get your very own Fight Laugh Feast t-shirt. You can't get these anywhere else except by becoming a member (or upgrading your membership) while supplies last. You are also getting access to tons of quarantine content, including most recently, a new series called Pastors & Politics – with three episodes so far including Dan Fischer, Douglas Wilson, Roger Skepple, Pat Perkins, and George Grant. Plus hours more with David French, Erick Erickson, Walter Williams, Maj Toure, Curt Kennedy, Gary Demar, and our very own Worldview Shotgun Series. You also get $100 off your registration for our first annual Fight Laugh Feast Conference, where we hope to meet many of you in Nashville, TN October 1st through the 3rd. Go to fightlaughfeast.com to register now. Have a great day. https://flfnetwork.com/coming-soon/