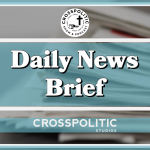 This is Toby Sumpter with your CrossPolitic Daily News Brief for Tuesday, March 31, 2020
Corona Treatments Continue to Show Success
https://www.wsj.com/articles/an-update-on-the-coronavirus-treatment-11585509827
Jeff Coyler at WSJ: "Physicians are using two drugs in combination—hydroxychloroquine and azithromycin, which I'll abbreviate HC and AZ—to treat patients with advanced Covid-19 symptoms. We use a regimen reported in a recent open-label trial in Marseille, France, which was updated March 26, and which doctors may modify in any given case.
What is the evidence?
For HC, two bodies of evidence support its potential in treating Covid-19: in vitro (test tube) studies and initial clinical reports from the field. After the 2002-03 global outbreak of SARS, a coronavirus related to the one that causes Covid-19, an in vitro study conducted by doctors from the Centers for Disease Control and Prevention identified chloroquine (a relative of HC) as an attractive option for prevention and treatment. If added before the virus was introduced, the drug was highly effective in preventing cellular infection. Even later application markedly inhibited infection. Another contemporaneous study showed similar results. As for Covid, a Chinese study published March 9 showed HC has excellent in vitro effects. Other recent information suggests potential antiviral mechanisms of HC and chloroquine.
New York state has started a large controlled clinical trial, and there are reports of others. Many believe that patients who can't be in a trial should be allowed to decide, in consultation with a physician, whether to use this treatment. This is happening in some U.S. practices."
The thing to note here is that one of the factors that really need to be considered in all of this is the effect that government regulations have had on severe cases and mortality rates. For example, there are reports that the FDA initially tried to limit coronavirus test kits to the ones produced by the CDC. It was only after those tests proved ineffective and littered with problems that they opened it up to the private sector. But we may look back and see the same thing going on with these highly effective treatments. And this can be happening on the state level as well. If state health officials bottleneck the ability of labs to conduct trials or simply produce and distribute these medicines, are we looking at more severe cases and higher mortality rates because of government bottlenecks? What are the chances that this has played into the situation in the UK, Italy, Iran, China, or New York City? 
Prime Minister Viktor Orban Granted Unlimited Discretionary Power Indefinitely 
https://www.bloomberg.com/news/articles/2020-03-30/orban-takes-sole-command-of-hungary-with-pandemic-emergency-law
Bloomberg: "Hungary's parliament handed Prime Minister Viktor Orban the right to rule by decree indefinitely, effectively putting the European Union democracy under his sole command for as long as he sees fit.
While governments around the world assume emergency powers to fight the coronavirus, locking down all aspects of every-day life and shutting borders, few democracies have given their governments such latitude without an end date.
Hungary's ruling party lawmakers overrode the objections of the opposition in a vote on Monday, handing Orban the right to bypass the assembly on any law. The Constitutional Court, which Orban has stacked with loyalists, will be the main body capable of reviewing government actions.
The emergency-rule law "poses no threat to democracy," Orban told lawmakers after the vote. His detractors didn't agree.
"I don't know of another democracy where the government has effectively asked for a free hand to do anything for however long," said Renata Uitz, director of the comparative constitutional-law program at Central European University in Budapest."
The legislation's scope is "limited" and envisions only "necessary and proportionate measures" to fight Covid-19, Justice Minister Judit Varga told journalists on Friday. The cabinet has already been granted emergency powers and the legislation actually gives parliament the right to end that, she said.
Varga asked journalists not to "distort" facts, a crime the legislation makes punishable by as long as five years in jail for anyone deemed hampering the virus fight.
In the past decade, the nationalist leader has used supermajorities in parliament to dismantle checks and balances, build the EU's largest state propaganda machine and crack down on civil society to silence dissent.
The law approved Monday is for the "prevention, handling and elimination of the human pandemic as well as to prevent and blunt its harmful effects," which legal experts said may allow Fidesz to keep the emergency measures in place as long as they see potential effects of the virus.
Orban is portraying the opposition, which had pleaded with the premier to introduce a renewable 90-day sunset clause, as deserting the country at a time when unity should have prevailed.
It may help him deflect blame for failing to fix Hungary's underfunded hospitals, which are at risk of being overwhelmed faster than health-care systems in some other EU countries. Opposition parties have for years criticized Orban for splurging on vanity projects, including over-sized soccer stadiums.
"In light of previous experiences with authoritarian dynamics in Hungary, once passed, the enabling act will not be rescinded anytime soon," said Daniel Hegedus, a fellow at the German Marshall Fund in Berlin.
In case you missed it, you'll definitely want to catch the CrossPolitic interview with Peter Hitchens yesterday. His take on the whole coronavirus scare is well worth your time, particularly his lonely voice on this creeping totalitarianism in all of the nations of the West. One of the only other voices in the UK sounding an alarm came from Lord Sumption, a former member of the UK Supreme Court, in a BBC interview on Monday: 
"The real problem is that when human societies lose their freedom, it's not usually because tyrants have taken it away.   It's usually because people willingly surrender their freedom in return for protection against some external threat.     And the threat is usually a real threat but usually exaggerated.  That's what I fear we are seeing now.   The pressure on politicians has come from the public. They want action. They don't pause to ask whether the action will work.    They don't ask themselves whether the cost will be worth paying.   They want action anyway.   And anyone who has studied history will recognize here the classic symptoms of collective hysteria. Hysteria is infectious.     We are working ourselves up into a lather in which we exaggerate the threat and stop asking ourselves whether the cure may be worse than the disease."    
A Florida Pastor Has Been Arrested for Holding Services Despite a State Order
https://www.kivitv.com/news/national/coronavirus/tampa-pastor-arrested-for-holding-church-services-despite-safer-at-home-order?fbclid=IwAR2O9iUZlpiji6XnpLHl1RRGEIwVpkTqGOVmacv-I6asAHzdEl5ivZI79AM
In Florida, The River at Tampa Bay Church remained open Sunday to the public despite a "Safer At Home" order issued by the county — an order that includes places of worship. While the church is encouraged sick parishioners to stay home and view services online, the church said in a statement that it felt obligated to stay open.
"We expect our police and firefighters to be ready and available to rescue and to help and to keep the peace," the church said in a statement. "The Church is another one of those essential services. It is a place where people turn for help and for comfort in a climate of fear and uncertainty. Therefore, we feel that it would be wrong for us to close our doors on them, at this time, or any time."
On Monday, Hillsborough County Sheriff's Office arrested the church's pastor, Rodney Howard-Browne. He's charged with unlawful assembly and violation of a public health emergency order.
"His reckless disregard for human life put hundreds of people in his congregation at risk, and thousands of residents who may interact with them this week in danger," Hillsborough County Sheriff Chad Chronister said.
The comeback of many Christians is that Romans 13 requires Christians to submit to every ordinance of magistrates, unless the magistrate orders you to explicitly disobey God. Related, would be the fact that the magistrate really is given the duty to protect the innocent and punish evildoers and therefore, and yes, this has sometimes included protecting the public from true health emergencies. Temporary requests not to meet should be received by the church with due deference and honor. And where there is a question about the nature of the threat, church leaders must weight a number of different factors in determining whether to acquiesce to the request or not. But the right to call a worship service is never ceded to civil magistrates. Jesus gave the keys of the kingdom to the church, not the magistrate. A worship service may be temporarily *interrupted* by magistrates doing their jobs – like with an active shooter or fire or even a true plague. But when the threat is over or when the threat turns out not to be what was originally projected, the church is not bound by those orders. 

https://www.dailywire.com/news/bill-de-blasio-threatens-to-permanently-close-nyc-churches-if-they-dont-comply-with-social-distancing?utm_source=facebook&utm_medium=social&utm_campaign=mattwalsh
Anyone who thinks that these current regulations and orders are not anywhere close to tyranny needs to wake up. 
The Daily Wire reports: New York City Democratic Mayor Bill de Blasio threatened late last week to permanently close places of worship if they broke social distancing efforts aimed at reducing the outbreak of COVID-19 in the hardest hit city in America.
"So, I want to say to all those who are preparing the potential of religious services this weekend – if you go to your synagogue, if you go to your church and attempt to hold services after having been told so often not to, our enforcement agents will have no choice but to shut down those services," de Blasio told reporters. "I don't say that with any joy. It's the last thing I would like to do because I understand how important people's faiths are to them, and we need our faiths in this time of crisis, but we do not need gatherings that will endanger people."
"No faith tradition endorses anything that endangers the members of that faith," de Blasio continued. "So, the NYPD, Fire Department, Buildings Department, and everyone has been instructed that if they see worship services going on, they will go to the officials of that congregation, they'll inform them they need to stop the services and disperse."
"If that does not happen, they will take additional action up to the point of fines and potentially closing the building permanently," de Blasio concluded. First off, this statement is absolutely ludicrous, foolish, unconstitutional, and evil. The suggestion that the government might seize a church building permanently as punishment for a church's refusal to cease worship services is right up there with communist china. And while it seems utterly unlikely that de Blasio would actually get away with such a thing, as much as it seems unlikely that he doesn't even know what he just threatened, it's still a terribly evil thing that he can say that sort of thing out loud in public and most likely will not receive the kind of public tarnishing he deserves.
Christians must be on the front lines of praying for their leaders, encouraging them, honoring them wherever possible, and graciously standing their ground in moments like this. This too is part of seeking the welfare of the city, the blessing of our leaders. Do we want God's blessing on our cities and nations? Then we must obey Him. 
This is Toby Sumpter with Crosspolitic News. You can find this show and all the others on the
Fight Laugh Feast Network at Crosspolitic.com or Fightlaughfeast.com or on our app, which you can download at your favorite app store, just search "Fight Laugh Feast". Support Rowdy Christian media, and become a Fight Laugh Feast Club Member, and for a limited time you can get your very own Fight Laugh Feast t-shirt. You can't get these anywhere else except by becoming a member (or upgrading your membership) while supplies last. You are also getting access to tons of quarantine content, including most recently, a new series called Pastors & Politics – with three episodes so far including Dan Fischer, Douglas Wilson, Roger Skepple, Pat Perkins, and George Grant. Plus hours more with David French, Erick Erickson, Walter Williams, Maj Toure, Curt Kennedy, Gary Demar, and our very own Worldview Shotgun Series. You also get $100 off your registration for our first annual Fight Laugh Feast Conference, where we hope to meet many of you in Nashville, TN October 1st through the 3rd. Go to fightlaughfeast.com to register now. Have a great day. https://flfnetwork.com/coming-soon/