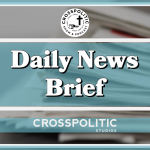 This is Gabriel Rench with your CrossPolitic Daily News Brief for Wednesday, April 8th, 2020.
The Crisis Has Exposed the Damage Done By Government Regulations
https://mises.org/wire/crisis-has-exposed-damage-done-government-regulations
The Mises Wire, the news and opinion website of the Mises Institute, reported a couple days ago on several regulations that the government has eliminating during the COVID crisis: 
First the FDA
The Food and Drug Administration is treated as unassailable by some, and if you dare speak out against it, you clearly want millions to die because of defective products. Well, the real world shows that the FDA's lengthy approval process—which is consists of three phases of drug trials that can span years—actually puts many lives at risk. In the current coronavirus context, people do not have the luxury of time, so bureaucracy is quite literally killing them when they can't access restricted treatments or medicine.
Cooler heads have prevailed at the FDA, for the time being, as the agency gave a new coronavirus testing kit emergency use authorization (EUA) after weeks of delays.
However, we should not let the FDA completely off the hook. As is to be expected from a government agency, the FDA is taking its sweet time in approving at-home testing kits for the COVID-19 coronavirus. 
The Lonestar State Leading the Way on Deregulation
Various states have issued orders to shut down restaurants and bars, which has compelled many businesses to limit their services to takeout. Some governments, such as that of Texas under Governor Greg Abbott, have been reasonable in their approach to dealing with the coronavirus crisis by lifting regulations on alcohol delivery and letting restaurants deliver alcohol along with food purchases, which was previously prohibited.
Additionally, Abbott made sure to waive regulations that would have weakened Texas supply chains in the face of this crisis. Trucks generally confined to delivering alcohol to liquor stores are now able to deliver grocery supplies to supermarkets. This move serves to bolster Texas supply chains during a time of uncertainty. "By waiving these regulations, we are streamlining the process to replenish the shelves in grocery stores across the state," Abbott declared.
Healthcare systems across the country are under great pressure, which has prompted state legislatures to become more flexible with their otherwise stringent medical regulations. The Lone Star State has fast-tracked temporary licensing for doctors, assistants, and nurses coming from out of state to help Texas health professionals. States such as Maryland and South Carolina have taken similar approaches, recognizing that their medical restrictions may put them in a deadly bind as more coronavirus cases pop up and they don't have enough staff to handle them." 
The TSA
Believe it or not, the TSA is getting on the deregulation bandwagon. They have decided to allow 12-ounce bottle hand sanitizer through security, exceeding the current 3.4-ounce restriction. 
China appointed to U.N. Human Rights Council panel despite human rights abuses, coronavirus cover-up
https://disrn.com/news/china-appointed-to-un-human-rights-council-panel-despite-human-rights-abuses-coronavirus-cover-up
According to Discrn.com
"China has been given a seat at a U.N. Human Rights Council panel where it will help vet candidates for important posts dealing with freedom of speech, health, enforced disappearances, and arbitrary detention, despite its egregious human rights record and recent cover-up of its coronavirus outbreak, both of which have and will continue to cost the world countless lives."
The UN Watch reports:
"China was appointed on Wednesday to a United Nations Human Rights Council panel where it will play a key role in picking the world body's human rights investigators — including global monitors on freedom of speech, health, enforced disappearances, and arbitrary detention — in a move that has sparked protest by international human rights activists.
"Allowing China's oppressive and inhumane regime to choose the world investigators on freedom of speech, arbitrary detention and enforced disappearances is like making a pyromaniac into the town fire chief," said Hillel Neuer, executive director of UN Watch, a non-governmental human rights organization based in Geneva that closely monitors the 47-nation UN Human Rights Council, and a leader in speaking out at the UN for victims in China."
The Competitive Enterprise Institute
https://cei.org/content/how-repeal-neverneeded-regulations-can-help-responses-covid-19-crisis
The CEI came up with a list of over 30 regulations that are harming our response to the coronavirus. CEI summerizes their report with these principles:
Remove regulatory barriers that prevent an effective response to the crisis;
Remove regulatory barriers that reduce resilience to changed economic behavior;
Suspend or repeal policies that make the crisis worse than it would otherwise be; and
Put in place reforms that will allow the economy to reboot quickly.
Follow the link to read all through all 30 something regulatory barriers. 
How to be thinking about the Stimulus checks:
This is not an exhaustive summary of what is in the stimulus, but hopefully summarizes and provides some helpful guidance on how you should be thinking about it:
There are a lot of the programs in the "stimulus" and they basically fall into four categories (roughly): 1) forced taxes, 2) some sort of deferment program, 3) cheep loan, and 4) some sort of "free" money but still boils down to a tax increase.
So for category one, forced taxes, basically the whole stimulus package is a massive tax. This is the 30,000 foot view of the stimulus, and this hike will play out over years to come. Daivd Bahnsen pointed out on our show a couple weeks ago, that our national debt is very small compared to countries like Japan, but still if we don't pay off our debts, our children will bear the consequences, and pox on our generation if that happens.  
Category two: The stimulus checks that individuals and families will be getting in the mail are actually tax credits that will be applied to 2020 tax returns. So you get the money now, but you will see it show up later in your 2020 taxes. 
Category three: cheap loans at around 4% or less depending on the program. I have a problem with the government loaning money (why are they in this business in the first place?), which is silly, but because it is a payback requirement, I don't have a problem with businesses taking advantage of this. Technically the government will make money off these loans, which would theoretically help minimize the stimulus damage. 
Category four: The Paycheck Protection Program can turn into free money, meaning the individual business would not have to pay it back if they put the money towards qualifying uses (payroll, rent, etc…). This program bothers me the most, but here is the play. The government broke the economy and now they are trying to fix it. Companies really should have a savings strategy in place, so even if the government flips out, we are not beholden to the bipolar government.
But here is the bottom line, and this applies to the forced stimulus check and the rest of the programs, is that however people are participating in these programs, there are two principles that should be in the front of our minds: First, do not think the government as our savior, which includes not developing a slave mentality. The government is playing with our corporate credit and even requiring you to participate. So, think accordingly and know that our government is not in control. Secondly, take the stimulus check that you will most likely be receiving, and invest it or open a bank account for your kids. In other words, think long term and figure out away to extend the money into the next generation, because they will be paying off our debts for this package…and including the previous two stimulus packages (Bush/Obama). 
This is Gabriel Rench with Crosspolitic News. Support Rowdy Christian media and join our club at fightlaughfeast.com. We really can't grow without our club members support, so please consider joining our club. Just three starbucks cups of coffee a month, you get a Fight Laugh Feast t-shirt, discount to our annual conference, and access to master classes on parenting, Christian business principles, God and Government, and backstage interviews with people like Voddie Baucham, Douglas Wilson, James White, Tom Ascol, Erick Erickson, and David French. You can find all our shows on our app, which you can download at your favorite app store, just search "Fight Laugh Feast". Lastly, we hope to meet you at our first annual Fight Laugh Feast Conference in Nashville, TN October 1st through the 3rd. Go to fightlaughfeast.com to register now. Have a great day. Lord bless