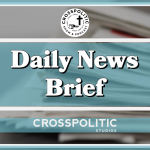 This is Toby Sumpter with your CrossPolitic Daily News Brief for Thursday, April 9, 2020
Bernie is Out
https://www.washingtonpost.com/politics/bernie-sanders-to-end-his-presidential-campaign/2020/03/18/cf7a1824-4d18-11ea-9b5c-eac5b16dafaa_story.html
In a video address, Bernie Sanders announced that he was withdrawing from the Democratic nomination for president. "As I see the crisis gripping the nation," Sanders told supporters streamed live from his home in Burlington, Vt., "I cannot in good conscience continue to mount a campaign that cannot win and which would interfere with the important work required of all of us in this difficult hour."
Washington Post reports: "By midday, he had spoken privately to Joe Biden, now the presumptive Democratic nominee for president. Sanders in his video pledged to support the former vice president, although he said he will remain on primary ballots in an effort to collect enough delegates to influence the party's platform in negotiations this summer."
By Wednesday afternoon, Roe v. Wade was trending on Twitter apparently because a number of former Bernie supporters have threatened not to vote or some, most recently and notably, Joe Rogan, had said he would rather vote for Trump than Biden. Roe v. Wade was trending because many Democrats were complaining that this would almost surely result in another supreme court pick for Trump, mostly likely another conservative justice, perhaps tipping the scales to reverse Roe v. Wade. 
Meanwhile, the Washington Post reports that former president Barack Obama has been working overtime behind the scenes to reunite the splintered party: "Obama had multiple conversations with Sanders and Biden over the past few weeks focused on defeating President Trump, according to a person with knowledge of the talks who spoke on the condition of anonymity to discuss the private conversations. Obama is said to be determined to play a role in unifying and energizing the party for the general election."
Sanders's decision to end his campaign closes one of the most remarkable chapters in modern political history. His advocacy for sweeping liberal ideas, such as Medicare-for-all and tuition-free public college, shifted the national debate over the role of government and found broad support among members of a party that he never formally joined.
"Together we have transformed American consciousness as to what kind of nation we can become," Sanders said Wednesday. "Few would deny that over the course of the past five years, our movement has won the ideological struggle."
https://disrn.com/opinion/opinion-enough-with-this-ridiculous-healthcare-for-all-slogan/
Speaking of which, Ben Jealous kicked up some dust on Twitter a few days ago when he tweeted: "As a Christian I cannot square both believing in the teachings of Jesus Christ and opposing health care for all."
Ben Jealous is a former President and CEO of the NAACP, from 2008-2013. He recently ran for Governor of Maryland in 2018, won the Democrat nomination but lost to the Republican incumbent, Larry Hogan. 
The problem with this sentiment is the false dichotomy created. I don't know of anyone who opposes providing the best health care possible for the maximum number of people. The problem is with the hidden premise that Christians must support government provided health care for all. The other hidden premise is that if the government actually tried to provide health care for all that it would actually succeed. 
But the Bible doesn't teach that this is the business of civil magistrates. They are good with the sword, with defending the innocent and punishing the wicked. But they aren't good at prescribing medicine, determining who should get which surgeries and when, and the more they get involved in medicine the worse it is for everyone. Just look at socialized medicine in the nations where it has taken root. Does everyone have healthcare? Well, sure, technically everybody has a card. But how long are the lines, how long are the waits, and what happens if you disagree with the doctors or hospital? Can you get a second or third opinion? Can you shop around? Not hardly. And there really have been some horror stories coming out of nations with socialized medicine, insisting that patients may not receive treatment, in some cases insisting that they cannot even leave the hospital. Yeah, that's my idea of a horror story. So when you hear politicians and activists touting healthcare for all, just think "horror for all." And with all this Covid-19 craziness, I think we can agree that they have done quite enough. Thank you. 
So, do I support the best possible health care for as many as possible? Absolutely. Now the question is: how should we go about doing that? We do that by freeing doctors and hospitals and drug manufacturers and insurance companies and families from government regulations. We let competition, free markets, free choice, common sense, and the general good will of Christians to flourish. And we insist that the government do its job which is to punish scammers, schemers, and all malpractice. But all of this would take metric tons of personal responsibility and discipline that, like the toilet paper at Walmart, is apparently completely out of stock in America. 
Speaking of Discipline, William Toti Says US Navy Captain Crozier Was Lacking 
https://www.wsj.com/articles/a-failure-of-discipline-under-capt-croziers-command-11586191567?fbclid=IwAR2N8njod9Vp7pafEejWqwZHXTeQlRvfuv9glnkZe0zhAndjTXmnFNXWcJg
US Navy Captain Brett Crozier was relieved of duty last week after the press published an email about the Covid-19 outbreak on his nuclear aircraft carrier, the USS Theodore Roosevelt. 
William Toti writes at the Wall Street Journal: "No doubt Capt. Crozier was concerned about the Covid crisis and wanted to escalate the issue to protect his crew. That desire is to be commended. But the crew's welfare is only part of a Navy captain's responsibilities, which are global in scope. Capt. Crozier's letter effectively recommended that the Navy take an operational, forward-deployed nuclear-powered aircraft carrier offline, an event that would be classified and carry significant strategic implications world-wide, hence would have to be escalated to the president. From that standpoint, the Roosevelt was not Capt. Crozier's ship, it was America's. But to shotgun that kind of recommendation in a letter via an unclassified email is a violation of the highest order.
Capt. Crozier's defenders have said he was speaking truth to power. But he could have done so directly. He could have generated serious action with a properly classified, immediate-precedence "Personal for" naval message to any of at least five operational commanders in his chain of command. He could have reached out directly to the Navy secretary. Instead, according to Mr. Modly, Capt. Crozier shotgunned, thereby losing control of, an email containing classified details reflecting the state of readiness of one of America's most important ships. The upshot is that the Chinese received Capt. Crozier's letter at the same time as the Pentagon."
He continues: "In today's culture, even in the military, the "right" side of an issue tends increasingly to start with feelings. Social media posts—"We stand with Captain Crozier"—don't merely reflect attitudes; they drive behavior among the public and, more troubling, among young sailors. The Journal reports that some sailors say they won't re-enlist over the way they perceive the incident to have been handled. Imagine if this trend continues to its logical extreme—military decisions by Twitter mob."
And while many questions still remain about the entire Covid-19 situation, it is looking increasingly like the same problem actually runs all the way up the chain of command. Are we making governmental decisions based on facts and truth or feelings and fears? Are we making decisions based on courage and virtue or by mobs on Twitter or in the media?
Finally, Terrorist Al Shabab Killed in US Drone Strike Last Thursday
https://www.marinecorpstimes.com/flashpoints/2020/04/07/high-ranking-al-shabab-leader-killed-in-us-strike/
U.S. Africa Command said an April 2 airstrike in Somalia killed a high-ranking and foundational member of the al-Qaida-linked Islamic extremist group known as al-Shabab.
The airstrike located in Bush Madina, Somalia, about 135 miles west of Mogadishu killed a total of three jihadis, including Yusuf Jiis — a Shabab leader who had held several positions and helped facilitate the jihadi group's violent attacks throughout East Africa, AFRICOM said.
"This individual was a key leader in the al-Shabaab organization," Army Gen. Stephen Townsend, the AFRICOM commander said in a news release. "He was violent, ruthless, and responsible for the loss of many innocent lives. His removal makes Somalia and neighboring countries safer."
AFRICOM previously told Military Times it has slightly increased the pace of strikes against the Shabab militants as it sees the group as a growing threat to U.S. interests.
"While we might like to pause our operations in Somalia because of the Coronavirus, the leaders of al-Qaeda, al-Shabaab and ISIS have announced that they see this crisis as an opportunity to further their terrorist agenda so we will continue to stand with and support our African partners," Townsend said.
American warplanes are pummeling al-Shabab following a brazen raid on the Manda Bay, Kenya, airfield in January and an attack on the Baledogle air base in Somalia, which houses American commandos.
Three Americans were killed in the Manda Bay attack including a U.S. soldier. Marine Raiders whisked to the airfield beat back the attackers in an intense gun battle. The Pentagon has since decided to beef up security around the base.
Bottom of Form
AFRICOM said it killed five terrorists in a Monday strike targeting al-Shabab near Jilib, Somalia.
This is Toby Sumpter with Crosspolitic News. You can find this show and all the others on the
Fight Laugh Feast Network at Crosspolitic.com or Fightlaughfeast.com or on our app, which you can download at your favorite app store, just search "Fight Laugh Feast". Support Rowdy Christian media, and become a Fight Laugh Feast Club Member, and for a limited time you can get your very own Fight Laugh Feast t-shirt. You can't get these anywhere else except by becoming a member (or upgrading your membership) while supplies last. You are also getting access to tons of quarantine content, including most recently, a new series called Pastors & Politics – with three episodes so far including Dan Fischer, Douglas Wilson, Roger Skepple, Pat Perkins, and George Grant. Plus hours more with David French, Erick Erickson, Walter Williams, Maj Toure, Curt Kennedy, Gary Demar, and our very own Worldview Shotgun Series. You also get $100 off your registration for our first annual Fight Laugh Feast Conference, where we hope to meet many of you in Nashville, TN October 1st through the 3rd. Go to fightlaughfeast.com to register now. Have a great day. https://flfnetwork.com/coming-soon/