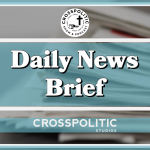 This is Gabriel Rench with your CrossPolitic Daily News Brief for Monday, April 13th, 2020.
99% of Those Who Died From Virus Had Other Illness, Italy Says
bloomberg.com/news/articles/2020-03-18/99-of-those-who-died-from-virus-had-other-illness-italy-says
According to Bloomberg News: "More than 99% of Italy's coronavirus fatalities were people who suffered from previous medical conditions, according to a study by the country's national health authority.
After deaths from the virus reached more than 2,500, with a 150% increase in the past week, health authorities have been combing through data to provide clues to help combat the spread of the disease.
The average age of those who've died from the virus in Italy is 79.5. As of March 17, 17 people under 50 had died from the disease. All of Italy's victims under 40 have been males with serious existing medical conditions."
AG Barr to take action against government officials threatening churches
https://www.christianpost.com/news/ag-barr-to-take-action-against-government-officials-threatening-churches.html
According to the Christian Post: "The office of Attorney General William Barr said action will be taken against officials who single out religious organizations to enforce social distancing rules in place to reduce the spread of the new coronavirus.
"During this sacred week for many Americans, AG Barr is monitoring govt regulation of religious services," Barr spokeswoman Kerry Kupec wrote on Twitter Saturday night ahead of Easter. "While social distancing policies are appropriate during this emergency, they must be applied evenhandedly & not single out religious orgs. Expect action from DOJ next week!"
AG Barr is absolutely right that rules need to be applied evenhandedly. State after state has implemented arbitrary standards with little or no justification. Why can Amazon or Walmart remain open and churches closed? What is an essential job and what is a non-essential job? Why can Mayor De Blasio go workout at his local gym and threaten to close churches permanently if they hold a service? Or the Mayor of Greenville, Mississippi orders cops to ticket parishioners of a driven worship service, while the cops don't wear facemask? 
And just this past Sunday, parishioners showed up for an Easter Service Maryville Baptist Church in Hillview, Kentucky, only to find nails scattered in the parking lot entrance. Police show up, not to investigate the vandalism, but to record license plates and place warning signs on everyone's cars. This was at the order of Gov. Andy Beshear.
https://www.theblaze.com/kentucky-church-police-license-plates-nails
Meanwhile Senator Rand Paul, you know the Republican Senator from Kentucky, tweeting this:
"Taking license plates at church? Quarantining someone for being Christian on Easter Sunday? Someone needs to take a step back here.
Kentucky Governor Announces Plan to Record License Plates of Easter Church Goers and Force Them to Quarantine for 14 Days"
Coronavirus may give President Trump a long-sought chance to privatize the Postal Service
https://news.yahoo.com/trump-coronavirus-privatize-us-portal-service-173250637.html
"Amid a cash crunch threatening to put the U.S. Postal Service out of business, the Trump administration is being accused of blocking bipartisan efforts to provide money to the agency as part of a long-sought conservative effort to privatize mail delivery.
The coronavirus pandemic has led to a precipitous drop in mail deliveries, worsening a crisis for an already financially troubled service. Last week, Postmaster General Megan Brennan said financial woes exacerbated by the pandemic could cause the agency to run out of money by October.
The $2 trillion coronavirus stimulus package passed on March 25 did not provide assistance for the Postal Service, despite bipartisan support for the funding, according to an aide to the Senate Homeland Security and Governmental Affairs Committee, which has jurisdiction over the Postal Service.
Instead, the legislation only allowed the Postal Service to borrow $10 billion from the Treasury Department.
While the administration says it is working with the Postal Service, Ronnie Stutts, the president of the National Rural Letter Carriers Association, accused the White House and Treasury Department of blocking postal funding as part of an effort to privatize the agency.
"Everything was going good with this until they got to the White House," Stutts said.
Yahoo News goes on to report: "While the Postal Service is a quasi government agency, it is in a unique position since it has not been funded by taxpayer dollars since the 1980s. Instead, the post office relies on its own revenue from mail services.
While the Postal Service has made a profit, it has been facing financial woes since 2006, when legislation was passed requiring the Postal Service to pre-fund retirement for its workers. Prior to the coronavirus pandemic, the Postal Service was already in dire straits with its liabilities and debt vastly outpacing revenue. Last year, the U.S. Government Accountability Office described the "overall financial picture" of the Postal Service as "deteriorating and unsustainable.""
OPEC+ reaches deal on record oil supply cut amid coronavirus pandemic
https://www.foxbusiness.com/markets/opec-plus-deal-global-oil-supply-cut
According to Fox Business: "OPEC, Russia and other oil-producing nations agreed on Sunday to cut output by a record amount, representing around 10% of global supply, to support oil prices amid the coronavirus pandemic.
The group, known as OPEC+, agreed to reduce output by 9.7 million barrels per day (bpd) for May-June, after four days of marathon talks and following pressure from U.S. President Donald Trump to arrest the price decline.
Two OPEC+ sources told Reuters the deal had been sealed in a video conference on Sunday, and the agreement was confirmed in a statement from by Kazakhstan's energy ministry.
In the biggest oil output cut ever, the countries will keep gradually decreasing curbs on production in place for two years until April 2022."
In responsTrump tweeted:
"The big Oil Deal with OPEC Plus is done. This will save hundreds of thousands of energy jobs in the United States. I would like to thank and congratulate President Putin of Russia and King Salman of Saudi Arabia. I just spoke to them from the Oval Office. Great deal for all!"
Oil started out at $70 per barrel and is currently sitting at $32 per barrel, because of the oligarchy infighting and the coronapanic. 
This is Gabriel Rench with Crosspolitic News. Support Rowdy Christian media and join our club at fightlaughfeast.com. We really can't grow without our club members support, so please consider joining our club. Just three starbucks cups of coffee a month, you get a Fight Laugh Feast t-shirt, discount to our annual conference, and access to master classes on parenting, Christian business principles, God and Government, and backstage interviews with people like Voddie Baucham, Douglas Wilson, James White, Tom Ascol, Erick Erickson, and David French. You can find all our shows on our app, which you can download at your favorite app store, just search "Fight Laugh Feast". Lastly, we hope to meet you at our first annual Fight Laugh Feast Conference in Nashville, TN October 1st through the 3rd. Go to fightlaughfeast.com to register now. Have a great day. Lord bless