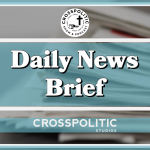 This is Gabriel Rench with your CrossPolitic Daily News Brief for Wednesday, April 15th, 2020.
White House will reportedly share guidelines for reopening the economy this week
https://disrn.com/news/white-house-will-reportedly-share-guidelines-for-reopening-the-economy-this-week
According to Discrn.com: "The Trump administration this week will reportedly share guidelines on reopening the American economy, a possible turning point in the ongoing economic crisis that has gripped the United States since the coronavirus began spreading.
National Economic Council Chairman Larry Kudlow said on Tuesday that the president "will be making some very important announcements" in the next few days regarding the federal guidelines for restarting economic activity throughout the country."
Here is my take on how things should open back up:
First whatever happens it should not be arbitrary. In other words we should not label pot shops as essential while labeling churches non-essential business. Arbitrary standards just means that as a leader you are virtue signalling, trying to look like you are doing something, while in reality you are powerless over the situation. 
Secondly, our political leaders need to repent. Not just repent for how they have arbitrarly dealt with the situation, but for not speaking up against gay pride parades in their states, allowing the unborn to be slaughtered in their states, and for denying God's proper authority over all. 
Thirdly, and this could be labeled as number one, churches need to lead our nation in repentance. God is judging the church, is He not? Judgement begins in the house of God, so repentance begins in the house of God. Read through the prophets, Jeremiah, Ezekial, and Isaiah, has not God's word been clear on this point. Our worship stinks in God's nostrils (Isaiah 1). Our pastors tickle ears neglecting the truth of God's word (2 Timothy 4:3), as they collect their paychecks and yet run when the sheep are under attack. The body of Christ is full of cancer and we are in no position to bring remedy to the world, unless we repent. 
Fourthly, we should be praying that God would not let us out of this coronavirus trial, until we repent. As Pastor Wilson has pointed out, we don't want things to go back to normal where abominations are celebrated every June and one million babies are aborted every year. We want nothing to do with that normal, and we should rather be in a great depression where no babies are killed than in a thriving economy where the abortion industry is in a growth spurt.
Fithly, and more practically, it is clear in the data that those with diabetes, those with prior respiratory issues, and the aging population 60 and above are at a higher risk of dying from COVID-19. This means they should voluntarily quarantine themselves while the rest of the population should go back to work. We had Dr. Cole on the show on Monday, and he said no matter how you look at it, we need to get herd immunity to beat this virus. We should do that with the healthy population, which will create a far better environment for the vulnerable as herd immunity builds. 
Lastly, all the leaders that bought into the Imperial College data need to be challenged. We hold prophets accountable for false prophecies, and so we need to hold our leaders accountable for believing false prophecies.   
Early Rain Church members arrested in homes during online Easter church service over Zoom
https://disrn.com/news/early-rain-church-members-arrested-in-homes-during-online-easter-church-service-over-zoom
According to Discrn.com: "Members of the Early Rain Covenant Church in China were taken away from the their homes and their electricity cut off on Easter Sunday after government officials learned they were joining a Zoom call for an online worship session, according to International Christian Concern.
The Sichuan congregation has not been able to meet in person since the government tightened watch over the church in December 2018, arresting its pastor and other leaders.
Six leaders were taken from their homes on April 12 by the Public Security Bureau.
The six leaders detained by police have since been released and their electricity restored."
One of the reasons why I like disrn.com is that they continue to report on church related news, while the mainstream media ignores these atrocities. 
Barack Obama endorses Joe Biden for president
https://www.cnbc.com/2020/04/14/obama-endorses-biden-for-president.html
Finally, former President Barack Obama endorses his former Vice President, Joe Biden, for president. That is it, after it doesn't matter one iota, Biden finally receives Obama's endorsement. In fact Justin "blackface" Trudeau received Obama's endorsement before Biden did. 
"Joe has the character and the experience to guide us through one of our darkest times and heal us through a long recovery," Obama said.
"And I know he'll surround himself with good people – experts, scientists, military officials who actually know how to run the government and care about doing a good job running the government, and know how to work with our allies, and who will always put the American people's interests above their own."
And as the Babylon Bee reports, Obama goes on to say that "Biden has touched us all".
New Projections: Debt Will Exceed the Size of the Economy This Year
http://www.crfb.org/blogs/new-projections-debt-will-exceed-size-economy-year
Finally according to the number crunching by the Committee for a Responsible Federal Budget, they found that the projected "debt held by the public will exceed the size of the economy by the end of Fiscal Year 2020"
"The United States entered the current public health and economic crisis facing high levels of debt and trillion-dollar deficits. Due to the effects of the crisis and legislation enacted to combat it, debt and deficits will now grow much higher, to never-before-seen levels both in dollars and as a share of Gross Domestic Product (GDP).
Our latest projections find that under current law, budget deficits will total more than $3.8 trillion (18.7 percent of GDP) this year and $2.1 trillion (9.7 percent of GDP) in 2021. We project debt held by the public will exceed the size of the economy by the end of Fiscal Year 2020 and eclipse the prior record set after World War II by 2023.
These projections almost certainly underestimate deficits, since they assume no further legislation is enacted to address the crisis and that policymakers stick to current law when it comes to other tax and spending policies. The projections also assume the economy experiences a strong recovery in 2021 and fully returns to its pre-crisis trajectory by 2025. Assuming a slower and weaker recovery (but no changes in law), we estimate debt would grow to 117 percent of GDP by 2025."
This is Gabriel Rench with Crosspolitic News. Support Rowdy Christian media and join our club at fightlaughfeast.com. We really can't grow without our club members support, so please consider joining our club. Just three starbucks cups of coffee a month, you get a Fight Laugh Feast t-shirt, discount to our annual conference, and access to master classes on parenting, Christian business principles, God and Government, and backstage interviews with people like Voddie Baucham, Douglas Wilson, James White, Tom Ascol, Erick Erickson, and David French. You can find all our shows on our app, which you can download at your favorite app store, just search "Fight Laugh Feast". Lastly, we hope to meet you at our first annual Fight Laugh Feast Conference in Nashville, TN October 1st through the 3rd. Go to fightlaughfeast.com to register now. Have a great day. Lord bless