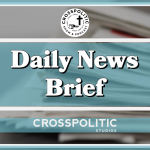 This is Toby Sumpter with your CrossPolitic Daily News Brief for Thursday, April 16, 2020
The Associated Press Reported Monday that Joe Biden has been accused of sexual assault
https://apnews.com/d922da60baa91121f4529fe51a0fd55a
 A former aide to Joe Biden is accusing the presumptive Democratic presidential nominee of sexually assaulting her during the early 1990s when he was a senator. Biden's campaign denies the charges.
In two recent interviews with The Associated Press, Tara Reade alleged the assault occurred in the basement of a Capitol Hill office building in the spring of 1993. She filed a police report in Washington on Thursday saying she was the victim of a sexual assault by an unnamed person in 1993, a copy of which was obtained by the AP.
It's not the first time Reade has made an accusation against the former vice president. Last year, Reade publicly accused Biden of inappropriate touching, but did not allege sexual assault.
In a statement, Biden deputy campaign manager and communications director Kate Bedingfield said the former vice president "firmly believes that women have a right to be heard — and heard respectfully," but added: "Such claims should also be diligently reviewed by an independent press."
Earlier in the Democratic primary, Biden faced accusations of unwanted touching by several women, who said they were uncomfortable with hugs, hand holding and other actions. Reade was among the women who came forward at the time.
In recent weeks, she's given a handful of interviews saying Biden's actions went further than she initially disclosed. In an interview with the AP, she detailed a 1993 encounter that she says occurred when she was asked by a supervisor to bring Biden his gym bag as he was on his way down to the Senate gymnasium. She says Biden pushed her against a wall in the basement of a Capitol Hill office building and groped her.
"He was whispering to me and trying to kiss me at the same time, and he was saying, 'Do you want to go somewhere else?'" she said. "I remember wanting to say stop, but I don't know if I said it out loud or if I just thought it. I was kind of frozen up."
Reade said that she pulled away and Biden looked "shocked and surprised," and replied, "Come on, man, I heard you liked me."
The Associated Press article goes on to detail the fact that no one on Biden's staff at that time remembers any reports of sexual harassment, no record of a report being filed has turned up thus far, and there is no other corroboration of the allegations. Ms. Reade apparently told a couple of close friends and family members of the incident, but there is, as of yet, no other evidence. 
For Christians and those who care about, you know, actual justice and the truth, there really should be significant pause when allegations are not backed up with, you know, evidence. We should not pounce on spicy allegations or be inclined to believe them simply because they come against a creepy old man who doesn't know what he is saying or what office he is running for. 
But what is of note in all of this is the massive double standard. Numerous reports have surfaced pointing out the vast discrepancy in reporting between these allegations and those brought against Brett Kavanaugh, during his Supreme Court confirmation hearings. For example Howard Kurtz, writing for Fox News writes: 
"Tara Reade has more corroboration for her claim than Christine Blasey Ford did when she made her accusations against Brett Kavanaugh in the fall of 2018.
The New York Times remained silent for 19 days before publishing a story on Reade's allegations. And the Washington Post, after interviewing Reade starting last year, declined to run a story — until the paper decided to follow the Times a day later.
Dean Baquet, executive editor at the New York Times said he gets the argument that the Times should at least have run a short story on Reade's allegations at the outset. "But I'm not sure that doing this sort of straightforward news story would have helped the reader understand."
But the contrast with the Kavanaugh episode is inescapable. Ford, a California professor, had written a confidential letter to a Democrat on the Senate panel weighing his Supreme Court nomination.
Ford later went on the record with the Post, which published a lengthy story, and the Times and the rest of the media immediately pounced on her claims, leading to the confrontation at those famous televised hearings. But Ford was unable to produce any real-time corroboration because she said she told no one about the alleged incident at a high school party four decades earlier until 2012. That didn't slow down the coverage one bit, even in the face of Kavanaugh's heated denials."
https://freebeacon.com/2020-election/joe-biden-has-yet-to-face-single-question-on-sexual-assault-allegations/
Brent Scher at the Washington Free Beacon underlines the contrast in media coverage even more emphatically. Writing Wednesday, he notes: "Joe Biden has been asked 81 questions in over two hours worth of media interviews since a former staffer in his U.S. Senate office accused him of sexual assault three weeks ago. He hasn't fielded a single question about the allegation."
He hasn't even been asked about. Not once. Why? 
"Biden has sat for 10 interviews with major news outlets since March 24, when his former aide, Tara Reade, accused him of pinning her against a wall and groper her in 1993 when she was a staff assistant in his office. None of Biden's 10 interlocutors have asked him to comment on the allegation." 
"Reade's new allegation was first revealed by the Intercept, which reported on March 24 that Time's Up Legal Defense Fund, an organization formed during the #MeToo movement to support victims of sexual assault, declined to take up her case against Biden because he was running for president. 
Wait. What? They declined to take up her case why? Because he is running for president. 
"The group, which is closely affiliated with top Biden adviser Anita Dunn, said working on an allegation against a federal candidate for office could threaten its nonprofit tax status."
It would not be lawful for the Jews to put Jesus to death on a holy day. Nor would it be lawful to put blood money in the temple treasury. The auditors might catch that. Huh. Got it. 
Scher continues: "Though his campaign has flatly denied Reade's allegation, Biden himself argued less than two years ago during the 2018 confirmation hearings of Supreme Court justice Brett Kavanaugh, who faced an accusation of sexual assault that nearly derailed his nomination, that you should believe all claims of sexual assault, especially in high-profile situations.
"For a woman to come forward in the glaring lights of focus, nationally, you've got to start off with the presumption that at least the essence of what she's talking about is real, whether or not she forgets facts, whether or not it's been made worse or better over time," Biden said in September 2018.
Alexandria Ocasio-Cortez would seem to agree. Even after endorsing Biden, she said, "I think it's legitimate to talk about these things. And if we want, if we, again, want to have integrity, you can't say, you know — both believe women, support all of this, until it inconveniences you, until it inconveniences us."
You know, integrity. 
Another apparent sign of media bias would be the admission of the New York Times that it edited its story after it was initially published last week. The Times deleted the final part of what seemed like a fairly damning sentence: "The Times found no pattern of sexual misconduct by Mr. Biden, beyond the hugs, kisses and touching that women previously said made them uncomfortable." After receiving complaints from the Biden campaign, the sentence was revised to merely state that the Times found no pattern of sexual misconduct by Mr. Biden. 
https://www.nationalreview.com/news/ny-times-editor-says-biden-sexual-assault-article-was-edited-after-his-campaign-complained/
When asked about the change, Dean Baquet explained: "Even though a lot of us, including me, had looked at it before the story went into the paper, I think that the campaign thought that the phrasing was awkward and made it look like there were other instances in which he had been accused of sexual misconduct, and that's not what the sentence was intended to say," Baquet answered.
"Why not explain that?" Ben Smith a columnist at the Times asked.
"We didn't think it was a factual mistake," Baquet said. "I thought it was an awkward phrasing issue that could be read different ways and that it wasn't something factual we were correcting. So, I didn't think that was necessary."
The Times did not add a correction or an editor's note to the report after it was changed. The paper also deleted a tweet relating to the report and explained, "We've deleted a tweet in this thread that had some imprecise language that has been changed in the story."
Others noted that Ruth Marcus, Deputy Editorial Page Editor for the Washington Post was publicly adamant on Twitter about Kavanaugh: "When a Supreme Court seat is on the line, the Court and the country deserve the benefit of the doubt – not the nominee," and a few weeks later, she breathlessly announced a book deal on the subject with Simon & Schuster. 
Now just remember folks that these are the same careful people who are reporting on the coronavirus crisis, who are number crunching behind the scenes, and giving you data projections daily on Covid19 cases and deaths. Truth, justice, and facts do not seem to be their strong suit. Due process, witnesses, presumption of innocence until proven guilty? You know, basic biblical standards of justice. 
And don't miss the fact that all of this applies to the Covid19 crisis. Did we use due process, independent witnesses, and presume the innocence of law abiding Americans when we shut the country down? Not hardly. We presumed everyone was guilty, everyone *might* be infected, might be a carrier, and treated everyone as a threat and in the process, the government has stolen the livelihood of millions. Why? Because of fear, emotion, and media-driven hysteria. You know — what the democrats tried to do with Kavanaugh. Congratulations, America, you just got #metoo'd. You didn't do anything. You never went to that Covid-party. You never even met her. You're innocent. But you got cancelled. 
In other news, Joe Rogan Says Trump vs. Biden will be like Mike Tyson vs. a 3 year old
https://disrn.com/news/joe-rogan-trump-vs-biden-will-be-like-mike-tyson-vs-a-3-year-old/
And finally, unemployment numbers are out again today, with another 5 million jobless claims in the last week, bringing the total to 22 million in four weeks, an estimated 15% of the workforce now laid off in the United States. 
And on that note, let me point you to a project some friends are working on: https://restartnow.io
The website reads: "We've turned the lights off for communities across our country and around the world. Secondary impacts of the shutdowns threaten to become more serious than the virus itself. We combine data from a number of reputable sources to create a roadmap for Social Recovery by turning the economic lights on in a safe and productive manner. We need to flatten the curve of unemployment. We need to restart NOW."
Restart now dot io is a data modeling website designed to help people see the impact of shut down orders and isolation orders on the economy and other well-being indicators (such as suicide rates) alongside the actual number of cases of Covid 19. 
Currently, three states have data filled out (Idaho, Texas, and Florida), but consider supporting the work to fill out the map and get good information, good data to people places of influence and authority. 
This is Toby Sumpter with Crosspolitic News. You can find this show and all the others on the
Fight Laugh Feast Network at Crosspolitic.com or Fightlaughfeast.com or on our app, which you can download at your favorite app store, just search "Fight Laugh Feast". Support Rowdy Christian media, and become a Fight Laugh Feast Club Member, and for a limited time you can get your very own Fight Laugh Feast t-shirt. You can't get these anywhere else except by becoming a member (or upgrading your membership) while supplies last. You are also getting access to tons of quarantine content, including most recently, a new series called Pastors & Politics – with three episodes so far including Dan Fischer, Douglas Wilson, Roger Skepple, Pat Perkins, and George Grant. Plus hours more with David French, Erick Erickson, Walter Williams, Maj Toure, Curt Kennedy, Gary Demar, and our very own Worldview Shotgun Series. You also get $100 off your registration for our first annual Fight Laugh Feast Conference, where we hope to meet many of you in Nashville, TN October 1st through the 3rd. Go to fightlaughfeast.com to register now. Have a great day. https://flfnetwork.com/coming-soon/