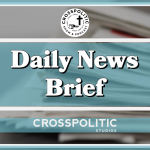 This is Toby Sumpter with your CrossPolitic Daily News Brief for Friday, April 17, 2020
The Governor of New Jersey Says the Bill of Rights is Above His Pay-grade
https://www.youtube.com/watch?v=dG7SglDjeOM&feature=youtu.be
On Wednesday, an interview appeared on youtube with Tucker Carlson interviewing the Governor of New Jersey. At around the 11 minute mark, Carlson notes that New Jersey law enforcement has been cracking down, dispersing crowds at parks and including the arrest of fifteen Jews gathered in a synagogue and charged. Carlson notes that the Bill of Rights protects the right of citizens to worship in the way they see fit and to gather to do so. Then Carlson asks this: 
Tucker Carlson: By what authority did you nullify the Bill of Rights when issuing this order? How do you have the power to do that?
Governor Phil Murphy of NJ: That's above my paygrade, Tucker, so I wasn't thinking of the Bill of Rights when we did this. 
After citing some data and science, Tucker tried again: Since you are an elected official, a leader in the government, an executive, how do you have the authority to order something that so clearly contravenes the Bill of Rights of the United States, the US Constitution – where do you get the authority to do that?
Governor Phil Murphy: We know we need to stay away from one another, we have broad authority in the state, and we would never do that without coordinating, discussing, and hashing it out with the variety of leaders of the faiths of New Jersey. 
Tucker: I'm sure you talk to every Rabbi and priest. But there's a deeper question here. And I'm going to ask you one last time, because I'm sure you've thought about this. You can't just, as the Governor tell people who they can talk to, when and where because the Constitution of the United States prohibits you from doing that. You clearly decided that you could do it, but did you consult with an attorney about this? This is a legal question as well as a medical one, isn't it?
Governor Murphy: [proceeds to tell a story about talking an archbishop about concerns about drive through communion inadvertently spreading the disease.]
Congratulations New Jersey, you elected a governor who said on national television that the Bill of Rights is above his paygrade and refused to answer a very obvious question about the legality of his isolation orders. 
We should remember that we get the leaders we ask for. We get the leaders we deserve. But thankfully this constitutional crisis is giving all Americans an intensive course in constitutional and biblical law. 
Four Sheriffs in Northern Michigan Declared Wednesday They Would Not Be Enforcing the Governor's Execute Orders 
https://thefederalist.com/2020/04/15/four-michigan-sheriffs-say-they-wont-enforce-governors-totalitarian-orders/?fbclid=IwAR1jVkdkS3BXE6Q0Su81UhxbD0JAa4v46AX3x_u37UR_4u4q4Oy7rYQK0pM#.XpfF9JLllEc.facebook
The Federalist reports: Citing concerns over violating civil liberties, sheriffs Mike Borkovich, Ted Schendel, Ken Falk, and Kim Cole who protect counties along Lake Michigan said in a joint statement that the governor "has created a vague framework of emergency laws that only confuse Michigan citizens."
"As a result, we will not have strict enforcement of these orders," the sheriffs said. "We will deal with every case as an individual situation and apply common sense in assessing the apparent violation… We believe that we are the last line of defense in protecting your civil liberties."
The Federalist continues: On Thursday, Gov. Whitmer issued one of the most restrictive stay-at-home orders in the country, if not the strictest. The sale of fruit and vegetable seeds are prohibited, even though home gardening would further enhance social distancing. People are also prohibited from buying paint.
But never fear: lottery tickets are still permitted under the governor's order,
Michiganders are also barred from traveling "between residences" if they own a second property, though the governor's order exempts out-of-state residents allowing such individuals to take refuge in their Michigan homes. Under Whitmer, even crossing the street to a neighbor's house, unless for specific exceptions, has been deemed illegal by the stroke of her pen.
Six Republican congressmen from the state also condemned the governor's new orders on Tuesday. "Your latest order is far too restrictive and includes provisions that seem arbitrary and internally inconsistent… We believe there is a better approach," they wrote in a joint letter signed by Reps. Paul Mitchell, Fred Upton, Tim Walberg, Bill Huizenga, John Moolenaar, and Jack Bergman.
Idaho Lawmakers Pushback on Governor Little
https://www.boisestatepublicradio.org/post/top-idaho-house-republicans-tell-gov-little-hand-over-control-coronavirus-response#stream/0
In a letter sent to Little on Sunday obtained by Boise State Public Radio, House Speaker Scott Bedke (R-Oakley) urged him to hand over the reins of the state's coronavirus approach to each of Idaho's seven public health districts.
He wrote: "The most prudent path forward at this time, it seems to me, would be to advance a public policy that reduces and mitigates the well-founded health risks, while at the same time continue informing our citizens about the health risks and then, to the greatest degree possible, let them govern themselves. 
The Idaho way is to trust that our Idaho people will move forward with knowledge, caution, and common sense. Somewhere between a blanket stay-at-home order and a complete disregard for the reality of this virus's potential, there lies an acceptable level of risk. It is a risk we will need to take in order to avoid a major, long-lasting economic catastrophe. In that light, a state-wide, one-size-fits-all approach, I my judgement, is ill advised. Rather, allowing public health districts the discretion to modify response policies regionally and locally would best begin the transition back to our pre-COVID-19 economy."
House Majority Caucus Chair Megan Blanksma also sent an email to Governor Little and her fellow legislators on Tuesday morning, saying that Little's stay-at-home order wasn't based on any metrics or data she's seen. 
Interestingly, Blanksma serves as the vice chair of Central District Health's board of directors, which includes Ada, Boise, Elmore and Valley counties.
She's been consistently skeptical of the coronavirus's epidemiological potential, tweeting back on March 15: "This is not the plague. Stop treating it like it is. Wash your hands and act like responsible humans."
https://www.boisestatepublicradio.org/post/idaho-stay-home-order-extended-gov-brad-little-adds-new-businesses-essential-list#stream/0
On Wednesday, Governor Brad Little extended his isolation order for another 15 days, to the end of April. 
It's unclear whether anyone has been prosecuted for breaking Little's emergency declaration. Multiple accounts of businesses, citizens and even sitting state lawmakers have surfaced, seemingly without any consequences.
Under the declaration, local police, sheriffs and state police are all given the authority to enforce the order, which is a misdemeanor and can be punishable by up to six months in prison and/or a $1,000 fine.
Last month, Marissa Morrison Hyer, the governor's press secretary, told the Coeur d'Alene Press they prefer to talk to people first before taking any kind of law enforcement action.
"That's not the goal. We're not trying to fearmonger people into staying home," she told the newspaper.
In Boise, city officials have specifically told local police to not enforce these restrictions and instead refer them to the Idaho Department of Health and Welfare hotline.
"Boise Police Deputy Chief Ron Winegar said BPD had been instructed by the City of Boise's legal department to forward such complaints to the State Department of Health and Welfare.
"We've encouraged our officers not to make contact unless they need to. When we get the calls about people not social distancing or businesses staying open when they shouldn't, we've been directed, actually by city legal, to have those folks who call in those kind of complaints, we refer them to Department of Health and Welfare's hotline," Winegar told the council.
Boise Mayor Lauren McLean said Governor Brad Little's stay-at-home and social distancing orders had superseded the city's orders; so it was up to the state to enforce them.
Wayne Hoffman, president of the Idaho Freedom Foundation, an influential libertarian lobbying group, told his supporters to openly defy the extended order to kickstart the economy.
"You have to disobey," Hoffman said during a Facebook Live broadcast Wednesday. "You have to do what's best for your business, you have to do what's best for your employees and your customers. You have to do what's best for your livelihoods and your families."
"There are more of us than there are of them."
President Trump released his guidelines for Opening Up America Again on Thursday, outlining three phases of re-opening states based on criteria of plateauing or declining symptoms, cases, and hospital readiness and testing programs. It will be interesting to see how states respond to these guidelines and whether any adjustments are made. For example, in Phase One, Trump's guidelines allow for large venues (sit-down dining, movie theaters, sporting venues, places of worship) to operate "under strict physical distancing protocols – presumably those protocols are defined as no physical contact, six feet between family units, and hand washing and disinfecting everything carefully, and elderly and high risk individuals stay away or using face masks. 
In Trump's guidelines, there is no mention of essential and non-essential businesses, there is only criteria and general guidelines for various kinds of businesses and activities. 
While there is still plenty to be concerned about, the questions that are being raised and the multi-level pushback from all sectors of society and authority is good and healthy. The whole idea of checks and balances comes from the Bible. God established the authority of civil magistrates, church officers, and family government. These in turn have multiple layers of authority: local and state government and federal government, and most of our governments in America have separated powers: city councils, legislative bodies, executives, and judicial bodies, and a great deal of this is based on the principles found in Exodus 18 where Jethro advised Moses to establish judges over 10s, 50s, 100s, and 1000s. We see the same principle in the Biblical injunction for a plurality of elders in the church. Paul told Titus to ordain elders (plural) in every city (Titus 1:5). And we see the pattern when Paul gives his final farewell to the elders of Ephesus (Acts 20). We see the same thing in his address to the church at Philippi (Phil. 1:1). While the pastor of the church may be accounted double honor for laboring in the word (1 Tim. 5), he labors alongside a plurality of elders and rules the church together with them. Finally, even the family ordinarily has a plurality: the husband and father is the head, and the wife must be in submission to her husband, but both father and mother rule the family jointly. Children must obey their mother and father, and the woman in Proverbs 31 might as well be the CEO of a small company. 
All of that to say, the world is meant to function with many authorities exercising their authority wisely. On the one hand it can make things seem complicated and tangled, but that's usually the case when authorities are overstepping – but the good thing about moments like this how all the authorities check and balance one another. One of the things we ought to be praying for in all of this is a renewed appreciation for all the authorities that God has ordained. And part of that appreciation is the fact that when they are all honored, they tend to keep one another in their place, and biblically speaking, it's a pretty small and limited place, leaving people free to serve the Lord with gladness. 
This is Toby Sumpter with Crosspolitic News. You can find this show and all the others on the
Fight Laugh Feast Network at Crosspolitic.com or Fightlaughfeast.com or on our app, which you can download at your favorite app store, just search "Fight Laugh Feast". Our app is the only way to get In the Bullpen with Mark Dewey – maybe the best worldview baseball podcast ever. Support Rowdy Christian media, and become a Fight Laugh Feast Club Member, and for a limited time you can get your very own Fight Laugh Feast t-shirt and access to tons of content with Dan Fischer, Douglas Wilson, George Grant, David French, Erick Erickson, Walter Williams, Maj Toure, Curt Kennedy, Gary Demar, and our very own Worldview Shotgun Series. You also get $100 off your registration for our first annual Fight Laugh Feast Conference, where we hope to meet many of you in Nashville, TN October 1st through the 3rd. Go to fightlaughfeast.com to register now. Have a great day. https://flfnetwork.com/coming-soon/