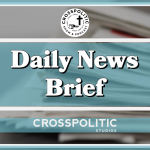 This is Gabriel Rench with your CrossPolitic Daily News Brief for Wednesday, April 22th, 2020.
Sweden Says Controversial Virus Strategy Proving Effective
https://www.bloomberg.com/news/articles/2020-04-19/sweden-says-controversial-covid-19-strategy-is-proving-effective
Sweden's unusual approach to fighting the coronavirus pandemic is starting to yield results, according to the country's top epidemiologist.
Anders Tegnell, the architect behind Sweden's relatively relaxed response to Covid-19, told local media the latest figures on infection rates and fatalities indicate the situation is starting to stabilize.
"We're on a sort of plateau," Tegnell told Swedish news agency TT.
Sweden has left its schools, gyms, cafes, bars and restaurants open throughout the spread of the pandemic. Instead, the government has urged citizens to act responsibly and follow social distancing guidelines.
Hakan Samuelsson, CEO of Volvo Cars, said: "Our measures are all based on individuals taking responsibility, and that is also an important part of the Swedish model,"
Antibody testing in L.A. County reveals number of COVID-19 infections may be 55X greater than reported
https://disrn.com/news/antibody-testing-reveals-la-county-outbreak-55-times-bigger-than-reported-cases
According to Disrn.com: "The COVID-19 outbreak in Los Angeles County may be up to 55 times more widespread than reported, according to new antibody testing from the University of Southern California and the L.A. Department of Public Health, indicating that the virus's fatality rate may be significantly lower than previously thought.
Preliminary study results showed that an estimated 4.1% of the county's adult population have antibodies to the virus, meaning between roughly 221,000 adults and 442,000 adults have had the infection. The results are based on antibody testing of around 863 people representative of the county, researchers said.
That estimate is 28 to 55 times higher than the nearly 8,000 confirmed cases reported by the county."
This means a couple things: First, according to the CDC, the standards percentage of people that contract the flu is between 3% and 11% every year (https://www.cdc.gov/flu/about/keyfacts.htm). So, if these numbers hold to be true, this means the COVID-19 has been in the US for a while, and not just since January. Secondly, this means that the COVID-19 mortality rate is really really low. I am talking between the range of the flu and H1N1, that is .02% and 1% mortality rate. Lastly, this is just more confirmation that we have made our decisions out of fear and not from wisdom. 
Inslee's hateful double standard toward out-of-work families
https://mynorthwest.com/1826336/dori-inslee-hateful-double-standard/
The Governor of the State of Washington is walking in quarantine contradictions, according to Dori Monson, "Private home construction must stop, but Sound Transit construction can continue. Private landscapers are out of work, but King County can still dispatch crews to trim grass in closed parks. The hypocrisy is outrageous."
Meanwhile the Governor of Wisconsin has extended his draconian order to May 26th. 
So, while the democratic governors are getting kicks off their new found power trip, republican states are starting to loosen the Stay at Home orders.
Tennessee, Georgia, South Carolina move to ease lockdown orders, reopen economies
https://disrn.com/news/georgia-tennessee-south-carolina-move-to-wind-down-stay-at-home-orders-reopen-economy
Tennessee Gov. Bill Lee announced that he will not extend the state's stay-at-home order past April 30. According to his office, "the vast majority of businesses in 89 counties" will be allowed to reopen on May 1.
Georgia Gov. Brian Kemp announced that certain businesses, including gyms, hair and nail salons, bowling alleys, message therapists, and tattoo parlors can reopen beginning this Friday with "minimum basic operations."
South Carolina Gov. Henry McMaster announced that many stores will be able to reopen on Monday, April 27, with requirements to adhere to social distancing guidelines.
A Way of Honoring our Political Leaders: Liberate Moscow Protest
https://moscowidaho.news/2020/04/21/a-way-of-honoring-our-political-leaders-liberate-moscow-protest/
Last Friday a friend called me and asked me to head up a local city protest, protesting the current draconian shutdown in our city. Our city council was to meet on Monday night, so we had to work hard for a quick turn around. Our protest began at 6:15pm this past Monday and we had at least 200 people show up. 
I want to read you my speech for the protest, as I hope it to be an encouragement to you and helpful as you think through this shutdown. Just remember I am speaking to our local situation here in my city and the State of Idaho.  
ARTICLE 1 SECTION 1. INALIENABLE RIGHTS OF MAN. All men are by nature free and equal, and have certain inalienable rights, among which are enjoying and defending life and liberty; acquiring, possessing and protecting property; pursuing happiness and securing safety.
SECTION 2. POLITICAL POWER INHERENT IN THE PEOPLE. All political power is inherent in the people. Government is instituted for their equal protection and benefit, and they have the right to alter, reform or abolish the same whenever they may deem it necessary; and no special privileges or immunities shall ever be granted that may not be altered, revoked, or repealed by the legislature.
I read these two sections, as a reminder that we are a free people and that the government is a product of the people and not the other way around. In times of intense disagreement, we should still strive to honor our city officials and governor. We have voted for these leaders, and we are truly grateful for the sacrifice they have taken to be city officials. I am sure the job does not pay well, and during times of crisis, our city officials are being hit on every side. So, this protest is a way of honoring our political leaders, by recognizing their authority, while peacefully and respectfully standing up to them when they are wrong. We are here today because of our love for this city and our state, and when the government takes unprecedented actions that have had devastating effects on our communities, it is important that we exercise our freedom of speech and the right to assemble. This is a protest of encouragement, not of anger. This is a protest of joyful pressure urging our city officials to change course. This is a sensible protest calling for our government to get back to sensible solutions. 
I want to give you a little background here. We want this protest to be about facts and truth, and we do not want to be a mob gathering blindly and because we are all worked up. So, a little background on what has happened. On March 13th our City Council signed a resolution for seven days that came with a series of social distancing recommendations. Then three days later, on March 16th, they extended that resolution to May 5th. On March 20th, Mayor Lambert issued a Public Health Emergency Order limiting gatherings of 10 or more, effectively shutting down most of our downtown businesses, which has led to Latah county losing more than 3000 jobs and about $22 million in revenue. This Public Health Order has also been extended to May 5th. On March 25th, Governor Brad Little issued a "Stay-at-Home" order, which has been extended until April 30th.  
Now because of the way messaging gets lost in our postmodern media world this needs to be stated up front. Of course we care about those who have died from COVID, just like we care about those who die from the flu, H1N1, and so forth. Of course we care about those who are at high risk of dying from the COVID, the vulnerable, and the elderly. What we are against is decisions made in fear, the politicization of this pandemic, and the draconian warrantless measures taken by our officials here in Moscow and down in Boise. 
So this brings me to the stated reasons for this protest:
First, the cure is worse than the virus. Latah County has lost over 3000 jobs with an economic impact loss of over $22 million (https://restartnow.io/us/idaho). This is in contrast to only three known COVID-19 cases in the county and zero deaths.
Secondly, the Moscow City Council, despite their good intentions, have based their decision off bad modeling on initial data from China, Iran, and Italy. Even the updated modeling has proven to be untrustworthy, especially in light of the geographical, regional, and economic differences in our city. In the last two weeks studies have come out by Stanford and UCS finding that the most likely millions of people have already developed the antibodies, meaning that this virus has been around for a long time. These findings significantly drive down the mortality rates, placing them in the range of the standard flu and H1N1, and demonstrates that herd immunity is the best path forward. The cure is worse than the disease.  
Thirdly, the more reasonable approach in all this, is for the elderly and others vulnerable should self quarantine. Citizens generally make better life decisions for themselves, and so we should encourage individual responsibility, as opposed to the current situation of the government taking these liberties away. Quarantining the vulnerable and the elderly makes sense, while a blanket quarantine only exacerbates the pandemic and destroys the economy. 
Fourthly, the County Commissioners and the Moscow City Council have both signed resolutions before there were any known cases of the virus here in our county. Our leaders were willing to require us to shut down our businesses and forgo making a living for our families, while our leaders continued to take a salary from our tax dollars. Good leaders have to make tough decisions, but one of the marks of a good leader, is being willing to suffer with your people through those tough decisions. Jesus called this kind of leadership lording over the people. The best leaders serve, and is this not a reasonable way to serve while your decisions are causing massive economic loss to your city?  
Lastly, if you are pro-abortion, just sit this one out. My body, my choice. 
So what do we do now? Showing up is important as we learn to exercise muscles that might not have been worked in a while. But we need to do more. Here are some action items you can take from here and apply starting tomorrow.  
First step: email our city officials and tell them that you are praying for them and that you appreciate all their work. In that email specifically request that they rescind their May 5th resolution, so that we can put our focus on Governor Little's resolution. We cannot protest Governor Little's resolution effectively, without first removing our local resolution. 
Secondly, it is amazing to me in all this panic, to watch citizens and businesses step up and help in creative ways. Facebook gave $1000 to each of their employees during this crisis. The owner of the Dallas Mavericks, Mark Cuban, is paying his arena employees through the shutdown because they are not allowed to work. Those are some big examples. Here locally, city council women, Brandy Sullivan, told me that she is using her city paycheck to order out food, buy a year long membership at NIAC, and so forth. A number of you have done these sorts of things. My point is, find innovative ways to serve, start companies, and more, for when things are most difficult, this is when we should be bursting with gratitude, innovation, and care and concern for our community. So go use your gifts and get to work! 
Lastly, get out and vote in November. Our government only grows and never shrinks. This is the nature of bureaucracies, and the bigger our government gets, the less you matter. As our state constitution says "All political power is inherent in the people.". Now we have abdicated and given too much power to our government and that needs to change. So get out and vote. 
Let me close in prayer. 
Heavenly Father- we thank you for sending Jesus to die for our sins and the sins of this world. We know you are sovereign over all, including this pandemic, and we boldy call on you to act as we seek you here and now. We thank you for our city, county, and state officials, and we ask that you would give them a spirit of wisdom and not fear. Please give them the humility and courage to change course, so that we can begin the work of repairing our local economy. We ask that this protest would be received in a spirit of genuine love and concern for our city, and that you drive us far away from anger and malice. We also pray for those who have been affected by COVID-19, we pray for comfort for those who have lossed family members, and we pray for healing for those who are currently fighting this virus. Protect our community, and bring us together in Jesus name, for this no other name in which we call on. In the name of the Father, and of the Spirit, and In Jesus name Amen. 
This is Gabriel Rench with Crosspolitic News. Support Rowdy Christian media and join our club at fightlaughfeast.com. We really can't grow without our club members support, so please consider joining our club. Just three starbucks cups of coffee a month, you get a Fight Laugh Feast t-shirt, discount to our annual conference, and access to master classes on parenting, Christian business principles, God and Government, and backstage interviews with people like Voddie Baucham, Douglas Wilson, James White, Tom Ascol, Erick Erickson, and David French. You can find all our shows on our app, which you can download at your favorite app store, just search "Fight Laugh Feast". Lastly, we hope to meet you at our first annual Fight Laugh Feast Conference in Nashville, TN October 1st through the 3rd. Go to fightlaughfeast.com to register now. Have a great day. Lord bless