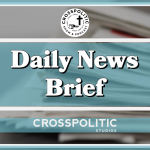 This is Toby Sumpter with your CrossPolitic Daily News Brief for Friday, April 24, 2020
26.5 Million Have Filed for Unemployment in the US 
https://apnews.com/e17fdbbd8a49169e9a5d131d961d472c
Another 4.4 million Americans filed for jobless aid last week, brining the total to over 26 million in the last five weeks since the corona virus panic set in. That's 1 in 6 American workers. That's more than the number of people who live in the 10 largest US cities combined. Economists are estimating that the unemployment rate could hit 20% by the end of April.
This is the worst economic downturn since the Great Depression. But most economists do not believe this downturn will last near as long as the Great Depression. Discussion centers around whether the rebound will be quick and "V-shaped" or slower and more "U-shaped."
During the Depression, unemployment stayed high for nearly a decade, with the jobless rate remaining above 14% from 1931 all the way to 1940. But unemployment is considered likely to remain elevated well into next year and probably beyond.
Europe's economies, too, are headed for severe recessions, with surveys of economic activity released Thursday hitting all-time lows. The downturn is putting at risk up to 59 million jobs — 26% of employment in the European Union — according to McKinsey, the consulting firm. 
Snohomish County Sheriff Adam Forney Says Washington Isolation Order is Unconstitutional
https://www.facebook.com/adamfortneyforsheriff/posts/2754200934627471?__tn__=K-R
Noting that the virus is real and has taken 97 lives in Snohomish County. Forney wrote: "This is a very serious issue and the appropriate precautions need to be taken to protect our most vulnerable populations." 
Sheriff Forney wrote, "I am worried about the economy and I am worried about Washingtonian's that need to make a living for their family. As more data floods in week by week and day by day about this pandemic I think it is clear that the "models" have not been entirely accurate. 
As elected leaders I think we should be questioning the Governor when it makes sense to do so. Are pot shops really essential or did he allow them to stay in business because of the government taxes received from them? That seems like a reasonable question. If pot shops are essential, then why aren't gun shops essential? Our Governor has told us that private building/construction must stop as it is not essential, but government construction is okay to continue. So let me get this right, according to the Governor if you are employed or contracted by the government to build government things you can still make a living for your family in spite of any health risk. If you are a construction worker in the private sector you cannot make a living and support your family because the health risk is too high. This contradiction is not okay and in my opinion is bordering on unethical. 
If this Coronavirus is so lethal and we have shut down our roaring economy to save lives, then it should be all or nothing. The government should not be picking winners or losers when it comes to being able to make an income for your family. If the virus is so lethal it shouldn't matter whether you are building a school for the government, building a new housing development, restaurant owner, or you happen to be an independent contractor. 
If we are going to allow government contractors and pot shops to continue to make a living for their families, then it is time to open up this freedom for other small business owners who are comfortable operating in the current climate. This is the great thing about freedom. If you are worried about getting sick you have the freedom to choose to stay home. If you need to make a living for your family and are comfortable doing so, you should have the freedom to do so. 
Forney: "I have not carried out any enforcement for the current a stay-at-home order. As this order has continued on for well over a month now and a majority of our residents cannot return to work to provide for their families, I have received a lot of outreach from concerned members of our community asking if Governor Inslee's order is a violation of our constitutional rights. 
As your Snohomish County Sheriff, yes I believe that preventing business owners to operate their businesses and provide for their families intrudes on our right to life, liberty and the pursuit of happiness. 
As your elected Sheriff I will always put your constitutional rights above politics or popular opinion. We have the right to peaceably assemble. We have the right to keep and bear arms. We have the right to attend church service of any denomination. The impacts of COVID 19 no longer warrant the suspension of our constitutional rights. 
Along with other elected Sheriffs around our state, the Snohomish County Sheriff's Office will not be enforcing an order preventing religious freedoms or constitutional rights. 
Also in Washington State, Franklin County is back open for business, for one day
https://www.tri-cityherald.com/news/coronavirus/article242178586.html
The unanimous decision Tuesday by the three county commissioners defies Washington Gov. Jay Inslee's stay-at-home order, which is in effect until May 4.
"As far as I'm concerned the county is open, and I'd encourage people within the law and within the parameters of their own safety — we're adults, we can make decisions — to behave accordingly. That's what I'm doing," said Commissioner Brad Peck.
The commissioners, all Republican, decided to reopen their county one month after Inslee, a Democrat, announced the shutdown in light of the coronavirus pandemic.
But the governor's office pushed back Tuesday evening calling their decision "a wrong-headed approach" that could expose them to legal liability.
David Postman, Inslee's chief of staff told reporters at a statewide telephone news conference that Franklin County is "putting businesses in (legal) jeopardy" and putting "citizens' health in jeopardy."
"Local governments can be stricter than the state if they choose, they can't be looser. The law doesn't allow it," he said.
"The order is clearly rooted in statute and constitutional authority, and a county governing body does not have the right, the legal authority in any way, to take a vote and deem something unconstitutional. That's a role for the courts," he said.
He said the state is preparing a letter to the commissioners.
The three commissioners, along with the Benton County commissioners, make up the governing board of the Benton Franklin Health District. 
Didier said Inslee's emergency proclamation is unconstitutional, and wrote that the commissioners "support the reopening for all builder [sic] and small business [sic] that want to work."
Pasco City Manager Dave Zabell said the "commissioners' motion does not have an impact on the incorporated portions of the county: Pasco, Connell and Kahlotus."
Zabell added that he's heard the county motion is under review by Prosecutor Shawn Sant and is interested to see what the attorney's legal opinion is on this.
"Franklin County commissioners do not have the authority to do this," said Tara Lee, communications director. "Only the Washington state Supreme Court can declare something unconstitutional."
Inslee's Proclamation 20-25 cites RCW 43.06.220(1)(h) in declaring a statement of emergency. 
Peck read from the same state law during the meeting but based his statement on the second and fourth sections, which are not mentioned in or applicable to the governor's order. The Legislature has approved extending the order on April 15.
https://mynorthwest.com/1825940/live-updates-washington-state-coronavirus/
But, the Franklin County Jail Break was short lived as the Board of Commissioners voted Thursday to rescind their previously-passed motion that had declared the county "open for business" in the midst of the state's ongoing stay-at-home order.
This comes after General Counsel for Gov. Inslee Kathryn Leathers sent a letter to county officials Wednesday, stating that its bid to reopen early was "unlawful," and that if individuals or businesses refuse to comply with the state's stay-at-home order, the governor would "direct that criminal and/or civil charges be pursued."
Justin Trudeau Promises Ban on Assault-Style Weapons After Mass Shooting 
https://disrn.com/news/ban-on-assault-style-weapons-coming-to-canada-trudeau-says-after-mass-shooting/
Laura Mize with Discern News reports: Canadian Prime Minister Justin Trudeau has promised a ban on "assault-style weapons" after a weekend mass shooting in Nova Scotia that has now claimed at least 23 lives.
The shooting began late Saturday and lasted almost 14 hours as the gunman acted like a policeman in a mock police car and pulled over victims across many communities before killing them. It is the deadliest shooting in Canada's history. It is not known what type of weapon was used in the shooting.
"I can say that we were on the verge of introducing legislation to ban assault-style weapons across this country," Trudeau said in a press briefing Monday. "It was interrupted when the pandemic caused parliament to be suspended, but we have every intention of moving forward on that measure, and potentially other measures, when parliament returns."
During the 2019 Canadian federal election, Trudeau's platform included a prohibition against military-style assault weapons. He also promoted a policy to allow territories and provinces to design their own laws against handguns.
This is Toby Sumpter with Crosspolitic News. You can find this show and all the others on the
Fight Laugh Feast Network at Crosspolitic.com or Fightlaughfeast.com or on our app, which you can download at your favorite app store, just search "Fight Laugh Feast". Our app is the only way to get In the Bullpen with Mark Dewey – maybe the best worldview baseball podcast ever. Support Rowdy Christian media, and become a Fight Laugh Feast Club Member, and for a limited time you can get your very own Fight Laugh Feast t-shirt and access to tons of content with Dan Fischer, Douglas Wilson, George Grant, David French, Erick Erickson, Walter Williams, Maj Toure, Curt Kennedy, Gary Demar, and our very own Worldview Shotgun Series. You also get $100 off your registration for our first annual Fight Laugh Feast Conference, where we hope to meet many of you in Nashville, TN October 1st through the 3rd. Go to fightlaughfeast.com to register now. Have a great day. https://flfnetwork.com/coming-soon/