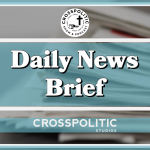 This is Toby Sumpter with your CrossPolitic Daily News Brief for Tuesday, April 28, 2020
Attorney General William Barr Orders US Attorneys 
https://www.washingtontimes.com/news/2020/apr/27/william-barr-orders-legal-action-against-governors/
Jeff Mordock from the Washington Times reports: "Attorney General William P. Barr Monday ordered U.S. attorneys to consider legal action against governors whose efforts to prevent the spread of the coronavirus infringe upon Americans' civil rights.
In a two-page memo to all U. S. Attorneys, Mr. Barr directed federal prosecutors to "be on the lookout" for local and state directives that could infringe upon religious, free speech or economic rights under the Constitution.
https://context-cdn.washingtonpost.com/notes/prod/default/documents/29950783-e020-495f-afc4-b7b48f08c4cd/note/dc767924-e6d1-41bc-a7d3-8e0f98d2d713.#page=1
"If a state or local ordinance crosses the line from an appropriate exercise of authority to stop the spread of COVID-19 into an overbearing infringement of constitutional and statutory protections, the Department of Justice may have an obligation to address that overreach in federal court," Mr. Barr wrote in a memo to all 93 U.S. attorneys.
"Many policies that would be unthinkable in regular times have become commonplace in recent weeks, and we do not want to unduly interfere with the important efforts of state and local officials to protect the public. But the Constitution is not suspended in times of crisis," Mr. Barr wrote. "We must therefore be vigilant to ensure its protections are preserved, at the same time that the public is protected," he said.
Mr. Barr's directive comes as governors begin the process to reopen after the coronavirus pandemic shuttered their economies. The path has been slow with some governors proposing reopening in stages, frustrating President Trump. The president is anxious for the nation to get back to work as unemployment claims reach record levels and businesses struggle to stay afloat with Americans stuck inside under stay-at-home orders.
Mr. Trump said earlier this month that some governors have "gone too far" in their efforts to prevent the coronavirus from spreading. And his conservative supporters have protested in a number of states demanding their governors loosen restrictions.
Mr. Barr last week said the Justice Department would support legal action against states that continue to impose strict social distancing rules, calling the orders "burdens on civil liberties." 
"The idea that you have to stay in your house is disturbingly close to house arrest," he said in an interview with radio host Hugh Hewitt. "I'm not saying it wasn't justified. I'm not saying in some places it might [not] still be justified. But it's very onerous, as is shutting down your livelihood."
Antibody Studies Continue to Roll In
https://www.miamidade.gov/releases/2020-04-24-sample-testing-results.asp
"In conjunction with its research partner, the University of Miami Miller School of Medicine, Miami-Dade County has just completed a second round of its COVID-19 community testing to ascertain the prevalence of infection within the County's 2.75 million residents. The program differs from several others conducted elsewhere in the US in that it employs random sampling, weighted across the County's 32 municipal statistical areas.
To date, nearly 1,800 individuals have participated in this program. Four hundred were tested during our pilot phase, where we examined the feasibility of our recruitment strategy and implementation methods. Approximately 700 have participated each week thereafter. This represents 85% of residents who were randomly selected to participate in the initiative; participants voluntarily shared information about their health, and gave two drops of blood to determine whether they had produced antibodies to the novel coronavirus infection. Testing for antibodies helps approximate the prevalence, or amount, of infection within our community at a given time.
Our data from this week and last tell a very similar story. In both weeks, 6% of participants tested positive for COVID-19 antibodies, which equates to 165,000 Miami-Dade County residents. This figure directly contrasts with testing site data, which indicated that there 10,000 positive cases, suggesting that the actual number of infections is potentially 16.5 times the number of those captured through testing sites and local hospitals alone. Using statistical methods that account for the limitations of the test (sensitivity and specificity), we are 95% certain that the true amount of infection lies between 4.4% and 7.9% of the population, or between 123,000 and 221,000 residents. These results are similar but not identical to other recent, non-randomized testing programs that have been conducted throughout the United States.
Daniel Horowitz at Conservative Review summarizes: "Extrapolating the survey results to the entire county's population would mean that between 123,000 and 221,000 residents have already gotten the virus and that the fatality rate is therefore between 0.13% and 0.23%, for a median of 0.18%… Most notably, the serology test found that "more than half had NO symptoms in the seven to fourteen days prior to screening." That is a result similar to that of other countries, such as Iceland.
In other words, this thing was quietly spreading long before the lockdown, rendering the entire purpose of the lockdown moot. 
The evidence emerging continues to corroborate the thesis that for the vast majority of healthy Americans the threat is minimal. 99% will get it and recover, and for many of those, they will have little-to-no symptoms at all. The elderly and immune-compromised are those with much greater risks and it makes good sense for them to take greater precautions. 
A 1993 Larry King Clip Appears to add Credence to Tara Reade's Claims against Joe Biden
https://news.yahoo.com/evidence-surfaces-tara-reade-allegation-034526447.html
Holly Otterbein at Politico: "A 1993 video has surfaced that appears to show the mother of Tara Reade, the former aide to Joe Biden who has accused him of sexual assault, talking about "problems" her daughter faced on CNN's "Larry King Live."
As first reported by the Intercept, an unnamed woman from San Luis Obispo, Calif., called into King's show and said, "I'm wondering what a staffer would do besides go to the press in Washington? My daughter has just left there, after working for a prominent senator, and could not get through with her problems at all, and the only thing she could have done was go to the press, and she chose not to do it out of respect for him."
Reade confirmed to POLITICO it was her mother's voice. King asked the woman, "She had a story to tell but, out of respect for the person she worked for, she didn't tell it?" The caller replied, "That's true."
 A Fox story reports that Reade said she "cried" when she watched the clip on Friday evening, telling Fox News it had been years since she had heard mother's voice. She had urged Reade to file a police report at the time of the alleged assault, Reade said.
"Always listen to your mom, always listen to your mom," an emotional Reade told Fox News.
Still, the mother's interview doesn't specifically corroborate Reade's latest allegations of assault, and could be referring more to the bullying allegations she raised last year. In a 2020 interview, Reade laid more blame with Biden's staffers for "bullying her" than with Biden himself, The Washington Post reported.
The primary thing to note here is not that we should believe all claims of sexual assault. The point is that the Bible requires us to use fixed principles of justice. And the point is that the media and many in the Left couldn't find justice if they were trying to hit the broad side of a barn. Keep comparing the accusations against Supreme Court Justice Brett Kavanaugh to the accusations against Joe Biden. Could the air time, the questions, the enthusiasm be any different?
Many of the principles of justice are enshrined in our constitution's sixth amendment, the right to a fair trial by a jury of peers – this is the principle of wisdom being established in the plurality of counselors. It is also organizational presumption of innocence. The accused is presumed innocent until or unless he/she is convicted unanimously by a jury of peers. The bar is high to convict. And better a true criminal goes free at that high bar than innocents be condemned at a lower one. The Bible also requires that all accusations must be established by the mouth of two or three witnesses. Likewise, due process includes the right to cross examine witnesses, face one's accusers, and provide counter evidence. The first to state his case seems right, until another comes and examines him (Prov. 18:17). The Bible also requires penalties for false testimony, the penalty that would have fallen on the accused if false testimony had prevailed – that same penalty is to fall on the false witness. All of this precludes crowd sourcing justice, vigilante justice, justice by mobs, whether media mobs or social media mobs or data modelling mobs, or hashtag metoo mobs. True justice is blind. It does not matter if you are rich or poor, male or female, old or young, republican or democrat, Christian or non-Christian –justice is the same for all. And that really is good news for all. 
Lastly, and without much comment, you should know that the Dictator of North Korea has been reported dead or on life support after a botched heart surgery, or else he's hiding in a bunker from the Coronavirus. We don't know what. 
This is Toby Sumpter with Crosspolitic News. You can find this show and all the others on the
Fight Laugh Feast Network at Crosspolitic.com or Fightlaughfeast.com or on our app, which you can download at your favorite app store, just search "Fight Laugh Feast". Our app is the only way to get In the Bullpen with Mark Dewey – maybe the best worldview baseball podcast ever. Support Rowdy Christian media, and become a Fight Laugh Feast Club Member, and for a limited time you can get your very own Fight Laugh Feast t-shirt and access to tons of content with Dan Fischer, Douglas Wilson, George Grant, David French, Erick Erickson, Walter Williams, Maj Toure, Curt Kennedy, Gary Demar, and our very own Worldview Shotgun Series. You also get $100 off your registration for our first annual Fight Laugh Feast Conference, where we hope to meet many of you in Nashville, TN October 1st through the 3rd. Go to fightlaughfeast.com to register now. Have a great day. https://flfnetwork.com/coming-soon/