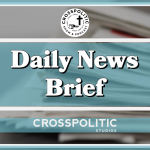 This is Toby Sumpter with your CrossPolitic Daily News Brief for Thursday, April 30, 2020.
Federalist Publisher in Court over Twitter Joke
https://www.wsj.com/articles/how-my-joke-on-twitter-became-a-federal-case-11588113551?reflink=share_mobilewebshare
Ben Domenech is the publisher of the Federalist. And he is now under federal investigation for making a joke on Twitter. 
He explains the whole thing in a Wall Street Journal Opinion piece published Tuesday. 
In June 2019, employees at uber-liberal Vox Media Inc. walked off the job demanding a new collective bargaining agreement. As the publisher of a conservative website, the Federalist, Domenech found the clash ironic and tweeted: "FYI @fdrlst first one of you tries to unionize I swear I'll send you back to the salt mine."
Twitter leftists went berserk, and the Federalist employees laughed. Domenech says, "They joked about selling branded salt-shakers and writing sympathetic vignettes about union rebels from Federalist salt mines." Then the National Labor Relations Board informed Domenech that the Catholic leftist writer, Matt Bruenig, had filed a formal complaint about the tweet. That complaint was later withdrawn, but Joel Fleming, a Massachusetts lawyer, filed another.
Domenech continues, "Mr. Fleming alleged I had violated Section 8(a)(1) of the Wagner Act, which states that "it shall be an unfair labor practice for an employer to interfere with, restrain, or coerce employees in the exercise of the rights guaranteed in Section 7"—namely the rights "to self-organization, to form, join, or assist labor organizations, to bargain collectively through representatives of their own choosing, and to engage in other concerted activities for the purpose of collective bargaining or other mutual aid or protection."
The NLRB proceeded to invade the Federalist publications, heedless of the freedom of the press. Federalist staff were subpoenaed to testify in New York, where none of them lived and no Federalist office exists. The NLRB attempted to subpoena all emails and communications between staff members going back years—including about editorial decisions, hiring decisions, and confidential sources during our coverage of the Russia-collusion hoax.
Domenech says the New Civil Liberties Alliance has taken up the case to defend him. The NLRB proposed a settlement: Domenech deletes the joke and posts information on the rights of employees to unionize, and the complaint goes away. Domenech said no.
The case was first adjudicated by an NLRB employee, Administrative Law Judge Kenneth Chu. As could be expected, Domenech lost. Eventually the case will be appealed in a Federal court, where Domenech believes he will receive full hearing and an opportunity to prove his case. 
Of course, a joke-Tweet seems hardly worth all the time, money, and bother. He asks, "Why bother when the stakes seem so low?" And he answers, "Because they aren't. It's a matter of principle. It is my good fortune to know many brilliant lawyers who are willing to stand up against abuses of the administrative state. Most people aren't so lucky. What happens when another small-business owner on social media makes a similar joke? When a neighbor decides to make a federal case out of an impolitic Facebook post? What happens if freedom of speech is only worth what the common business owner is willing to pay in legal fees, missed work and the cost of flying employees to other states to testify in front of bureaucrats?"
And remember that this is not far afield from the growing censorship concerns of media and social media platforms. Youtube and Facebook and Twitter are all practicing church discipline and cancelling the heretics of all stripes for contrary opinions on climate change, politics, Russian collusion, and Covid19, and who knows what else. Drs. Dan Erickson and Artin Massihi got their press conference booted off of youtube for have heretical medical opinions about the Corona. 
My own Church, Christ Church, was recently in the news when our Church App was removed from the Google play store for the accusation of being insensitive and/or capitalizing off of a natural disaster or crisis. And apparently, we tripped their heresy wires because we preached several sermons and did some short videos on the coronavirus situation. The mistake was eventually corrected, but we were initially told that we would have to remove that content before the app would be reinstated. But it's not much a stretch to go from removing unapproved content to actively prosecuting unapproved content, as has been done with Mr. Domenech's tweet. 
Largest Ozone Hole Ever Recorded Opened This Spring and Then Closed
https://www.cnn.com/2020/04/27/world/ozone-hole-arctic-scn-trnd/index.html
CNN: An ozone hole over the Arctic that was the largest ever recorded there has closed, according to the Copernicus Atmosphere Monitoring Service (CAMS). And don't worry, it had nothing to do with climate change, global warming or a reduction in air pollution because of the coronavirus pandemic. It has to do simply with the weather.
So follow this closely. Holes in the ozone layer can either be caused by climate change, global warming, driving Hummers, or else the weather. Also aliens and ufo's and fairies. 
CAMS monitored the rather unusual ozone hole that formed over the Arctic this spring and was reported closed April 23. Ozone holes are more common over the Antarctic every year, according to CAMS, but "the conditions needed for such strong ozone depletion are not normally found in the Northern Hemisphere."
CAMS says: Given how close land masses and mountain ranges are to the Artic, the weather patterns tend to vary more and in the northern hemisphere compared to the southern hemisphere. 
This year, however, a particularly strong polar vortex helped create the Arctic ozone hole, in which most of the ozone typically found around 11 miles into the stratosphere was depleted, according to CNN. The last time such a strong depletion was observed in the Arctic was almost a decade ago.
So, why did it occur this year?
"The behavior of the ozone and the stratospheric polar vortex during the winter into spring is supported by a couple of research papers," said AccuWeather Senior Meteorologist Bob Smerbeck. "They state that the coldest and strongest polar vortex in the stratosphere and the lowest concentration of ozone over the Arctic are more likely to occur when you have a combination of a solar minimum, which we are in now, and a westerly QBO [quasi-biennial oscillation, meaning lower stratospheric westerly winds over the equator], which we had from last summer through most of this winter." 
So basically, fairies and unicorns. 
"These are all naturally occurring processes," Smerbeck said.
A polar vortex that remained above the polar region without weakening and a strong positive phase of the Arctic Oscillation (AO) were among a combination of factors that led the contiguous U.S. to experience higher-than-normal temperatures from December 2019 through February 2020. 
Also, the fairies. 
"When you have a strong polar vortex that remains in the polar region, it tends to keep frigid air pent up so that it is difficult for long-lasting outbreaks of frigid conditions to reach the middle latitudes, including portions of the Midwest and Northeast," said AccuWeather Lead Wizard Paul Pastelok. 
He added that they have added a higher dosage of eye of newts to this years' potion. 
Two Women Arrested in Texas for Doing Cosmetics in their Home
https://reason.com/2020/04/27/undercover-cops-arrest-2-women-for-operating-home-beauty-businesses-in-violation-of-coronavirus-lockdown-order/
Reason dot com reports: "Undercover cops arrested two women in Laredo, Texas, for violating the city's COVID-19 shutdown order. The women, Ana Isabel Castro-Garcia and Brenda Stephanie Mata, had been operating heretical cosmetology businesses from their home. 
The Laredo high priests have mandated that "non-essential" businesses, including cosmetology services, must close. Police say the women were reported anonymously through the department's app.
"Both of the violators independently solicited customers via social media," the department told the Laredo Morning Times. "On both cases, an undercover officer working on the COVID-19 task force enforcement detail made contact with each solicitor to set up an appointment for a cosmetic, beauty service that is prohibited under the emergency ordinance." 
Police posing as customers then arrested both women in their homes. Also, in other news, George Washington just rolled over in his grave.
Both women were charged with a Class B misdemeanor, which comes with a maximum potential penalty of 180 days in jail and a $1,000 fine. The two women were released on $500 personal recognizance bonds. 
Hopefully, the women had enough self-respect and awareness to promptly rip up any and all citations and flush them down some government toilet. I hope some enterprising constitutional lawyer has contacted them and to sue Loredo, Texas. 
The article points out that the "arrests, by their very nature, require police and suspects to come into physical contact with each other. The people being arrested are then put in jails that have become breeding grounds for the novel coronavirus." 
Right. Meanwhile, many convicted criminals are being released because of the threat. And that makes a lot of sense. But none of this should come as a surprise. When you institutionalize the slaughter of babies as a constitutional right, and when you get to the point where you are celebrating that slaughter all the way to just before birth, when the image of God is so blatantly obvious and refuse to even protect the babies that somehow managed to survive their attempted murder – we are already a clinically insane nation. 
Romans 1 says that when God gives people over to insanity they turn from the natural use of men and women and are inflamed with homosexual lust for one another. The Obergefell decision and the American public's apathetic shrug of a response was not the beginning of the end, it was the end. It's the bottom of the barrel. And sure, we can also expect to find pedophiles reading books to children in our public libraries. But it's all complete insanity. 
And then you really do get the straw that broke the camel's back. And I'm not saying COVID19 is nothing. It's clearly a bad virus and certain demographics should use caution, but 99% of the population will survive it. And that's why we're locking up people doing cosmetics in the privacy of their own home and releasing convicted criminals. Which just underlines the fact that you can't reason with this kind of crazy. This is a moral and spiritual blindness. Our nation is being run by madmen running around in the tombs cutting themselves. There is nothing for this madness except the gospel of Christ, the power of God to restore men and women to their senses, sitting, clothed, and in their right minds.
This is Toby Sumpter with Crosspolitic News. You can find this show and all the others on the
Fight Laugh Feast Network at Crosspolitic.com or Fightlaughfeast.com or on our app, which you can download at your favorite app store, just search "Fight Laugh Feast". Our app is the only way to get In the Bullpen with Mark Dewey – maybe the best worldview baseball podcast ever. Support Rowdy Christian media, and become a Fight Laugh Feast Club Member, and for a limited time you can get your very own Fight Laugh Feast t-shirt and access to tons of content with Dan Fischer, Douglas Wilson, George Grant, David French, Erick Erickson, Walter Williams, Maj Toure, Curt Kennedy, Gary Demar, and our very own Worldview Shotgun Series. You also get $100 off your registration for our first annual Fight Laugh Feast Conference, where we hope to meet many of you in Nashville, TN October 1st through the 3rd. Go to fightlaughfeast.com to register now. Have a great day. https://flfnetwork.com/coming-soon/