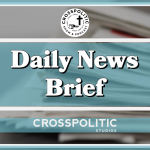 05/06/2020
This is Gabriel Rench with your CrossPolitic Daily News Brief for Wednesday, May 6th, 2020.
Fact check: Hospitals get paid more if patients listed as COVID-19, on ventilators
https://www.usatoday.com/story/news/factcheck/2020/04/24/fact-check-medicare-hospitals-paid-more-covid-19-patients-coronavirus/3000638001/
According to USA Today: "Sen. Scott Jensen, R-Minn., a physician in Minnesota, was interviewed by "The Ingraham Angle" host Laura Ingraham on April 8 on Fox News and claimed hospitals get paid more if Medicare patients are listed as having COVID-19 and get three times as much money if they need a ventilator.
Jensen said that "if it's a straightforward, garden-variety pneumonia that a person is admitted to the hospital for –if they're Medicare – typically, the diagnosis-related group lump sum payment would be $5,000. But if it's COVID-19 pneumonia, then it's $13,000, and if that COVID-19 pneumonia patient ends up on a ventilator, it goes up to $39,000."
Now ask yourself, do you believe the death rates for the elderly are high because they are actually dying from COVID19 or is the elderly death rate high because they are incentivized to mark COVID19 on their death certificate? 
Mayor outraged over parties in Chicago: 'We will arrest you and take you to jail'
https://www.fox32chicago.com/news/mayor-outraged-over-parties-in-chicago-we-will-arrest-you-and-take-you-to-jail
"Chicago Mayor Lori Lightfoot was outraged on Saturday that people in Chicago are going to large parties during the stay-at-home order and the coronavirus pandemic.
"We will arrest you and we will take you to jail. Don't make us treat you like a criminal. If you refuse to do what is necessary to save lives, we will take you to jail. Period. We're not playing games. We mean business," Lightfoot said.
The mayor was responding to recent reports of a huge party in Galewood last weekend. She spoke at the corner of Springfield and Adams in the West Garfield Park neighborhood on Saturday, where she said that a party was being planned.
"We will be towing cars. We will arrest the homeowners. We have given enough warning. If our message is not resonating, we have to take that next level of enforcement to make sure we save lives," said CPD Superintendent David Brown.
Brown said there are six parties planned for Saturday night, and there were several parties dispersed on Friday night.
"You need to stay at your home. That is what this means. Going to party now while Chicagoans are still dying is the height of foolishness," Lightfoot said. "If you want to have a dance party, TikTok. For every foolish person that hosts a party, you are putting yourself in danger and others in danger."
NYC Council speaker demands Samaritan's Purse leave now that they're no longer needed to treat patients
https://disrn.com/news/new-york-city-councilmember-says-christian-orgs-field-hospitals-are-an-affront-to-citys-values
According to Disrn.com: "The speaker of the New York City Council is demanding that the Christian organization Samaritan's Purse pack up its coronavirus field hospitals and leave the city now that they're no longer needed to patients, claiming the group's Biblical views on sexuality are an "affront" to the "values" of New York.
"My statement on Samaritan's Purse:
It is time for Samaritan's Purse to leave NYC. This group, led by the notoriously bigoted, hate-spewing Franklin Graham, came at a time when our city couldn't in good conscience turn away any offer of help. That time has passed. 1/
Their continued presence here is an affront to our values of inclusion, and is painful for all New Yorkers who care deeply about the LGBTQ community. 2/
I'm aware that our battle against COVID-19 is still ongoing, and that our health care system—and the amazing workers who have been the heroes of this unprecedented time in our history—still needs support. 3/
The @NYCCouncil is committed to supporting those workers and protecting our city's public health. But as a city that values diversity and compassion for all, we can't continue allowing a group with their track record to remain here when we're past the point they're needed. 4/
Mount Sinai must sever its relationship with Samaritan's Purse. Its leader calls the LGBTQ community "detestable" and "immoral." He says being gay is "an affront to God," and refers to gay Christians as "the enemy." 5/
Samaritan's Purse requires its volunteers to agree to a written affirmation "that marriage is exclusively the union of one genetic male and one genetic female."
Hate has no place in our beautiful city. 6/6"
The Guttmacher Institute estimates that approximately 105,380 abortions took place in New York during 2017. The institute also estimates that 31.4% of pregnancies in New York ended in abortion. "
DOJ sides with church suing Virginia Gov. Northam after pastor who held 16-person service faced fine, jail
https://www.foxnews.com/politics/justice-department-virginia-church-suing-northam-coronavirus-pastor-support
According to Fox News: "The Justice Department is siding with a Virginia church suing Gov. Ralph Northam after police threatened a pastor with jail time or a $2,500 fine for violating the state's coronavirus lockdown restrictions by holding a 16-person church service on Palm Sunday.
The DOJ decision came after police in protective garb served a summons to Kevin Wilson, the pastor of Lighthouse Fellowship Church on Chincoteague Island, for holding the service on April 5 with 16 people spaced far apart from one another in a church that could fit 293 people. State officials said Wilson and the church violated the Virginia Constitution by breaking state-imposed social distancing restrictions intended to stop the spread of the coronavirus.
"The Commonwealth of Virginia has offered no good reason for refusing to trust congregants who promise to use care in worship in the same way it trusts accountants, lawyers, and other workers to do the same," the DOJ said in a statement of interest obtained by Fox News on Sunday."
In my great state of Idaho, the MacPherson Group, together with North Idaho freedom-fighting attorney D. Colton Boyles of Boyles Law PLLC, has filed suit against Idaho Governor Brad Little and Director of Idaho Department of Health and Welfare Dave Jeppesen, challenging the constitutionality of Idaho's COVID-19 "Stay-Home Order." I hope we flood the courts with these law suites. The think I want to point out here, is what I read in the lawsuit Exhibit D (https://e54acc73-a140-438f-842f-20e59db32d14.usrfiles.com/ugd/e54acc_ac14c546a53c4056ae0986957640c5ba.pdf). 
Exhibit D comes from Pastor Jonathon Krenz of Augustana Lutheran Church here in Moscow, Idaho. When our stay at home order was issued, Pastor Krenz emailed a series of scenarios to our local Chief of Police James Fry asking what worship scenarios would be possible under the stay at home order. After a series of proposed scenarios where struck down by Chief Fry, Pastor Krenz offered this scenario: 
"…as an alternative to my congregants driving to me, and remaining in their cars, I proposed that I deliver the Sacrament of Holy Communion to the front doors of my parishioners, have a brief service through the screen door, with all of the same safety precautions as above. In other words, just as restaurants can stay open under the Stay-Home Order if they only serve takeout and delivery, perhaps my church can stay open by me delivering it, so to speak, to my parishioners at home." 
This scenario was also shot down and Pastor Krenz responded with this:
"So to put it more simply, I could legally deliver a pizza to the front door of a congregant, which the congregant would take and eat, but if I also delivered to him the Sacrament of Holy Communion while I am there, I could be ticketed or arrested, because delivering the body and blood of Christ as food is against the Order."
This is troubling on so many levels. But here is the big question I would like to ask Chief Fry if I get a chance. Currently Governor Little does not have a gun to your head forcing you to carry out this draconian order against this pastor, so if the governor had a gun to your head how much more so would you be willing to carry out governor orders of let's say locking up all the jews. In other words, at what point would you protect your community against the governor? 
Lastly here a couple tweets from supporters of Joe Biden regarding the allegations of Tara Reade:
@OssStream "I would vote for Biden if he raped a 100 women. The stakes are high in this election." 
@LaywerAndyPhD
Even if Biden sexually assaulted me, I would still vote for him."
@Atrytone4
"If Biden had raped my child, yes I would still prefer him over Trump for POTUS."
The believe all women crowd is a sham, as has been pointed out time and time again. When you hate God, when you despise His creation, the helpless available play is always a grasp for power. Always. This is why we don't let liberals define the terms and conditions of justice, and for that matter most conservatives who have been sucked into the world of wanting to please everybody. Christ is our Rock, God defines the standards of Justice, and when we do this, we find that there is true equity in the land. 
This is Gabriel Rench with Crosspolitic News. Support Rowdy Christian media and join our club at fightlaughfeast.com. With your partnership, you will get a Fight Laugh Feast t-shirt, discount to our annual conference, and access to our Club portal. Our club portal includes episodes on Pastors in Politics, East Coast Tour content, God and Government, and backstage interviews with people like Voddie Baucham, Douglas Wilson, James White, Tom Ascol, Erick Erickson, and David French. You can find all our shows on our app, which you can download at your favorite app store, just search "Fight Laugh Feast". Lastly, we hope to meet you at our first annual Fight Laugh Feast Conference in Nashville, TN October 1st through the 3rd. Go to fightlaughfeast.com to register now. Have a great day. Lord bless