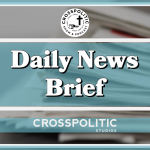 This is Jesse Sumpter, managing editor of the CrossPolitic Blogazine. Here with your CrossPolitic Daily News Brief for Friday, May 8, 2020. 
Idaho Pastor Told He Can't Hold Drive In Church Service
Rev. Jonathon Krenz, pastor of Augustana Lutheran Church in Moscow Idaho, was told that he could not hold a drive in church service nor do the Lord's Supper.
Krenz reached out to local Police Chief James Fry over email on April 16. 
Krenz's email exchange with Chief Fry is part of an Exhibit in a lawsuit that was filed against Idaho's Governor Brad Little on April 30. 
In Exhibit D, Rev. Krenz writes "I was deeply concerned with the Stay-Home Order because churches and pastoral work are excluded from the definition of 'essential business.'"
Krenz writes, "Chief Fry eventually confirmed that my initial read of the order was correct: we were outright prohibited from observing the Mass on Sundays and other Feast Days as we normally would, or administering any of the Sacraments."
Krenz suggested several alternate service options to meet the state order. 
One option was to have families gather in his own driveway spaced six feet apart. Another option was to have a few cars circled around him for prayer, preaching, and communion. Everyone would remain in their cars. Krenz also explained that he would wear a mask and gloves and he said no one would leave their cars. 
Krenz even suggested a food delivery option. He would drive to individual congregants' homes, read scripture, and then offer communion to them on their front steps. Krenz said, "In other words, just as restaurants can stay open under the Stay-Home Order if they only serve takeout
and delivery, perhaps my church can stay open by me delivering it, so to speak, to my parishioners at home."
Police Chief Fry then wrote, "Based on Governor Little's order, the scenarios you posed would be a violation of the Governor's Amended Stay‐Home Order. As you know, the intent of the Order is to ensure the maximum number of people self‐isolate in their places of residence to the maximum extent feasible to slow the transmission of COVID‐19."
Krenz later clarified, "Chief Fry went out of his way to be very helpful to me. He is a man of honor and a true public servant. I disagree with his conclusions, but in no way do I desire to portray him as an antagonist or adversary, nor do I blame him for the Governor's order."
The lawsuit with Krenz's testimony was filed by The Macpherson Group and can be found at this website: https://www.beatirs.com/macpherson-defends-constitution
In looking at this issue, the key is the correct process of creating laws and state orders. Which criteria was used to make this law? The plain reading of the Idaho order is that this pastor is restricted from offering drive in church services with communion as he requested. But how was this state order created? What standard was used to make this law? The United States are governed by written laws so which ones were used to determine that a pastor cannot serve communion door-to-door but a pizza company can delivery door-to-door? Why treat one differently than the other? There must be a common standard used.
https://moscowidaho.news/2020/05/06/local-pastor-told-he-cant-hold-drive-in-church-service/
Christian School in Idaho Made National News When it Reopened
Nampa Christian Schools, a private school in Nampa, Idaho, reopened for in-person classes, Superintendent Greg Wiles told CNN.
"We will be taking appropriate action within this modified opening to help keep our faculty, staff, students and families safe," Wiles said.
Classes resumed on Monday.
The school, which has 730 students from preschool to high school on two campuses, has shortened school days along with passing periods. Gone altogether are assemblies, cafeteria lunches and busing, Wiles said.
About 60% of its students are back for face-to-face instruction, Wiles said. The rest are still learning remotely.
The move comes after Gov. Brad Little said the state had met the criteria for the first stage of reopening. The state's plan for that stage allowed 90% of businesses to reopen on May 1, as well as places of worship, day cares, organized youth activities and day camps, as long as protocols are followed, including social distancing.
Idaho is among the 47 US states that have ordered or recommended that schools stay closed for the rest of the academic year, but it also allowed individual school districts to make the decision to reopen.
Nampa Christian Schools' last day of classes for this academic year is May 21, according to the school calendar.
https://www.cnn.com/2020/05/06/us/idaho-private-school-reopened/index.html
Texas Supreme Court orders release of salon owner who reopened salon
On Thursday, the Texas Supreme Court ordered Dallas County officials to free salon owner Shelley Luther from jail while its nine judges weigh an appeal challenging her incarceration as improper.
Officials were ordered to release Luther on a personal bond with no money required.  
Shelley Luther had reopened her salon despite Texas state restrictions. 
For her actions, Luther was sentenced on Tuesday of this week to seven days in jail and a $7,000 fine. She was also issued an additional $500 fine for every day the salon remains in business until May 8.
The order to release her came shortly after Texas Gov. Greg Abbott, seeking to end a political firestorm over Luther's jailing, announced Thursday that local officials will be prohibited from jailing Texans for violating any of his numerous coronavirus-related executive orders.
"Throwing Texans in jail who have had their businesses shut down through no fault of their own is nonsensical, and I will not allow it to happen," Abbott said in a statement. "That is why I am modifying my executive orders to ensure confinement is not a punishment for violating an order."
Abbott said this latest executive order, "if correctly applied," should free Luther.
Abbott's latest executive order suspended "all relevant laws" that allow jail time "for violating any order issued in response to the COVD-19 disaster."
The new order also allowed salons and barber shops to open immediately, instead of Friday, and made the change retroactive to April 2 to nullify any local regulations that could form the basis of jail time for business owners who violated a shutdown order.
https://www.usatoday.com/story/news/nation/2020/05/07/texas-gov-greg-abbott-jailing-salon-owner-shelley-luther-too-far/3087849001/
https://www.newsweek.com/escalating-dispute-judge-texas-lt-gov-pays-jailed-salon-owners-fine-1502458
While it is a good thing that Shelley Luther was released, this is another example of tyranny by a governor's orders. Apparently Gov. Abbot can change the law by simply re-writing it. That is troubling. What is the standard being used here? Did Abbot give into the masses? Was he basing his new order off of the Texas Constitution or the US Constitution? And then why is he "modifying the executive orders to ensure confinement is not a punishment for violating an order"? So now which orders lead to jail and which do not? Is anyone else confused? The issue is not changing laws, the issue is the standard for the laws that we make. We want our laws to be biblical and based on a common, universal law. That is the only way to ensure justice for all.  
Speaking of unjust Governor orders. Our last story comes from Michigan and another hair shop.  
77-year-old Michigan barber says shop will stay open "until Jesus walks in or until they arrest me"
A 77-year-old barber in (Uh wass oh)Owosso, Michigan Karl Manke reopened his shop on Monday in defiance of Michigan's stay-at-home order.
Gov. Gretchen Whitmer's executive order currently mandates that salons, barbershops, and other businesses stay closed.
"I don't need the governor to be my mother," Karl Manke said. "I have one. God bless her, she's gone now. I don't need another mother. I can make these adult decisions myself."
Manke has been cutting hair in town for 60 years. He said all the shop's chairs, doorknobs, and bathrooms are sanitized and that he wears a masks and sanitizes his hands between cuts. His equipment is also sanitized and his building is large enough for people to stand six feet apart.
"I can … run my business how I feel I should run it," Manke said. "To tell you the truth, I am scared but I didn't really have any choice. I need to work through that fear and open up."
Manke said he needed to open for financial reasons.
"I feel like a pawn in between a bunch of politicians," Manke said. "This is something that's going to be with us for a while. We have to live with it."
Violating the executive order is punishable by a 90-day misdemeanor and/or a $500 fine. It is unclear if anyone has contacted Manke, although the city's police department had been notified of Manke's operating.
"I'll be open until Jesus walks in or until they arrest me," Manke said.
https://disrn.com/news/77-year-old-mi-barber-says-shop-will-stay-open-until-jesus-walks-in-or-until-they-arrest-me
And with that, this is Jesse Sumpter with Crosspolitic News. Check out the CrossPolitic Blogazine for articles and commentary on theology, politics, culture, and history.   
Download the Fight Laugh Feat app at your favorite app store, just search "Fight Laugh Feast". Our app is the only way to get In the Bullpen with Mark Dewey – maybe the best worldview baseball podcast ever. Support Rowdy Christian media, and become a Fight Laugh Feast Club Member, and for a limited time you can get your very own Fight Laugh Feast t-shirt and access tons of content with Dan Fischer, Douglas Wilson, George Grant, David French, Erick Erickson, Walter Williams, Curt Kennedy, Gary Demar, and the Worldview Shotgun Series. You also get $100 off your registration for our first annual Fight Laugh Feast Conference, where we hope to meet many of you in Nashville, TN October 1st through the 3rd. Go to fightlaughfeast.com to register now. Have a great day.https://flfnetwork.com/coming-soon/