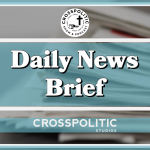 This is Toby Sumpter with your CrossPolitic Daily News Brief for Tuesday, May 12, 2020.
Elon Musk Restarts Tesla Production Against Alameda County Rules
On Monday Tesla CEO Elon Musk tweeted: "Tesla is restarting production today against Alameda County rules. I will be on the line with everyone else. If anyone is arrested, I ask that it only be me." 
Under Governor Gavin Newsom's rules, Tesla is allowed to re-open production, but Alameda County has kept its rules tighter, apparently through one unelected official – so Musk is technically in violation of the county law. 
Again, this is a glorious reminder of how important local government is. Have you ever thought of who your county commissioners are? While Musk is fighting with his county government, sometimes it has been the other way around with commissioners and sheriffs protecting their counties from stricter state laws. The power of government comes from the consent of the governed, and part of that consent is communicated through lesser magistrates who refuse to bow to unconstitutional fiats. 
Elon Musk is an engineer, industrial designer, technology entrepreneur, and philanthropist. He is the founder, CEO, and chief engineer/designer of SpaceX, co-founder and product architect of Tesla (electric cars), . In 2016, he was ranked the 21st on the Forbes list of the The Worlds Most Powerful People, and was ranked joint-first on the Forbes most Innovative Leaders of 2019. As of a May 2020 he is said to have a net worth of 39.4 billion and is listed by Forbes as the 23rd-richest person in the world. 
Elon Musk is one of the few major voices out criticizing the official, approved media narrative. And he has been vocally critical of the state lockdowns. On April 27th, he tweeted: "Silicon Valley has become Sanctimonious Valley – Too much the moral arbiter of the world." On April 28th, he shared an opinion piece from the Wall Street Journal questioning whether lockdowns actually save lives, noting that most of the data suggests they don't, Musk tweeted: "Give people their freedom back!" The same day he shared an article reporting Texas state plans to begin reoping and stated "Bravo Texas" and later simply, "Free America Now." April 29th, he retweeted Phil Lebeau who wrote: "Tesla CEO Elon Musk blasts shelter in place orders: "to say that they cannot leave their house and they will be arrested if they do, this is fascist. This is not democratic, this is not freedom, give people back their god damn freedom." Later that day, Musk shared a number of posts documenting the fact that hospitals were not overwhelmed or full. The next day, he shared data about reporting COVID-19 deaths and objected: "Classifying all deaths as corona even if corona didn't cause the death is simply a lie – this is misleading the public." On May 1st, he tweeted out the Star Spangled Banner.
Dr. Birx Doesn't Trust CDC Numbers
https://www.washingtonpost.com/politics/as-deaths-mount-trump-tries-to-convince-americans-its-safe-to-inch-back-to-normal/2020/05/09/bf024fe6-9149-11ea-a9c0-73b93422d691_story.html
According to Washington Post: "During a task force meeting Wednesday, a heated discussion broke out between Deborah Birx, the physician who oversees the administration's coronavirus response, and Robert Redfield, the director of the Centers for Disease Control and Prevention. Birx and others were frustrated with the CDC's antiquated system for tracking virus data, which they worried was inflating some statistics — such as mortality rate and case count — by as much as 25 percent, according to four people present for the discussion or later briefed on it. Two senior administration officials said the discussion was not heated. "There is nothing from the CDC that I can trust," Birx said, according to two of the people.
As we have reported previously, there are serious questions surrounding all the stats we continue to hear and see in the news. What is the average age of COVID-19 deaths? What is the morbidity rate for those under the age of 65? What are the rates for those in hospitals and nursing homes? And what are the financial repercussions for reporting deaths as COVID-19? What is the difference between dying from COVID-19 and dying WITH COVID-19? As far as we can tell, anyone testing positive for COVID-19 is being marked as a COVID-19 death. And there are financial incentives to do so. 
Inmates Sharing Corona Virus to Get Early Release
https://www.breitbart.com/politics/2020/05/11/watch-inmates-infect-themselves-with-coronavirus-to-get-freed-from-jail/
During a press conference on Monday, Villanueva released surveillance footage from the Pitchess Detention Center showing inmates trying to contract the coronavirus crisis. Subsequently, more than 20 inmates seen in the footage tested positive for coronavirus.
In one portion of the footage, an inmate can be seen getting hot water from a dispensary that is available to all inmates. Then, the inmate walks over to a group of fellow inmates where they pass the bottle around just before a nurse takes their temperature.
Villanueva said the inmates were not only drinking from the same bottle to try to get coronavirus, but they were drinking the hot water to falsely show high-temperature symptoms of it.
"Under normal circumstances, no one would be doing that anyway, particularly when everyone has the same access to the water. … No one shares this," Villanueva said. "Now, they're sharing the hot water and using the same bottle."
Other footage shows inmates drinking from the same Styrofoam cup and sniffing from a mask in order to infect themselves with coronavirus.
Villanueva said the inmates were deliberately crowding together and not social distancing despite being held in the relatively large space where distancing is possible.
"It's sad to think that someone deliberately tried to expose themself to [coronavirus]," Villanueva said. "As a result of this behavior, from this particular modular, 21 inmates tested positive for [coronavirus] in a week of these videos being taken."
"That is problematic because somehow there was a mistake in belief among the inmate population that if they tested positive that there was a way to force our hand and release more inmates out of our jail environment," Villanueva said. "And that's not going to happen."
Since March 11, California's Department of Corrections and Rehabilitation has released more than 5,500 inmates into local communities. In the last week, alone, nearly 315 inmates were freed from prison.
But also, if you try to do somebody's nails in your basement in Texas or go to the beach in California, you might end up in jail. 
Also, just to make you feel better, reports are surfacing that even people who have been dead for several years are receiving federal stimulus checks. 
Rep. Thomas Massie, tweeted out Monday a picture of a stimulus check saying: "Stimulus checks to dead people: check says deceased right on it! "DECD" [face palm emoji] I know the "ADM" who received the check. Her mother passed two years ago."
This is Toby Sumpter with Crosspolitic News. You can find this and all of our shows at Crosspolitic.com or Fightlaughfeast.com or on our app, which you can download at your favorite app store, just search "Fight Laugh Feast". Our app is the only way to get In the Bullpen with Mark Dewey. Support Rowdy Christian media, and become a Fight Laugh Feast Club Member, and for a limited time you can get your very own Fight Laugh Feast t-shirt and access to tons of content on Biblical Counseling, God and Government, End Times Eschatology (hint: we're not in them), Pastors and Politics, Proverbs with Me, and our very own Worldview Shotgun Series. You also get $100 off your registration for our first annual Fight Laugh Feast Conference, where we hope to meet many of you in Nashville, TN October 1st through the 3rd. Go to fightlaughfeast.com to register now. Have a great day. https://flfnetwork.com/coming-soon/