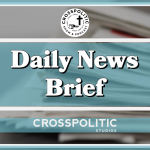 This is Toby Sumpter with your CrossPolitic Daily News Brief for Thursday, May 14, 2020.
FISA Get's Renewed with a Latin Amendment
https://gizmodo.com/heres-who-just-voted-to-let-the-f-b-i-seize-your-searc-1843445032
Dell Cameron from Gizmodo reports: "A bipartisan amendment that would have prohibited law enforcement agencies, such as the FBI, from obtaining the web browsing and internet search histories of Americans without a warrant failed to pass in the U.S. Senate on Wednesday by a single vote.
Twenty-seven Republicans and 10 Democrats voted against the amendment to H.R. 6172, which will reauthorize lapsed surveillance powers under the Foreign Intelligence Surveillance Act (FISA). The amendment offered up by Sen. Ron Wyden, Democrat of Oregon, and Sen. Steve Daines, Republican of Montana, would have forced the government to get a warrant before obtaining the internet search history of Americans. 
Under Section 215 of the Act, the government can compel phone companies and internet service providers to turn over such data, if it is deemed vaguely "relevant" to a terrorism or counterespionage case. 
In December, an inspector general report outlined what the New York Times' Charlie Savage called a "staggering dysfunctional and error-ridden process" in reference to the FBI's procurement of a FISA wiretap warrant for Carter Page, a former Trump campaign advisor. The litany of problems with the FBI's surveillance applications, Hina Shamsi, director of the ACLU's National Security Project, said at the time, "demonstrates how the secrecy shrouding the government's one-sided FISA approval process breeds abuse." 
"For far too long the Patriot Act and the Foreign Intelligence Surveillance Act, commonly referred to as FISA, have been used to trample the civil liberties of American citizens," Daines said in floor speech Tuesday morning. 
The final vote on Wyden-Daines Amendment was 59-37. Sixty "ayes" were required for it to pass. Members had to be physically present to vote. Among the 27 Republicans who voted against the amendment were Graham, Lindsey (R-SC), Romney, Mitt (R-UT), and Rubio, Marco (R-FL). Four members did not cast votes, including Sen. Bernie Sanders (I-VT), Sen. Ben Sasse (R-NE).
A separate amendment proposed by Sens. Mike Lee (R-UT) and Patrick Leahy (D-VT) was passed by the Senate. It includes various provisions designed to protect Americans and their civil liberties. Among other reforms to the role of amicus curiae, the amendment requires the FISA court to appoint "one or more" individuals with privacy and civil liberties expertise in cases that raise "significant concerns" with respect to First Amendment-protected activities. 
It further enshrines specific requirements for the mandatory disclosure of exculpatory material, saying the government must bring forth any information that "might reasonably call into question the accuracy" of a surveillance application, or any information that would "otherwise raise doubts" with respect to the findings required under the application process.
Sean Vitka, a senior policy counsel at Demand Progress, called the amendment's passage "a major victory for Americans' civil liberties," despite the Wyden-Daines Amendment being shot down earlier this afternoon.
"The Lee-Leahy amendment ensures an independent voice has access to and can raise issues with FISA surveillance targeting religious groups, political groups, and the media. The underlying bill remains broken, but adoption of the Lee-Leahy amendment represents a privacy victory well beyond what many believed to be possible," said Vitka, adding that it marks a "long-awaited turn for privacy in Congress, and the start of many more fights to restore it."
Wisconsin Supreme Court Has Struck Down Governor Tony Evers Extension Stay-at-Home Order
https://www.washingtonpost.com/politics/2020/05/13/wisconsin-supreme-court-strikes-down-governors-extension-stay-at-home-order/
Washington Post reports: The Wisconsin Supreme Court sided with Republican legislators on Wednesday, striking down the decision by the administration of Gov. Tony Evers to extend stay-at-home orders.
The 4-to-3 decision limits the Democratic governor's ability to make statewide rules during emergencies such as the coronavirus pandemic, instead requiring him to work with the state legislature on how the state should handle the outbreak.
The justices wrote that it was not challenging the governor's power to declare emergencies, "but in the case of a pandemic, which lasts month after month, the Governor cannot rely on emergency powers indefinitely."
Evers, like most other governors, issued a stay-at-home order to slow the spread of the coronavirus. As the April 24 end date approached, Evers's administration decided to extend the order until May 26.
Shortly after, Republican state lawmakers sued Evers and Andrea Palm, head of the state health department, arguing that a decision with such a long-term impact on citizens' lives should be made in concert with the legislature.
Though the court ruled in the GOP's favor, the justices stayed the decision through May 20 to give the administration time to request the legislature's approval.
The state's highest court heard virtual oral arguments last week, and several justices signaled in their questions that they believed the Evers administration's orders were an overreach of executive power.
"Isn't it the very definition of tyranny for one person to order people to be imprisoned for going to work among other ordinarily lawful activities?" Justice Rebecca Bradley asked.
David Daleiden and the Center for Medical Progress Sue Planned Parenthood of California, Commie Haris, and the California Attorney General
https://justthenews.com/accountability/media/journalist-who-launched-fetal-body-part-scandal-files-suit-against-planned
Daniel Payne from Justthenews dot com writes: "The journalist at the center of the 2015 Planned Parenthood fetal body part sales scandal has launched a lawsuit against the organization,  California Sen. Kamala Harris, and California Attorney General Xavier Becerra, alleging they have conspired to violate his constitutional rights over the past several years. 
David Daleiden, the founder of the Center for Medical Progress, became internationally known five years ago when he began publishing secretly recorded videos of high-ranking Planned Parenthood officials appearing to admit that the organization was selling aborted fetal body parts to medical research companies, a violation of federal law. 
The videos, which launched congressional inquiries and ultimately led to Planned Parenthood refusing to receive any more reimbursements for fetal tissue samples, have been the subject of acrimonious legal and political battles over the past half-decade. California authorities claim that Daleiden violated state statute regarding confidential recordings. 
In a press release on Wednesday announcing the lawsuit, the Center for Medical Progress claimed that Kamala Harris, then the attorney general of California, "targeted Daleiden's speech under the video recording law at the urging of Planned Parenthood, the National Abortion Federation, and StemExpress, a fetal tissue procurement company with deep ties to the professional abortion industry."
"While running for U.S. Senate, Harris had a secret in-person meeting with Planned Parenthood executives in Los Angeles, including witnesses in her investigation, to discuss issues in the investigation as part of Planned Parenthood's political agenda in California. Two weeks later, Daleiden's home was raided by the California Department of Justice," the organization claims. 
Among the requests of the lawsuit is a permanent injunction against the enforcement of the state's recording law."
And good for Deleiden and the Center for Medical Progress. God bless their efforts. And this is just me speculating, but I would not be surprised if this has been the plan all along. Remember, Deleiden is an extremely talented, intelligent man, who posed as a fetal parts dealer in order to expose the gruesome atrocities taking place in abortion clinics across our nation. He has been on the receiving end of a judicial monkey house trial over the last couple of years, with California judges making up rules as they go along. But what are the chances that Daleiden has been meekly taking their nonsense while carefully documenting everything, making sure he has enough rope to hang the whole system with? I think the chances are quite good. 
I will just add here something I've posted online previously, and that is that if this whole corona-crazy has demonstrated one thing, it's that our state Governors do actually believe they have the power to declare states of emergency and martial law and close things down. They are terribly mistaken for most of these declarations and shut downs, but I would argue that the murder of unborn babies should be considered an emergency and some brave Governor really ought to declare a state of emergency over that immediate threat to the lives of the smallest citizens in his state and immediately order all the abortion clinics in his state shut down. They are immediately and directly hazardous to the lives of unborn babies. Every Governor, especially the ones who call themselves Christians, who participated in this COVID shutdown has completely forfeited their right to say that nothing can be done about abortion. Sorry bud, you just demonstrated that you absolutely can shut everything down. And if you won't it's because you're a spineless coward. 
This is Toby Sumpter with Crosspolitic News. You can find this and all of our shows at Crosspolitic.com or Fightlaughfeast.com or on our app, which you can download at your favorite app store, just search "Fight Laugh Feast". Our app is the only way to get In the Bullpen with Mark Dewey. Support Rowdy Christian media, and become a Fight Laugh Feast Club Member, and for a limited time you can get your very own Fight Laugh Feast t-shirt and access to tons of content on Biblical Counseling, God and Government, End Times Eschatology (hint: we're not in them), Pastors and Politics, Proverbs with Me, and our very own Worldview Shotgun Series. You also get $100 off your registration for our first annual Fight Laugh Feast Conference, where we hope to meet many of you in Nashville, TN October 1st through the 3rd. Go to fightlaughfeast.com to register now. Have a great day. https://flfnetwork.com/coming-soon/