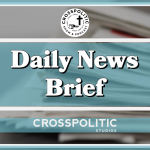 This is Jesse Sumpter, managing editor of the CrossPolitic Magazine. Here with your CrossPolitic Daily News Brief for Friday, May 15, 2020. 
Michigan barber defying Gov. Whitmer's coronavirus shutdown has license stripped
Fox News reports: A Michigan barber who reopened his shop in defiance of Gov. Whitmer's coronavirus shutdown orders had his license temporarily stripped Wednesday.
Karl Manke, 77, became a symbol of resistance when he opened the doors of his Owosso shop on May 4 and refused to close, pledging to keep his doors open until police arrest him or "Jesus walks in."
After a judge declined to sign an order to shut down his shop Monday without first holding a hearing, state regulators opted to suspend Manke's barber and shop licenses.
"It is paramount that we take action to protect the public and do our part to help save lives," Attorney General Dana Nessel said.
However, Manke's attorney, Dave Kallman, told the Lansing State Journal that the state's action against the 77-year-old barber is "an abuse of power."
"I think it's totally vindictive," Kallman said. "It's petty, it's totally in retribution because they didn't like the court order from earlier this week."
Manke is still able to cut hair until the suspension is served; it had not reached the barber's hands as of Wednesday afternoon, the paper reported. He can ask for an immediate hearing with an administrative law judge at the Department of Licensing and Regulatory Affairs to fight the order.
Manke has cut hair for 60 years in Owosso, a small town 40 miles northeast of Lansing. He told reporters after reopening that he had no choice but to return to work because money got tight. He was issued a cease-and-desist order and two misdemeanor citations that could result in fines totaling over $1,000, but he refused to close.
Under Whitmer's strict "stay-at-home" orders, hair salons and barbershops have been closed for weeks to curb the spread of the coronavirus. The governor has faced mounting criticism, including armed protests at the Capitol and death threats online, for her restrictions.
Speaking to Fox News on Sunday, Manke said: "Obviously she [Whitmer] has no concept at all, the damage that she's doing to our state and to families."
His defiance attracted the attention of Michiganders from across the state who drove hours to support Manke at his shop, some even getting haircuts.
https://www.foxnews.com/us/michigan-barber-defying-gov-whitmers-coronavirus-shutdown-has-license-stripped
Antibody testing reveals COVID-19 has been in Ohio since January, health officials say
WLWT5 Cincinnati news reports that "Ohio Department of Health Director Dr. Amy Acton announced Monday that they have found five different cases in five different counties that the date of onset of symptoms was in January.
"We are doing a lot more investigation, our disease detectives are going back to take a look at that and see if they were associated with travel," Acton said. "These cases now, we can pick them up because of the antibody testing. We are going to learn more and more about this disease, how long it was here in Ohio, how long it was spreading as we do more and more testing."
Acton said she does not have the specific counties where the patients are from.
https://www.wlwt.com/amp/article/antibody-testing-reveals-covid-19-has-been-in-ohio-since-january-health-officials-say/32438290
Trump traveled to Pennsylvania on Thursday as he calls for the state to 'move quickly' to reopen
President Donald Trump traveled to Pennsylvania on Thursday to visit a medical equipment distributor. 
The Philadelphia Inquirer reports that this will be Trump's second major trip outside the White House since March, when much of the country shut down in response to the COVID-19 pandemic. 
Pennsylvania Gov. Tom Wolf said Tuesday "anybody is welcome to visit the state."He also said he would "urge anybody coming to Pennsylvania to respect our efforts to stay safe, to keep people safe." 
Pennsylvania is under a statewide order that essential businesses must require all employees and customers wear masks.
Trump did not wear a mask while on his visit. 
In recent days, the president has been pushing governors to reopen their economies faster, even though many don't meet the reopening guidelines from his own coronavirus task force. Anthony Fauci, a member of the task force and the nation's leading infectious disease expert, warned Congress on Tuesday against reopening too quickly.
Trump singled out Pennsylvania on Monday, writing on Twitter, "The great people of Pennsylvania want their freedom now, and they are fully aware of what that entails." He also called on states like Pennsylvania to move faster in loosening restrictions at a White House news conference.
This visit is a good example of Trump's understanding of the office of President. He recognizes that it has limits. In response to COVID-19 Trump could have issues a national order to shut everything down but instead he let the states decide how to do that at the state level. In this visit, Trump is putting preassure on Pennsylvannia but he is not forcing Pennsylvannia to open up. Trump in some way understands the limits of his office. I would be interested to see him embrace more limits on his office but this is better than what might have happened. It is easy to imagine another president wanting to control everything in the country from the White House and shutting it all down. Trump did not do that and that was a prudent move on his part. 
Speaking of masks…  
https://www.inquirer.com/politics/pennsylvania/trump-visit-pa-pennsylvania-allentown-date-time-coronavirus-tom-wolf-reopen-20200512.html?__vfz=medium%2525253Dsharebar&fbclid=IwAR3hah32QYR5S20WWOD_3vZvGhxMW7V4URVLLsl7cosaugXaZJoQN2EALGc
Trump calls for Obama to testify in Congress amid unmasking controversy
According to Fox News, "President Trump on Thursday pressed Senate Judiciary Committee Chairman Lindsey Graham to call former President Barack Obama to testify amid new developments surrounding the origins of the Russia investigation and efforts at the time to "unmask" Michael Flynn's name in intelligence reports.
"If I were a Senator or Congressman, the first person I would call to testify about the biggest political crime and scandal in the history of the USA, by FAR, is former President Obama," Trump tweeted Thursday. "He knew EVERYTHING."
"Do it @LindseyGrahamSC, just do it," he continued. "No more Mr. Nice Guy. No more talk!"
The extraordinary demand comes as Trump has increasingly sought to link his predecessor to efforts to investigate his associates in 2016 and 2017, dubbing it "Obamagate." The tweet comes after Sens. Chuck Grassley, R-Iowa, and Ron Johnson, R-Wis., made public a list of Obama officials who purportedly requested to "unmask" the identity of Flynn, who at the time was Trump's incoming national security adviser.
But Graham, in a detailed statement early Thursday afternoon, expressed reluctance to go so far as calling Obama to testify.
He said he is "greatly concerned about the precedent that would be set by calling a former president for oversight."
"No president is above the law," Graham said in the statement. "However, the presidency has executive privilege claims against other branches of government. … As to the Judiciary Committee, both presidents are welcome to come before the committee and share their concerns about each other. If nothing else it would make for great television. However, I have great doubts about whether it would be wise for the country."
Nevertheless, Graham said that his panel will "begin holding multiple, in-depth congressional hearings regarding all things related to Crossfire Hurricane starting in early June."
Crossfire Hurricane was the FBI's internal code name for the investigation into whether members of the Trump campaign were coordinating or colluding with Russia during the 2016 presidential election.
As Fox News previously reported, Grenell had made the decision to declassify information about Obama administration officials who were involved in the "unmasking" of Flynn — whose calls with the former Russian ambassador during the presidential transition were picked up in surveillance and later leaked. His case has returned to the national spotlight after the DOJ moved to dismiss charges against him of lying to the FBI about those conversations, despite a guilty plea that he later sought to withdraw.
In a statement on Wednesday, Andrew Bates, Biden's director of rapid response, downplayed the latest Flynn revelations.
"These documents have absolutely nothing to do with any FBI investigation and they confirm that all normal procedures were followed — any suggestion otherwise is a flat out lie," Bates said. "What's more, it's telling that these documents were selectively leaked by Republicans abusing their congressional powers to act as arms of the Trump campaign after having them provided by a partisan official installed for this very purpose."
https://www.foxnews.com/politics/trump-calls-on-graham-to-demand-obama-testify-amid-unmasking-controversy-just-do-it
This is Jesse Sumpter with Crosspolitic News. Check out the CrossPolitic Magazine for articles and commentary on theology, politics, culture, and history.   
Download the Fight Laugh Feat app at your favorite app store, just search "Fight Laugh Feast". Our app is the only way to get In the Bullpen with Mark Dewey – maybe the best worldview baseball podcast ever. Support Rowdy Christian media, and become a Fight Laugh Feast Club Member, and for a limited time you can get your very own Fight Laugh Feast t-shirt and access tons of content with Dan Fischer, Douglas Wilson, George Grant, David French, Erick Erickson, Walter Williams, Curt Kennedy, Gary Demar, and the Worldview Shotgun Series. You also get $100 off your registration for our first annual Fight Laugh Feast Conference, where we hope to meet many of you in Nashville, TN October 1st through the 3rd. Go to fightlaughfeast.com to register now. Have a great day.https://flfnetwork.com/coming-soon/