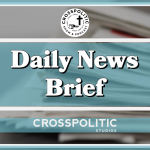 This is Toby Sumpter with your CrossPolitic Daily News Brief for Tuesday, May 19, 2020.
The Judges Strike Back
https://www.christianpost.com/news/nc-judge-sides-with-churches-blocks-gov-coopers-restrictions-on-indoor-services.html
A string of court rulings would seem to be giving momentum to pushback against lockdown orders from state governors in lawsuits led by churches.
Christian Post reports: A federal judge in North Carolina issued an order Saturday to allow indoor worship services, blocking Democratic Gov. Roy Cooper's enforcement of restrictions on churches during the coronavirus pandemic.
"The record, at this admittedly early stage of the case, reveals that the Governor appears to trust citizens to perform non-religious activities indoors (such as shopping or working or selling merchandise) but does not trust them to do the same when they worship together indoors," stated Judge James C. Dever III, according to The Associated Press.
"The assembly for religious worship provisions in [Executive Order] 138 starkly illustrate the extent to which religious entities and individuals are not subject to neutral or generally applicable law," Dever wrote in a 22-page order granting the emergency motion for a temporary restraining order to two Baptist churches, a minister and a Christian revival group that filed a federal lawsuit.
Cooper's order prevented most religious organizations from holding indoor services for more than 10 people, but he will not appeal the court's decision.
"We don't want indoor meetings to become hotspots for the virus and our health experts continue to warn that large groups sitting together inside for long periods of time are much more likely to cause the spread of COVID-19," the governor's spokesman, Ford Porter, said in a statement. He said churches are being urged to voluntarily follow public health directives.
The court has scheduled a hearing for May 29 to decide whether the order will become permanent, according to The News & Observer.
"We are very thankful and we are elated that our First Amendment rights would be re-established," the Rev. Ronnie Baity, founder and pastor of Berean Baptist Church in Winston-Salem and president of nonprofit organization Return America, was quoted as saying.
Baity said he will not hold indoor services this weekend as they had already planned for an outside service but will move inside next week.
"Freedoms curbed eventually becomes no freedom at all," Baity had said earlier. "If there's ever been a time our communities need the church, it is now."
The lawsuit called Cooper's orders "unconstitutional both facially and as applied to Plaintiffs."
"Governor Cooper's Orders have been interpreted, applied, and enforced by his Office and local law enforcement authorities as prohibiting indoor gatherings for religious worship by more than 10 people," the lawsuit read.
"The Orders are not neutral laws of general applicability because they target Constitutionally protected activity, significantly burdening the Plaintiffs' right to freedom of religion and assembly, establishing an orthodox form of religious exercise approved by the State, all the while providing broad exemptions for many other gatherings of more than 10 people that are not constitutionally protected."
https://katu.com/amp/news/local/judge-tosses-coronavirus-restrictions-by-oregon-governor-brown?fbclid=IwAR3GgbgJQpImmg_QGy0mFdDYgmIESMZ1z65HZDpUnbCZgGOL47gdnLKsZfA
Likewise, a Baker County Circuit Judge Matthew Shirtcliff issued his opinion in response to a lawsuit filed earlier this month by 10 churches around Oregon that argued the state's social-distancing directives were unconstitutional.
Governor Brown filed paperwork within hours seeking an emergency review by the Oregon Supreme Court and a hold on the ruling until the high court could take it up. Her attorneys had asked the judge to stay his ruling until that time, but he declined.
In a statement, Brown said: "The science behind these executive orders hasn't changed one bit. Ongoing physical distancing, staying home as much as possible, and wearing face coverings will save lives across Oregon."
In a seven-page opinion, Shirtcliff wrote that the damage to Oregonians and their livelihood was greater than the dangers presented by the coronavirus. He also noted that other businesses deemed essential, such as grocery stores, had been allowed to remain open even with large numbers of people present and have relied on masks, social distancing and other measures to protect the public.
"The governor's orders are not required for public safety when plaintiffs can continue to utilize social distancing and safety protocols at larger gatherings involving spiritual worship," he wrote.
Courts in other states have ruled against similar orders. The Wisconsin Supreme Court struck down Gov. Tony Evers' stay-at-home order last week, ruling that his administration overstepped its authority when it extended the order for another month without consulting legislators.
In Louisiana, however, a federal judge refused a minister's request to temporarily halt Gov. John Bel Edwards' stay-at-home order, which expired that same day.
The ruling in Oregon turns on the legal mechanism Brown used to issue her orders. The plaintiffs allege — and the judge agreed — that they were issued under a statute pertaining to public health emergencies, not an older provision that addresses natural disasters such as storms, earthquakes or floods.
The public health statute contains the 28-day time limit, while the other would give Brown broader powers but is not relevant in the current situation, said Kevin Mannix, who is representing business owners in the case.
California, Washington state and New York — other states where governors have repeatedly extended coronavirus restrictions — give their governors more power in public health emergencies, but Oregon law puts a specific clock on those "extraordinary powers," he said.
"Maybe other states will take a lesson from us in the future about what to do about public health emergencies," Mannix said. "We've thought about it, we've balanced the powers of the governor with the powers of the people and their representatives."
Brown declared a statewide state of emergency due to the virus on March 8 and has issued multiple executive orders since then, including the closure of all schools, non-essential businesses and a ban on dine-in service at restaurants and bars.
Earlier this month, Brown extended the order another 60 days until July 6. All but a handful of Oregon counties, however, got the state's approval to begin loosening those restrictions last Friday.
Oregon Attorney General Ellen Rosenblum urged residents to abide by the stay-at-home orders while the ruling is appealed.
"We will argue that the judge erred in his construction of the relevant statutes and that he abused his discretion in issuing the preliminary injunction," she said in a statement. "We will also be asking for an immediate stay of his order."
Attorney Ray Hacke, who represented the plaintiffs in the case, said the ruling was a vindication not just for freedom of religion, but for all freedoms of people in the state.
"Praise God. I'm excited, and I'm glad that the judge saw that there are limitations on the governor's power, even in the midst of emergencies," he said. "If people want to get their haircut, they can. They can leave their home for any reason whether it's deemed essential in the eye of the state or not."
The Corona Continues to Crumble
https://www.conservativereview.com/news/horowitz-lied-6-facts-change-everything-know-sars-cov-2/
Daniel Horowitz at the Conservative Review continues to helpfully summarize the behemoth holes in the Corona narrative. He wrote Monday: We have been lied to: 6 Facts that change everything we know about SARS-Cov-2
The shocking inflation of Covid-19 death numbers. This has been highlighted frequently, but the CDC guidelines published early on in the panic pandemic instructed health officials to report all with COVID 19 and all those presumed to have died with COVID 19 as COVID19 deaths. But as Peter Hitchens noted almost immediately, this is confuses those who have died with COVID19 with those who died FROM COVID19. That is the actual mortality rate (divided by all those who actually have contracted the disease. Colorado struck the most recent victory on this note when a judge required the state to revise the numbers distinguishing these two death counts, thereby forcing Colorado health officials to reduce their state's death count by 25%. Oops. 

States with longer lockdowns had worse results. Or at the very least, no discernable benefit. Just compare states like Georgia and Florida with fairly dense populations with states like Michigan and Pennsylvania. Horowitz cites several studies to prove his point. 

Outside of nursing homes, the fatality rate never warranted shut downs. He notes that the overhwhelming majority of cases are actually asymptomatic. For those under 70 years of age, the mortality rate is estimated to be less than one percent by the most accurate antibody testing data available, testing 60K in Spain country wide. As the numbers continue to come in, we're finding that most deaths are occurring in those over 80 years of age. 

Outside of NEW YORK, this is barely worse than bad flue seasons. 

Excess deaths are from the lockdowns, not the virus. The CDC is predicting between 21,000-40,000 excess deaths not due to COVID 19, but from those deaths resulting from inability to receive proper treatment for other ailments. 

And turns out "social distancing" was invented by a high school kid. In 2006, the idea was promoted briefly by the Bush administration, and it was widely mocked by the epidemiology community, including by Johns Hopkins for causing the potential for a 'serious adverse outcome,' thereby ensuring that a 'manageable epidemic could move toward catastrophe."
Ravi Zacharias Is With the Lord
https://www.rzim.org/read/rzim-updates/ravi-zacharias?fbclid=IwAR1LoJy9esDjFo1EpeB0oPsIOa8LDPGRT9EdBsr19HAfK1BSVHzv7o2BAiY
https://www.faithwire.com/2020/05/19/world-renowned-christian-apologist-ravi-zacharias-dies-at-74/?fbclid=IwAR1drPmanLvCDsLZzDEipuNS2dhLv83vqJlGISmNO71D-9gderjRxT6iJQ8
Faithwire reports: World-renowned Christian apologist Ravi Zacharias, 74, passed away at his home in Atlanta today, May 19, from a rare form of cancer in his spine.
Zacharias announced earlier this year that he was suffering from severe pain in his spine and would undergo surgery. A malignant tumor of the sacrum called sarcoma was discovered in March. 
He battled the disease with the help of top doctors, but his daughter announced less than two weeks ago that no further medical treatments were available.
The apologist founded his international apologetics ministry, RZIM, in 1984, and has been widely sought after for decades for his eloquent answers to life's biggest questions. 
Zacharias was a prolific author, debater, and academic throughout his life, reaching skeptics with the gospel of Jesus Christ. 
Zacharias is survived by his wife of 48 years, Margie; daughters, Sarah and Naomi; son, Nathan; and five grandchildren.
This is Toby Sumpter with Crosspolitic News. You can find this and all of our shows at Crosspolitic.com or Fightlaughfeast.com or on our app, which you can download at your favorite app store, just search "Fight Laugh Feast". Our app is the only way to get In the Bullpen with Mark Dewey. Support Rowdy Christian media, and become a Fight Laugh Feast Club Member, and for a limited time you can get your very own Fight Laugh Feast t-shirt and access to tons of content on Biblical Counseling, God and Government, End Times Eschatology (hint: we're not in them), Pastors and Politics, Proverbs with Me, and our very own Worldview Shotgun Series. You also get $100 off your registration for our first annual Fight Laugh Feast Conference, where we hope to meet many of you in Nashville, TN October 1st through the 3rd. Go to fightlaughfeast.com to register now. Have a great day. https://flfnetwork.com/coming-soon/