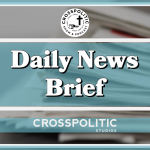 This is Gabriel Rench with your Crosspolitic Daily News Brief for Monday, February 17, 2020.
Conservative Baptist Network
http://conservativebaptistnetwork.com/
If you have been following any of the Southern Baptist Convention in-fighting over the last year or two, here is some good news. Good guys are rising up to the challenge. The Southern Baptist Convention has been getting woke and played over the last couple of years, and leaders, like Al Mohler, have offered up at best anemic responses to the problems plaguing the SBC. So men like Tom Ascol and Jared Longshore are leading the charge with their organization Founders Ministries, and just this past weekend the Conservative Baptist Network just launched to add to the faithful resistance. 
According to the Conservative Baptist Network's website here is their purpose:
The Conservative Baptist Network is a partnership of Southern Baptists where all generations are encouraged, equipped, and empowered to bring positive, biblical solutions that strengthen the SBC in an effort to fulfill the Great Commission and influence culture. 
-The Network affirms the longstanding Baptist beliefs as expressed in the Baptist Faith and Message 2000. 
 -The Network affirms the inerrancy, supremacy, and sufficiency of the Bible in all facets of life and application. 
-The Network affirms religious liberty and encourages Christian individuals and churches to influence the culture by engaging in the public policy process and demonstrating their patriotism. 
-The Network rejects various unbiblical ideologies currently affecting the Southern Baptist Convention such as Critical Race Theory, intersectionality, and social justice.
-The Network is committed to seeing the SBC function biblically — efficiently, and  strategically — believing Convention entities and leadership are accountable to and encouraged by the autonomous, local churches that cooperate together. 
Responses have been all over the map to the launch of this network but here is a smatter of Twitter responses:
One pastor tweeted: "This new baptist network thing is about love of Trump and being butt hurt about Paige Patterson. Don't be fooled."
Al Mohler tweeted:
"The real network of Southern Baptists is called the Southern Baptist Convention. It's going to meet June 9-10 in Orlando. I look forward to joining you there."
Woke Dwight McKissik tweeted: 
"The new so called Conservative Baptist Network is openly staunchly Republican. They are upset that some messengers opposed Vice President Pence addressing the 2018 Annual Session in Dallas. Because a number of messengers refused to hear Pence, they now want to insure never again."
Since Friday, more than 2000 people have signed up for their email list, and if you are in the SBC, I would encourage you to go to sign up at http://ConservativeBaptistNetwork.com. 
HungerGames 2020
I have a smattering of candidate updates for you: 
#breadlinebernie update:
The Democratic establishment does not like Bernie. Bernie is too socialist still for the establishment, and a threat to the party's actual existence. The latest establishment kurfluffle happens when Bernie called, Bill Clinton's former the lead strategist James Carville, a political hack. 
James responded in a podcast interview by saying "That's exactly who the [expletive] I am," Mr. Carville said. "I am a political hack. I am not an ideologue. I am not a purist. He thinks it's a pejorative. I kinda like it. At least I'm not a communist."
New York City's Mayor, Bill Hotdog Di Blasio, endorsed Commie Sanders, while not one CEO for the S&P 500 has endorsed him, so theres that. 
In the meantime former VP Joe Biden is focusing his efforts on South Carolina and not Nevada. This means Biden has all but given up on Nevada, and is betting his whole campaign on South Carolina. If Biden wins South Carolina, he will only have won one state before Super Tuesday, which is March 3rd. Biden's chances are getting worse by the day. 
Mayor Bloomberg has spent over $200 million on his campaign, and this has been almost exclusively his own cash. He is trying to buy this election. Well now reports have surfaced that he is interested in having Hillary Clinton as his Vice President. Imagine if Bloomberg wins with Hillary as his VP. Don't be surprised if he would get suicided while serving as President. 
Pinko Pete: In 2000, Pinko Pete won an essay contest in which he praised Bernie Sanders. Here is a snippet from his essay:
"Fortunately for the political process, there remain a number of committed individuals who are steadfast enough in their beliefs to run for office to benefit their fellow Americans. Such people are willing to eschew political and personal comfort and convenience because they believe they can make a difference. One outstanding and inspiring example of such integrity is the country's only Independent Congressman, Vermont's Bernie Sanders.
Sanders' courage is evident in the first word he uses to describe himself: "Socialist". In a country where Communism is still the dirtiest of ideological dirty words, in a climate where even liberalism is considered radical, and Socialism is immediately and perhaps willfully confused with Communism, a politician dares to call himself a socialist? He does indeed. Here is someone who has "looked into his own soul" and expressed an ideology, the endorsement of which, in today's political atmosphere, is analogous to a self-inflicted gunshot wound. Even though he has lived through a time in which an admitted socialist could not act in a film, let alone hold a Congressional seat, Sanders is not afraid to be candid about his political persuasion."
Michael Avenatti
https://www.cnbc.com/2020/02/14/disgraced-lawyer-michael-avenatti-found-guilty-in-nike-extortion-trial.html
According to CNBC: "Disgraced lawyer Michael Avenatti was convicted Friday by a jury of all three charges related to his efforts to extort up to $25 million from athletic apparel giant Nike, in what a top prosecutor called "an old-fashioned shakedown." 
The verdict in U.S. District Court in Manhattan came two years after Avenatti gained widespread notoriety for his representation of porn star Stormy Daniels in her legal disputes with President Donald Trump.
The bombastic attorney, who briefly flirted with running for the Democratic presidential nomination, faces two other pending federal criminal cases this spring related to alleged thefts of millions of dollars from clients, including Daniels, and other serious charges…
Avenatti, 48, was accused in the Nike case of trying to shake down the publicly traded company by threatening to go public with alleged evidence that the company had bribed amateur basketball players and their families unless Nike paid him millions of dollars."
Avenatti has two more cases pending, one in New York and the other in California. The reason why I bring this news item up, is because in our interview with David French on our East Coast Tour, David said he is basically a never Trumper. One of his reasons for this is because Trump is a chronic liar. David went on to give us Stormy Daniels as an example of one of Trump's lies. Now I am open and willing to call out Trump when he lies, but I am not going to take Michael Avenatti, Stormy Daniels lawyer, as evidence that Trump lied. The world has no standards of justice, no conscience, and will run any play in the book to get their way, power, and money. Christians should be vary wary when the world is all the sudden concerned about lying, or being winsome and nice, or what constitutes evidence and facts, and so on. The bible is our standard for what lying is, it is our standard for how we should be speaking and engaging culture, and it is our standard for justice. Don't let the world play you. Fear God and be wise, trust that God's word is sufficient for everything, and laugh when the world talks about morality.      
This is Gabriel Rench with Crosspolitic News. You can find this show and all the others on the
Fight Laugh Feast Network at Crosspolitic.com or Fightlaughfeast.com or on our brand new app, which you can download at your favorite app store, just search "Fight Laugh Feast". Support Rowdy Christian media and join our club at fightlaughfeast.com and get access to classes on parenting, Christian business principles, God and Government, and backstage interviews with people like Voddie Baucham, Douglas Wilson, James White, and David French. We also hope to meet you at our first annual Fight Laugh Feast Conference in Nashville, TN October 1st through the 3rd. Go to fightlaughfeast.com to sign up for our conference email list. Registration will be opening soon. Have a great Valentine's Day.