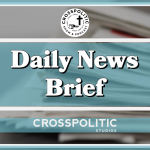 This is Toby Sumpter with your CrossPolitic Daily News Brief for Thursday, June 11, 2020.
In today's news brief you will hear how the World Health Organization is afraid of math, Steve Deace has colorful words to describe this problem, Communists are funding major American newspapers, and Heather Mac Donald actually does the math and police brutality barely exists. Plus some free and completely non-sarcastic commentary. 
The World Health Organization Walks Back Comments After Backlash
https://www.cnbc.com/2020/06/09/who-scrambles-to-clarify-comments-on-asymptomatic-coronavirus-spread-much-is-still-unknown.html
CNBC Reports: The World Health Organization walked back comments made Monday when one of its top scientists said transmission of the coronavirus by people who never developed symptoms is "very rare," which drew skepticism from physicians and others across social media. 
That admission sent shock waves throughout the world, much of which has been locked down for months for fear of spreading the virus by people who show no signs of illness. 
Dr. Maria Van Kerkhove, head of the WHO's emerging diseases and zoonosis unit, said Tuesday that asymptomatic spread is a "really complex question" and much is still unknown. "We don't actually have that answer yet," she said.
"I was responding to a question at the press conference. I wasn't stating a policy of WHO or anything like that. I was just trying to articulate what we know," she said on a live Q&A streamed across multiple social media platforms. "And in that, I used the phrase 'very rare,' and I think that that's misunderstanding to state that asymptomatic transmission globally is very rare. I was referring to a small subset of studies."
Studies show that about 16% of the population may be asymptomatic, she said. Some models developed by other scientists suggest as much as 40% of global transmission may be due to asymptomatic individuals, she said, clarifying her comments.
"Some estimates of around 40% of transmission may be due to asymptomatic, but those are from models, so I didn't include that in my answer yesterday, but wanted to make sure that I covered that here," Kerkhove said. 
The majority of transmission is from people who have symptoms and are spreading it through infectious droplets, she said. "But there are a subset of people who don't develop symptoms. To truly understand how many people don't have symptoms, we don't actually have that answer yet," she added.
An asymptomatic person is someone with Covid-19 who doesn't have symptoms and never develops symptoms. Both scientists clarified that it's not the same as someone who later develops symptoms, who would be classified as pre-symptomatic.
On Monday, WHO officials said asymptomatic people aren't driving the spread of the virus, casting doubt on concerns by some researchers that the disease could be difficult to contain due to asymptomatic infections.
"From the data we have, it still seems to be rare that an asymptomatic person actually transmits onward to a secondary individual," Kerkhove said at a news briefing Monday from the WHO's Geneva headquarters. "It's very rare."
Steve Deace Has Words
Our friend Steve Deace had these comments on this on his Facebook page Wednesday: 
Yes, I'm aware the World Health Organization is now walking back its "asymptomatic spread of coronavirus is rare" admission it made on Monday, and is now claiming up to 40% of infections are spread asymptomatically. 
Here's why that cannot possibly be true, and you don't need to be an immunologist, virologist, biologist, or anything else extraordinary to know that is complete and total BS. A runny turd with corns it. You just need to know 2+2 does not equal 498. 
See, every single serology study done on this planet has come back with anywhere from a 2-20% antibody rate within that community. And the vast majority of them acquired antibodies via community spread despite never showing any symptoms. Which also means far, far more people have had the virus asymptomatically than we originally knew about. 
Which also means it is not mathematically possible for 40% of coronavirus infections to occur asymptomatically, because if 40% of all those asymptomatic identified in all those antibody studies had infected others THE WHOLE FREAKING WORLD WOULD LOOK LIKE LOMBARDY, ITALY, AND NEW YORK CITY. And it doesn't. 
The WHO is either a scam or just plain sucks at this. I've seen a lot of panic porn the past few months, but this is perhaps the dumbest. It assumes you're all freaking morons, and can't do basic math. Then again, present company aside, millions of our fellow Americans have voted for Bernie "I don't need to know what my socialist plans cost" Sanders to be president the past two cycles. So maybe this will work after all.
Fight Laugh Feast Conference in Nashville October 1-3
Speaking of which: have you signed up for our first annual Fight Laugh Feast Conference in Nashville October 1st through 3rd? Rowdy Christian media meets the conference world – not for the faint of heart. We will kick the whole thing off with beer and psalm singing the first night, followed by a slate of speakers committed to driving the nails of the gospel into all of life including Douglas Wilson, George Grant, Rod Martin, Glenn Sunshine, yours truly, and more. The conference will conclude with a massive Fight Laugh Feast Network mashup, with representatives from all your favorite shows all on one show, fighting, laughing, and feasting. And then we really will feast together, with food trucks bringing in dinner to close out the conference. So please join us this October 1st through the 3rd as we build a rowdy Christian culture for God's glory and our good. Go to Fightlaughfeast dot com and register today.
Communist Controlled Newspaper Pays American Newspapers Nearly 19 Million
https://dailycaller.com/2020/06/08/chinese-propaganda-china-daily-washington-post/
Daily Caller reports: One of China's main propaganda outlets has paid American newspapers nearly $19 million for advertising and printing expenses over the past four years, according to documents filed with the Justice Department.
China Daily, an English-language newspaper controlled by the Chinese Communist Party, has paid more than $4.6 million to The Washington Post and nearly $6 million to The Wall Street Journal since November 2016, the records show.
Both newspapers have published paid supplements that China Daily produces called "China Watch." The inserts are designed to look like real news articles, though they often contain a pro-Beijing spin on contemporary news events.
One insert from September 2018 touted an initiative pushed by Chinese President Xi Jinping with the headline: "Belt and Road aligns with African nations." The same insert ran a story titled "Tariffs to take toll on U.S. homebuyers" that asserted that U.S. tariffs on Chinese lumber would raise the cost of building homes in the United States.
China Daily also paid for advertising in several other newspapers: The New York Times ($50,000), Foreign Policy ($240,000), The Des Moines Register ($34,600) and CQ-Roll Call ($76,000). It spent a total of $11,002,628 on advertising in U.S. newspapers, and another $265,822 on advertising with Twitter.
Don't worry. Nothing to see here. Nothing could go wrong. 
No Police Brutality Epidemic
https://www.wsj.com/articles/the-myth-of-systemic-police-racism-11591119883?mod=searchresults&page=1&pos=2
Heather Mac Donald: However sickening the video of Floyd's arrest, it isn't representative of the 375 million annual contacts that police officers have with civilians. A solid body of evidence finds no structural bias in the criminal-justice system with regard to arrests, prosecution or sentencing. Crime and suspect behavior, not race, determine most police actions.
In 2019 police officers fatally shot 1,004 people, most of whom were armed or otherwise dangerous. African-Americans were about a quarter of those killed by cops last year (235), a ratio that has remained stable since 2015. That share of black victims is less than what the black crime rate would predict, since police shootings are a function of how often officers encounter armed and violent suspects. In 2018, the latest year for which such data have been published, African-Americans made up 53% of known homicide offenders in the U.S. and commit about 60% of robberies, though they are 13% of the population. 
The police fatally shot nine unarmed blacks and 19 unarmed whites in 2019, according to a Washington Post database, down from 38 and 32, respectively, in 2015. The Post defines "unarmed" broadly to include such cases as a suspect in Newark, N.J., who had a loaded handgun in his car during a police chase. In 2018 there were 7,407 black homicide victims. Assuming a comparable number of victims last year, those nine unarmed black victims of police shootings represent 0.1% of all African-Americans killed in 2019. By contrast, a police officer is 18½ times more likely to be killed by a black male than an unarmed black male is to be killed by a police officer.
Let's add all of this together: the WHO doesn't know how to do math, the communists are paying our largest papers millions of dollars, and violent riots have been allowed to spiral out of control in many major cities destroying property and businesses for a comparably tiny problem, kind of like what happened last month with COVID-19. In fact, Antifa forces, calling themselves Free Capitol Hill have blocked off six blocks in Seattle they are calling the Autonomous Zone, including the East Precinct police station. Reports say that the area is being guarded by people who are fully armed. 
Meanwhile, COPS and Gone with the Wind have been cancelled, George Orwell got cut from Kindle, and the little kid show called Paw Patrol is apparently on the chopping block. For what? That .00000002 chance, that's 2-one hundred millionths chance that an unarmed black man might get killed by the police. Compare that to the .19 chance an unborn baby will be murdered before it sees the light of day, that's 186 unarmed babes put to death out of every 1000 live births. But if a Pro-Life organization took over a number of blocks surrounding an abortion clinic or Planned Parenthood, how would that we be treated? 
The point to underline here is that this is not rational. This is not coherent on any planet. This is delusional. And this is because God has sent delusions on our land and on our leaders. There is no cure for this madness except gospel revival. We are being overrun by madmen, demon-possessed men in the tombs, and only Jesus can heal this. But that isn't a Hail Mary. Jesus is our only hope. But Jesus is not far off. He is here. He sees all of this. And everything is going right according to schedule. Our job is to be faithful to Him and ready to move when He moves.
This is Toby Sumpter with Crosspolitic News. You can find this and all of our shows at Crosspolitic.com or Fightlaughfeast.com or on our app, which you can download at your favorite app store, just search "Fight Laugh Feast". Our app is the only way to get In the Bullpen with Mark Dewey. Support Rowdy Christian media, and become a Fight Laugh Feast Club Member, and for a limited time you can get your very own Fight Laugh Feast t-shirt and access to tons of content on Biblical Counseling, God and Government, End Times Eschatology (hint: we're not in them), Pastors and Politics, Proverbs with Me, and our very own Worldview Shotgun Series. You also get $100 off your registration for our first annual Fight Laugh Feast Conference, where we hope to meet many of you in Nashville, TN October 1st through the 3rd. Go to fightlaughfeast.com to register now. Have a great day. https://flfnetwork.com/coming-soon/