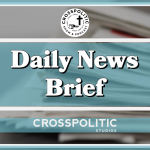 07/1/2020
This is Gabriel Rench with your CrossPolitic Daily News Brief for Wednesday, July 1st, 2020.
Narrative, narrative, narrative.
Our local news paper, can I call it a news paper?, placed my church's worship service on the front page. The headline read:
Christ Church service draws 1,000 people
https://dnews.com/coronavirus/christ-church-service-draws-1-000-people/article_7ecbcf3c-7ce6-5b8e-a5c3-f4bc43553e0e.html
Our church grew during the shutdown, by the kindness of God, and we have been holding in person worship services in our building since May 1st. Now this should not be controversial, nor should we as a society be this easily duped. The COVIDcraze has gone full political, and so we need to keep revisiting what is really going on. The predominant narrative is that the COVID is bad and you are an idiot if you don't follow CDC guidelines and state and local protocols (e.g. social distancing, wearing masks, etc…). And of course their are two questions that this whole debate really hinge on: The first question is, is this an abnormal pandemic with greater potential for nationwide death? And secondly, does social distancing, wearing masks, testing, broad quarantining really work? In other words, does the precautions in the shutdown really work? 
Let me start with the first question, because it really is the meaty question. Is this an abnormal pandemic with greater potential for nationwide death?
Well let's go back in time. In January, February, and March you had Nancy Pelosi, Bill Hot Dog De Blasio, Governor Andrew Cuomo all saying the COVID is a no biggie and encouraging everyone to go out, eat at restaurants, go to China Town, etc… up till about March 11th. And then everything changed with the liberals. They jumped on it, like a duck on a june bug. Now don't get me wrong. I think the government has some role to play in pandemics, but not even close to the draconian role they have played. A government that kills its babies and thinks men can be women, is in no condition to provide an accurate assessment of the COVIDcrisis. Now I believe the numbers are inflated for a variety of reasons, but lets just work with what we are given. To date New York has over 30,000 deaths reported due to the virus. The next closest state is New Jersey. Have you been hearing about that in the news? No. Texas and Florida are all over the news, and they have 2,468 and 3,505 respectively. Not even close to New York's numbers. And during the New York pandemic, Governor Cuomo had signed an executive order, literally ordering elderly patients back into their nursing homes. Seriously. He was launching viruses into the most vulnerable population in New York. But according to liberal media Cuomo saved New York.  
Our city council shut down our economy on March 25th with no COVID cases in our county, not just our city. Our governor shut down all of Idaho, instead of focusing on the vulnerable and elderly. Over 50% of COVID deaths in our state have come from elderly homes and long term care facilities, and 70% have been over the age of 70. This is what happens when you believe a false narrative, you end up not protecting the most vulnerable.
Those under 60 years old, getting the COVID puts rates in the range of the flu and H1N1. So get back to work, the only way to get things back to normal is to protect the elderly/vulnerable and get herd immunity with the rest of the population. Oh and stop reading dumb comment sections…that will help defeat the virus too.
Now just this past week, the CDC admitted that there are about 10 times more COVID cases than what we have been able to trace. 
https://www.washingtonpost.com/health/2020/06/25/coronavirus-cases-10-times-larger/
This just destroys the current morbidity rate numbers and brings the rates way down to something more like between the flu and H1N1. Yet everyone wants you to social distance, dont where a mask, don't go to church, but keep marching at BLM and LGBTQ+ protest. Because the COVID only spread from conservatives gathering. Just insane. 
Fight Laugh Feast Conference in Nashville October 1-3
We just had an incredible boost in registrations this month. Literally hundreds sign up! We extended the early registration deadline to July 31st, so don't lose your seat, sign up now! We are really excited to bring all our friends together for some good fellowship, Psalm singing, and to hear from some high octane speakers to the glory of God and to the good of His people. So, don't wait, sign up for our first annual Fight Laugh Feast Conference in Nashville October 1st through 3rd. Seating is limited. Go to Fightlaughfeast dot com and register today.
Cuomo, de Blasio wrong to limit worship services, condone mass protests: federal judge
https://www.foxnews.com/us/new-york-coronavirus-reopen-plan-church-synagogue
According to Fox News:
A federal judge said New York Gov. Andrew Cuomo, Attorney General Letitia James, and New York City Mayor Bill de Blasio "exceeded" their executive limits by limiting worship services and condoning mass protests as the state continues to reopen from coronavirus restrictions.

U.S. District Judge Gary L. Sharpe issued a preliminary injunction Friday on behalf of two Catholic priests — Steven Soos and Nicholas Stamos — and a trio of Orthodox Jewish congregants — Elchanan Perr, Daniel Schonborn, and Mayer Mayerfeld — in Brooklyn, represented by the Thomas More Society.

They filed the suit in the Northern District of New York after mass protests and looting occurred in the Big Apple following George Floyd's police-related death in May.

De Blasio had "simultaneous pro-protest/anti-religious gathering messages" when he "actively encouraged participation in protests and openly discouraged religious gatherings and threatened religious worshipers," Sharpe said in his federal order.

"Governor Cuomo and Mayor de Blasio could have just as easily discouraged protests, short of condemning their message, in the name of public health and exercised discretion to suspend enforcement for public safety reasons instead of encouraging what they knew was a flagrant disregard of the outdoor limits and social distancing rules," the judge added. "They could have also been silent. But by acting as they did, Governor Cuomo and Mayor de Blasio sent a clear message that mass protests are deserving of preferential treatment."
Largest Lutheran denomination in U.S. issues new guide arguing Bible supports full "LGBTQIA+" inclusion
https://disrn.com/news/largest-lutheran-denomination-in-us-issues-new-guide-arguing-bible-supports-full-lgbtqia-inclusion
According to Discrn.com:
The largest Lutheran denomination in the United States has published a new guide arguing the Bible supports full "LGBTQIA+" inclusion.

The guide, issued by the Evangelical Lutheran Church of America (ELCA), advocates for the complete "welcome, inclusion, and equity of LGBTQIA+ Lutherans in all aspects of the life of their Church."

The denomination claims that "each of us is a beloved child of God, perfectly and wonderfully made, just as we are."
Now the reason why I bring this article up, is because I don't want us to get the eye of the ball in 2020. 2020 has been a really crazy year, as we have already forgotten that Trump was Impeached in January. Ya that happened this year. But here is the reason why we are in the situation in the first place. The church has failed us. The church has gone insane. The church leaves Jesus first and then our country. The church was kicking kids out of worship services long before our culture was aborting children. The church was allowing women to preach in the pulpit long before women were fighting on the frontlines in our country's military battles. Pastors were cheating on their wives long before politicians were abandoning our constitutional principles and Christian roots. The church is the problem. The church is why 2020 is going insane. The church needs to repent like there is no tomorrow. 
So yes we are called to proclaim the gospel to our nation while simultaneously calling the church to repentance. As Christians we are called to a hoalistic gospel, which does not discriminate. Our nation needs to repent, our churches need to repent, and our husbands and wives need to repent. It is all connected and we need to be faithful at every level. 
This is Gabriel Rench with Crosspolitic News. Support Rowdy Christian media and join our club at fightlaughfeast.com. With your partnership, you will get a Fight Laugh Feast t-shirt, discount to our annual conference, and access to our Club portal. Our club portal includes episodes on Pastors in Politics, East Coast Tour content, God and Government, and backstage interviews with people like Voddie Baucham, Douglas Wilson, James White, Tom Ascol, Erick Erickson, and David French. You can find all our shows on our app, which you can download at your favorite app store, just search "Fight Laugh Feast". Lastly, we hope to meet you at our first annual Fight Laugh Feast Conference in Nashville, TN October 1st through the 3rd. Go to fightlaughfeast.com to register now. Have a great day. Lord bless