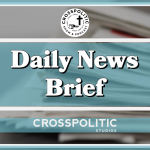 This is Toby Sumpter with your CrossPolitic Daily News Brief for Thursday, July 23, 2020.
Today you will hear about New York State targeting religious family services and the possible ramifications for a Supreme Court case coming up this Fall, Sen. Hawley is trying to get woke companies to stop using slave labor to produce their products, and China moves their consulate from Houston to the Dallas Mavericks Stadium… or something. 
A Big Win for Religious Liberty in the 2nd Circuit
http://www.adfmedia.org/News/PRDetail/10705
ADF Reports: The U.S. Court of Appeals for the 2nd Circuit issued a resounding victory Tuesday for New Hope Family Services, a faith-based adoption provider. The court reversed a district court's dismissal of New Hope's lawsuit against New York officials seeking to shut down the provider simply for its religious beliefs about marriage. In November, at the request of Alliance Defending Freedom attorneys representing New Hope, the 2nd Circuit temporarily halted state officials from interrupting current adoption placements or mandating the closure of New Hope's adoption program until the court had a chance to consider whether to reverse the federal district court's decision. The case now goes back to district court for further proceedings.

The New York State Office of Children and Family Services singled out the religious nonprofit for its policy prioritizing the placement of children it serves in homes with a married mother and father. In its decision in favor of New Hope, the 2nd Circuit concluded that the district court should not have dismissed the lawsuit because the adoption provider's arguments demonstrate that the government's regulation may not have been neutral and may instead have been "informed by hostility toward certain religious beliefs."

"Every child deserves a permanent home with loving parents," said ADF Vice President of Appellate Advocacy John Bursch. "As the 2nd Circuit rightly noted, 'The need for adoption services in New York, whether public or private, is undeniably great.' New Hope's faith-based services do nothing to interfere with other adoption providers, but banishing it means fewer kids will find permanent homes, fewer adoptive parents will ever welcome their new child, and fewer birth parents will enjoy the exceptional support that New Hope has offered for decades. Additionally, government officials are not being neutral when they single out religious organizations for hostile treatment based on their beliefs about marriage. That's a flagrant violation of the U.S. Constitution."

As the 2nd Circuit noted in its opinion in New Hope Family Services v. Poole, "The Supreme Court has declined to fault such religious views about marriage, observing that '[m]any who deem same-sex marriage to be wrong reach that conclusion based on decent and honorable religious or philosophical premises, and neither they nor their beliefs are disparaged here.' Indeed, the Court has suggested that differing secular and religious views in this area should be allowed to coexist. This is evident from the fact that, at the same time that the Court ruled that the Constitution does not permit government to prohibit same-sex marriage, it 'emphasized that religions, and those who adhere to religious doctrines, may continue to advocate with utmost, sincere conviction that, by divine precepts, same-sex marriage should not be condoned.'" [citations omitted]

New Hope operates as an adoption agency, temporary-foster-placement agency, and pregnancy resource center. The nonprofit accepts no government funding and, besides the fees paid by adoptive parents, funds its ministry through support from churches, individual donors, and private grants.

In the past, OCFS has praised New Hope for the quality of its services, but the state agency later changed course and singled out the nonprofit's policy regarding child placements. OCFS described the policy as "discriminatory and impermissible" despite the fact that New Hope respectfully refers couples to other providers and has faced no formal complaints from prospective parents due to the policy. OCFS provided an ultimatum that New Hope revise its policy or submit a close-out plan for its adoption program.

"It is plainly a serious step to order an authorized adoption agency such as New Hope—operating without complaint for 50 years, taking no government funding, successfully placing approximately 1,000 children, and with adoptions pending or being supervised—to close all its adoption operations," the 2nd Circuit wrote, adding that, moving forward, the district court must "take into account the best interests of the many children awaiting adoption in a State where they number far more than the persons willing to adopt them."
Becket Law Attorney Luke Goodrich praised the ruling on Twitter and noted, "The 2nd Circuit's decision is particularly important because it may foreshadow how the Supreme Court will resolve Fulton v. Philly, the big religious foster-care case now at SCOTUS."
https://www.becketlaw.org/case/sharonell-fulton-et-al-v-city-philadelphia/
On March 15, 2018, Philadelphia stopped allowing foster children to be placed with families who work with Catholic Social Services. The city is threatening to permanently terminate its contract with Catholic Social Services, unless Catholic Social Services abandons its longstanding religious beliefs and makes endorsements following the City's beliefs about marriage. But no family has ever filed a complaint against Catholic Social Services for following its Catholic mission, and Catholic Social Services' religious beliefs have never prevented a child from finding a home. Now, by cutting off Catholic Social Services, the city has made its foster care crisis even worse. Philadelphia has decided to prioritize political grandstanding over the needs of children.
On April 22, 2019, the Third Circuit denied Catholic Social Services' request for a preliminary injunction. In July 2019 Becket asked the Supreme Court to take up the case and on February 24, 2020, the Supreme Court agreed to review Fulton v. Philadelphia. Oral argument can be expected in the fall 2020.
Fight Laugh Feast Conference in Nashville October 1-3
Join us for the first annual Fight Laugh Feast Conference in Nashville, TN, October 1st through 3rd. We've put together a package that is full of feasting and psalm singing, hearty fellowship, and a line up of speakers committed to showing you how God's Word applies to politics, economics, business, education, creativity, marriage and family, and much more. So please join us this October 1st through the 3rd as we build a rowdy Christian culture for God's glory and our good. Go to Fightlaughfeast dot com and register today.
Senator Josh Hawley Introduces Bill to End Slave Labor
https://www.theamericanconservative.com/state-of-the-union/senator-josh-hawleys-bill-to-end-slave-labor/
Alberto Bufalino writes in the American Conservative: Multinational corporations have come to rely on social corporate activism, championing causes such as Black Lives Matter and Defund the Police. The very same companies demanding social progress within the U.S., however, rely on slavery and forced labor around the world. Starbucks, known for their activism, employs such practices in Brazil, with conditions so poor that the employees don't even have access to water.
Now, Senator Hawley is trying to stop this double standard with new legislation. The U.S. can be a world leader with the reform of global supply chains, helping to end slavery and forced labor across the world.
The Slave-Free Business Certification Act would require American corporations to disclose their supply chains and mandate that they never rely on forced or slave labor. Under this bill, corporations would be frequently audited and punished for failures to protect basic human rights.
According to a report published by the Australian Strategic Policy Institute, 83 major brands, including notable industry giants like Adidas, Nike, Amazon, BMW, and Samsung, have relied on forced labor from Uyghurs in the Chinese province of Xinjiang. This exploitation is not unique to China: worldwide there are around 40.3 million slaves, roughly equivalent to the population of California.
Child labor is still critical to worldwide supply chains. It's most prominent among agriculture and the cultivation of raw materials, such as mining. As documented by Human Rights Watch, "The International Labour Organization (ILO) estimates that 168 million children are involved in child labor globally, including 85 million who are engaged in hazardous work that jeopardizes their health or safety."
Supply chains are inextricably tied to exploitation abroad. The Global Slavery Index estimates that "G20 countries are importing risk of modern slavery on a massive scale. Collectively, G20 countries are importing US$354 billion worth of at-risk products annually."
China Gets the Boot from Houston, TX
https://www.khou.com/article/news/local/chinese-consulate-houston-eviction-notice-fire-reported/285-b9902c83-09af-4bc3-92e0-9b98d0f4065c
"We have directed the closure of PRC Consulate General Houston, in order to protect American intellectual property and American's private information," stated State Department Spokesperson Morgan Ortagus early Wednesday.
The New York Times reported that the Chinese government issued a warning that it would retaliate for the closure.
After the order was issued, neighbors said someone at the consulate was burning documents in an outdoor courtyard area Tuesday night in what appeared to be trash cans.
Firefighters responded to the consulate, located in Houston's Montrose neighborhood, but weren't allowed on the property. Due to an international agreement, they could not enter the premises without consent unless there was a threat to health and safety.
A source told KHOU 11 the consulate is being evicted by 4 p.m. Friday. A Chinese foreign ministry spokesperson said the U.S. had demanded Tuesday the consulate cease operations. He said that China strongly condemns "such an outrageous and unjustified move that will sabotage China-US relations."
But the State Department said consulates must respect American laws and not interfere in internal affairs:
"The Vienna Convention states diplomats must 'respect the laws and regulations of the receiving State' and 'have a duty not to interfere in the internal affairs of that State.' The United States will not tolerate the PRC's violations of our sovereignty and intimidation of our people, just as we have not tolerated the PRC's unfair trade practices, theft of American jobs, and other egregious behavior. President Trump insists on fairness and reciprocity in U.S.-China relations," stated Ortagus on Wednesday.
https://www.chron.com/news/houston-texas/article/Ted-Cruz-Marco-Rubio-John-Cornyn-share-strong-15426185.php
In a tweet alluding to Sunday's social media scuffle between Cruz and Dallas Mavericks' owner Mark Cuban over players kneeling during the anthem, one Twitter user posted, "Everyone needs to calm down. The Chinese are just moving to their new consulate in Dallas." "Fair Point," Cruz tweeted, retweeting a picture of the Dallas Mavericks stadium.
"China's consulate in Houston is not a diplomatic facility. It is the central node of the Communist Party's vast network of spies & influence operations in the United States," Marco Rubio said in the first of two tweets Wednesday. "Now that building must close & the spies have 72 hours to leave or face arrest. This needed to happen."
"Houston consulate is a massive spy center, forcing it to close is long overdue," Rubio said in the second tweet.
The State Department said in a statement that the closure was in response to repeated Chinese violations of American sovereignty, including "massive illegal spying and influence operations," according to the New York Times.
This is Toby Sumpter with Crosspolitic News. You can find this and all of our shows at Crosspolitic.com or on our app, which you can download at your favorite app store, just search "Fight Laugh Feast". Our app is the only way to get In the Bullpen with Mark Dewey. Support Rowdy Christian media, and become a Fight Laugh Feast Club Member, and for a limited time you can get your very own Fight Laugh Feast t-shirt and access to tons of extended discussions with Sho Baraka, David French, Erick Erickson, Maj Toure, Biblical Parenting with Doug and Nancy Wilson, God and Government and End Times Eschatology with Gary Demar, Pastors and Politics with George Grant and C.R. Wiley and more, Proverbs with Me, and our very own Worldview Shotgun Series. You also get $100 off your registration for our first annual Fight Laugh Feast Conference, where we hope to meet many of you in Nashville, TN October 1st through the 3rd. Go to fightlaughfeast.com to register now. Have a great day. https://flfnetwork.com/coming-soon/