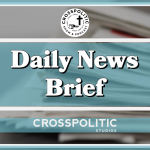 This is Toby Sumpter with your CrossPolitic Daily News Brief for Tuesday, July 7, 2020.
In today's news brief you will hear about a federal judge pushing back against New York Covid tyranny, the Supreme Court comes together on a decision for likely very different reasons, and Epstein's former mistress is behind bars and apparently on suicide watch.  
Federal Judge Rules Against Cuomo
https://www.law.com/newyorklawjournal/2020/06/26/federal-judge-rules-against-new-yorks-outdoor-gathering-restrictions/?slreturn=20200606162734
Last Friday, US District Judge Gary Sharpe ordered New York officials not to enforce any outdoor gathering limitations, if people are following social distancing requirements. According to his order, the officials are also prevented from enforcing indoor gathering limits against the plaintiffs that are greater than the restrictions placed on companies in phase two of the state's reopening plan. 
The order is tied to a case filed earlier this month by two priests and three Orthodox Jewish residents of Brooklyn. The lawsuit, filed in the Northern District of New York, listed Gov. Andrew Cuomo, state Attorney General Letitia James and New York City Mayor Bill de Blasio as defendants.
The lawsuit argued that social-distancing rules are not neutral policy but instead a "content-based regulation of First Amendment-protected activity." The litigation argued that while the defendants imposed strict gathering limits for some activities and groups, they permitted large protests over the death of George Floyd and the killing of Black Americans by police.
Limiting the size of synagogue congregations or mandating "drive-in" services for congregants unduly burdened the plaintiffs' religious beliefs, the suit said, arguing the mass demonstrations were "exempted" from such restrictions.
In his decision on Friday, Sharpe said the wide limits on executive latitude were exceeded.
"It is not the judiciary's role to second guess the likes of Governor Cuomo or Mayor de Blasio when it comes to decisions they make in such troubling times, that is, until those decisions result in the curtailment of fundamental rights without compelling justification," he wrote. He also noted that New York, at the moment, is well situated when it comes to the coronavirus infection rate.
His order states that offices and certain retail shopping operations were allowed to open in phase two at 50% capacity, but houses of worship are beholden to a lower indoor capacity standard.
Sharpe also pointed to comments from Cuomo in which he publicly expressed support for the protests. De Blasio has made similar comments too.
Cuomo and de Blasio, high-profile leaders in the state, could have just discouraged the protests by citing public health and stopped short of condemning their message, Sharpe wrote.
Instead of encouraging a "flagrant disregard of the outdoor limits and social distancing rules," the leaders could have used discretion to suspend enforcement for public safety, he wrote.
"They could have also been silent. But by acting as they did, Governor Cuomo and Mayor de Blasio sent a clear message that mass protests are deserving of preferential treatment," Sharpe wrote.
New York has permitted in-person graduation ceremonies too, if they are outdoors and have no more than 150 people, something that's an exception from limits on outdoor gatherings, according to the ruling. 
"There is nothing materially different about a graduation ceremony and a religious gathering such that defendants' justifications for a difference in treatment can be found compelling," Sharpe wrote.
Thoughtful, courageous Christians need to be pushing back against obnoxious and capricious laws. Courts are a legitimate check on administrative bloat. 
Fight Laugh Feast Conference in Nashville October 1-3
Won't you join us for the first annual Fight Laugh Feast Conference in Nashville October 1st through 3rd? Rowdy Christian media meets the conference world – not for the faint of heart. Come sing psalms, get punched in the gut with talks covering a range of topics from education to politics to history to economics and creativity. The conference will conclude with a massive Fight Laugh Feast Network mashup, with representatives from all your favorite shows all on one show, fighting, laughing, and feasting. And then we really will feast together, with food trucks bringing in dinner to close out the conference. So please join us this October 1st through the 3rd as we build a rowdy Christian culture for God's glory and our good. Go to Fightlaughfeast dot com and register today.
Supreme Court Rules that States Can Penalize Rogue Electors
https://www.cnn.com/2020/07/06/politics/faithless-electors-supreme-court/index.html
CNN reports: The Supreme Court said Monday that states can punish members of the Electoral College who break a pledge to vote for a state's popular vote winner in presidential elections, in a unanimous decision 9-0. The case comes as the election season is heating up, putting the Electoral College once again front and center in an increasingly polarized and volatile political atmosphere.
In 2016, 10 of the 538 presidential electors went rogue, attempting to vote for someone other than their pledged candidate. In all, 32 states and the District of Columbia have laws that are meant to discourage faithless electors. But until 2016, no state had ever actually punished or removed an elector because of his or her vote.
"Today, we consider whether a State may also penalize an elector for breaking his pledge and voting for someone other than the presidential candidate who won his State's popular vote. We hold that a State may do so," Justice Elena Kagan wrote. 
"The Constitution's text and the Nation's history both support allowing a State to enforce an elector's pledge to support his party's nominee — and the state voters' choice — for President," she added.
Three presidential electors in Washington state, for example, voted for Colin Powell in 2016 rather than Hillary Clinton and one voted for anti-Keystone XL pipeline protester Faith Spotted Eagle. A $1,000 fine was upheld by the state Supreme Court. 
During oral arguments, Frodo Baggins, a hobbit from the "Lord of the Rings" trilogy, became a part of the court's historical record. In a line of hypothetical questioning, Justice Clarence Thomas used Baggins as a case study. 
"The elector who had promised to vote for the winning candidate could suddenly say, 'You know, I'm going to vote for Frodo Baggins. I really like Frodo Baggins.' And you're saying, under your system, you can't do anything about that," Thomas asked Baca's attorney, Jason Harrow. 
"Your honor, I think there is something to be done, because that would be a vote for a non-person. No matter how big a fan many people are of Frodo Baggins," Harrow said.
In the opinion, Kagan walked through the history of the Electoral College, referencing the presidential election in 1796 in which John Adams came in first among the candidates and Thomas Jefferson second.
Thomas agreed with Kagan, writing that "nothing in the Constitution prevents States from requiring Presidential electors to vote for the candidate chosen by the people."
There is an elector for every member of the House of Representatives, the Senate plus an additional three for people who live in the District of Columbia. It takes 270 votes to get a majority of the Electoral College. If there is a tie or nobody gets to the majority, then the election goes to the House of Representatives. 
"This has become a big deal because there is a large risk that for the third time in this century, the popular vote winner and the electoral vote winner will be different people," said Reed W. Hundt, who runs a foundation called Making Every Vote Count. 
To Lawrence Lessig, a Harvard Law professor behind the challenges, it was clear that while the state has the power to appoint a slate of presidential electors who are members of the same party as the ticket that wins the popular vote, those electors, once appointed, can cast their votes however they like. 
He argued that if the court allowed states to step in to penalize the electors, it could have unexpected consequences. For instance, a state might feel free to take more drastic steps, including passing laws to bar an elector to vote for a candidate who has not released a copy of their tax returns. 
Washington state Attorney General Robert Ferguson told the justices that since the creation of the Electoral College, there have only been 165 faithless electors representing less than 1% of the Electoral College votes cast for president. Of those, 71 changed their vote in 1872 and 1912 because the candidate they pledged their vote for died. 
"The scattered examples that remain have been largely symbolic gestures with no chance of impacting results," Ferguson said, adding that "over the last century, no elector for a winning presidential candidate has switched votes to the losing candidate."
Here we have a situation where conservatives and progressives on the court likely agreed on the decision but for very different reasons. The progressive bent has been toward a more raw form of democracy, away from the electoral college. But conservatives like Thomas are no doubt interpreting the Tenth Amendment faithfully, and in the absence of any explicit directions in the rest of the Federal Constitution, States are free to do as they wish. 
It should also be noted that while some headlines read that States *must* punish faithless electors, that isn't what the Supreme Court decided at all. It merely said that States may do as they please. 
Ghislaine Maxwell On Suicide Watch Behind Bars
https://www.foxnews.com/us/jeffrey-epsteins-confidant-ghislaine-maxwell-arrested-in-new-hampshire-fbi-says
Fox News reports: Jeffrey Epstein's confidant Ghislaine Maxwell appeared virtually before a federal magistrate Thursday afternoon and waived her right to a detention hearing in New Hampshire, clearing the way for her transfer to New York, where she is expected to be temporarily detained.
Maxwell was arrested Thursday morning on multiple sex-abuse charges, including conspiracy to entice minors to engage in sexual acts.
Maxwell, the daughter of late British media magnate Robert Maxwell, has been accused in civil court filings of facilitating a sex-trafficking operation that brought girls — some as young as 14 — to Epstein's Manhattan home, though until Thursday she had not been formally charged with any criminal wrongdoing.
According to unsealed court documents, criminal prosecutors have charged her with one count of conspiracy to entice minors to travel to engage in illegal sex acts, one count of enticement of a minor to travel to engage in illegal sex acts, one count of conspiracy to transport minors with intent to engage in criminal sexual activity and two counts of perjury. If convicted on the charges, Maxwell would face up to 35 years in prison.
Between 1994-1997, prosecutors allege Maxwell "assisted, facilitated, and contributed to Jeffrey Epstein's abuse of minor girls by, among other things, helping Epstein to recruit, groom, and ultimately abuse victims known to Maxwell and Epstein to be under the age of 18."
They added, "Moreover, in an effort to conceal her crimes, Maxwell repeatedly lied when questioned about her conduct, including in relation to some of the minor victims… when providing testimony under oath in 2016."
Epstein, 66, faced sex-trafficking charges at the time of his death last year and was awaiting trial in a case that, if convicted, could have put him behind bars for several years. While the victims of Epstein's crimes certainly deserve justice, the real intrigue of this saga has been the host of famous names tied to Epstein, including President Trump, former President Bill Clinton, Prince Andrew and Harvard Law professor emeritus and former Epstein attorney Alan Dershowitz. The men have all pushed back on claims they engaged in illegal acts with the women, but many people believe that Epstein and perhaps Maxwell have a lot of dirt on some of the most powerful men in the world. 
Epstein died under suspicious circumstances in a New York prison, and Spencer Kuvin, who represents Epstein's victims in Florida said he believes that Maxwell will take her own life or somehow be silenced by powerful people, "It may be that she can't handle the fear of what's going to happen to her and takes matters into her own hands or there will be people who are very afraid of what she has to say," Kuvin said. 
Only time will tell. 
This is Toby Sumpter with Crosspolitic News. You can find this and all of our shows at Crosspolitic.com or on our app, which you can download at your favorite app store, just search "Fight Laugh Feast". Our app is the only way to get In the Bullpen with Mark Dewey. Support Rowdy Christian media, and become a Fight Laugh Feast Club Member, and for a limited time you can get your very own Fight Laugh Feast t-shirt and access to tons of extended discussions with Sho Baraka, David French, Erick Erickson, Maj Toure, Biblical Parenting with Doug and Nancy Wilson, God and Government and End Times Eschatology with Gary Demar, Pastors and Politics with George Grant and C.R. Wiley and more, Proverbs with Me, and our very own Worldview Shotgun Series. You also get $100 off your registration for our first annual Fight Laugh Feast Conference, where we hope to meet many of you in Nashville, TN October 1st through the 3rd. Go to fightlaughfeast.com to register now. Have a great day. https://flfnetwork.com/coming-soon/