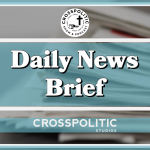 This is Toby Sumpter with your CrossPolitic Daily News Brief for Tuesday, June 30, 2020.
In today's news brief you will hear how Chief Justice John Roberts is a eunuch, Black Lives Matter is full on White Supremacist, and Mississippi is preparing a sacrifice to the gods. 
John Roberts Still Can't Find His Man Parts
https://www.npr.org/2020/06/29/874458692/supreme-court-hands-abortion-rights-a-victory-in-louisiana-case
NPR: A sharply divided U.S. Supreme Court on Monday stood by its most recent abortion precedent. Chief Justice John Roberts joined the court's four liberals, citing the Supreme Court's adherence to precedent, to invalidate a Louisiana law that required doctors at clinics that perform abortions to have admitting privileges at a nearby hospital.
Louisiana's law is virtually identical to one struck down by the court in 2016, which found that the admitting-privileges law in Texas was medically unnecessary and that it significantly limited access to abortion. 
But since then the composition of the court has changed significantly, and abortion opponents had high hopes that the new conservative majority would reverse course. Roberts, who dissented from the 2016 decision, apparently decided, however, that the value of abiding by precedent was more important.
In his concurring opinion, Roberts wrote that "The legal doctrine of stare decisis requires us, absent special circumstances, to treat like cases alike. The Louisiana law imposes a burden on access to abortion just as severe as that imposed by the Texas law, for the same reasons."
Writing for the plurality, Justice Stephen Breyer said the Louisiana law "would place substantial obstacles in the path of women seeking an abortion" in the state, that it offers "no significant health-related benefits," and that the law "consequently imposes an "undue burden" on a woman's constitutional right to choose to have an abortion," and therefore violates the Constitution.
In a dissenting opinion, Justice Clarence Thomas wrote that, "Our abortion precedents are grievously wrong and should be overruled," and that the high court has "neither jurisdiction nor constitutional authority to declare Louisiana's duly enacted law unconstitutional."
A liberal watch dog at Vox was not so impressed by Weasel Roberts: 
https://www.vox.com/2020/6/29/21306895/supreme-court-abortion-chief-justice-john-roberts-stephen-breyer-june-medical-russo
The best reading of the Court's decision in June Medical Services v. Russo is that Roberts just gave the constitutional right to an abortion a very brief stint on life support. And he did so largely because Louisiana presented the weakest possible case in June Medical.
As Justice Stephen Breyer notes in his plurality opinion, June Medical involves a Louisiana law that is "almost word-for-word identical" to a Texas law the Supreme Court struck down four years ago in Whole Woman's Health v. Hellerstedt (2016). Both laws require abortion providers to obtain admitting privileges at a hospital near the clinic where they perform abortions in order to continue to provide them — a credential that is very difficult for abortion providers to obtain and that does little or nothing to improve health outcomes.
The Court voted 4-1-4, with Justice Stephen Breyer writing a plurality opinion for himself and his three liberal colleagues, and Roberts writing a separate opinion emphasizing the narrowness of his approach to this case.
Only one thing has changed between June Medical and Whole Woman's Health. Justice Anthony Kennedy, a relatively moderate conservative who cast the key fifth vote to strike down the Texas law, is no longer on the Court. And his replacement, Justice Brett Kavanaugh, opposes abortion rights. Kavanaugh dissented in June Medical.
So abortion opponents apparently bet that the replacement of Kennedy with Kavanaugh would allow them to litigate Whole Woman's Health all over again — but with a different result. They bet wrong.
The fact that June Medical is almost entirely identical to Whole Woman's Health forms the basis of Roberts's opinion. "I joined the dissent in Whole Woman's Health and continue to believe that the case was wrongly decided," the Chief Justice writes. Nevertheless, "the question today however is not whether Whole Woman's Health was right or wrong, but whether to adhere to it in deciding the present case."
Ultimately, Roberts concludes that the principle of stare decisis — the doctrine that courts should generally be bound by their prior decisions — compels him to strike down Louisiana's law. "The result in this case is controlled by our decision four years ago invalidating a nearly identical Texas law," Roberts concludes.
Vox writer fears that Roberts' opinion is laden with hints that, in a future case, he is likely to vote to restrict — or even eliminate — the constitutional right to an abortion.
Roberts opens his opinion by declaring that he still believes that Whole Woman's Health was "wrongly decided." He notes that "neither party has asked us to reassess the constitutional validity of" of the Court's seminal abortion rights decision in Planned Parenthood v. Casey(1992) — a hint that, if future litigants directly attack Casey, Roberts will welcome such a challenge. And he spends as much of his opinion attacking Breyer's approach to this case as he does explaining why he reluctantly voted to honor stare decisis.
Whole Woman's Health, Roberts notes, states that "the rule announced in Casey . . . requires that courts consider the burdens a law imposes on abortion access together with the benefits those laws confer." But balancing these burdens against these benefits, Roberts suggests, is entirely beyond the capacity of the judiciary.
But this Vox writer is fear mongering to his liberal base. Remember this is the same Roberts who only recently sided with the liberal justices, insisting that California and other states must be free from Federal interference when states make restrictions based on compelling health concerns. Now here comes a state claiming a compelling health concern, and Roberts claims precedent compels him to vote against himself. What this is, ladies and gentlemen, is what is known as sophistry, playing with words, heaping up empty arguments.  
Fight Laugh Feast Conference in Nashville October 1-3
Which is why you should join us for the first annual Fight Laugh Feast Conference in Nashville October 1st through 3rd. Rowdy Christian media meets the conference world – not for the faint of heart. We think it will be like a steamroller running over butter. Psalm singing, punch you in the gut talks covering a range of topics from education to politics to history to economics and creativity. The conference will conclude with a massive Fight Laugh Feast Network mashup, with representatives from all your favorite shows all on one show, fighting, laughing, and feasting. And then we really will feast together, with food trucks bringing in dinner to close out the conference. So please join us this October 1st through the 3rd as we build a rowdy Christian culture for God's glory and our good. Go to Fightlaughfeast dot com and register today.
Black Lives Matter Goes Full White Supremacist
https://disrn.com/news/video-white-blm-protester-calls-black-cop-n-word-to-his-face
Adam Ford reports over at Disrn: As protests escalated in Washington, D.C. Monday, a white Black Lives Matter protester was filmed brutally harassing and taunting a black officer — and calling him the N-word to his face.
Now whether or not this is representative of Black Lives Matter or not, I would like to take this opportunity to point out that that BLM really is full tilt white supremacist in other respects. First, the head honchos of the organization are self-consciously Marxists. And Marxism is materialistic – everything is reduced to matter, which means that Darwin was right, and therefore racism is perfectly acceptable. And besides Marxism is just one of the whitest, most elitist ideas dreamed up by fallen man. 
But we can add to that all of the other leftist dreams going back to FDR's New Deal and the advent of Social Security and the Welfare State that belittled black men, then we have Roe vs. Wade that has crushed millions of black babies, all the way down to the most recent Bostock decision that has effectively erased black women. All coming at you from the lefty revolution, currently led by Black Lives Matter, which translated apparently means Black Lives Don't Matter At All, You Naive Idiots. 
Mississippi Moving Forward with a Sacrifice to the Raging Gods 
https://thehill.com/homenews/state-watch/504862-mississippi-state-house-votes-to-move-forward-with-flag-changing
The Hill reports: The Mississippi state House advanced legislation to change the Magnolia State's flag, the last in the country to still include the stars and bars of the Confederacy.
The resolution would establish a commission to redesign the flag, with the goal of removing the Confederate battle emblem. The resolution is the first legislative effort to change the flag since a 2001 voter initiative was batted down by a nearly 2-1 margin. 
The flag was adopted in 1894 by white lawmakers and is the last in the nation to include the Confederate emblem.
Mississippi Gov. Tate Reeves (R) on Saturday for the first time came out in support of the bill after first saying that a flag change should be left up to the voters.
"The legislature has been deadlocked for days as it considers a new state flag," he wrote in a Facebook post. "The argument over the 1894 flag has become as divisive as the flag itself and it's time to end it. If they send me a bill this weekend, I will sign it." 
"For economic prosperity and for a better future for my kids and yours, we must find a way to come together. To heal our wounds, to forgive, to resolve that the page has been turned, to trust each other. With Zeus's help, we can," he added. 
The state has received a flood of criticism over its flag amid widespread protests for racial justice following the police killings of George Floyd and other Black Americans. 
What is just about removing ancient landmarks? How is giving in to the demands of violent protestors helpful to anyone? The god of mob justice is blood thirsty and not so easily appeased. The only thing this sacrifice will serve to do is demonstrate that demands can be met in weekend if you only shriek loud enough. 
This is Toby Sumpter with Crosspolitic News. You can find this and all of our shows at Crosspolitic.com or Fightlaughfeast.com or on our app, which you can download at your favorite app store, just search "Fight Laugh Feast". Our app is the only way to get In the Bullpen with Mark Dewey. Support Rowdy Christian media, and become a Fight Laugh Feast Club Member, and for a limited time you can get your very own Fight Laugh Feast t-shirt and access to tons of content on Biblical Counseling, God and Government, End Times Eschatology (hint: we're not in them), Pastors and Politics, Proverbs with Me, and our very own Worldview Shotgun Series. You also get $100 off your registration for our first annual Fight Laugh Feast Conference, where we hope to meet many of you in Nashville, TN October 1st through the 3rd. Go to fightlaughfeast.com to register now. Have a great day. https://flfnetwork.com/coming-soon/