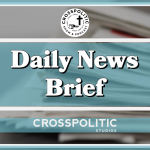 This is Toby Sumpter with your CrossPolitic Daily News Brief for Tuesday, June 9, 2020.
In today's news brief you will hear who has been charged in the murder of retired St. Louis Police Captain David Dorn, how the New York Times arranged for the resignation of an opinion editor for publishing the opinions of a sitting Republican senator from Arkansas, and Minneapolis city council announces it will disband the Minneapolis City police department. 
Man Charged in Officer Dorn Murder
KMOV reports: "A man has been charged with the murder of retired St. Louis Police Captain David Dorn five days after a handful of looters broke into a pawn shop in north St. Louis and ended the night with a tragic loss to the St. Louis community.
Officials with the St. Louis Circuit Attorney's Office said 24-year-old Stephan Cannon was charged with first-degree murder for the death of Dorn. The shooting happened at Lee's Pawn and Jewelry on June 2 after a night of looting and violent rioting in St. Louis. 
Police said Dorn was found shot multiple times.
"[Dorn] was murdered by looters at a pawn shop. He was the type of brother that would've given his life to save them if he had to," the Ethical Society of Police of St. Louis wrote after the murder. "Violence is not the answer, whether it's a citizen or officer."
Cannon was also charged with robbery, burglary, armed criminal action and unlawful possession of a firearm.
According to charging documents, Cannon and other people can be seen on surveillance video leaving a Pontiac G6 just outside the pawn shop and then going in the store and grabbing several televisions. At some point, Cannon was the only one standing at a corner outside the store and then Dorn arrived. Police said video shows Cannon pointing the gun at Dorn and then Dorn is seen falling to the ground. 
Witnesses told police someone yelled to the people inside the store and told them it's time to leave after shots were fired. Police found several 9mm shell casings at the corner. 
Cannon, the driver and another person got inside the G6 and left the area. 
Police said Cannon admitted he cut his hair to change his appearance after seeing surveillance video released by police.
An eyewitness identified Cannon to police and officers found a television taken from the pawn shop at his home at the time of his arrest. Police said Cannon has a criminal history and is a felon. 
"David Dorn was a fine captain, many of us young officers looked up to him," St. Louis Police Chief John Hayden said.
Dorn spent 38 years with the St. Louis Metropolitan Police Department before becoming the police chief in Moline Acres.
The St. Louis Circuit Attorney's Office said no bond was allowed. Circuit Attorney Kimberly Gardner said her office began an extensive investigation and with collaboration with the police department and the "outraged community, we have issued charges for the tragic murder of former Captain David Dorn."
Officers also arrested 27-year-old Jimmie Robinson. He was charged with burglary, armed criminal action and stealing. His bond was set at $30,000 cash only. 
What the news story doesn't say is that both suspects charged are black men. Does that matter? Well, yes and no. On the one hand, it doesn't matter because sin doesn't discriminate between melanin levels. But it sort of does matter since the media and certain culture manipulators seem to care when white cops abuse their authority killing people with less melanin in their skin. Now, is there a history of violence and prejudice among whites against blacks? Yes, in many places in our country. But is there any history of violence and bloodshed among blacks? Absolutely, as in this case. The point being that despite real racial animosity in some quarters, the deeper problem is the race of Adam and sin, that afflicts all nations and tribes, and is an equal opportunity offender. And only the blood of Christ can heal these wounds.  
Fight Laugh Feast Conference in Nashville October 1-3
Speaking of which: have you signed up for our first annual Fight Laugh Feast Conference in Nashville October 1st through 3rd? Rowdy Christian media meets the conference world – not for the faint of heart. We will kick the whole thing off with beer and psalm singing the first night, followed by a slate of speakers committed to driving the nails of the gospel into all of life including Douglas Wilson, George Grant, Rod Martin, Glenn Sunshine, yours truly, and more. The conference will conclude with a massive Fight Laugh Feast Network mashup, with representatives from all your favorite shows all on one show, fighting, laughing, and feasting. And then we really will feast together, with food trucks bringing in dinner to close out the conference. So please join us this October 1st through the 3rd as we build a rowdy Christian culture for God's glory and our good. Go to Fightlaughfeast dot com and register today.
Next up: What's the opposite of rowdy Christian media? The New York Times https://www.politico.com/news/2020/06/07/nyt-opinion-bennet-resigns-cotton-op-ed-306317
The New York Times announced on Sunday that its editorial page editor had resigned after backlash from the public and the company's own employees over a Republican senator's op-ed that called for using military force against recent rioters.
The Wednesday opinion piece by Sen. Tom Cotton (R-Ark.), titled "Send the Troops In," advocated for deploying the military for riots. The senator described looting in New York City as "carnivals for the thrill-seeking rich as well as other criminal elements," and wrote that leftist antifa movement had infiltrated protest marches — which an earlier Times article had called misinformation.
The column immediately drew backlash, with dozens of Times journalists voicing their opposition, tweeting the headline, caption and a form of the phrase "Running this puts Black @NYTimes staff in danger."
Nikole Hannah-Jones, who recently won a Pulitzer prize for the 1619 Project, which examines the legacy of slavery in America, tweeted: "I'll probably get in trouble for this, but to not say something would be immoral. As a black woman, as a journalist, I am deeply ashamed that we ran this." Nikole Hannah-Jones was also recently in the news arguing that it isn't violence if vandalism is committed against property that can be replaced. So one wonders: how does publishing someone's opinion put anybody in danger? It certainly can't be violence can it? 
https://www.theamericanconservative.com/dreher/
Rod Dreher pointed out that this same newspaper published a book review that fantasized about assassinating President Trump. 
Double standard, much? The New York Times publisher insisted in a statement that this was not a signal that the paper was narrowing opinions allowed to be published. Which Dreher called, and I quote, with full approval, "total horsesh*t."
Both Sulzberger and Bennet first defended the decision to run the column. Bennet wrote in an essay that "debating influential ideas openly, rather than letting them go unchallenged, is far more likely to help society reach the right answers."
But on Thursday evening, the Times reversed itself and said the column had not met editorial standards. The Times reported that Bennet said in a meeting with staff members that he had not read the essay before it was published. And the paper added an editor's note to the top of the original column.
"We've examined the piece and the process leading up to its publication," said Eileen Murphy, a Times spokeswoman. "This review made clear that a rushed editorial process led to the publication of an op-ed that did not meet our standards. As a result, we're planning to examine both short-term and long-term changes, to include expanding our fact-checking operation and reducing the number of op-eds we publish."
The Daily Beast reported that top editors apologized to Times staff in a long, tense internal meeting, acknowledging that Cotton had been invited to write the column. Bennet said he was sorry for "the pain that this particular piece has caused."
President Donald Trump quickly weighed in on Bennet's resignation: "Opinion Editor at @nytimes just walked out," he wrote on Twitter. "That's right, he quit over the excellent Op-Ed penned by our great Senator @TomCottonAR. TRANSPARENCY! The State of Arkansas is very proud of Tom. The New York Times is Fake News!!!"
A short while later, Cotton retweeted the president and took offense at media headlines asserting that he had called for military force against protesters. 
"This is false and offensive," he tweeted. "I called for using military force as a backup — only if police are overwhelmed — to stop riots, not to be used against protesters. If @nytimes has any decency left, they should retract this smear."
The Sunday announcement from the Times came a day after Stan Wischnowski, the top editor of The Philadelphia Inquirer, said he would resign following criticism for publishing the headline "Buildings Matter, Too" as civil unrest grew over George Floyd's death. The controversy led to a public apology, and dozens of the paper's journalists of color called in "sick and tired of not being heard."
But clearly the problem is not that certain journalists are not being heard. The problem is that only certain voices are allowed to be heard. Other journalists had the audacity to point out that lack of a true diversity of voices, including Republican ones, is a shift from the long time goal of journalistic objectivity. What is reality? What is truth? Isn't that what journalism is all about?
I'm not at all enthusiastic about calling in the military, but when retired police captains are being murdered in cold blood in the streets during rioting, I don't think that's an insane idea. I don't want the military to be called in, but I think Senators are entitled to that opinion. 
But apparently, it's perfectly fine to have the opposite opinion: Nine members of Minneapolis's City Council—a veto-proof majority—announced their intention to "disband" the city's police department, vowing to replace it with a "new model of public safety."
Calls for Defunding & Disbanding Police Forces Spread
https://www.cnn.com/2020/06/07/us/george-floyd-protests-sunday/index.html
So what does that mean exactly? Well, no one really knows. Some proposals focus on increasing funding for social workers and community programs and peace circles, while others call for the complete abolition of police departments. 
But the idea is spreading: DC Mayor Muriel Bowser had "Black Lives Matter" painted onto 16th Street just down from the White House in Washington DC. Over the weekend, protestors added an equals sign and the words "DEFUND THE POLICE." 
Will Lloyd at the Spectator reports: "Many Americans, let alone conservatives, would probably have scoffed at Mariame Kaba until a few weeks ago. An activist and organizer, Kaba is representative of the theorists who have been laying the groundwork for police abolition for years. In Chicago, where she arrived for graduate school in 1995, Kaba was the leading voice of the abolition movement there for over two decades. She told an interviewer that when she first arrived 'there were no abolitionist organizations in the city'. By the early 2000s, Incite! an activist group founded by Kaba, began to host national conferences that brought together intellectuals and organizers — including Angela Davis — to work out what abolitionist ideas would mean in practice. Kaba wants both police and prisons abolished. 'Abolition is not about changing one thing,' she says. 'It's about changing everything, together.'
Why focus on Kaba, who appears to have walked, fully-formed, out of the pages of a Tom Wolfe novel? It's because ideas that activists like her have been producing are the ones being picked up by the Atlantic, the New York Times, Vox and TIME magazine, in the wake of George Floyd's killing. What would Kaba's post-prison, post-cop world look like? Kaba advocates restorative justice. She explained the idea to Chris Hayes last year:
'It's a very different model than the adversarial system that we currently have where harms occur and the state intervenes. In this case, the idea is that you have a community of people who will intervene and so they ask usually a set of questions… Because the idea of restorative justice is that harms engenders needs and that those needs should be met. And the issue is who's going to meet the needs and how will people meet those needs?'
Clear now? Restorative justice draws on pre modern conceptions of conflict resolution — such as peace circles — as an alternative to police and prisons. Kaba argues that the latter are not only corrupted by systemic racism, but that they are actually unnatural, a kind of historical accident. Indigenous people didn't need police, Kaba says, so why do we?
These ideas have been taken up rapidly during the protests. Under the headline 'No More Money For the Police', two writers in the Times envision the replacement of cops with 'health care workers or emergency response teams', 'rapid response social workers', 'conflict interrupters and restorative justice teams' and 'community organizers'. Writing for TIME, Minneapolis City Council member Steve Fletcher believes that the police must be disbanded. 'We can invest in cultural competency and mental health training, de-escalation and conflict resolution.' Fellow council member Jeremiah Ellison tweeted: 'We are going to dismantle the Minneapolis Police Department. And when we're done, we're not simply going to glue it back together. We are going to dramatically rethink how we approach public safety and emergency response.' In New York and LA, cuts to policing budgets have already been announced. 
'Dismantling the police will require reallocating their budget and assets to support real solutions to community desperation: good, well-paying jobs, affordable housing, healthy food, empowering education, accessible health care, removal of toxins, etc. Ending the brutal police system is, by necessity, a program for a more just and resilient city.'
Interestingly, there really isn't a huge role for police in the Bible. The civil magistrate is given the sword for punishing evil doers and protecting the innocent. But there is far too much policing of free, law-abiding citizens in general. So the problem isn't with calls to defund or minimize police forces, the problem is what liberals will replace them with. The only thing worse than a police state is a bureaucratic totalitarian state. A militarized police force is a problem from a Christian perspective, but so is a militarized Social Services, a militarized Nanny State. And what happens when there are no police departments and whenever everything goes completely nuts, somebody has the audacity to suggest calling in the military. Pretty soon that's all we have. At least local law enforcement lives in the community. At least there's some measure of accountability. But until we recognize that we need an objective standard for justice, all of these calls are so many blind squirrels chattering about where the nuts are. 
This is Toby Sumpter with Crosspolitic News. You can find this and all of our shows at Crosspolitic.com or Fightlaughfeast.com or on our app, which you can download at your favorite app store, just search "Fight Laugh Feast". Our app is the only way to get In the Bullpen with Mark Dewey. Support Rowdy Christian media, and become a Fight Laugh Feast Club Member, and for a limited time you can get your very own Fight Laugh Feast t-shirt and access to tons of content on Biblical Counseling, God and Government, End Times Eschatology (hint: we're not in them), Pastors and Politics, Proverbs with Me, and our very own Worldview Shotgun Series. You also get $100 off your registration for our first annual Fight Laugh Feast Conference, where we hope to meet many of you in Nashville, TN October 1st through the 3rd. Go to fightlaughfeast.com to register now. Have a great day. https://flfnetwork.com/coming-soon/