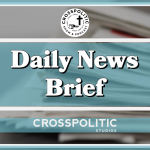 This is Jesse Sumpter, managing editor of the CrossPolitic Magazine. Here with your CrossPolitic Daily News Brief for Friday, June 12, 2020. Check out the CrossPolitic Magazine for articles and commentary on theology, politics, culture, and history.
In today's news brief you will hear the news that no one is talking about: Senate Republicans investigating former Obama officials, also Merriam-Webster, AKA the Ministry of Truth, is redefining racism, literally, and also, one board member of Reddit attempts to give up his privilege, but does he succeed? 
Senate Republicans authorize subpoenas for Former Obama Officials
https://www.politico.com/news/2020/06/11/senate-republicans-authorize-subpoenas-in-probes-targeting-former-obama-officials-313123
Politico reports: In a party-line vote Thursday, the Senate Judiciary Committee authorized Chairman Lindsey Graham (R-S.C.) to issue a broad range of subpoenas to a slew of former Obama administration officials who opened or were involved in the counterintelligence investigation into possible ties between the Trump campaign and the Russian government.
It's part of a GOP-led investigation into the genesis of the Russia probe and former special counsel Robert Mueller's appointment — a probe that President Donald Trump has long sought, particularly as he seeks retribution after his acquittal in the Senate's impeachment trial.
The subpoenas target former FBI Director James Comey, former CIA Director John Brennan, and former Director of National Intelligence James Clapper, among others. Graham has said he plans to seek testimony from Mueller himself, "or an appropriate designee."
Sen. Ron Johnson (R-Wis.) is also conducting a similar investigation that ensnares former Obama administration officials, with a focus on the presidential transition period in late 2016 and early 2017 and the "unmasking" of the name of incoming national security adviser Michael Flynn from intelligence intercepts. The Senate Homeland Security and Governmental Affairs Committee, which Johnson chairs, approved a similar subpoena authorization last week. The committee has also launched a probe targeting Hunter Biden, the son of presumptive Democratic presidential nominee Joe Biden.
Democrats have charged that the investigations are baseless and intended to boost Trump's re-election prospects. Republicans reject that charge, alleging that the president and his associates were unfairly targeted by the outgoing Obama administration.
Racism definition: Merriam-Webster to make update after request
https://www.bbc.com/news/world-us-canada-52993306?fbclid=IwAR1N6xF8LEtk3Rpro50hxOOJ5Av95kKD2WFvIrpy6YxrSSKd-qYRjooPPww
BBC News reports: Kennedy Mitchum, a recent graduate of Drake University in Iowa, suggested that the definition should include a reference to systemic oppression.
An editor then responded, later agreeing to update their definition.
The decision comes amid international anti-racism protests after the death of George Floyd in Minneapolis.
Ms Mitchum had encountered people pointing to the dictionary to prove that they were not racist because of the way they felt towards people of colour. She felt the definition needed to reflect broader issues of racial inequality in society.
Merriam-Webster's current definition of racism
a belief that race is the primary determinant of human traits and capacities and that racial differences produce an inherent superiority of a particular race

a) a doctrine or political program based on the assumption of racism and designed to execute its principles, b) a political or social system founded on racism

racial prejudice or discrimination
Ms Mitchum told the BBC that she first became aware of the shortcomings of the current definition around four years ago.
"I was just speaking on my social media about racism and just about how the things I was experiencing in my own school and my own college," she said. "There were a lot of things that were racist but it wasn't as blatant."
Ms Mitchum says the dictionary definition was being used by people attempting to tell her she was wrong.
"Some troll was messaging me trying to say 'You don't understand what racism truly is,'" she said.
People were copy-and-pasting the definition to her in an attempt to prove racism could only exist if you believe your race to be superior to another.
"They were saying: 'You're in school [university], so what do you mean? You have privileges as well'. I said it's not about that, it's about the hurdles that I had to jump over because of the colour of my skin and the systems that are in place."
On 28 May, Ms Mitchum emailed Merriam-Webster to point out that racism is "both prejudice combined with social and institutional power. It is a system of advantage based on skin colour".
To her surprise, she got a response the next day. After some back-and-forth, Merriam-Webster said the "issue needed to be addressed sooner rather than later" and that a revision would be made.
Merriam-Webster's editorial manager Peter Sokolowski told the BBC that the wording of the second definition of racism will be "even more clear in our next release".
"It could be expanded … to include the term systemic and it will certainly have one or two example sentences, at least," he said.
The people working on the new definition will be consulting the work of experts in black studies, he said, adding that the revision could be done by August.
Ms Mitchum said the issue of definition is vital.
"I think it's very important for people to be on the same page," she said.
Three key takeaways here: First, when it comes to racism, "you do you" won't fly. Which is to say, they believe in standards here. We all have to be on the same page about it. Second, the importance of definitions. This is the whole game: what is gender, what is marriage, what is abortion, what is racism. He who controls the dictionary controls the game. Third, notice the standard here is "experts" and not God's word. This allows them to appeal to a self-made standard which means if you can redefine racism, you can redefine anything. But that is not just or right because it can change at any time.      
Fight Laugh Feast Conference in Nashville October 1-3
This is why you need to sign up for our first annual Fight Laugh Feast Conference in
Nashville October 1st through 3rd. Rowdy Christian media meets the conference world – not for
the faint of heart. We will kick the whole thing off with beer and psalm singing the first night,
followed by a slate of speakers committed to driving the nails of the gospel into all of life
including Douglas Wilson, George Grant, Rod Martin, Glenn Sunshine, and more. The conference will conclude with a massive Fight Laugh Feast Network mashup, with
representatives from all your favorite shows all on one show, fighting, laughing, and feasting.
And then we really will feast together, with food trucks bringing in dinner to close out the conference. So please join us this October 1st through the 3rd as we build a rowdy Christian
culture for God's glory and our good. Go to Fightlaughfeast dot com and register today.
How Alexis Ohanian recognized his privilege with help from wife Serena Williams
https://www.cbsnews.com/news/alexis-ohanian-serena-williams-reddit/
CBSNews reports: Reddit co-founder Alexis Ohanian, who resigned from Reddit's Board of Directors on Friday and urged the board to replace him with a black candidate, said he made the decision for his 2-year-old daughter with wife Serena Williams. 
"I didn't arrive at this easily. It was absolutely a hard decision," Ohanian told "CBS This Morning" co-host Gayle King in an exclusive interview. "But thinking back, especially on the position our country's been in, and then especially in the last few weeks, I realized I needed to look at myself, look in the mirror and see what I could do to help contribute some real positive change, so that I could look my daughter in the eye when she's a little bit older and she asks me what I did to help make this country and this world a little bit better for her and for a whole lot of people who look like her."
On Thursday, Reddit got the message and added tech CEO Michael Seibel to the board.
Ohanian, who had served as executive chairman since 2015, also promised to donate future gains on his Reddit stock to initiatives that support the black community.
Two key points: First, this is the endgame of the riots: replace those in power with others. Some will step down voluntarily and some will be forced to do it. But they will insist that this change is for our good, for true justice. Second, notice that Ohanian didn't give up everything: he will still hold on to his Reddit stocks. Seems money is not black nor white but just as green as ever. 
This is Jesse Sumpter with Crosspolitic News. Check out the CrossPolitic Magazine for articles and commentary on theology, politics, culture, and history.   
Download the Fight Laugh Feat app at your favorite app store, just search "Fight Laugh Feast". Our app is the only way to get In the Bullpen with Mark Dewey – maybe the best worldview baseball podcast ever. Support Rowdy Christian media, and become a Fight Laugh Feast Club Member, and for a limited time you can get your very own Fight Laugh Feast t-shirt and access tons of content with Dan Fischer, Douglas Wilson, George Grant, David French, Erick Erickson, Walter Williams, Curt Kennedy, Gary Demar, and the Worldview Shotgun Series. You also get $100 off your registration for our first annual Fight Laugh Feast Conference, where we hope to meet many of you in Nashville, TN October 1st through the 3rd. Go to fightlaughfeast.com to register now. Have a great day.https://flfnetwork.com/coming-soon/