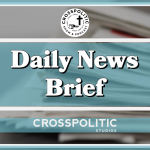 This is Toby Sumpter with your CrossPolitic Daily News Brief for Thursday, June 4, 2020.
In today's news brief you will hear how Bernie got blasted for bowing to the wrong god, why the riots and now many of the protests are whiter than Joel Osteen, how you can tell most of these protests don't really care about biblical justice, and why Christians must not be played.
Fight Laugh Feast Conference in Nashville October 1-3
But first: have you signed up for our first annual Fight Laugh Feast Conference in Nashville October 1st through 3rd? Rowdy Christian media meets the conference world – not for the faint of heart. We will kick the whole thing off with beer and psalm singing the first night, followed by a slate of speakers committed to driving the nails of the gospel into all of life including Douglas Wilson, George Grant, Rod Martin, Glenn Sunshine, yours truly, and more. The conference will conclude with a massive Fight Laugh Feast Network mashup, with representatives from all your favorite shows all on one show, fighting, laughing, and feasting. And then we really will feast together, with food trucks bringing in dinner to close out the conference. So please join us this October 1st through the 3rd as we build a rowdy Christian culture for God's glory and our good. Go to Fightlaughfeast dot com and register today.
Bernie Tweets Support for Looting
https://twitter.com/SenSanders/status/1267248512523276290?s=20
On Sunday evening former democratic presidential hopeful Breadline Bernie Sanders tweeted: "The richest 400 Americans sit on $3 trillion—the size of the entire UK economy. The billionaire class now pays a lower tax rate than people living paycheck to paycheck. The looting of America has been going on for over 40 years—and the culprits are the ultra-rich."
While the problem would seem to be with Sanders implying that the looters were just getting their stuff and money back – thus justifying the looting and vandalism, a number of commenters were just upset that Sanders bowed at the wrong idol. While he was doing his usual obeisance at the shrine of Mammon and class warfare, a number of respondents were miffed that he seemed to be downplaying the racial element of the riots. Sanders failed to put a pinch of incense on the intersectional goddess of racial grievance. 
And if you haven't heard by now, the protests that continue to spread around the country are now as white as Joel Osteen. No, literally. Joel Osteen was on the scene in Houston, Texas for their protest. What are we protesting again? You do know that the officers involved in the George Floyd death have been fired and charges brought, right? You also know that a bunch of the protests have been weaponized by anarchists and antifa, right? You care about racial justice? Why in the world would you be involved in something that ended up with retired police captain David Dorn, a 77 year old man murdered in St. Louis during the riots. And if you must know, he was a black man, but that's not the most important thing about it. What is most important is that he was a human being, made in the image of God, just like George Floyd.
Retired Officer David Dorn Murdered During Riots
https://www.foxnews.com/media/cnn-david-dorn-retired-police-captain-killed-st-louis
Fox News reports: Officer Dorn, suffered a gunshot wound to his torso about 2:30 a.m. Tuesday and died on a sidewalk in front of the looted shop, Lee's Pawn & Jewelry, the St. Louis Post-Dispatch reported.
St. Louis officials said Tuesday that Dorn was killed responding to a burglar alarm that looters set off. "David Dorn was exercising law enforcement training that he learned here," St Louis Police Chief John Hayden said. The person responsible for killing Dorn has not been captured as of Wednesday. CrimeStoppers is now offering a $10,000 reward for information leading to their arrest.
President Trump honored Dorn on Twitter: "Our highest respect to the family of David Dorn, a Great Police Captain from St. Louis, who was viciously shot and killed by despicable looters last night," the president wrote. "We honor our police officers, perhaps more than ever before. Thank you!"
The Fox News story pointed out that CNN mentioned Dorn on its website Tuesday when covering Trump's tweet and published a stand-alone story on his death on Wednesday morning — but the news didn't make the network's on-air coverage of the ongoing protests.

Fire Fighter Loses Life Savings in New Business Destroyed
https://disrn.com/news/gofundme-for-business-owner-who-wept-over-sports-bar-destroyed-in-riots-approaches-300k
Or what about KB Balla, who openly wept in a TV interview after the Minneapolis sports bar he had invested his life savings into was destroyed by looters? How white is that? It's as white the back of Joel Osteen's left thigh. Balla is a firefighter on the Brooklyn Center Fire Department. He and his wife have four children.
Scores Sports Bar was brand new; its grand opening had been delayed by the COVID-19 pandemic and Balla was just getting ready to open its doors. Oh right. And Balla is also a black. Because you know, when you're protesting racial injustice you should definitely crush a few more black lives while you're at it because, well, black lives matter, right?
Meanwhile, in my cozy hometown of Moscow, Idaho, a couple hundred protestors gathered in the city square yesterday, and as you might expect in North Idaho it was whiter than the back of Joel Osteen's right thigh out there. But one of the other striking things were the number signs attacking Trump as well as signs defending the LGBTQ insanity. And this is where Christians frequently are not paying attention. 
Do we condemn racism? Of course. Do we condemn police brutality and abuse of power? Of course. But the thing we have to ask is WHY? Why is racial animosity and racial vainglory wrong? Why is abuse of power wrong? It's wrong because there is a fixed standard of justice found in God's word. But you know what? That same Word condemns looting and vandalism and hatred of cops and murder of babies. 
Christians are sometimes easily duped by the social justice mobs because the mob happens to point out something that really is unjust, whether the death of George Floyd or Harvey Weinstein's womanizing. But Christians should have nothing whatever to do with the mob. The mob is not justice. And the mob doesn't really care about justice. This is why the whole #metoo thing was a complete farce. It was a media mob that only wanted the veneer of virtue and justice. Did #metoo condemn the murder of baby girls in their mother's womb? Did #metoo condemn all the Hollywood sewage? Did #metoo condemn lesbianism and every Bruce Jenner tranny? You know the answers. Which tells you that #metoo was never interested in actual justice. What it was interested in was getting a bunch of naïve and guilty Americans whipped up into a frenzy in order to manipulate the culture. But be sure that the end game looks nothing like justice for all. Just like in the French Revolution, eventually Robespierre gets his head chopped off as well. Bernie Sanders, watch your step. 
And this is why Black Police Officers and Black Business Owners can get run over by the mob. The riots are not interested in justice for George Floyd. You know that because they looted and burned down Scores Sports Bar in Minneapolis. And a bunch of the protests are getting hijacked into that kind of nonsense, all while holding signs about racial justice. The only thing that could make these things more white would be if people started wearing bed sheets over their heads. But we are nearly at that point of hypocrisy. Don't hold your breath. 
As of Wednesday afternoon there was over a 1.1 million raised on KB Balla's Go Fund Me page. 
Minnesota State Attorney General Increases Charges 
https://www.washingtonpost.com/nation/2020/06/03/george-floyd-protests-live-updates/
And now comes the news Minnesota prosecutors added a second-degree murder charge Wednesday against former Minneapolis police officer Derek Chauvin, and charged three more former officers in the death of George Floyd.
Derek Chauvin, who was captured in a video kneeling on Floyd's neck for nearly nine minutes as Floyd struggled for air, is now charged with second-degree murder. Charged with aiding and abetting unintentional second-degree murder are Thomas Lane, Tou Thao and J. Alexander Kueng. All could face a maximum penalty of 40 years in prison.
Ellison made the announcement during an afternoon news conference days after being appointed by Gov. Tim Walz (D) to take over the investigation from the Hennepin County Attorney's Office. Floyd's family had been joined by some city council members and activists in asking for Ellison to take the lead.
Floyd's family had repeatedly called for the arrests of the other three officers involved in the encounter outside of corner store Cup Foods, which began when the 46-year-old father and security guard was accused of using a counterfeit $20 bill.
What are the chances these charges are based on actual facts or that they are sorry attempts to appease the mobs?
State Attorney General Keith Ellison announced the new charges in an afternoon news conference Wednesday. "I strongly believe that these developments are in the interest of justice for Mr. Floyd, his family, our community and our state," he said.
In the "interest of justice" is not quite the same as based on facts and evidence, but we'll see. 
This is Toby Sumpter with Crosspolitic News. You can find this and all of our shows at Crosspolitic.com or Fightlaughfeast.com or on our app, which you can download at your favorite app store, just search "Fight Laugh Feast". Our app is the only way to get In the Bullpen with Mark Dewey. Support Rowdy Christian media, and become a Fight Laugh Feast Club Member, and for a limited time you can get your very own Fight Laugh Feast t-shirt and access to tons of content on Biblical Counseling, God and Government, End Times Eschatology (hint: we're not in them), Pastors and Politics, Proverbs with Me, and our very own Worldview Shotgun Series. You also get $100 off your registration for our first annual Fight Laugh Feast Conference, where we hope to meet many of you in Nashville, TN October 1st through the 3rd. Go to fightlaughfeast.com to register now. Have a great day. https://flfnetwork.com/coming-soon/