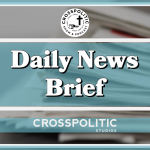 This is Gabriel Rench with your CrossPolitic Daily News Brief for Tuesday, June 16th, 2020.
Fight Laugh Feast Conference in Nashville October 1-3
Before we getting into this news brief, I have some good news for you. In fact probably the only good news in this brief. Because of the COVIDcraze we are moving our early bird registration deadline for our Fight Laugh Feast Conference to July 31st. Registrations were obviously slow in April, but now they are humming along. We really don't want you to miss out on coming to our conference, so we are extended early bird registration to get you there. This is obviously not about the money for us, we really do want an opportunity to bring all our friends together for some good fellowship, Psalm singing, and to hear from some high octane speakers to the glory of God and to the good of His people. So, don't wait, sign up for our first annual Fight Laugh Feast Conference in Nashville October 1st through 3rd. Seating is limited. Go to Fightlaughfeast dot com and register today.
Civil Rights Law Protects Gay and Transgender Workers, Supreme Court Rules
https://www.nytimes.com/2020/06/15/us/gay-transgender-workers-supreme-court.html
New York times reports that: 
The Supreme Court ruled Monday that a landmark civil rights law protects gay and transgender workers from workplace discrimination, handing the movement for L.G.B.T. equality a stunning victory.

"An employer who fires an individual merely for being gay or transgender defies the law," Justice Neil M. Gorsuch wrote for the majority in the 6-to-3 ruling.

Until Monday's decision, it was legal in more than half the states to fire workers for being gay, bisexual or transgender. The vastly consequential decision extended workplace protections to millions of people across the nation, continuing a series of Supreme Court victories for gay rights even after President Trump transformed the court with two appointments.

The lopsided ruling, coming from a fundamentally conservative court, was a surprise. Justice Gorsuch, who was Mr. Trump's first appointment to the court, was joined by Chief Justice John G. Roberts Jr. and Justices Ruth Bader Ginsburg, Stephen G. Breyer, Sonia Sotomayor and Elena Kagan.

The decision, covering two sets of cases, was the court's first on lesbian, gay, bisexual and transgender rights since the retirement in 2018 of Justice Anthony M. Kennedy, who wrote the majority opinions in all four of the court's major gay rights decisions. Proponents of these rights had worried that his departure would halt the progress of the movement toward equality.

The case concerned Title VII of the Civil Rights Act of 1964, which bars employment discrimination based on race, religion, national origin and sex. The question for the justices was whether that last prohibition — discrimination "because of sex"— applies to many millions of gay and transgender workers.

Justice Gorsuch wrote that it did.

"An employer who fires an individual for being homosexual or transgender fires that person for traits or actions it would not have questioned in members of a different sex," he wrote.

"It is impossible," Justice Gorsuch wrote, "to discriminate against a person for being homosexual or transgender without discriminating against that individual based on sex."

Justice Samuel A. Alito Jr., in a dissent joined by Justice Clarence Thomas, wrote that the majority had abandoned its judicial role.

"There is only one word for what the court has done today: legislation," Justice Alito wrote. "The document that the court releases is in the form of a judicial opinion interpreting a statute, but that is deceptive."

"A more brazen abuse of our authority to interpret statutes is hard to recall," he wrote. "The court tries to convince readers that it is merely enforcing the terms of the statute, but that is preposterous."

The common understanding of sex discrimination in 1964, Justice Alito wrote, was bias against women or men and did not encompass discrimination based on sexual orientation and gender identity. If Congress wanted to protect gay and transgender workers, he wrote, it could pass a new law.

"After today's decision," Justice Alito wrote, "plaintiffs may claim that the failure to use their preferred pronoun violates one of the federal laws prohibiting sex discrimination."

"Although the court does not want to think about the consequences of its decision, we will not be able to avoid those issues for long," he concluded "The entire federal judiciary will be mired for years in disputes about the reach of the court's reasoning."

Justice Gorsuch responded that the court's ruling was narrow. "We do not purport to address bathrooms, locker rooms or anything else of the kind," he wrote. "Whether other policies and practices might or might not qualify as unlawful discrimination or find justifications under other provisions of Title VII are questions for future cases, not these."
As my friend Marcus Pittman astutely pointed out: 
Hey #SCOTUS what if I have an all Women's Gym and some dude puts on wig and demands that I hire him?
De Blasio says coronavirus contact tracers will not ask positive cases if they have attended BLM protests
https://disrn.com/news/de-blasio-says-coronavirus-contact-tracers-will-not-ask-positive-cases-if-theyve-participated-in-blm-protests
According to Discrn.com:
New York City's coronavirus contact tracers have been instructed not to ask those who test positive for COVID-19 if they have participated in any Black Lives Matter protests, a spokesperson for the mayor's office reported.

"No person will be asked proactively if they attended a protest," said Avery Cohen, a spokesperson for de Blasio.

De Blasio, who announced his "test and trace" program in early May to hire 1,000 contact tracers, said he plans to reveal Monday how many residents have been questioned so far.

Tracers are tasked with asking positive cases to "recall 'contacts' and individuals they may have exposed," Cohen detailed.

Tracers are also instructed to inquire about any close contacts of the patients — anyone they have been within six feet of for at least 10 minutes.

If a tested individual wants to disclose whether any of their close contacts took place during a protest, they have the freedom to provide additional information.

"If a person wants to proactively offer that information, there is an opportunity for them to do so," Cohen said.
NYPD disbands plainclothes anti-crime units
https://www.fox5ny.com/news/nypd-disbands-plainclothes-anti-crime-units
According to Fox5 in New York: 
The NYPD is eliminating its Anti-Crime Units on the precinct level and public housing area level, Commissioner Dermot Shea announced on Monday. About 600 officers will be reassigned to the detective bureau, neighborhood policing program, and other units effective immediately. 

Anti-crime officers typically operate in plainclothes, Shea said, and focus on getting illegal guns off the streets of New York. That has led to those cops being involved in a number of shootings, the commissioner said. 

He added that the department will continue to fight violent crime and illegal guns through many modern programs and units.

"This is 21st-century policing: intelligence, data, ShotSpotter, video, DNA, and building prosecutable cases," Shea said. "It continues to be building these cases—cases on a small number of people that unfortunately still terrorize a part of this city."

The commissioner said the elimination of the units at all 77 precincts and a handful of housing units is a "big move" in the culture of policing but an important part of overall reform. 

"We always struggle with, I believe as police executives, is not keeping crime down—it's keeping crime down and keeping the community working with us," Shea said. "And I think those two things, at times, have been at odds."

In a statement, the union that represents rank-and-file cops questioned the wisdom of the commissioner's move.

"Anti-Crime's mission was to protect New Yorkers by proactively preventing crime, especially gun violence. Shooting and murders are both climbing steadily upward, but our city leaders have clearly decided that proactive policing isn't a priority anymore," PBA President Patrick Lynch said. "They chose this strategy. They will have to reckon with the consequences."
The Coronavirus Mask Charade Continues
https://www.americanthinker.com/articles/2020/06/the_coronavirus_mask_charade_continues.html
If you have been following me on social media, my big COVID hashtag kick is "Arbitrary shutdowns do not work". Think about it all the unexplainable measures and inconsistent shutdowns found in the various statewide resolutions:
What is an essential job? 
Why is Walmart open and yet churches are closed? Last I check religion was specifically mentioned in the first amendment, but Walmart, really? 
Why does my local restaurant have to shutdown, but our local Mayor continues to receive his paycheck? 
What in tarnations is social distancing in the first place? Name one scientific study supporting social distancing! 
John Maguire, over at the American Thinker, points at that: 
Anyone claiming the six-foot rule is not arbitrary should explain why the World Health Organization suggests a three-foot distance and why Austria, Norway, Sweden, and Finland have adopted that rule, and why Germany and other countries use a 4.5-foot rule.  Does the coronavirus behave differently in Europe?
99% of the people who contract the corona virus, get over it, they don't die, they get better, blah blah blah. 
When this whole COVIDpanic went down, my local city council gave me all this data, as if they were basing their decision off the data. In our post-postmodern world, data is a tool for those in power to make irrational decisions. 
This is Gabriel Rench with Crosspolitic News. Support Rowdy Christian media and join our club at fightlaughfeast.com. With your partnership, you will get a Fight Laugh Feast t-shirt, discount to our annual conference, and access to our Club portal. Our club portal includes episodes on Pastors in Politics, East Coast Tour content, God and Government, and backstage interviews with people like Voddie Baucham, Douglas Wilson, James White, Tom Ascol, Erick Erickson, and David French. You can find all our shows on our app, which you can download at your favorite app store, just search "Fight Laugh Feast". Lastly, we hope to meet you at our first annual Fight Laugh Feast Conference in Nashville, TN October 1st through the 3rd. Go to fightlaughfeast.com to register now. Have a great day. Lord bless