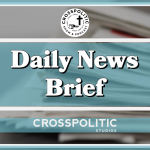 This is Gabriel Rench with your CrossPolitic Daily News Brief for Wednesday, June 10th, 2020.
Asymptomatic spread of coronavirus is 'very rare,' WHO says
https://www.cnbc.com/2020/06/08/asymptomatic-coronavirus-patients-arent-spreading-new-infections-who-says.html
On Monday June 8th Dr. Maria Van Kerkhove, head of WHO's emerging diseases and zoonosis unit, said this at a news briefing from the United Nations agency's Geneva headquarters: "From the data we have, it still seems to be rare that an asymptomatic person actually transmits onward to a secondary individual," "It's very rare."
But then on Tuesday June 9th she dialed it back and said: "during the live Q&A, she clarified "this is a major unknown."
She goes onto say: ""The majority of transmission that we know about is that people who have symptoms transmit the virus to other people through infectious droplets — but there are a subset of people who don't develop symptoms, and to truly understand how many people don't have symptoms, we don't actually have that answered yet," Van Kerkhove said.
"We do know that some people who are asymptomatic, or some people who don't have symptoms, can transmit the virus on," she said. "So what we need to better understand is how many of the people in the population don't have symptoms and separately how many of those individuals go on to transmit to others."
Who do we believe? And what day do we believe what they said? This is just getting embarrassing. 
Black Business Owners' Ranks Collapse by 41% in U.S. Lockdowns
https://www.msn.com/en-us/money/markets/black-business-owners-ranks-collapse-by-41-in-us-lockdowns/ar-BB15cF7B
According to MSN: 
"The Covid-19 economic shutdown has hurt African American businesses the most among racial and ethnic groups in U.S., with a 41% decline of black owners from February to April, a new study from the National Bureau of Economic Research shows.
While the pandemic has hit entrepreneurs across the board, closing some 3.3 million small businesses at least temporarily, the sidelining of 440,000 African Americans was especially severe. Black owners may have fared worse because fewer of them operated in industries deemed "essential" during the pandemic, among other factors, according to the NBER paper. Immigrant business owners also fared poorly, with a 36% drop during the period.
"The negative early-stage impacts on minority- and immigrant-owned businesses, if prolonged, may be problematic for broader racial inequality because of the importance of minority businesses for local job creation, economic advancement, and longer-term wealth inequality," said the report's author, Robert Fairlie of the University of California at Santa Cruz.
The findings add to other data showing that the pandemic has broadly hit African Americans harder than other groups, with blacks suffering higher rates of mortality from the coronavirus and greater joblessness. While unemployment among white Americans fell to 12.4% last month, according to data released Friday by the Bureau of Labor Statistics, the jobless rate for African Americans rose slightly to 16.8%."
For those of us who have been saying the cure is worse than the COVID, we don't even fully know the extent of how bad this cure has been for our lives.
Fight Laugh Feast Conference in Nashville October 1-3
Before we getting into this news brief, I want to invite you to sign up for our first annual Fight Laugh Feast Conference in Nashville October 1st through 3rd. Rowdy Christian media meets the conference world – not for the faint of heart. We will kick the whole thing off with beer and psalm singing the first night, followed by a slate of speakers committed to driving the nails of the gospel into your every day life including Douglas Wilson, George Grant, Rod Martin, Glenn Sunshine, Pastor Toby, and more. The conference will conclude with a massive Fight Laugh Feast Network mashup, with representatives from all your favorite shows all on one show, fighting, laughing, and feasting. And then we really will feast together, with food trucks bringing in dinner to close out the conference. So please join us this October 1st through the 3rd as we build a rowdy Christian culture for God's glory and our good. Go to Fightlaughfeast dot com and register today.
The 'Institutional Racism' Canard
https://www.nationalreview.com/2020/06/the-institutional-racism-canard/
"About twice as many white people as black people are killed by police. In fact, in about 75 percent of police shootings, the decedent is not black. Of course, that is not what you would grasp from consuming media…
Powerline's Paul Mirengoff fills in that blank: "Blacks commit around 70 percent of black-white interracial homicides." For this, he draws on FBI crime statistics for 2016. They show that, of 776 black–white homicides, blacks committed 533 and whites 243. Neither of these numbers, by the way, nor their combined total, comes anywhere close to the number of blacks killed by blacks: a staggering 2,570 — the overwhelming majority male."
https://www.washingtonpost.com/graphics/2018/national/police-shootings-2018/
Last years, in 2019, cops killed 17 unarmed blacks, and even that data needs explanation (meaning even though they did not have a gun, one had a knife, some were physical altercations, etc…) Compare this to the reported 22 white men who where killed by the cops while unarmed. 
This of course is not to justify police brutality, but if we are going to talk about police brutality, racism, etc… then we need to look at all the data. First, the message you are hearing is that Officer Chauvin is a racist and that is why he killed George Floyed. But where is the evidence for that? What does biblical justice require of the accuser? Proof! You need proof that this police negligence was driven by racism. That would include providing evidence that the other ethnic cops present were also racist. Secondly, the corruption in the police force has been horrific in democratically run cities. Think Baltimore, Chicago, Detroit, LA, Minneapolis, and so forth, which have been dominated by democratic politics for decades. Police corruption, while not neglecting individual responsibility, has been propped up by powerful unions, immunity, and unjust application of laws (basically one law for cops and another law for the citizens). 
So, if we are really going to have an honest discussion about police brutality and racism, we need to get all the cards on the table, and bring the light of God's word to bear on those facts. Statically, you are exponentially more likely to be killed by another black person that you would be by a cop. The obvious connecting here is the black community has been devastated by fatherlessness. And Police unions, they shield, protect, and even threaten in order to keep their cops on the streets. They are incentivized away from equitable justice and so laws and systems have been created by the pressure of police unions to protect cops over their citizens. Lastly, politicians who are joining the bandwagon calling to defund the police are feckless. For decades they over saw the expansion of the militarization of the police, and loved every minute of it. And in addition to this, to call for the defunding of the police while they themselves have private security or some sort of government security (like the congressional police, Secret Service, etc…), it is the same play that they want to run on your 2nd amendment rights. You can't have guns, but we can. Our politicians are just like the militarization of the police force. They want one standard for you, while they themselves will not place themselves under that same standard. This is the same thing that happened under the COVIDpanic. You need to stay home in shutdown mode, while politicians were at dining, golfing, traveling, and screwing their mistresses, all in the name of your safety. Jesus has harsh words for this kind of leadership in Matthew 20:25 But Jesus called them to him and said, "You know that the rulers of the Gentiles lord it over them, and their great ones exercise authority over them. 26 It shall not be so among you. But whoever would be great among you must be your servant, 27and whoever would be first among you must be your slave, 28 even as the Son of Man came not to be served but to serve, and to give his life as a ransom for many."   
Our political leaders have failed us miserably and this COVIDpanic and FLOYDpanic have been given to us by God, and to be a thinking Christian means we need to see what God is showing us here. Just think about this for a moment. Our mayor on March 25th signed a resolution shutting down non-essential business here in Moscow. These companies, if they continued operating, would be operating illegally and would be fined with the possibility of imprisonment. Think about that. A lawful business could get fined for operating, for making money for their families, their employees, their livelihoods, all the while our mayor was collecting his taxpayer paycheck and going golfing and drinking beer with his buddies at Elks Lodge just north of town. He signed a resolution that did not apply to his paycheck, and he would not place himself under the same conditions he required others to follow under his resolution.
Of course the issue here, is we as a people need to repent. When we are oppressed, when the black community cries tears of oppression, when operating a business becomes illegal and you can know longer legally provide for your family, our call is to God. Don't cry out to the state to save you, they have been doing a crappy job for centuries. Cry out to God, humbler yourself before God, and He will act, He will lift His people up. 
This is Gabriel Rench with Crosspolitic News. Support Rowdy Christian media and join our club at fightlaughfeast.com. With your partnership, you will get a Fight Laugh Feast t-shirt, discount to our annual conference, and access to our Club portal. Our club portal includes episodes on Pastors in Politics, East Coast Tour content, God and Government, and backstage interviews with people like Voddie Baucham, Douglas Wilson, James White, Tom Ascol, Erick Erickson, and David French. You can find all our shows on our app, which you can download at your favorite app store, just search "Fight Laugh Feast". Lastly, we hope to meet you at our first annual Fight Laugh Feast Conference in Nashville, TN October 1st through the 3rd. Go to fightlaughfeast.com to register now. Have a great day. Lord bless