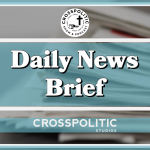 This is Gabriel Rench with your CrossPolitic Daily News Brief for Wednesday, June 17th, 2020.
Fight Laugh Feast Conference in Nashville October 1-3
Before we get into this news brief, I have some good news for you. Because of the COVIDcraze we are moving our early bird registration deadline for our Fight Laugh Feast Conference to July 31st. Registrations were obviously slow in April, but now they are humming along and we don't want that trend to stop. We really don't want you to miss out on coming to our conference, so we are extended early bird registration to get you there. This is obviously not about the money for us, we really do want an opportunity to bring all our friends together for some good fellowship, Psalm singing, and to hear from some high octane speakers to the glory of God and to the good of His people. So, don't wait, sign up for our first annual Fight Laugh Feast Conference in Nashville October 1st through 3rd. Seating is limited. Go to Fightlaughfeast dot com and register today.
C.D.C. Test Counting Error Leaves Epidemiologists 'Really Baffled'
https://www.nytimes.com/2020/05/22/us/politics/coronavirus-tests-cdc.html
…the Centers for Disease Control and Prevention is combining tests that detect active infection with those that detect recovery from Covid-19 — a system that muddies the picture of the pandemic but raises the percentage of Americans tested as President Trump boasts about testing.

Now that serology tests, which look for antibodies in the blood of people who have recovered, are more widespread, C.D.C. officials said Friday they would work to separate them from the results of diagnostic tests, which detect active infection. One of the agency's data tracker websites has been lumping them together.

Stunned epidemiologists say data from antibody tests and active virus tests should never be mixed because diagnostic testing seeks to quantify the amount of active disease in the population. Serological testing can also be unreliable. And patients who have had both diagnostic and serology tests would be counted twice in the totals.

Epidemiologists, state health officials and a spokeswoman for the C.D.C. said there was no ill intent; they attributed the flawed reporting system to confusion and fatigue in overworked state and local health departments that typically track infections — not tests — during outbreaks. The C.D.C. relies on states to report their data.

The whole COVID data collection process has been a charade almost since the beginning. From the models to the defining and collection process, it has been one "scientific" joke after another. 
Boy Scouts of America says it supports BLM, will require new "diversity and inclusion merit badge" to become Eagle Scout
https://www.businessinsider.com/85-of-independent-restaurants-could-permanently-close-in-2020-report-2020-6
According to Discrn.com
In a show of solidarity with the Black Lives Matter movement, the Boy Scouts of America is requiring scouts to earn a "diversity and inclusion" merit badge in order to become an Eagle Scout, the organization announced Monday.

The BSA national executive council said in a letter that "there is no place for racism" and that the organization "believes that Black Lives Matter."

"The Boy Scouts of America stands with Black families and the Black community… This is not a political issue; it is a human rights issue and one we all have a duty to address," the letter reads.

The organization said the now-required Eagle Scout merit badge will "ensure diversity and inclusion are engrained at every level for participants and volunteers."

"[The badge] will build on components within existing merit badges, including the American Cultures and Citizenship in the Community merit badges, which require Scouts to learn about and engage with other groups and cultures to increase understanding and spur positive action," the statement said.

At what point will The Boy Scouts of America, who now allow for girls to participate, create a merit badge for pedaphiles? They can call it "Phedophile Lives Matter" merit badge. 
85% of independent restaurants may go out of business by the end of 2020, according to the Independent Restaurant Coalition
https://www.businessinsider.com/85-of-independent-restaurants-could-permanently-close-in-2020-report-2020-6
As many as 85% of independent restaurants may be forced out of business by the end of the year, according to a new report commissioned by the Independent Restaurant Coalition.

The report, which was conducted by consulting company Compass Lexecon, outlines the threats facing independent restaurants as the pandemic continues to affect business. Although the restaurant industry as a whole has suffered major losses, independent restaurants like mom-and-pop diners, neighborhood Thai joints, and fine dining staples, are much more at risk than fast-food chains like McDonald's and Starbucks. Independents, which comprise 70% of all restaurants, rely much more heavily on dine-in revenue and don't have the corporate resources that make some chains so resilient in the face of disaster.

Restaurants already operate on razor-thin margins. For sit-down restaurants, those margins are decimated by capacity limits, which will likely be in place until a vaccine is found. Many restaurants that have pivoted to delivery have found that it still isn't profitable — even with cities capping delivery platform fees at 15%. A recent Eater survey of San Francisco restaurant owners found that 87% said they would not be able to survive on just delivery and takeout, and 60% said they're losing money by staying open.

It's likely that restaurants won't be able to return to pre-pandemic business levels until they're able to open dining rooms at full capacity without social distancing restrictions. Although May saw the return of nearly 1.4 million restaurant jobs, that recovery trajectory is unlikely to persist through the coming months as most restaurants continue to operate at a loss.

Especially in dense urban areas like New York, social distancing protocols are a death sentence for small restaurants that pay high rent and rely on densely-packed dining rooms "There's just no way any of us in Manhattan can survive," Amanda Cohen, who runs Dirt Candy, a vegetarian restaurant in New York City, and is a member of the Independent Restaurant Coalition leadership.
Twitter hires former FBI lawyer involved in Trump campaign probe
https://disrn.com/news/twitter-hires-former-fbi-lawyer-involved-in-trump-campaign-probe
According to Discrn.com:
Twitter announced Monday that it has hired the former FBI lawyer who played a key role during the probe into the Trump campaign.

James Baker, who was involved in the decision to surveil Trump's former campaign aide Carter Page and to use an FBI agent to privately monitor former National Security Adviser Michael Flynn, will serve as deputy general counsel of the popular social media platform.

Twitter General Counsel Sean Edgett said he is "thrilled to welcome" Baker to the company.

While with the FBI, Baker examined and approved the decision to seek Foreign Intelligence Surveillance Act warrants against Page.

Although Baker said "there was probable cause" in the warrant application to suggest that Page was an "agent of a foreign power," a Justice Department watchdog discovered at least 17 "significant" errors and omissions from the application.

Baker's hiring at Twitter comes just weeks after the company slapped fact-checking labels on a few of President Trump's tweets.

As a result, the president signed an executive order at the end of May to weaken social media companies' legal protections for when they participate in censorship.
If Trump wins in 2020, we could be gearing up for a real battle between tech and government. These kinds of hires are not made in a vacuum. Big tech is run by liberals with an agenda, and they are not happy with Trump.
This is Gabriel Rench with Crosspolitic News. Support Rowdy Christian media and join our club at fightlaughfeast.com. With your partnership, you will get a Fight Laugh Feast t-shirt, discount to our annual conference, and access to our Club portal. Our club portal includes episodes on Pastors in Politics, East Coast Tour content, God and Government, and backstage interviews with people like Voddie Baucham, Douglas Wilson, James White, Tom Ascol, Erick Erickson, and David French. You can find all our shows on our app, which you can download at your favorite app store, just search "Fight Laugh Feast". Lastly, we hope to meet you at our first annual Fight Laugh Feast Conference in Nashville, TN October 1st through the 3rd. Go to fightlaughfeast.com to register now. Have a great day. Lord bless