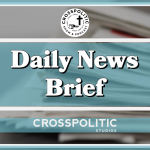 This is Gabriel Rench with your CrossPolitic Daily News Brief for Wednesday, May 13th, 2020.
WHEN HOSPITALS GET SICK Losses piling up at Kootenai Health
https://cdapress.com/news/2020/may/10/when-hospitals-get-sick-losses-piling-up-at-5/
Kootenai Health lost $6 million in the last two weeks of March, according to CFO Kimberly Webb.
April numbers, still being compiled, look worse — doubly damning at another $12 million to $15 million lost. The malaise has lingered into May.
Except for a few critical positions, Kootenai Health has a hiring freeze in place, said Danny Klocko, the hospital's executive VP for human resources. The momentum behind constant, robust growth — from around 1,600 employees in 2010 to more than 3,600 in 2020 — is gone.
"We're trying everything we can to avoid layoffs," Webb said. The hospital's leadership team acknowledged that more than 500 employees have already participated in voluntary furloughs of up to one full month.
"The highest in-patient day in the entire history of Kootenai Health happened the week before the coronavirus incident command situation hit," said CEO Jon Ness. "And so the real challenge there was we literally had to stop everything."
Health care spending fell 18% in the first three months of the year. And 1.4 million health care workers lost their jobs in April, a sharp increase from the 42,000 reported in March, according to the Labor Department.
So why in the middle of a pandemic, the hospital sector is leading the nation in job loss? 
Attorneys for Conn. High School Runners Ask Judge to Recuse after He Forbids Them from Describing Trans Athletes as 'Male'
https://www.nationalreview.com/news/attorneys-for-connecticut-high-school-runners-ask-judge-to-recuse-after-he-forbids-them-from-describing-trans-athletes-as-male/amp/?__twitter_impression=true
"Attorneys representing three female high school track athletes in their effort to bar biological males from competing against them filed a motion on Saturday calling for the presiding judge to recuse himself after he forbid the attorneys from referring to the transgender athletes at issue as "males."
The ADF filed suit in February against the Connecticut Interscholastic Athletic Conference (CIAC) on behalf of three girls — Selina Soule, Alana Smith, and Chelsea Mitchell. The suit challenges the CIAC policy allowing students to compete in the division that accords with their gender identity on the grounds that it disadvantages women in violation of the Title IX prohibition against discrimination on the "basis of sex."
During an April 16 conference call, District Judge Robert Chatigny chastised the ADF attorneys for referring to the male athletes seeking to compete in the women's division as "males," according to a transcript of the call obtained by National Review."
The transcript of Judge Chatigny:
"What I'm saying is you must refer to them as "transgender females" rather than as "males." Again, that's the more accurate terminology, and I think that it fully protects your client's legitimate interests. Referring to these individuals as "transgender females" is consistent with science, common practice and perhaps human decency. To refer to them as "males," period, is not accurate, certainly not as accurate, and I think it's needlessly provocative. I don't think that you surrender any legitimate interest or position if you refer to them as transgender females. That is what the case is about. This isn't a case involving males who have decided that they want to run in girls' events. This is a case about girls who say that transgender girls should not be allowed to run in girls' events. So going forward, we will not refer to the proposed intervenors as "males"; understood?"
We have a judge who denies the basic definition of what constitutes male and female. There is blood on the hands of our Supreme Court flowing from the Roe v. Wade verdict in 1973. Our judicial system does not care about truth, and so no wonder our judicial system condemns the innocent before they were born, believe men can be women, and think the definition of marriage has infinite possibilities. 
Steak 'n Shake permanently closes 57 restaurants as company suffers during pandemic
https://www.abc15.com/news/national/coronavirus/steak-n-shake-permanently-closes-57-restaurants-as-company-suffers-during-pandemic
According to ABC in Arizona: "Steak 'n Shake permanently closed 57 of its restaurants nationwide during the first quarter of 2020 as its parent company attributed major financial losses to the COVID-19 pandemic.
Biglari Holdings Inc. announced in its first-quarter report that Steak 'n Shake's revenue plunged by $59 million compared to the same time period in 2019 as its restaurants were limited to accepting takeout, drive-thru and delivery orders.
"The COVID-19 pandemic had an adverse effect on our restaurant operations," Biglari said in its quarterly report.
The report said 51 of the Steak 'n Shake locations that closed were company-owned, while six were franchised. The closings decreased the number of Steak 'n Shake locations to 553 from 624 at this time last year.
The report also said 62 of Steak 'n Shake's 306 company-owned restaurants were temporarily closed as of March 31.
"The COVID-19 pandemic has adversely affected our operations and financial results," the report said. "The COVID-19 pandemic could cause disruptions to our supply chain. Moreover, we cannot predict how the outbreak of COVID-19 will alter the future demand of our products."
H.R.6666 – COVID-19 Testing, Reaching, And Contacting Everyone (TRACE) Act
https://www.congress.gov/bill/116th-congress/house-bill/6666?r=2&s=1
This bill authorizes the Centers for Disease Control and Prevention (CDC) to award grants for testing, contact tracing, monitoring, and other activities to address COVID-19 (i.e., coronavirus disease 2019). Entities such as federally qualified health centers, nonprofit organizations, and certain hospitals and schools are eligible to receive such grants. In awarding the grants, the CDC shall prioritize applicants that (1) operate in hot spots and medically underserved communities, and (2) agree to hire individuals from the communities where grant activities occur.
This is Gabriel Rench with Crosspolitic News. Support Rowdy Christian media and join our club at fightlaughfeast.com. With your partnership, you will get a Fight Laugh Feast t-shirt, discount to our annual conference, and access to our Club portal. Our club portal includes episodes on Pastors in Politics, East Coast Tour content, God and Government, and backstage interviews with people like Voddie Baucham, Douglas Wilson, James White, Tom Ascol, Erick Erickson, and David French. You can find all our shows on our app, which you can download at your favorite app store, just search "Fight Laugh Feast". Lastly, we hope to meet you at our first annual Fight Laugh Feast Conference in Nashville, TN October 1st through the 3rd. Go to fightlaughfeast.com to register now. Have a great day. Lord bless